Interactive History Lessons with History Pockets from Evan Moor
One subject I cannot recall much about from school is history. Boring textbooks and dry teachers didn't help me develop an interest in it and I wish they had the materials to present an interactive history to us back then.
Thankfully, homeschoolers nowadays have so many options for history and so many channels to attract kids to history, like this awesome resource from Evan Moor I'm telling you about today.
This is a sponsored post. I was given the product to review and I might have been compensated for my time. I would never endorse or recommend programs we wouldn't use ourselves. Read more about it in my Disclosure.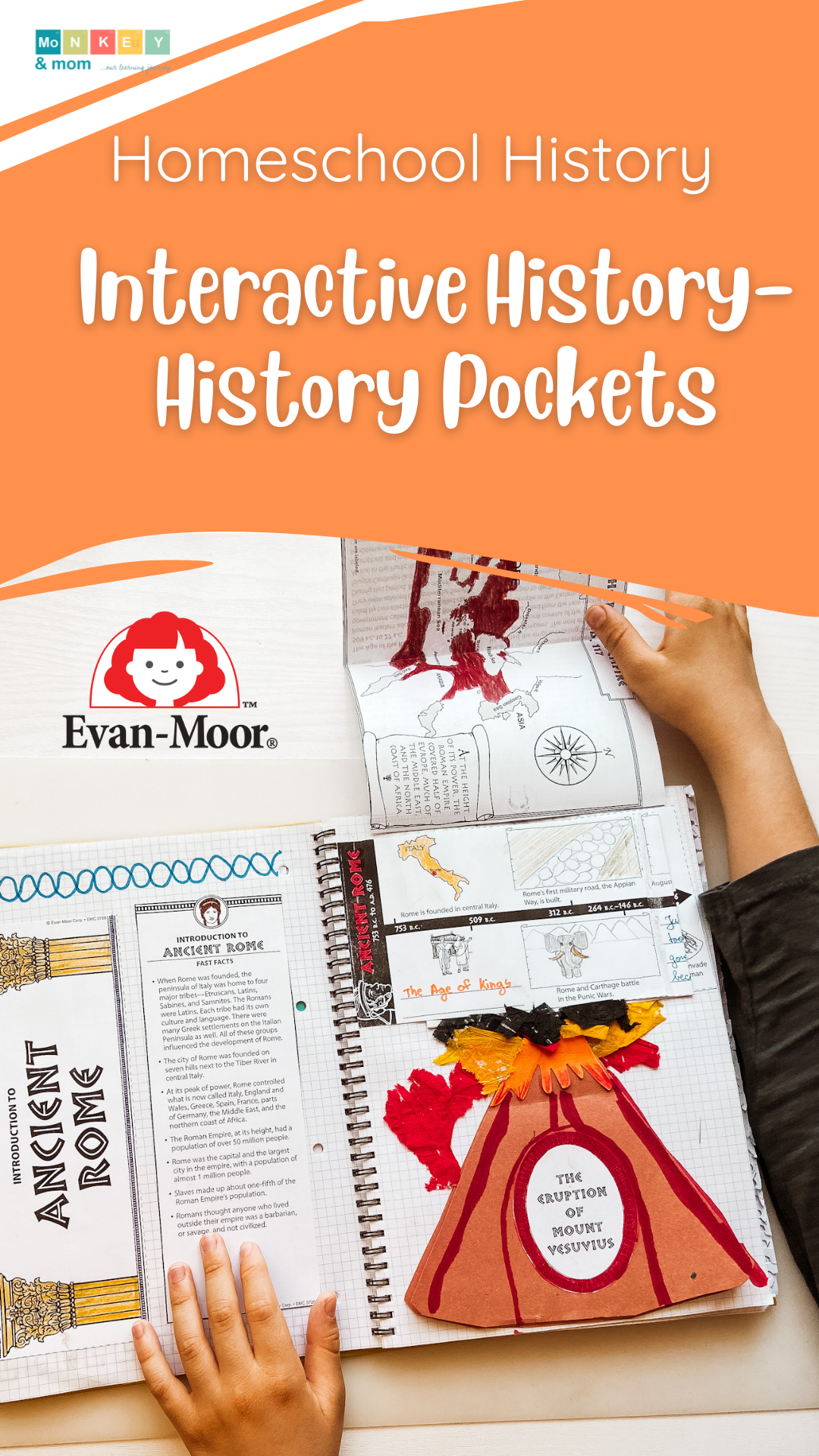 Our history approach
I feel history-ignorant, mostly. It's true, and not something I am proud of. So for the better part of our homeschooling, history was (and still is) something I feel is slipping through my fingers yearly.
We've doing history and social studies every year. The problem is that I am never sure what to do and how to do it so that M won't end up with a history-ignorance as I have.
A generation which ignores history has no past — and no future.  

ROBERT A HEINLEIN
History is important because it teaches us about the mistakes we shouldn't make again. Despite our struggles, I feel like I've rediscovered history with M and it's been eye-opening for me: I don't need to know lists and lists of dates and facts out of context to know history. History can be learned as a story. History can be interactive, fun, and alive.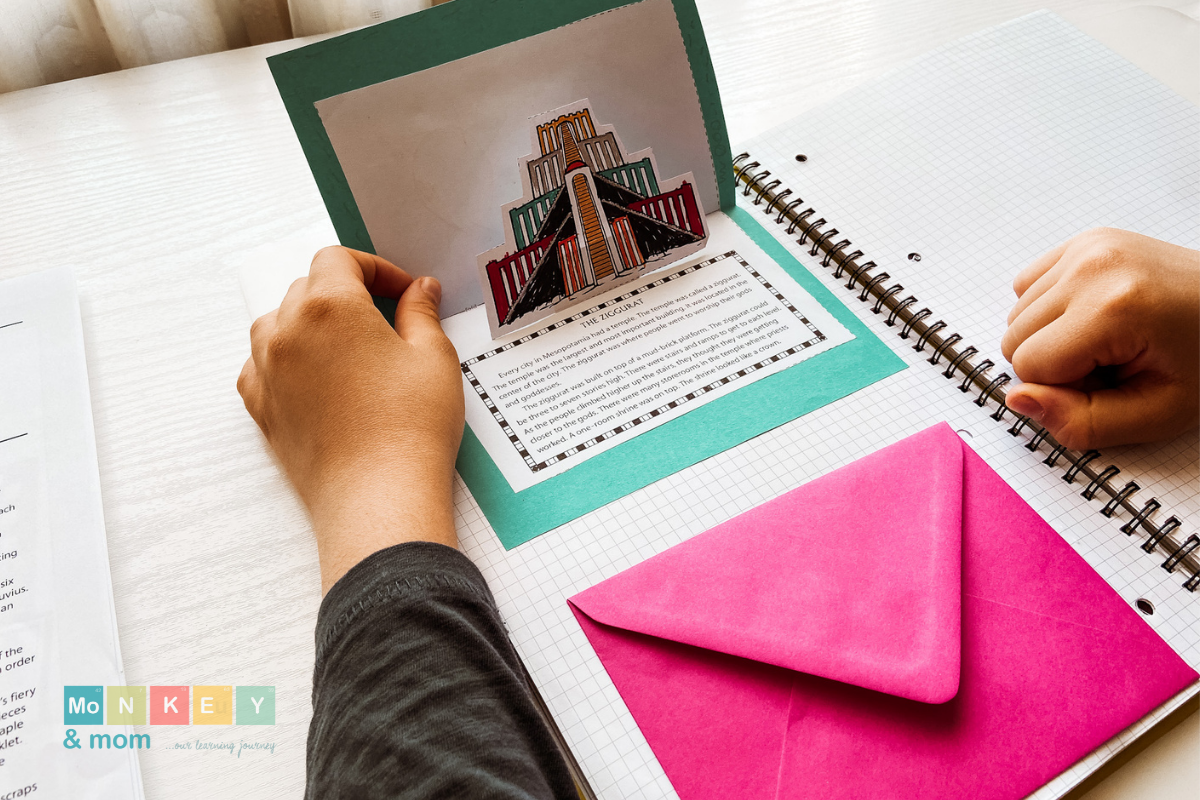 I've written about history here, if you want to read about what we've already done. But for 6th grade this year, I chose a curriculum that has virtually no hands-on projects. It's a straightforward history used in schools in the USA. So I felt it needs something to enrich it and break the monotony of regular lessons. History Pockets was the perfect add-on!
I also chose to buy a lot of history-based fiction books for us to read. I hope to make a post on that soon because there are a lot of amazing books out there to help you make history interesting.
History Pockets
History Pockets from Evan Moor are a series of interactive history books. These are filled with interesting information covering various subjects from ancient civilizations to the American Revolution.
They cover grades 1 to 6 and are split into 2 levels and each book has between 7 and 11 pockets.
History Pockets grade 1-3 titles are:
The titles for grades 4-6 are:
Set up
History Pockets books are well-organized. All levels cover maps, timelines, information sheets, craft ideas and evaluation.
I've been offered Ancient Rome grades 4-6 and our book is organized like this: the introduction and instructions on how to create and assemble your pockets, pockets, review (1 question per pocket), reflection sheet (for students), evaluation sheet (for teachers) and some answers.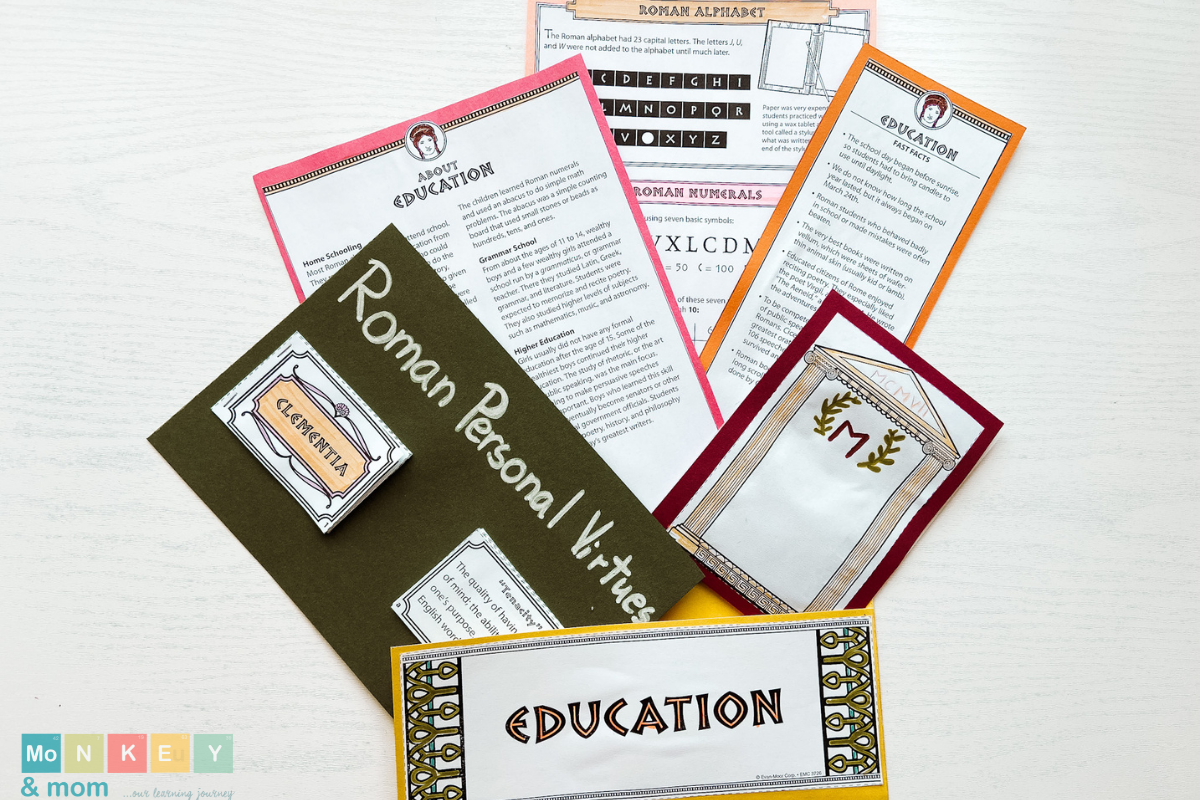 History pockets cover one year of school if done about 1 every 2 weeks in 20-30 minutes batches. There are plenty of activities to fill your time!
The books might seem a bit overwhelming at first, but that's just until you start working. Once you get a clear idea of how pockets look, things will go smoothly.
How to use history pockets
Being such a flexible material, like most of Evan Moor's, you can use History Pockets either as a unit study or as a supplement along with other curricula.
It's perfect for unit study loving families because each pocket can be used independently from others. If you want to cover only part of the concepts in a book, you can easily do so. Or even combine multiple History Pockets books, guided by your interests.
History Pockets are also great for enriching other curricula. Most history curriculum out there is the traditional, textbook-workbook duo, with almost no hands-on projects. Adding History Pockets to these will ensure your lessons are interesting and engaging, no matter what curriculum you follow.
What are pockets?
Pockets are sub-sections of each book that treat a specific aspect. Some examples from Ancient Rome History Pockets are: daily life, government, education, Roman army, religion etc.
Each pocket is filled with activities and information that makes this series an awesome resource for interactive history.
Evan Moor recommends you set up the pockets like pocket folders: take a long construction paper and fold a pocket into it (stapled on one side). In the end, you can tie or bind all pockets together to make a history book for the year. (I explained the whole process in my video, linked at the end of this post)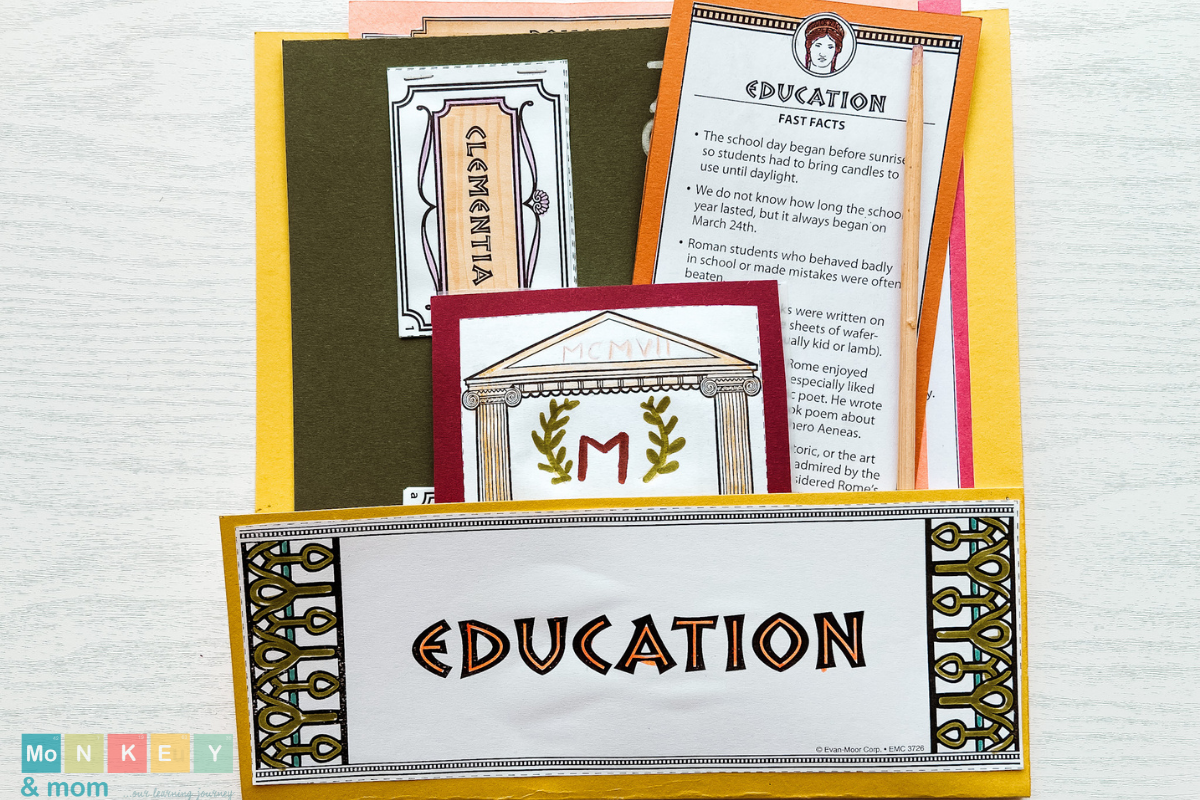 The pockets are filled with activities that are both engaging and fun, from crafts to writing short notes. They follow a pattern:
overview – with teacher instructions and a brief description of the activities in that particular pocket;
fast facts and label – each pocket will have a label for it and a bookmark that lists the summary of the facts the kids will learn;
about – a page filled with informations and interesting facts;
art reference – this could be a map, or something interesting for kids to color and study;
activities – all sorts of crafts and project ideas.
Pricing and formats
History Pockets are very accessible, priced at $17.99. They are reproductible books, which means you can copy these for multiple children.
Follow my Facebook page to get notified when Evan Moor has discounts and you can save up to 50% on all e-books!
There are 3 ways you can get your copy of History Pockets, click on the photos below to see your option: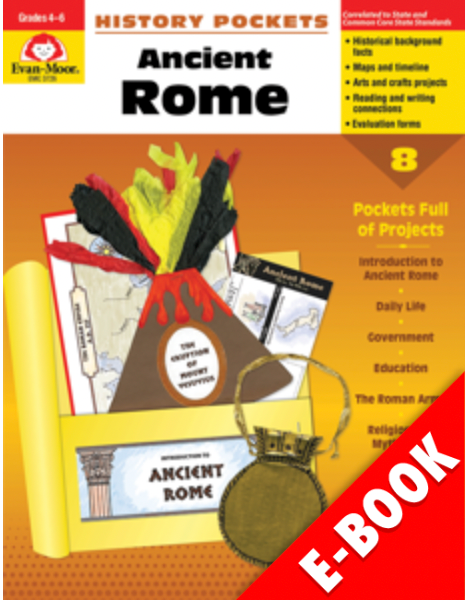 PDF – I prefer this, because you can easily (and cleanly) print the pages you need for your kids' activities. You could print just the student pages and read the instructions on the screen to save paper.
Our take
Of course, as you know us by now, we had to do things our way.
We started History Pockets way back in grade 3 using parts of Ancient Civilizations. Unfortunately, we didn't keep up with it. I found it too much for him to do aside Story of the World 1 – which also has a lot of hands-o activities included.
M is also not a fan of coloring, cutting, and pasting so it felt like I was torturing him with all the extras.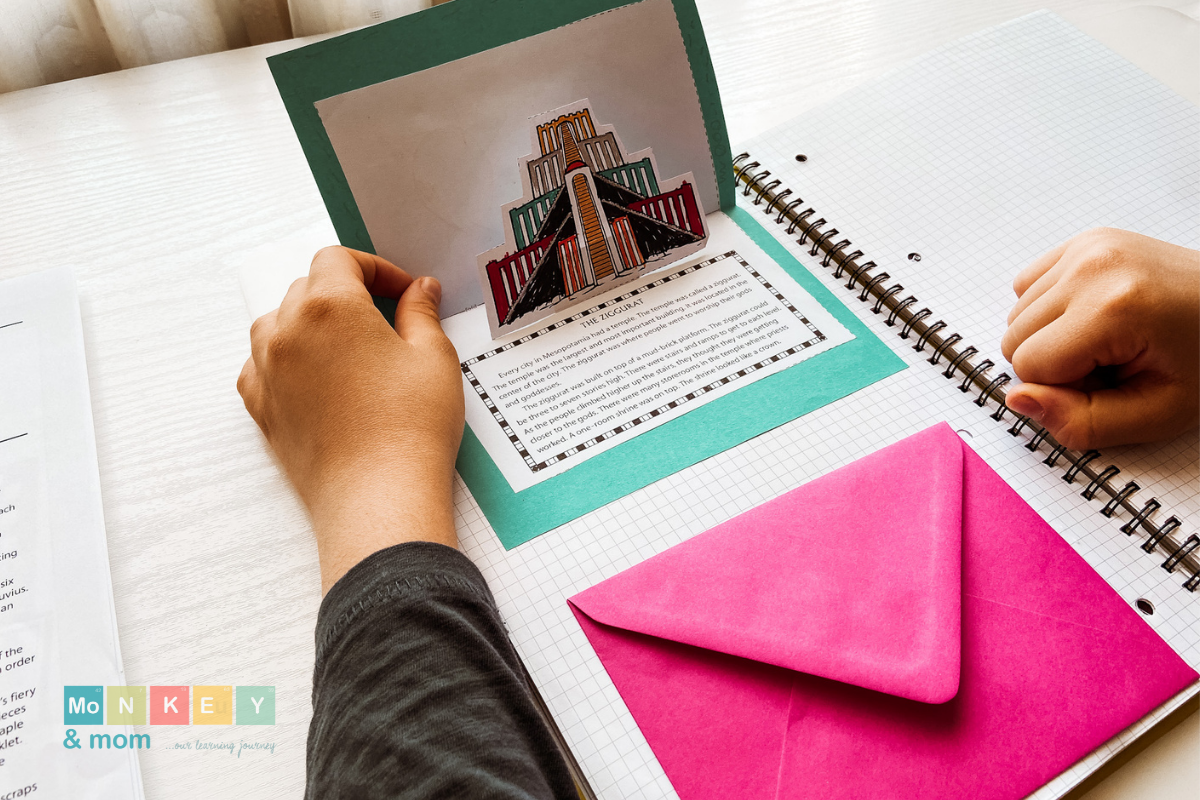 But now, he seems more open to the idea, so we had fun working on the Ancient Rome pockets. It works great because this year for history we will do the ancients… again (told you I have history issues).
He also learned new crafting techniques when he heat embossed the initials in SPQM or when we did a dog mosaic with tiny paper squares. He realized how difficult mosaic-making really was!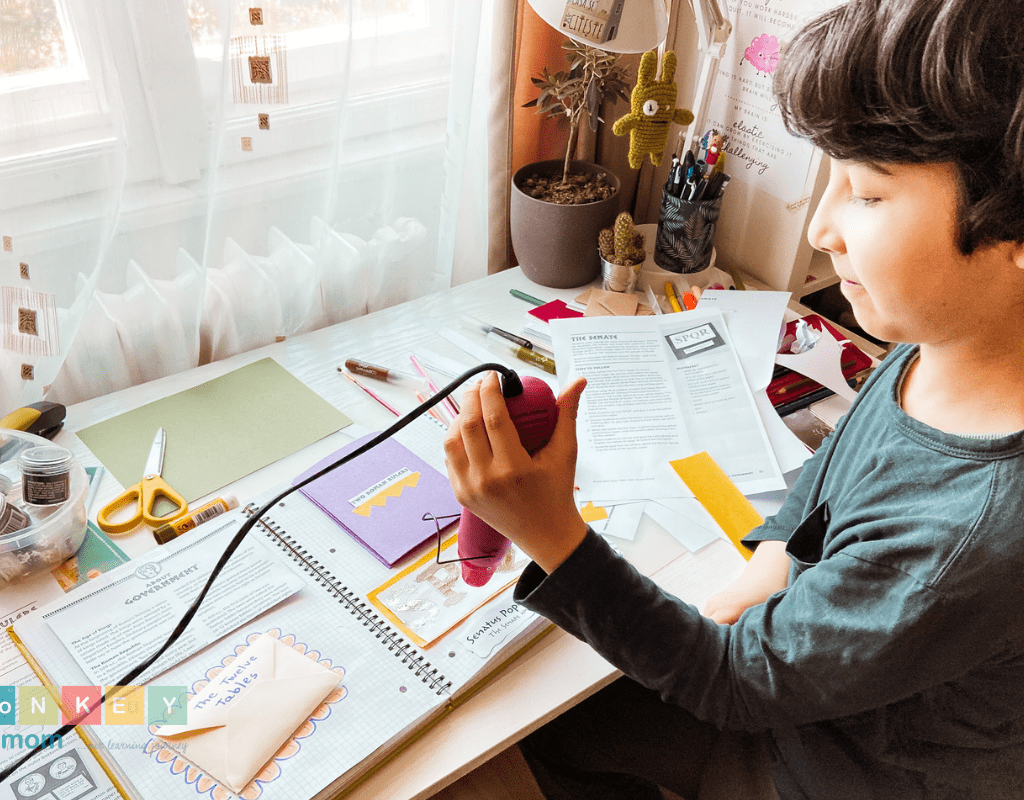 Public speaking
I am planning to use History Pockets as a means to develop M's presentation and public speaking skills.
We'll use these as outlines for him to tell what he's learned about in history to other family members. He was so excited to show his dad what laws the Romans had, for example. He really took the time to explain and compare these to modern laws.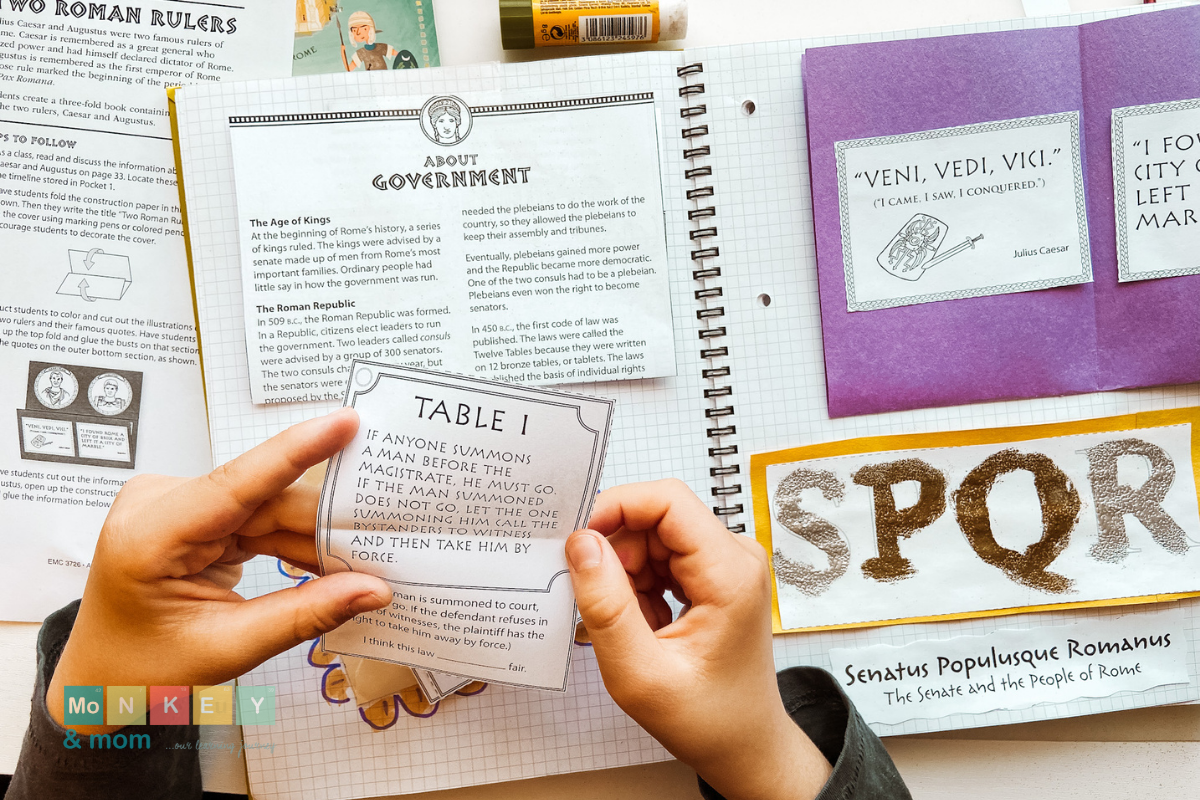 The interactive history notebook
Despite having been a crafter for many years and having the house full of crafty stuff, I decided I didn't feel like cutting paper to size in order to make the pockets. The paper size recommended for the pockets isn't easily available in Europe.
I also wanted to reduce the prep time. So we do our history pockets in a spiral notebook. The interactive history notebook, I guess. You can download our cover design from my Resource Library for free (you'll need to subscribe to my newsletter to access all designs).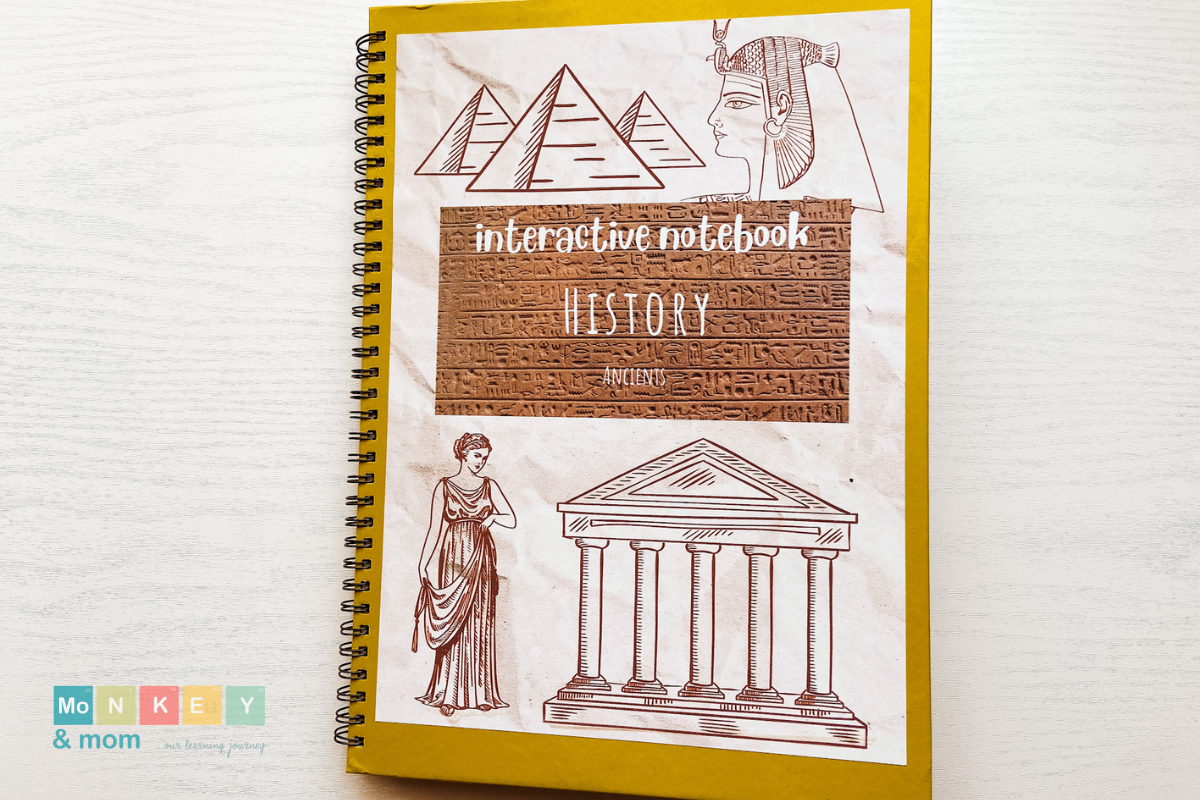 We simply glue all the projects in and decorate the pages any way we like. This is great for my flying papers dilemma, too. No more bits and pieces of paper to lose, everything is in one place, neatly organized and secured.
I made an example of a pocket using the notebook and the pocket technique so you can compare the two. Drag the slider to see a comparison between a pocket and our interactive notebook.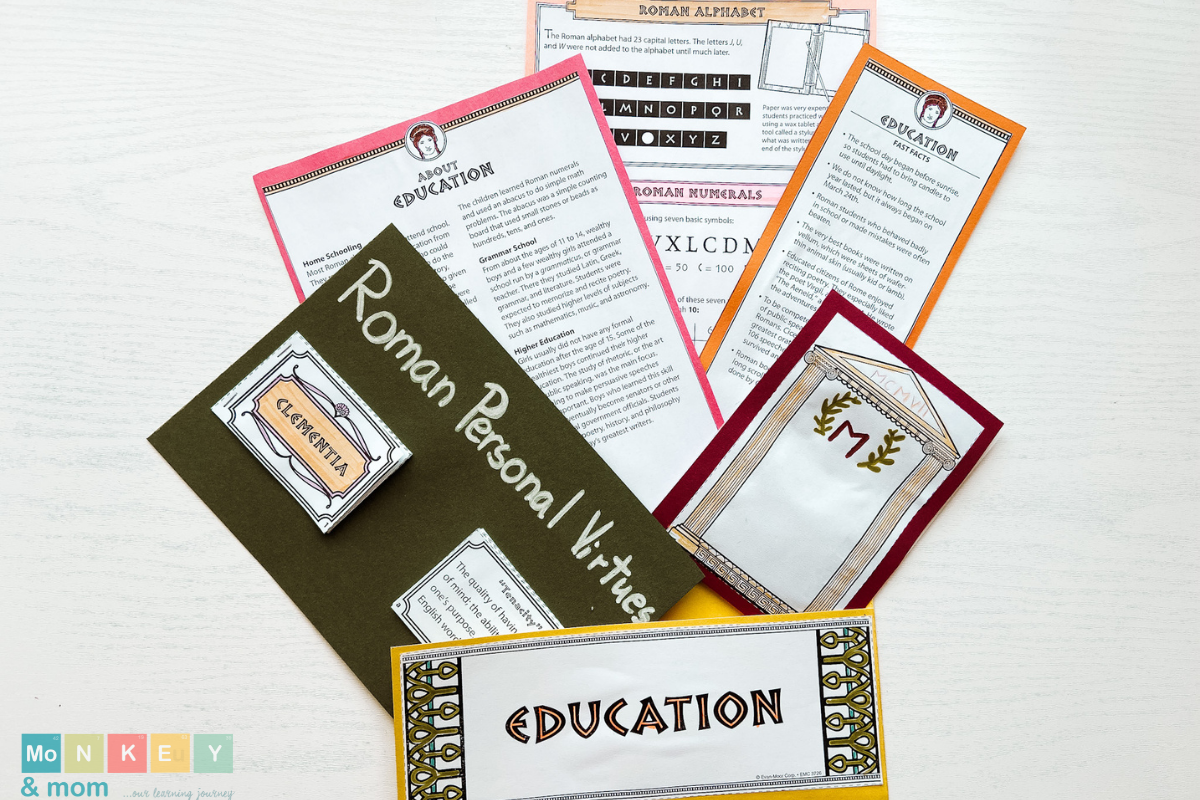 Supplies needed
You will need some basic craft supplies before you get started with History Pockets. I created two lists below: one is for the original history pockets, the other for our version, the history interactive notebook.
Please note that there's no list of materials you need for your book. It's better to just browse the entire book and list all the extra items you might need. We ended up improvising and adapting in places, so the activities can be easily adapted to whatever supplies you have on hand.
For example, for the Vesuvius activity in our Ancient Rome book, we needed colored tissue paper which we didn't have, so we improvised by coloring paper tissues with markers instead.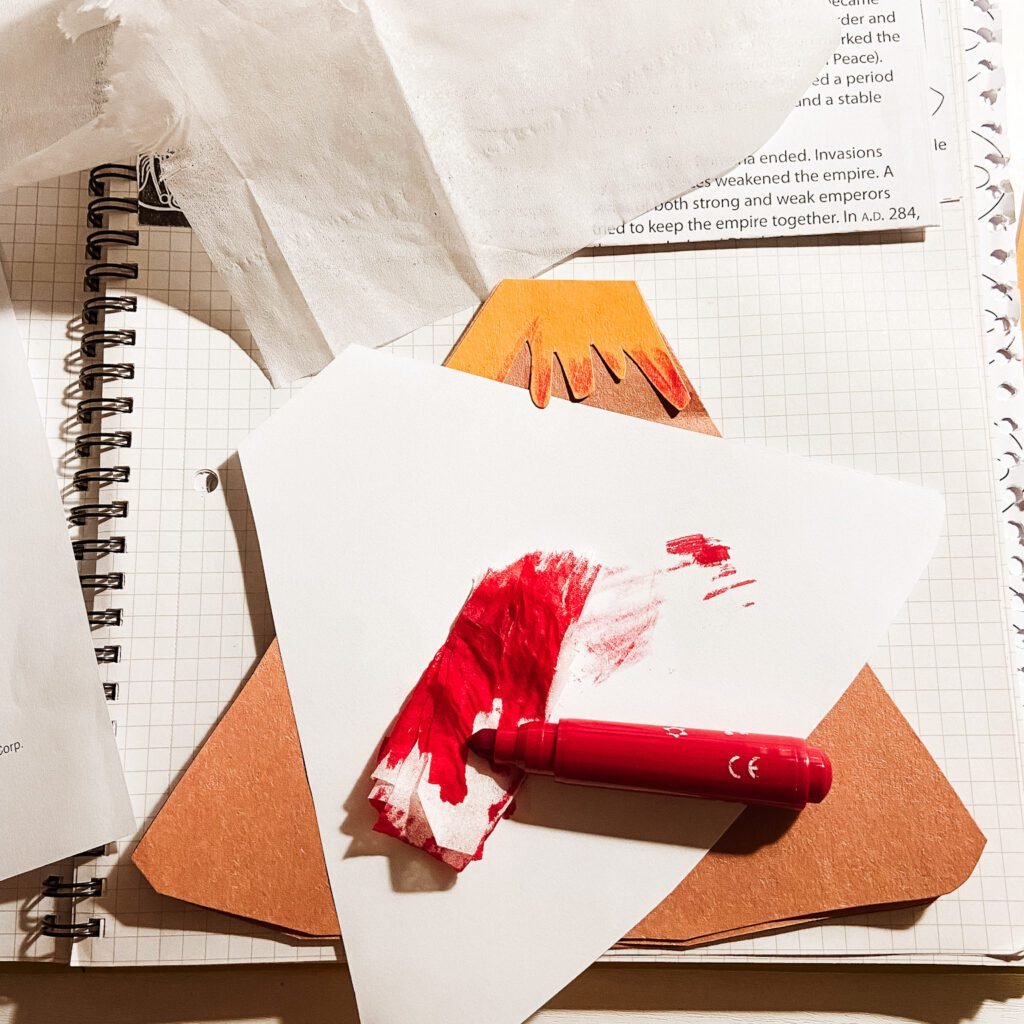 Basic Supplies
For the original pockets:
For the interactive history notebook:
construction paper – A4 or Letter for activities, various colors
glue – a lot of it
other supplies (browse your book)
What we love
There's a lot to love about History Pockets and I believe it's one of Evan Moor's best series. It truly helps parents make history interesting and interactive. Here's what we appreciate about the series: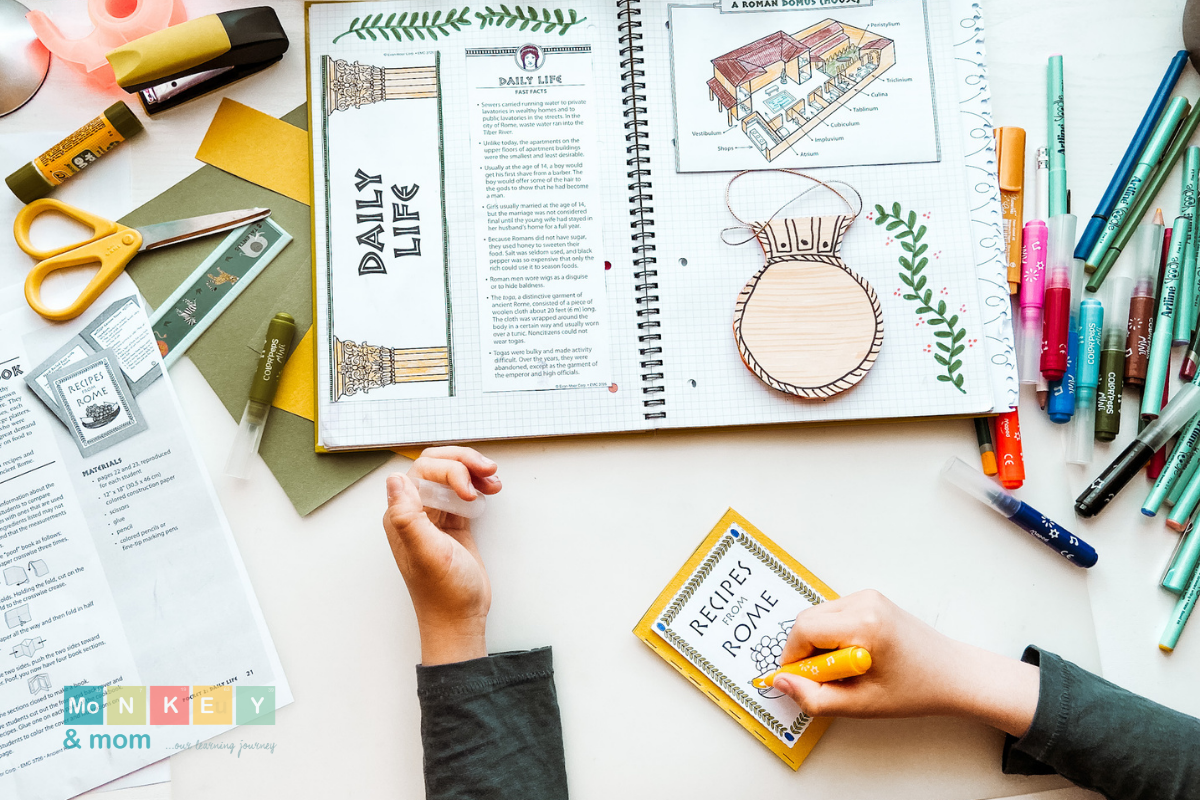 ⏳Hands-on
History is a subject that's usually taught from text with a lot of information thrown in and abstract examples. History Pockets adds value to any curriculum, transforming it into a hands-on approach. The information is easier to memorize if all the senses are present when learning.
History Pockets can be done while listening to audiobooks or read-alouds about that subject. This way, history becomes accessible to all types of learners!
⏳ Engaging
The information presented in History Pockets is interesting and condensed and the activities reinforce what's being taught. It's easier to remember facts about Pompeii's tragic fate while you're building a paper volcano, erupting with information. Kids might forget facts, but they usually remember interesting projects.
⏳ Versatile
Aside from the fact that you can choose from multiple formats, History Pockets is easy to adapt to any homeschool setting. It can be used as a unit study or as enrichment for other curricula. And, as you've seen, you can even adapt the activities and the way you choose to present them.
⏳Creative
History Pockets is chock-full of activities and ideas for art. Kids that love creating will absolutely adore history lessons because they are so creative Get your craft basket ready and learn some history!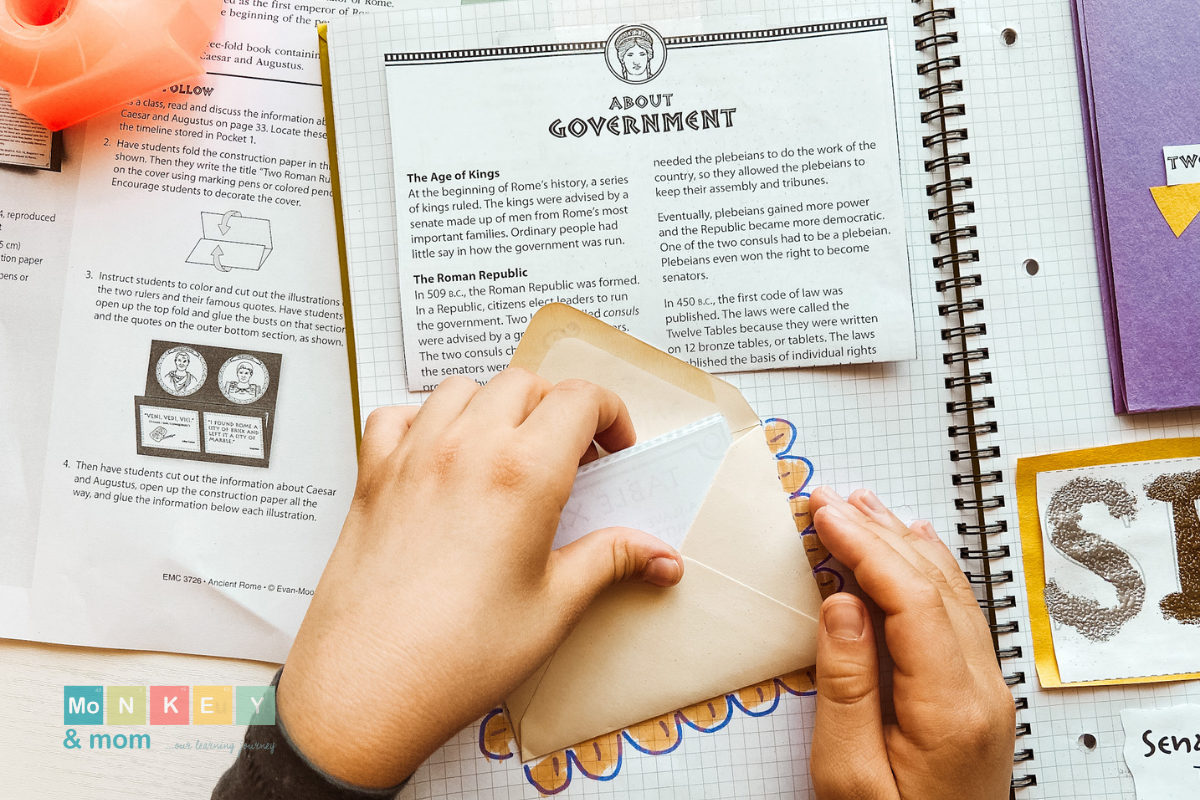 ⏳ Skill enhancing
I love how many skills kids can learn from History Pockets. They learn summarizing, answering short questions, fine motor skills (because there's a lot of coloring, cutting and gluing), and even public speaking or craft skills.
💔 Downside
This really is an awesome series that would be great for almost everyone but you might not like it if you or your children aren't crafty.
M doesn't like crafts much, but he tolerated this series just fine because we worked on the pockets together. I am actually relieved that I can slip some arts and crafts in with history so he is at least familiar with various mediums.
Rating and Video
Despite M's dislike for crafts, we love History Pockets because we can break the monotony of regular history lessons with them. So for us, History Pockets is a 4 out of 5 stars!
Because I know many people have a problem with creating the pockets, I made a video presenting what we like about History Pockets and how to create a pocket and an interactive history notebook.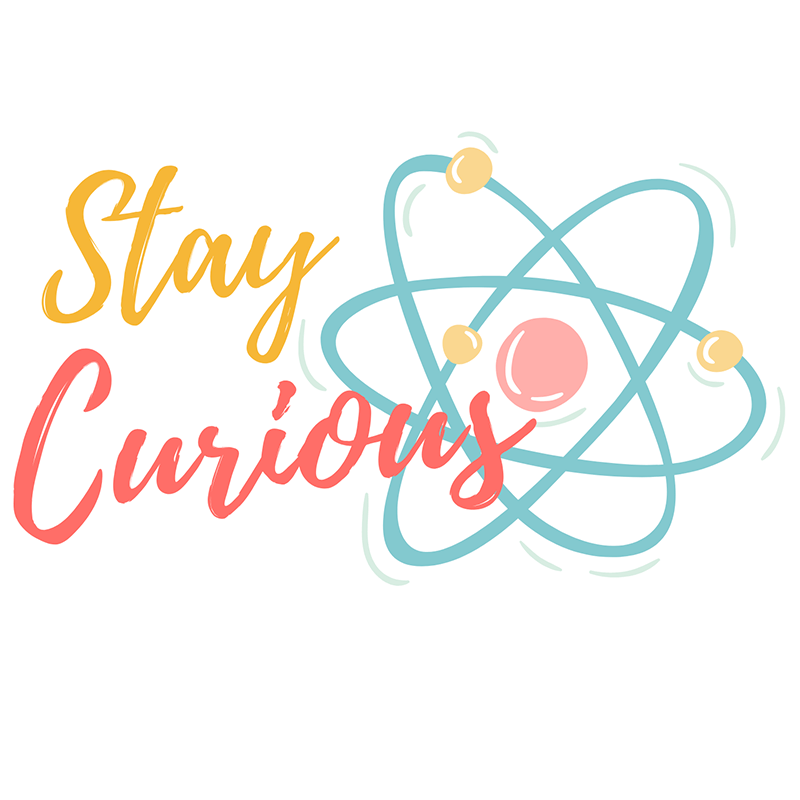 This post may contain affiliate links. By making a purchase through these links, I get a small percentage for the item you bought while the price stays the same for you. Thank you for supporting me.
As an Amazon Associate I earn from qualifying purchases.
Read my Disclosure to find out more about how I support my website and how you can help.