Online, Live Classes for Homeschoolers with Allschool
Whether you're a homeschooler that prefers online learning or not, you'll inevitably end up with a couple of online live classes as your children grow.

We don't always find the classes we're looking for nearby and some children want to learn about weird stuff like the mantis shrimp or what's inside a volcano. Sure, pulling up Google and reading some information or playing a documentary might help. But what if they have more questions? Or want to meet with others that have similar interests? That's where online live classes come into play.
They're affordable and cover a multitude of subjects and the best of all, they're being taught by an experienced teacher that knows the subject well.
This is a sponsored post. I was given the product to review and I might have been compensated for my time. I would never endorse or recommend programs we wouldn't use ourselves. Read more about it in my Disclosure.
What's Allschool?
Allschool is a platform for highly interactive, online, live classes, founded in Singapore. Experienced teachers meet with small groups of students to cover a variety of subjects from math to dancing.
The learning environment over at Allschool is engaging, interactive, and accessible to kids worldwide.
Classes are suitable for all ages from 3 to 18 and you can choose from various types of courses:
one time – classes that meet one time only; these are great for finding someone with a shared interest, for example, dinosaurs.
multi day – these classes work if you're learning a skill with a teacher, like writing a letter for example.
ongoing – these are for subjects that take long-term to learn, like Spanish.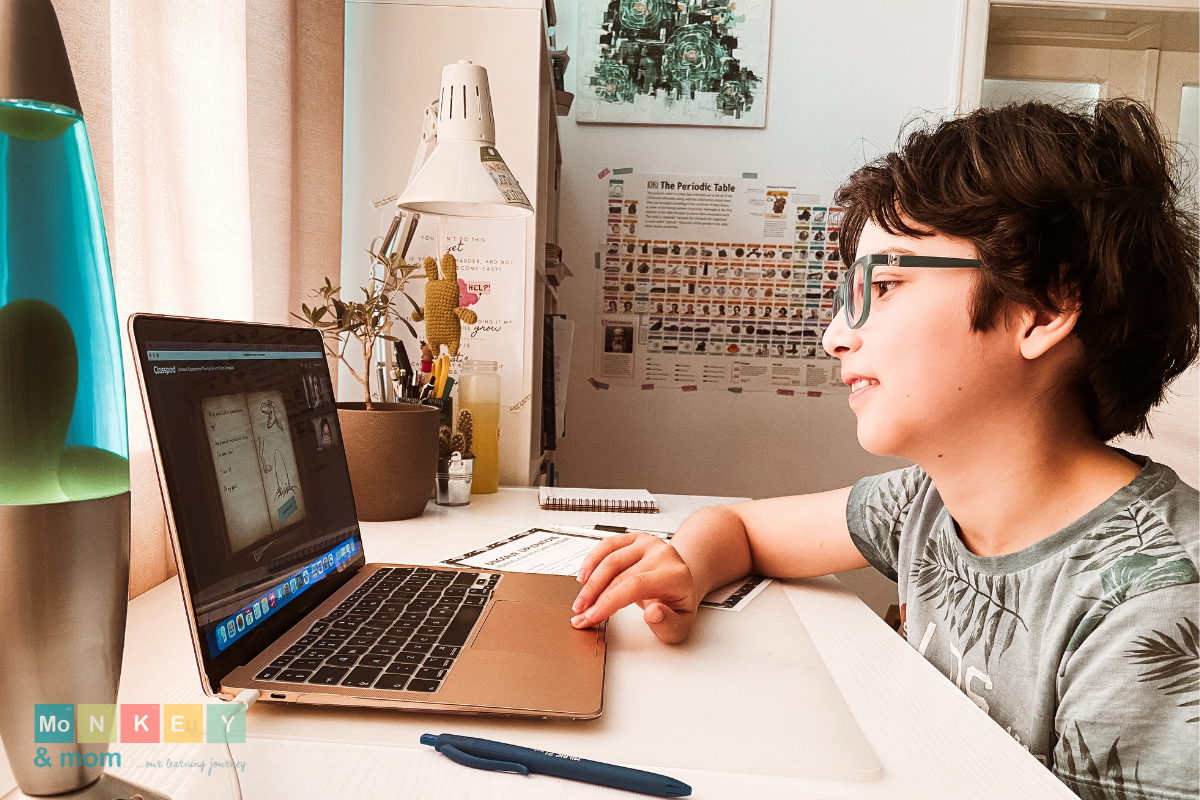 ---

Allschool is intentionally built to be a safe, inclusive, and fun place for kids to advance their knowledge and skills. Children can explore and pursue interests in learning, fill in the gaps, and accelate their growth in core subject.

— Allschool
---
Online live classes offered
Allschool covers all kinds of classes and subjects, but here are some of the most interesting I found while browsing.
reading clubs – on certain books, I've even spotted Harry Potter!
sharks, narwhals, mantis shrimp – and other creature a little marine biologist would love
experiments – great for parents that don't know where to start, you can find experiments for all ages!
dancing – I've already explained why we love dancing for P.E. (read about it here)
public speaking – this will be one we'd love to try out!
Spanish – a great way to find online classes for languages
Vikings – and other history classes
Just head over to Allschool to browse the classes for yourself, they constantly add more!
And a little secret 🧡: ALL ALLSCHOOL LINKS ON THIS BLOG POST HAVE A COUPON FOR YOU! That's right, you can get classes for free to try out!
Allschool features
Allschool is an great learning platform but it's not the only one out there. So what sets Allschool apart from other similar platforms?
Classpod
Allschool didn't stop at classes, they went one step further, creating their own online learning tool (Classpod) for meetings between teachers and students.
Classpod offers teachers the possibility to create classes, games, quizzes, and even give rewards out to students! It's safe, interactive, and made with little learners in mind.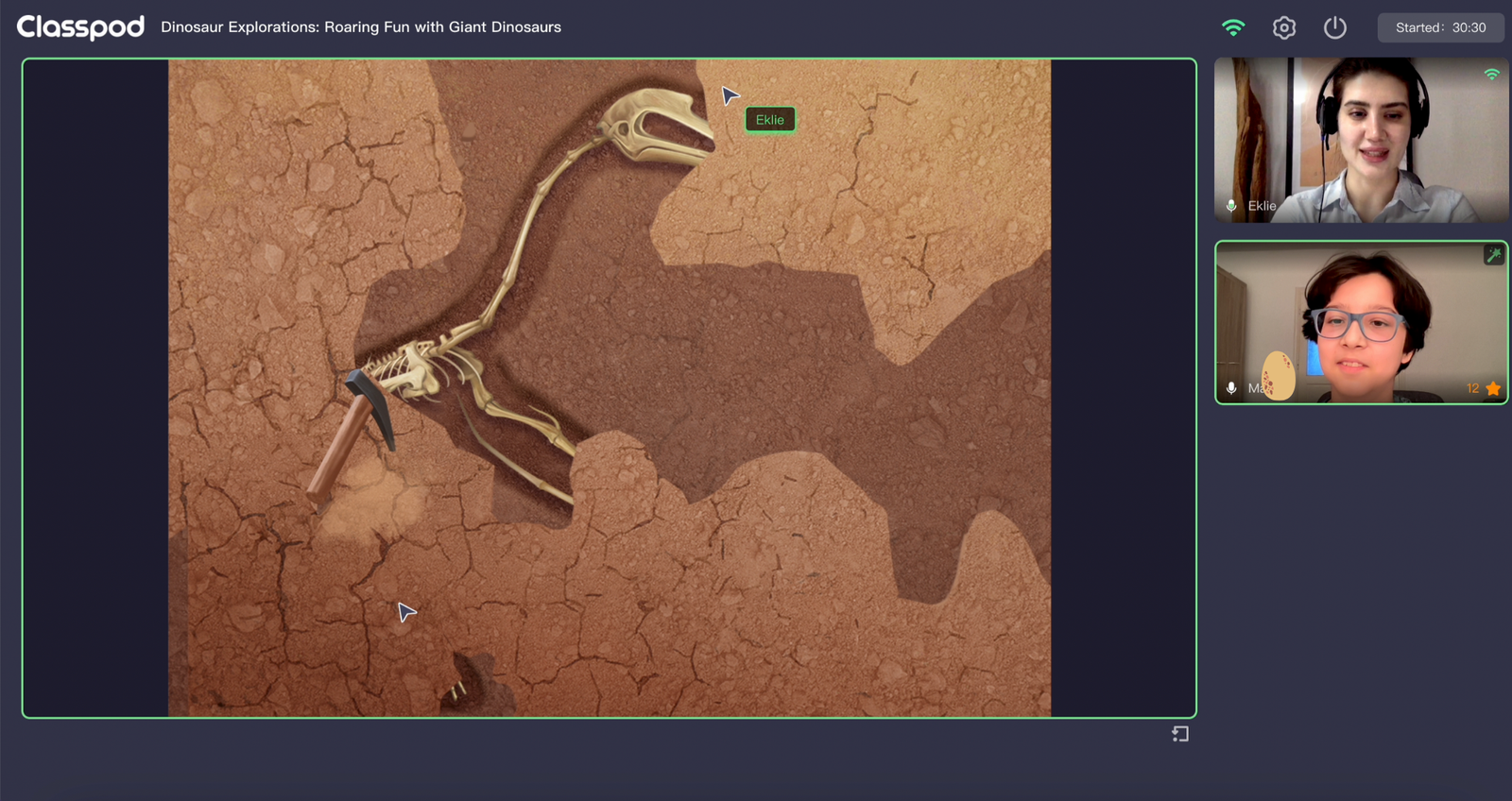 Interactive
The live classes Allschool offers are highly interactive. They're not just presentations or a whiteboard, they allow kids to interact with the teacher directly through the Classpod! Kids can even get rewards from the teacher, like virtual stickers/stars. This is something that other learning platforms cannot offer at the moment.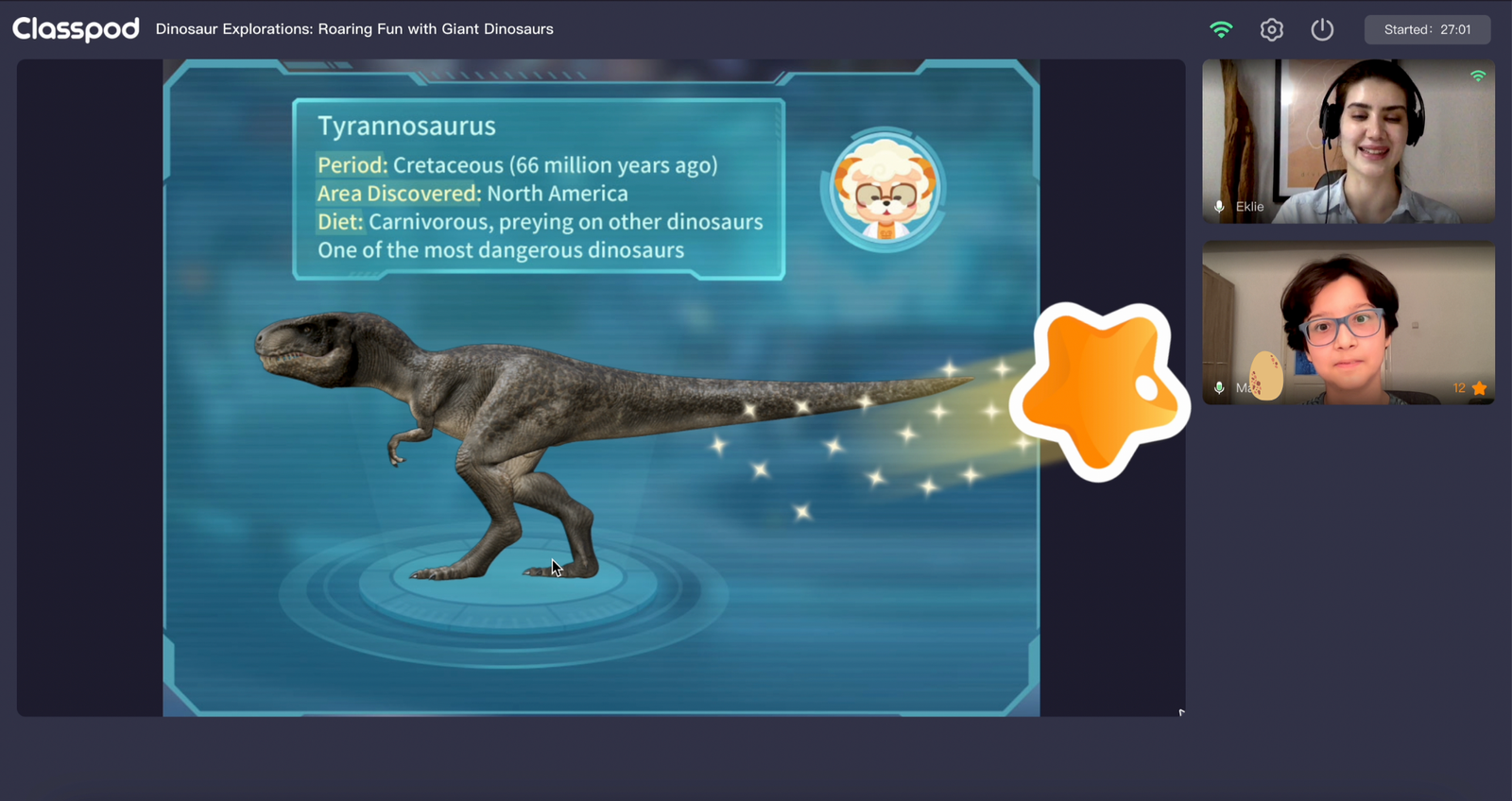 Gamified
Unlike other similar platforms, Allschool offers a gamified experience to the classes. Again, a benefit of Classpod is that allows teachers to create their own interactive lessons.
Children can play little online games and earn points in stars for completing the tasks given successfully. It's almost like playing games with a teacher in real life.
After learning various data about Quetzlcoatus, M took a small break for a quick game of flying the dinosaur he learned about. This was done live, on the Classpod platform.
See an example of a game that kids can play with the teachers, live, below:
Easy to navigate/Accessible
The whole website over at Allschool is very easy to navigate, intuitive, and accessible. You can sort classes by subject, age, timeframe, duration, and so on.
I like that they even have a calendar available to parents so that you will never forget a scheduled class.
Allschool classes are affordable, too, starting from only $5 per session.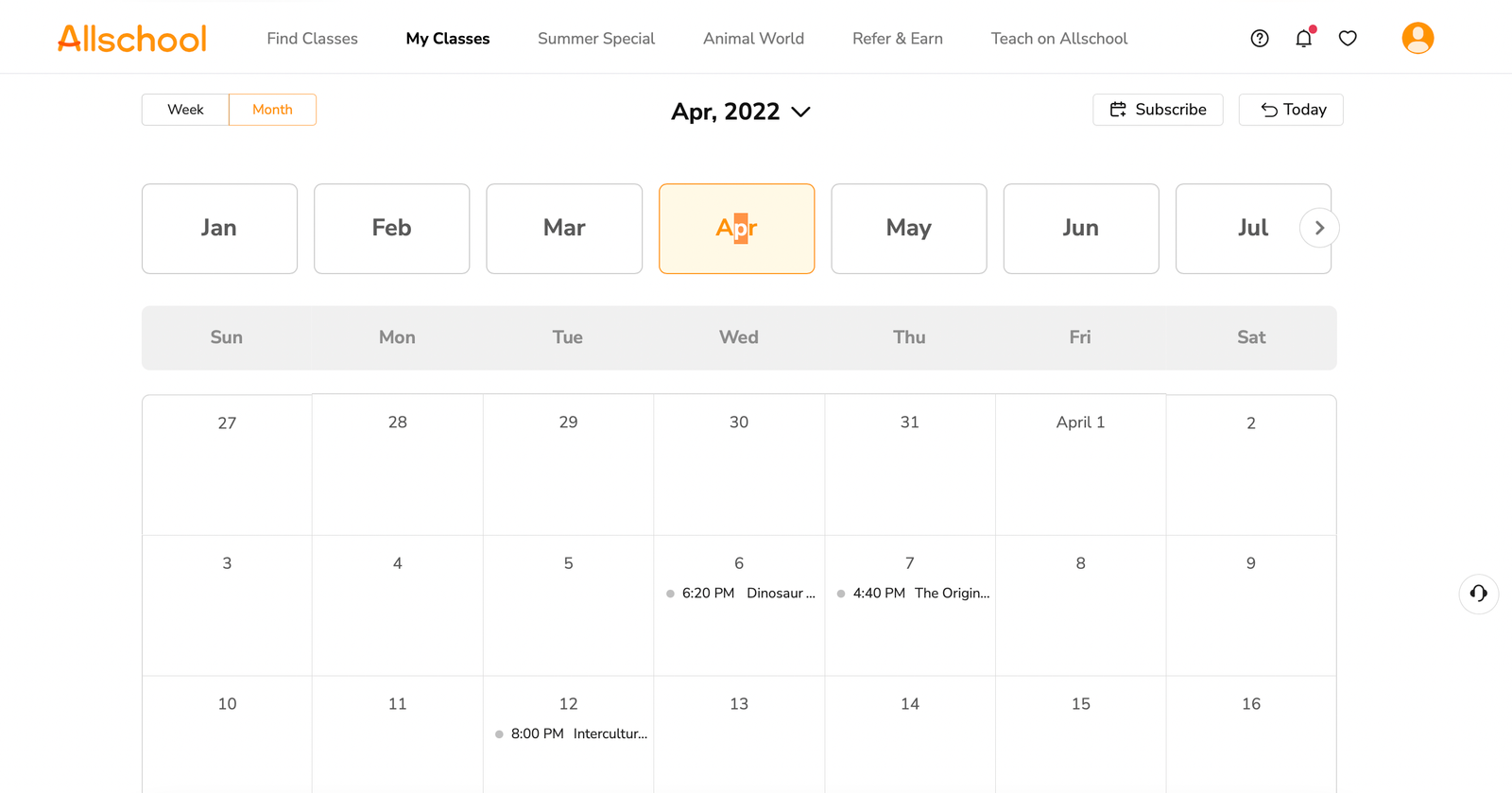 1-on-1 or small groups
Allschool offers classes for small groups or 1-on-1 which is great to make sure your kids get the teacher's attention during a class. If your kid prefers a more accelerated pace or doesn't do well with a group of kids online, 1-on-1 is the perfect solution for you.
Our Allschool classes
M had access to 3 classes on Allschool. Even though two of them were a bit out of his age range, he enjoyed them tremendously and was actually sad that they ended!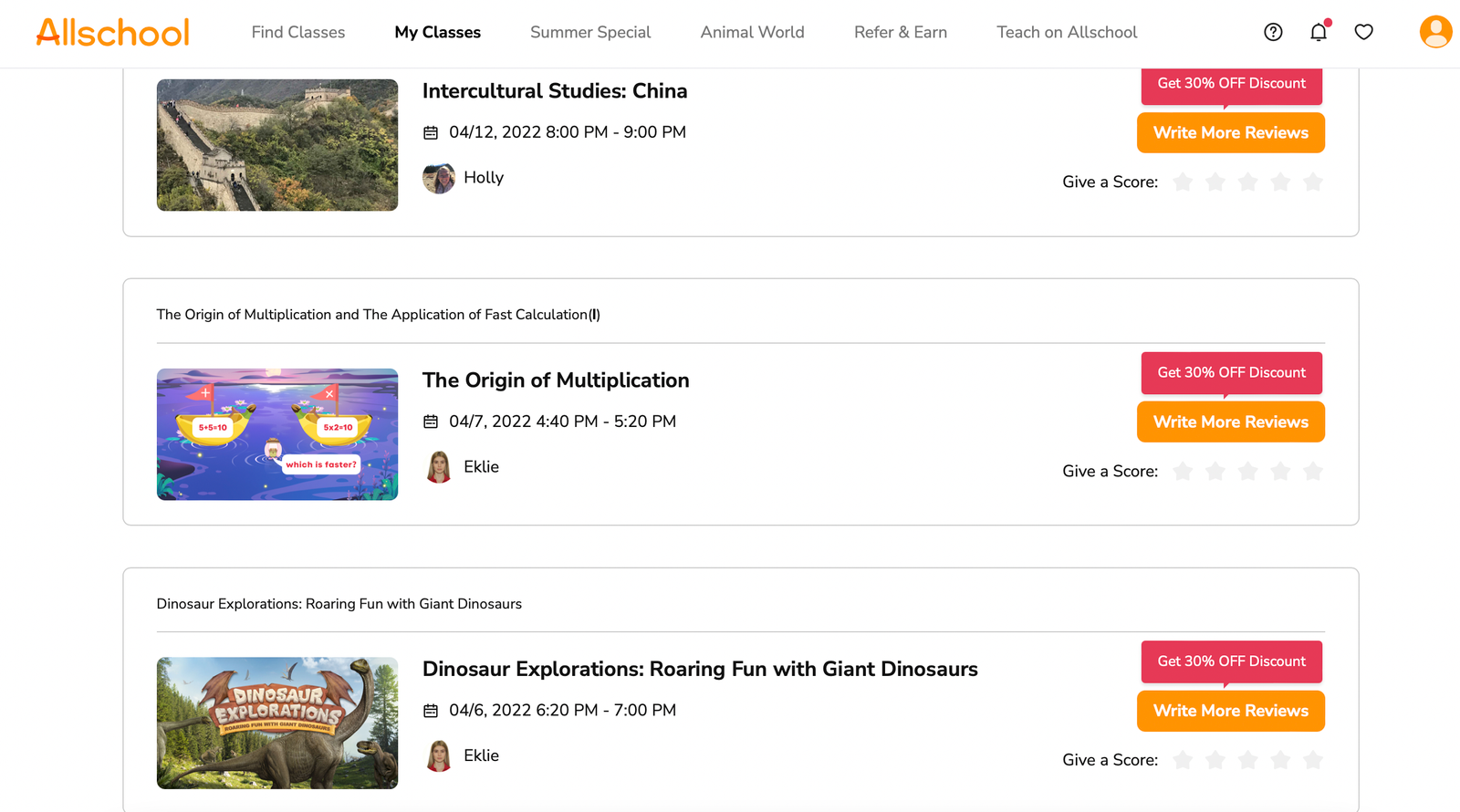 This comes from a kid that complains every single week when he has the Zoom class with his math teacher. He constantly lets me know how much he hates online classes.
Allschool definitely did something right there -with their gamified experience and highly interactive classes- because I've never seen him so excited about online classes before (and we've tried it all, even Outschool).
This was hilarious. I let M know that he will have a dinosaur class and he immediately went stiff, in a panic, telling me he doesn't remember much about dinos!
Then he ran and pulled out his dino books and toys (YES! we still have those – if you have a gifted child you understand my woe when I say we cannot sell or give away anything).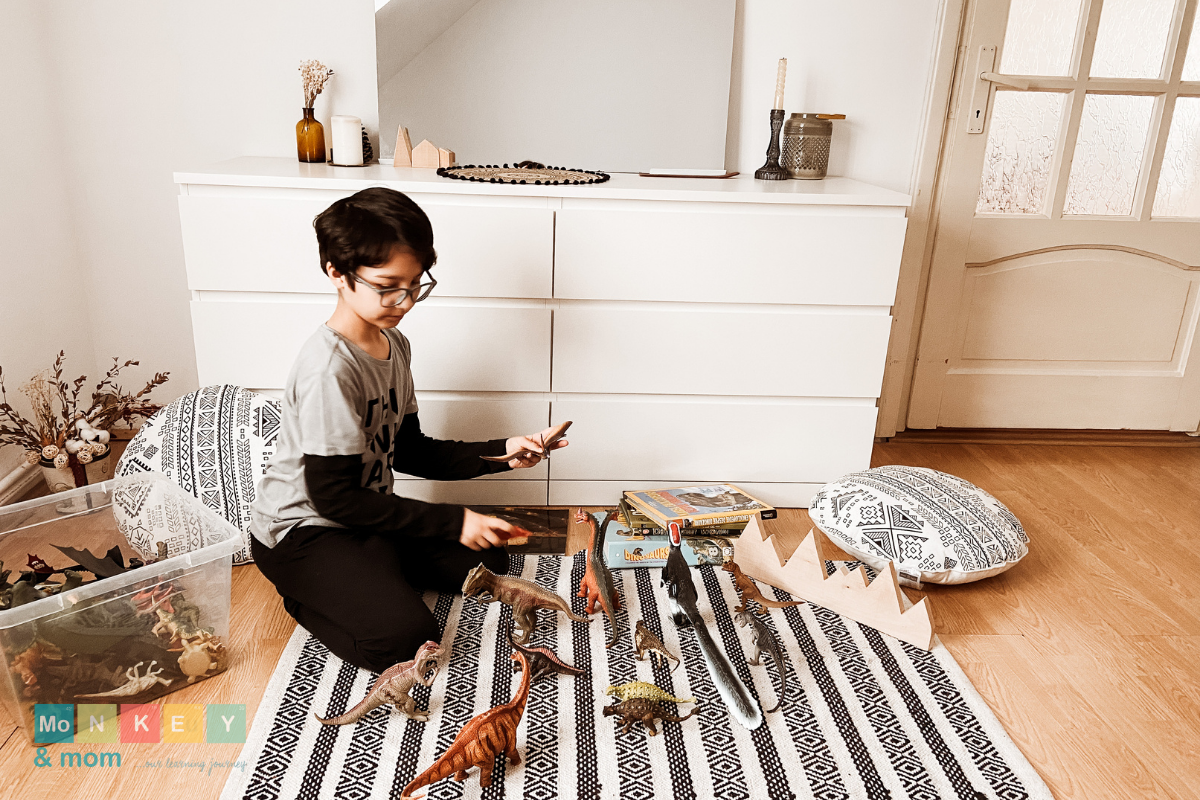 M wanted to read and explore dinosaur types and what their names were. We even pulled photos from our dinosaur park experience! He's one happy kid that loves dinos since he was 3 (even if he doesn't remember all the names )
So back to the class, it was a wonderful first experience with Allschool! We tested out the Classpod and loved it at first sight! How can you not when everything is so interactive! It reminded us of the London experience Dinosaurs in the Wild (unfortunately they closed their doors). It had a storyline, the learning happened inside the documentary. There were games, small quizzes, information and a lot of fun!
Our teacher was Eklie and she was such a gentle, patient teacher. I've never seen M interact this much with a teacher he just met, but Eklie knew how to put him at ease immediately.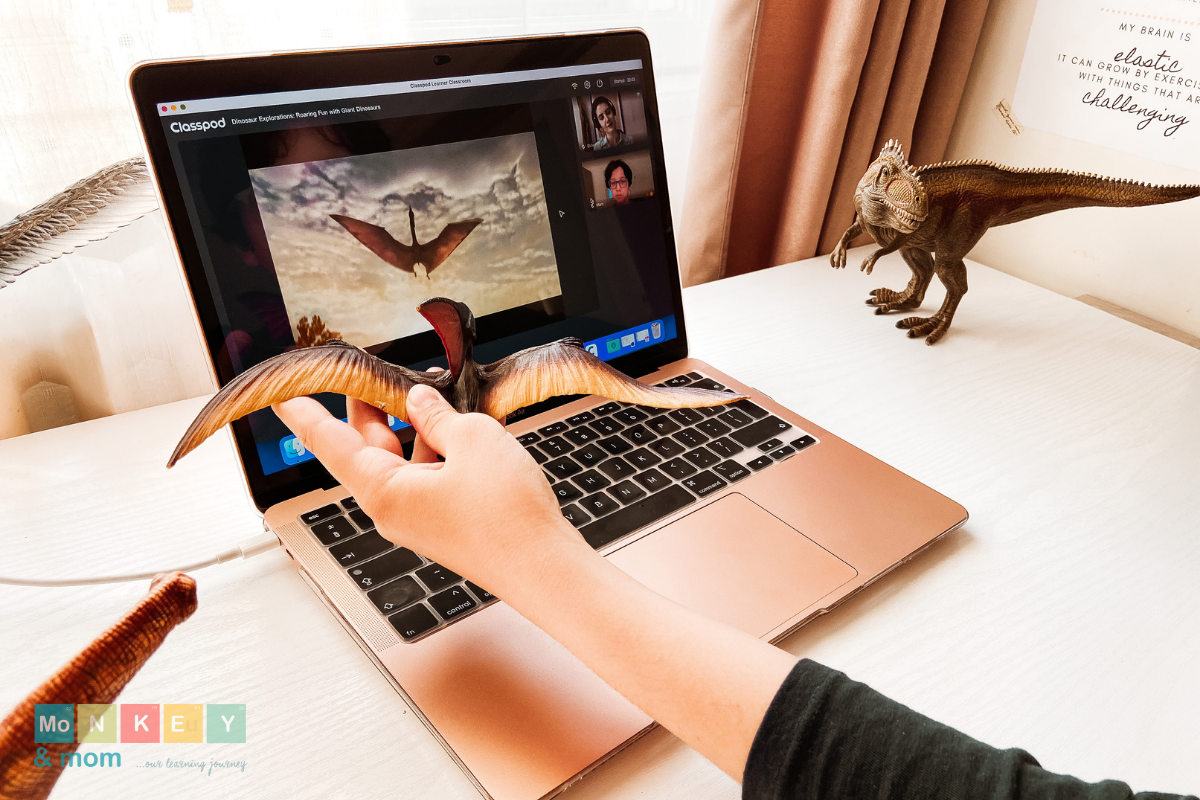 We really liked the Dinosaur Exploration class because:
it was live
the teacher was very friendly and fun
interactive with video animations, games, and puzzles- who doesn't like those?
full of interesting information
documentary-style presentation
it had a storyline – not just a boring ppt
interactive quizzes and rewards
This was a first of its kind for M. We traveled a lot but never actually sat down to discuss cultural differences. So this class was perfectly timed!
Intercultural Studies: China was held on Zoom. (Some teachers will use Zoom and classic screen sharing ppts to present their classes even on Allschool).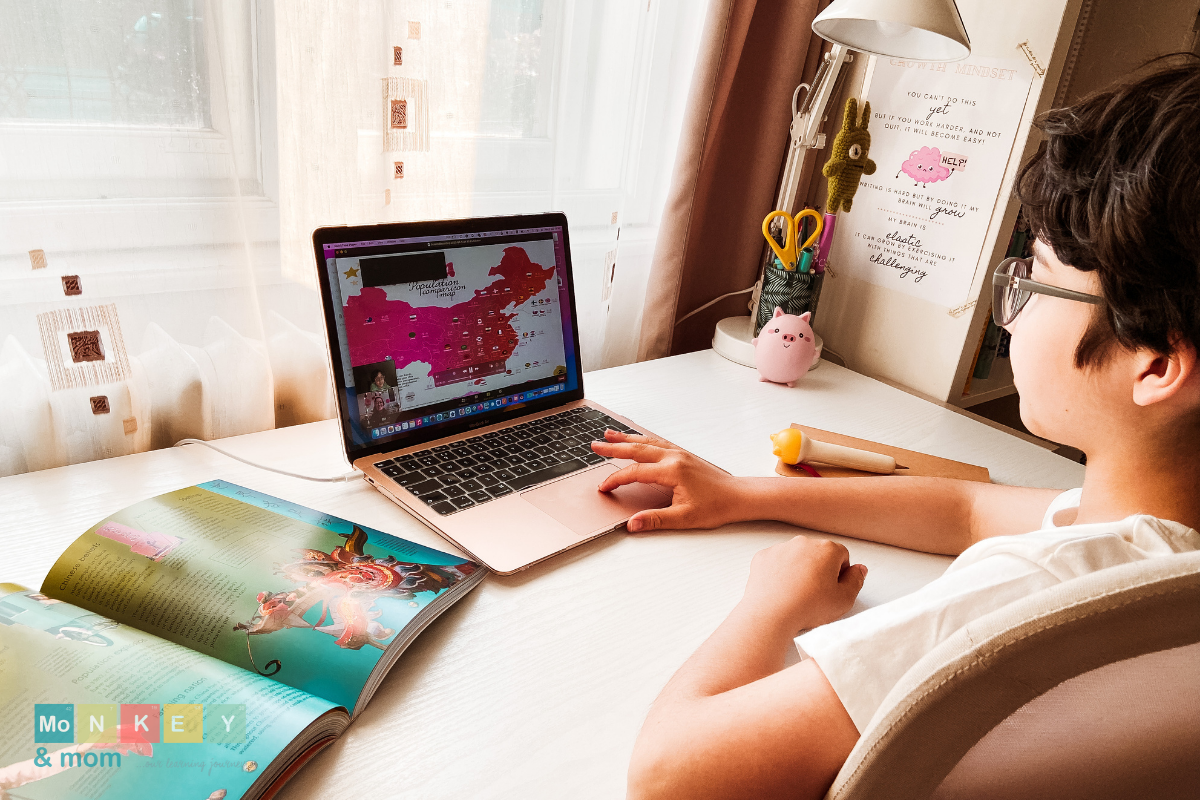 Our teacher, Holly, was so patient with M. I loved seeing his interest grow and hearing him ask questions. I loved that Holly shared personal impressions from China, having visited it. This made the class more personal and engaging.
Holly managed to spark a curiosity about China for M. After class, he asked to try to write Chinese characters and even asked for a Chinese meal to test out his chopsticks skills (to be cooked soon).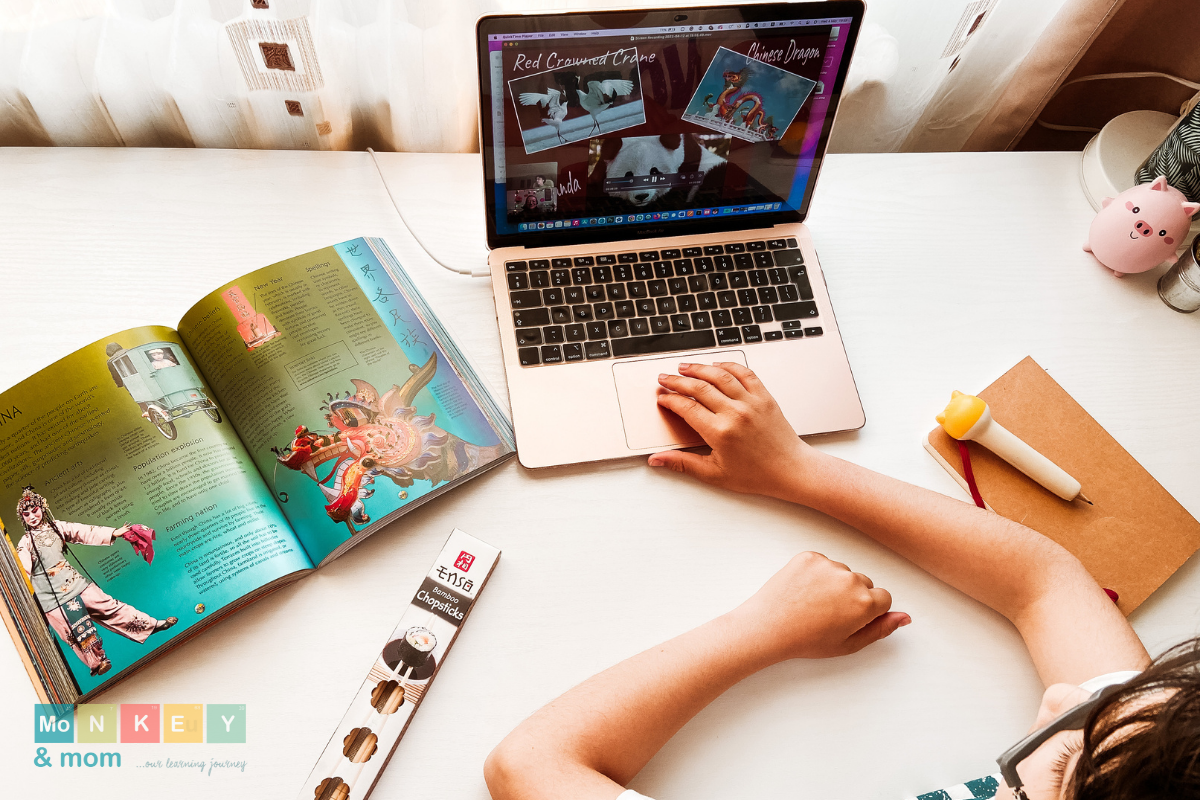 That's a definite win for us! We didn't have special brushes, but I took out my brush markers and M had fun writing characters on an old piece of paper.
In fact, this class had a homework sheet that prompted further exploration and I love how nicely it extended to M's curiosities about this country.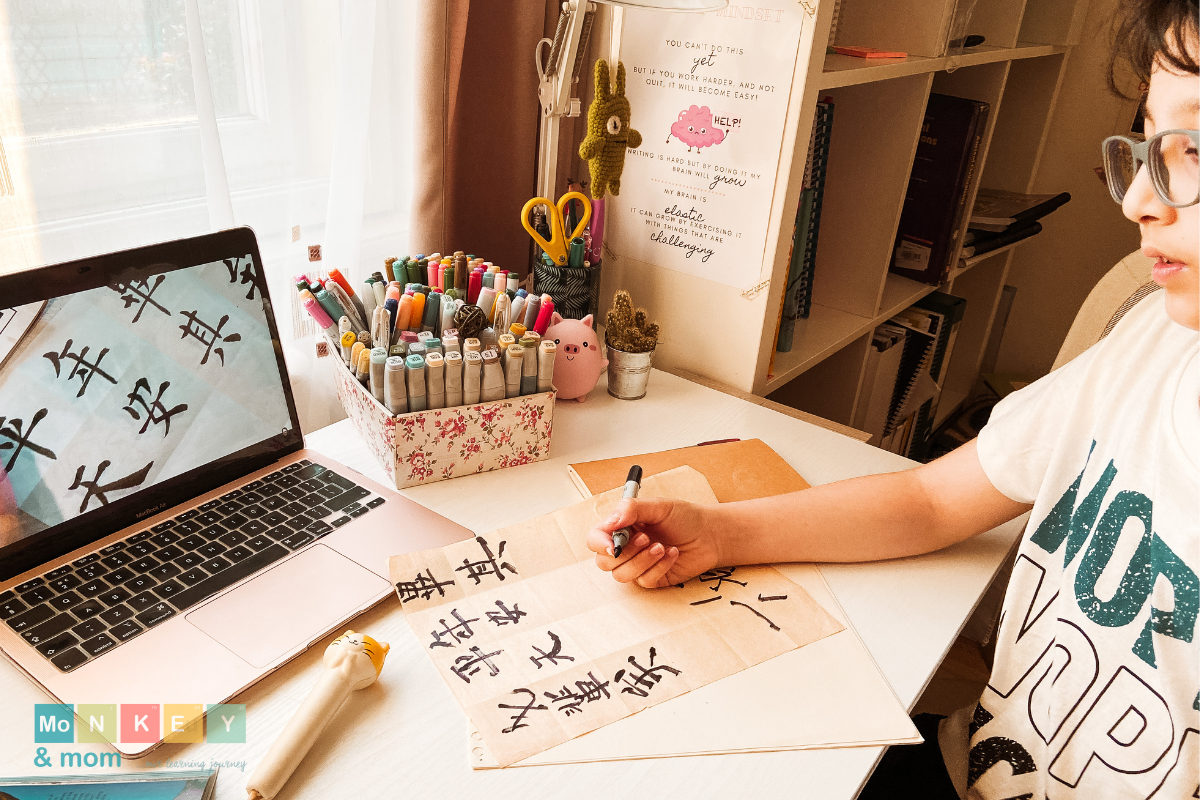 We loved the variety of information on China and how it was presented to us. This class has been:
very informative
the teacher was engaging
nice choice of images and videos to present China
personal anecdotes made this class even more interesting
homework sheet prompted further exploration
This class was a bit too easy for M, but it would be great for kids that have problems with multiplication and need some more reinforcement, game-style.
Our teacher was Eklie again and M was so excited to see her again!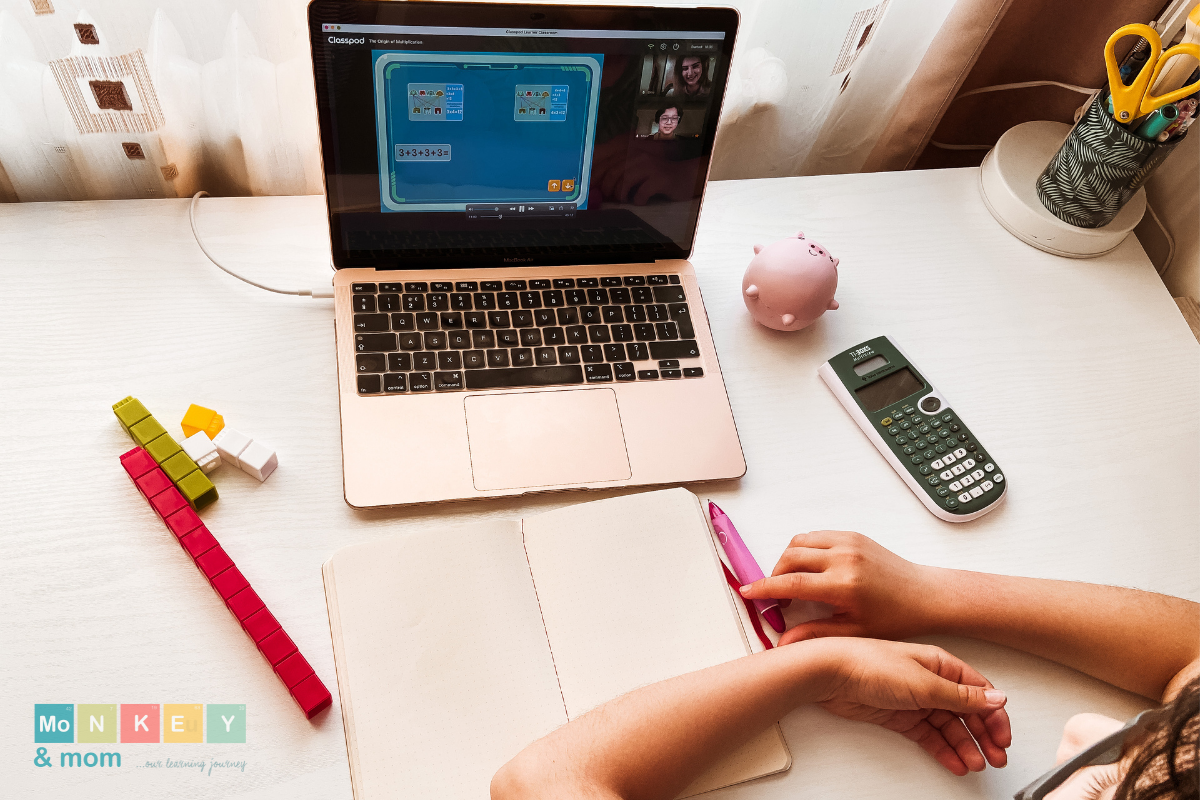 The class presented multiplication as repeated addition and the commutative property of multiplication. It was all done in Classpod with cute animations, a storyline, and many engaging games.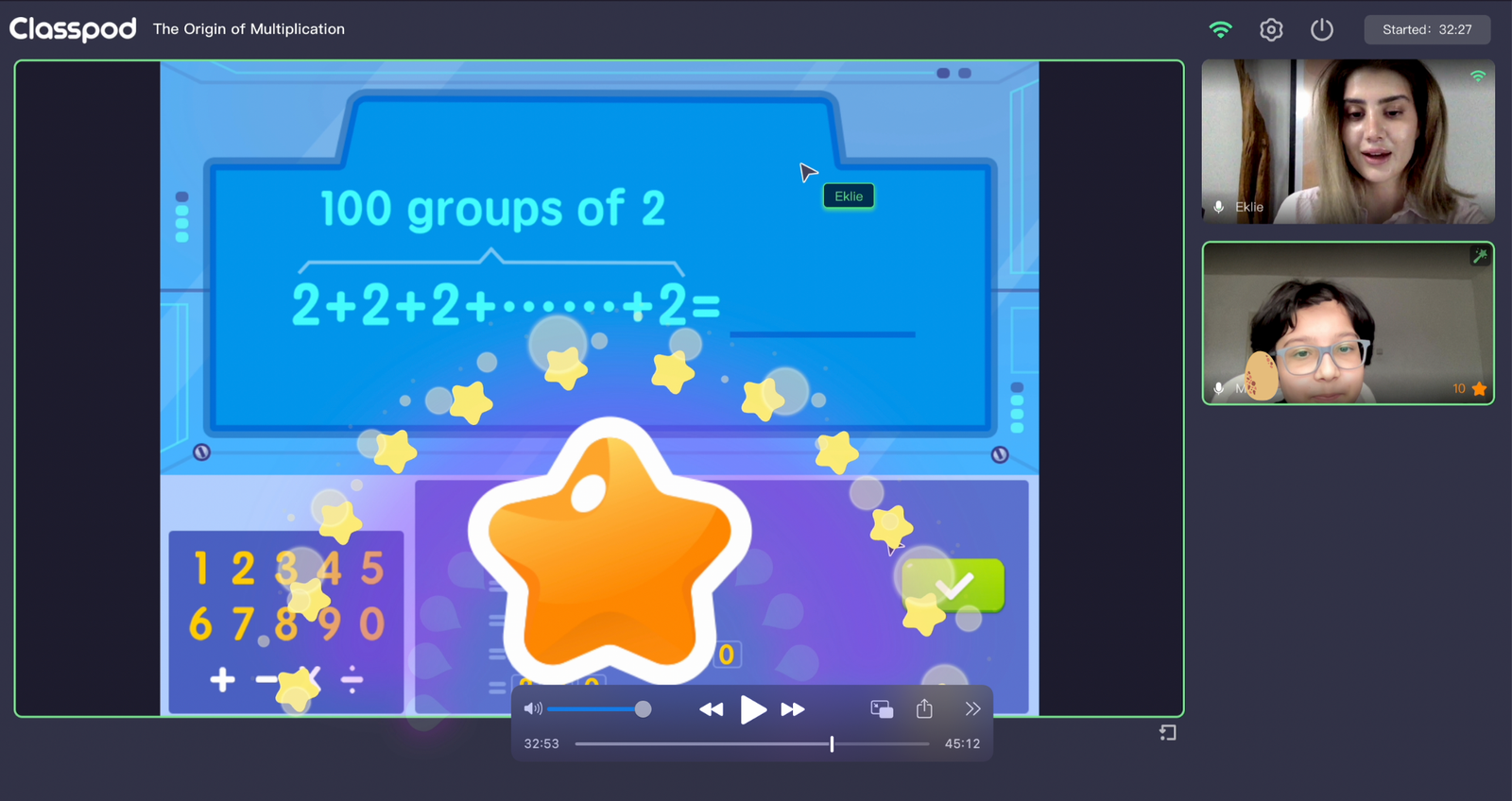 the teacher was fun
interactive, gamified class
attractive format
engaging games for practice
the class had a storyline
What we love about Allschool online live classes
Allschool is an exciting new platform for online live classes that has a lot of potential. I especially appreciate that they have their own learning tool, Classpod, to provide a safe and interactive environment for the kids.
🧡 Interactive, gamified, and engaging
Because of Classpod, I loved how Allschool can provide interactive lessons that are entertaining and engaging. Kids will definitely love practicing multiplication while playing a game and getting instant feedback and rewards.
🧡 Awesome, experienced, native teachers
Both the teachers we had in Allschool were amazing! I couldn't be happier with the way they interacted with M and how they managed to engage him.
I also appreciate every single chance M gets to practice his English with a native speaker or an experienced teacher. It's great to have him work with someone else for a change.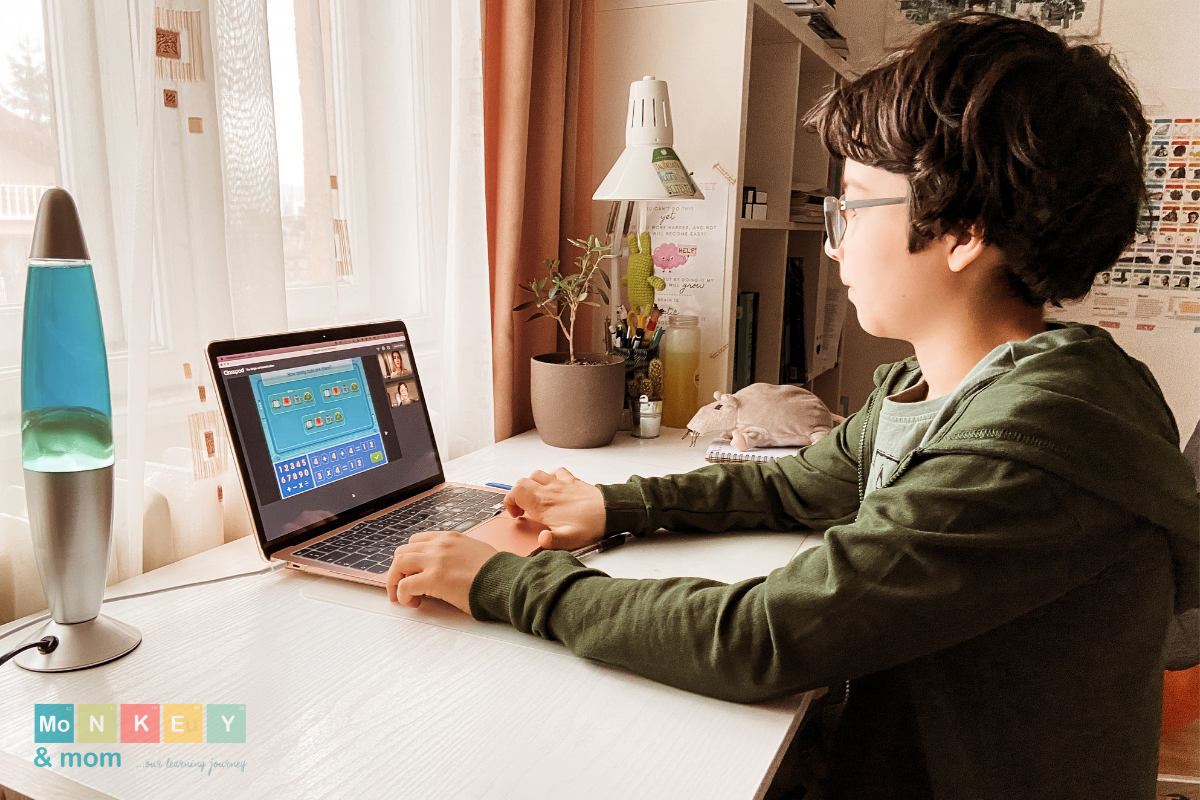 🧡 Worldwide access
In a homeschool environment, kids enrich their interactions with the outside world through activities and classes. Sometimes that's not possible because you either live in a remote area, the classes offered in your area don't appeal to your child or simply you're traveling around the globe and you have to do things on the go.
I love how easy it's become to just connect kids with teachers around the world now, not being limited by geography or timezone.
Allschool's classes are available worldwide! And you can contact the teachers for a reschedule if the time zones offered aren't working for you. Holly did that for us and it worked out great for everyone.
🧡 Great alternative to traditional classes
I know many parents shy away from online live classes. But kids need to interact with someone else, especially if you're homeschooling, even if it's online.
Allschool offers the perfect alternative to traditional classes and there's no need to get your kids out and drive them around to classes.
🧡 One time classes
We haven't explored this enough, but it's great for finding out interesting details about something you're passionate about.
I just saw the class on mantis shrimp and M would love that and any other bug or sea creature class. It would be a great way to show him there are other people interested in the same things that he is.
Video
For those of you that would prefer a video, or if you want to see more about the Allschool classes we took, please see my YouTube video below: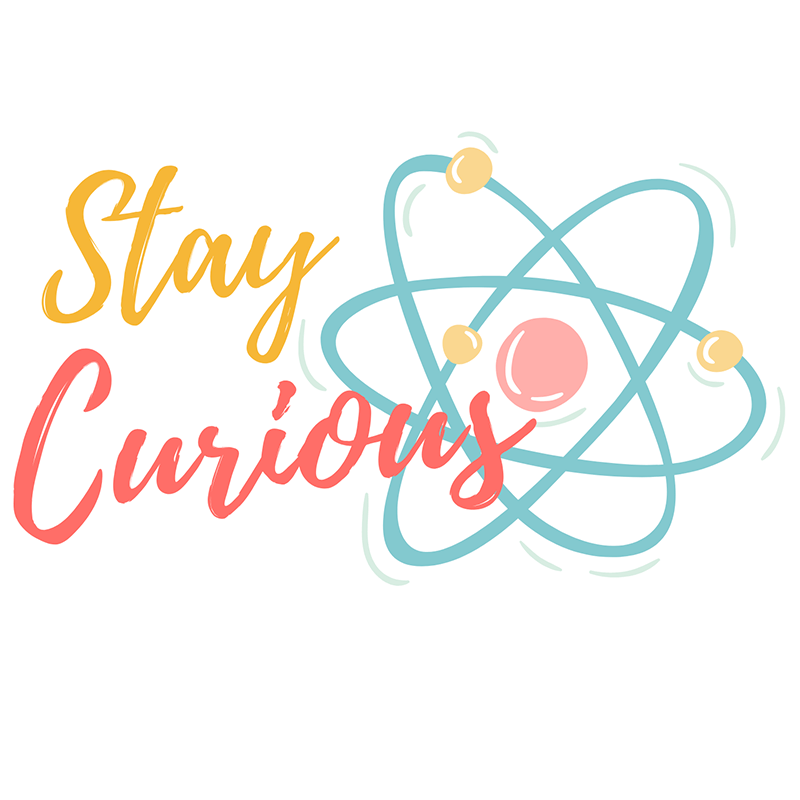 This post may contain affiliate links. By making a purchase through these links, I get a small percentage for the item you bought while the price stays the same for you. Thank you for supporting me.
As an Amazon Associate I earn from qualifying purchases.
Read my Disclosure to find out more about how I support my website and how you can help.