Online Dance Classes with YouDance – PE at home
One of the struggles I've had in the last years, while homeschooling, has been keeping up with P.E. because anything I picked was boring and repetitive. But enter online dance classes – they changed our weekly routine completely!
I was a bit skeptical about learning to dance online since I know it requires a lot of effort and learning techniques that I thought only a live person could help you master. However, this program proved me wrong, and we started looking forward to our classes… yes, we do it together, as a family, and it's so much fun!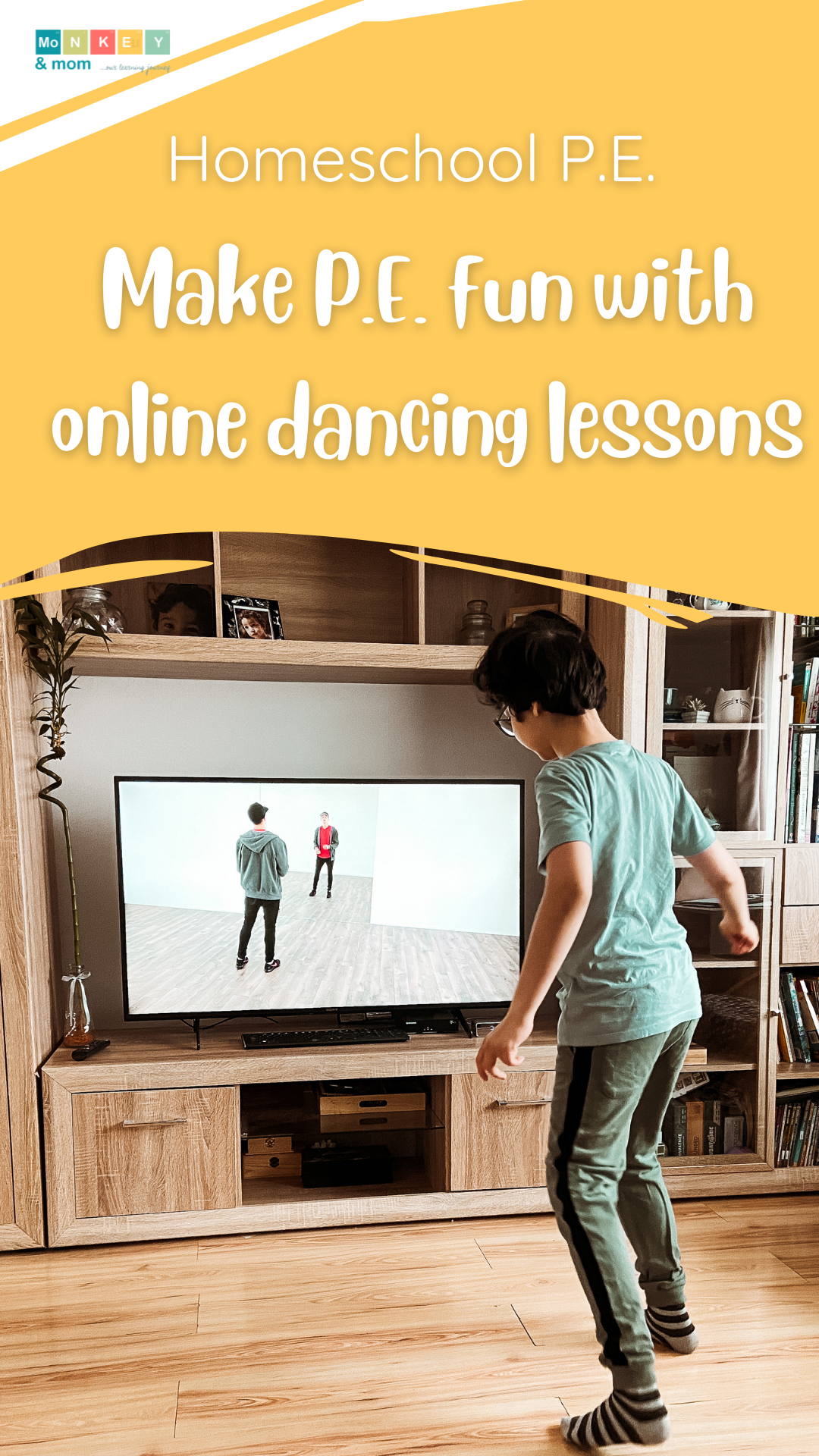 About YouDance.com
YouDance.com is an online dancing platform developed by a professional dancer and homeschool mom from the desire to offer kids (and adults) a safe space to learn the joy of dancing.
The lessons are geared to all levels from absolute beginners to advanced dancers and you can easily change between 7 dance genres, including choosing the ones aimed at young kids or just exercising.
YouDance.com is a safe space for learning to dance: no ads, no pop-ups, just dancing.
---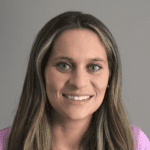 "We created YouDance.com because we wanted everyone to have an opportunity to enjoy dancing, no matter his or her schedule."

— Courtney, founder YouDance.com
---
Set up
YouDance.com is a platform where you get access to every dance class from beginner to advanced. It's neatly organized and very easy to use. The classes are organized into these categories:
My Dance Classes – organized by skill level: beginner, intermediate, advanced.
Follow Along – all the extra practice where you'll just rehearse the piece you learned in the classes with music, by following along to the instructor. There are no more explanations here, just dancing.
Choreography – teachers show you how to dance on contemporary song pieces. These classes are longer.
Dance Styles – you can choose the type of dancing you want to learn and just take the classes in a progressive order.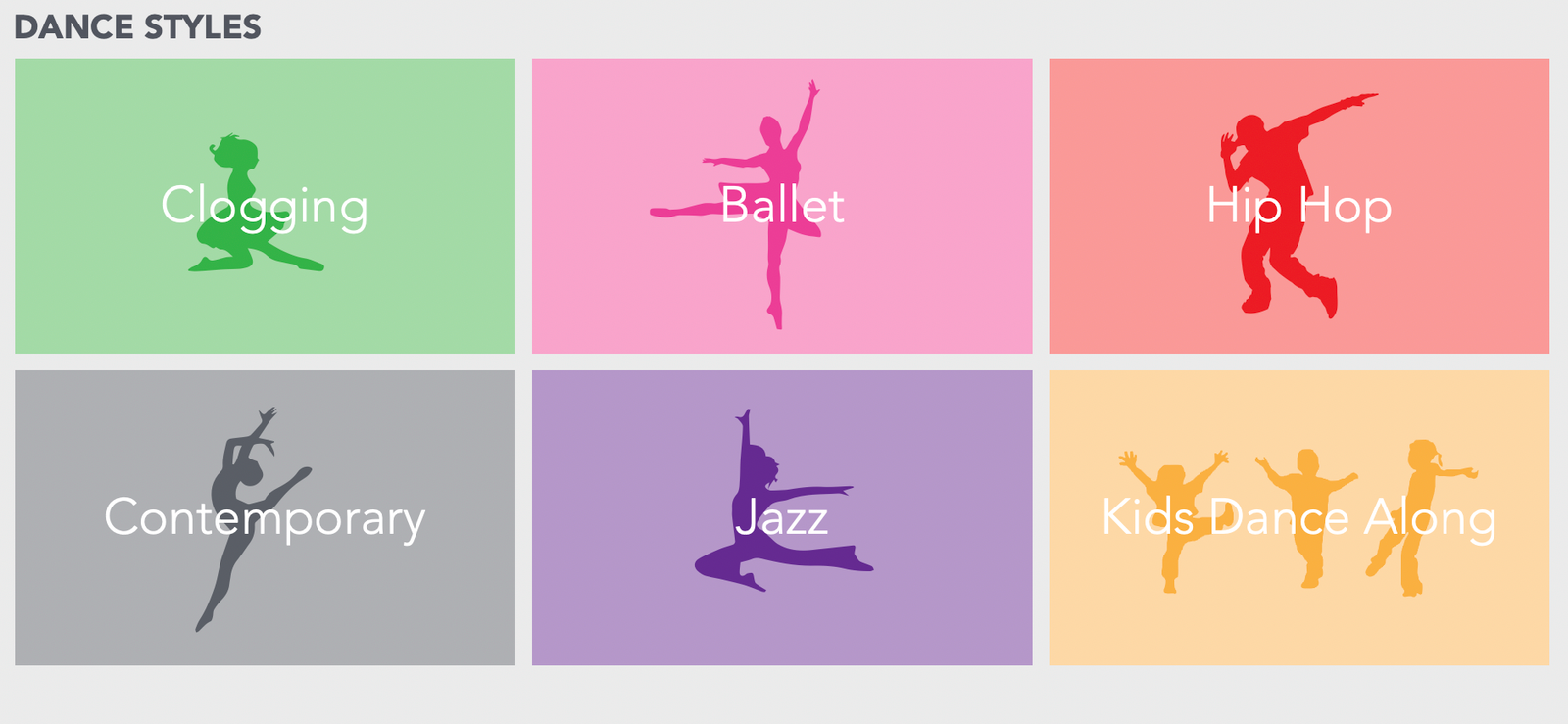 Pricing
YouDance.com's online dance classes are very affordable!
$25/month or discounted at $180/year
The free trial is automatically applied to all who sign up so you can test it out before committing to buy it.
Using online dance classes as P.E.
We've been struggling to keep up with P.E. in our homeschool. M used to move a lot, but I noticed things changing lately.
During the winter months, we didn't go out so much and I started looking into P.E. at home. We found a few classes on YouTube, we also tried some programs for kids that were popular. But it all felt repetitive and boring after a point.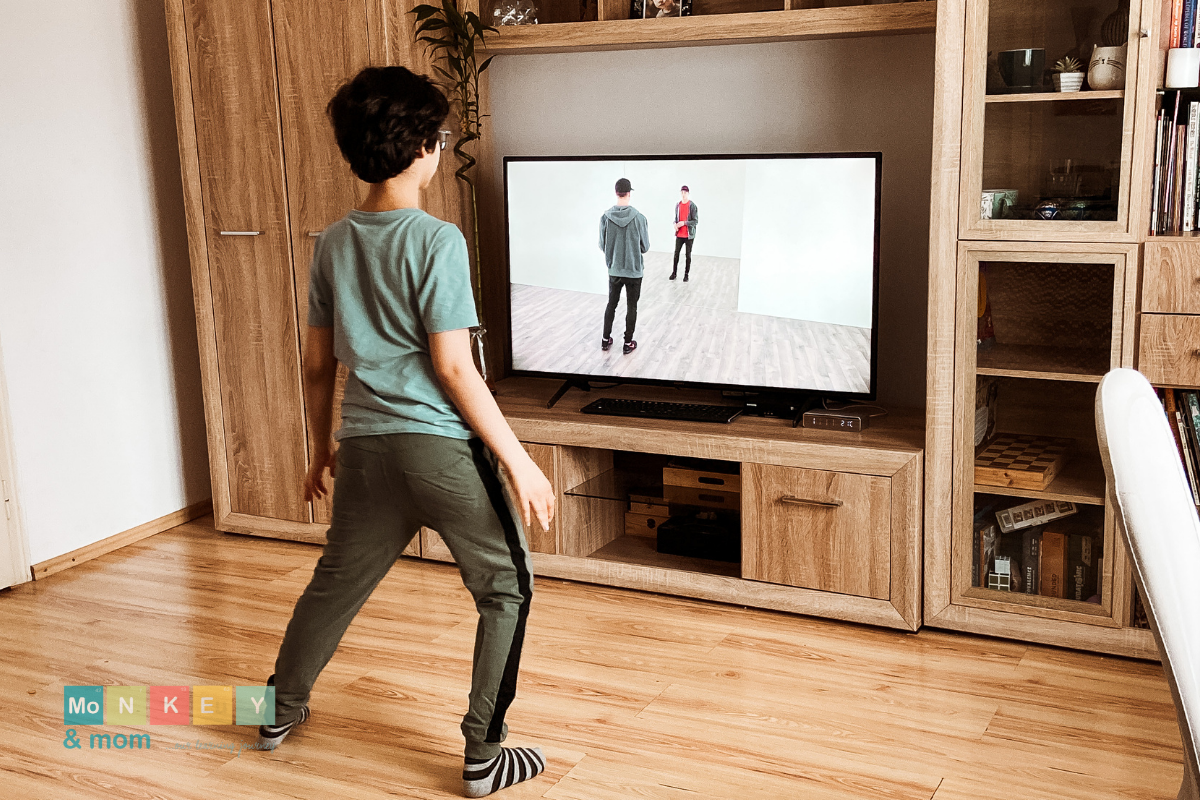 Enrolling him in some sort of class outside the home is difficult because the class offers around here are almost inexistent. I also wanted to pick something that would be fun and possibly teach him a new skill. That's how we ended up with YouDance.com.
Why not choose dancing as a P.E. activity? And profit from the many benefits of dancing, too.
With YouDance.com, I just play the classes on the TV. M happily follows along, and he's so proud he started dancing hip hop. ❤️
What we love about YouDance.com
YouDance.com is so easy to use! I love several things about it but especially the fact that it created an outlet for M to express himself and get moving at the same time. It's the perfect combination.
🖤 Step by step
I tried other dancing programs online and most of them are too much to take on for a complete beginner. They just teach you too much at once or the movements are hard to make out.
YouDance.com is different. The instructors break down every single movement and help you rehearse it until you master it. That's why some videos are just 2 minutes long. In the end, they show you how to put all these moves together to create a choreography.
🖤 Family fun
All of us need more of this! YouDance.com offered us the chance to do a new family activity and learn a new skill together as a family.
It's so much fun to see M correct his dad's movements and explain how it's done. We also love seeing ourselves synchronize (sometimes haha) – but don't imagine we are experts. We're still clumsy and probably (some of us) have two left feet. But its great fun and movement and it helps us bond as a family. So, thank you, YouDance.com.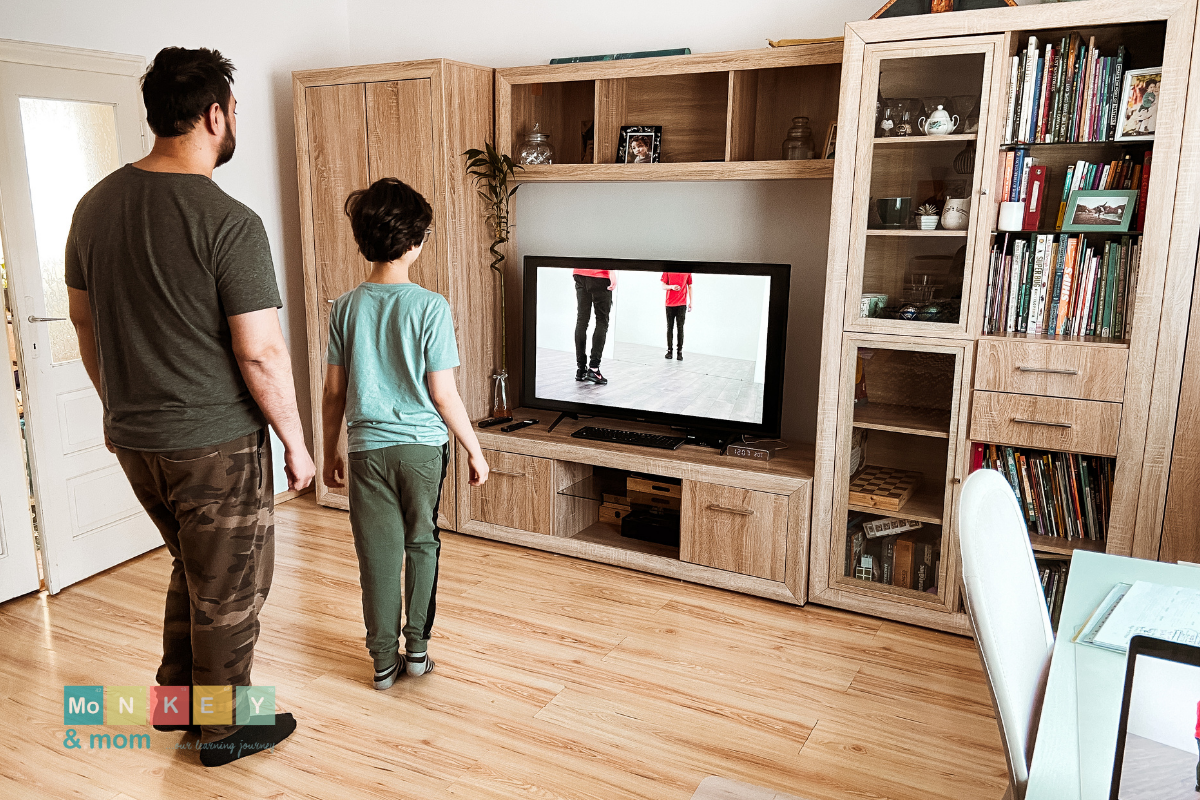 🖤 P.E.
As I've mentioned, these online dance classes can be used as P.E. if you combine multiple per session or do them every day. They are great for getting your kids to move and the best of all is that YouDance.com has classes geared towards young kids, so from toddlers to teenagers, everyone can join.
They even have exercise dance classes!
🖤 Safe space
YouDance.com have their own platform, which means everything happens inside their space and it's all about dancing. No ads, no other distraction. The ideal space for busy parents to let their kids explore without worrying they will end up distracted.
🖤 Easy and accessible
YouDance.com's website is very intuitive and easy to use. I can easily play it on the TV and we immediately transform our living room into a dancing room.
I love a well-organized space, and that's how I felt about YouDance.com. The classes are easy to sort by skill or type.
🖤 Awesome instructors
While I'm not a dancer, I noticed the instructors are all very good at what they do. They all have a lot of patience, they are great at explaining movements and breaking movements into smaller steps. This is important when learning how to dance because learning happens progressively and you feel great satisfaction at having mastered a small portion of the dance.
Why teach dancing?
It's very easy to see the benefits of teaching dancing to kids. From an energy-using outlet for toddlers to express suppressed emotions from your teenager, it's all there. So let's look at some more points supporting dancing as a great channel for kids.
Balance & Flexibility – these are the obvious reasons dance helps. Dancing strengthens the body increasing balance and flexibility.
Health – movement of any kind helps promote good health, maintain a healthy weight and develop a healthy body.
Emotional – dancing brings joy and a release channel.
Energy – kids have a constant need of movement and to let off energy. Dancing is a great way to do it in a safe, controlled environment.
Academic – some children need movement and to exert themselves before their brains switch on to learning mode. Dancing works great to help with this and it even helps with attention disorders.
Discipline – dancing takes time and effort to master and it also requires a lot of discipline in movement.
Time management – balancing academics and extracurriculars like dancing is a matter of time management. Dancing and other extracurriculars are great ways to help kids discover the power of a good schedule.
Art – let's not forget that dancing is a form of art and expression. Dancing can be that beautiful, positive change that your kids need.
What parent wouldn't like all that? And don't forget it's fun!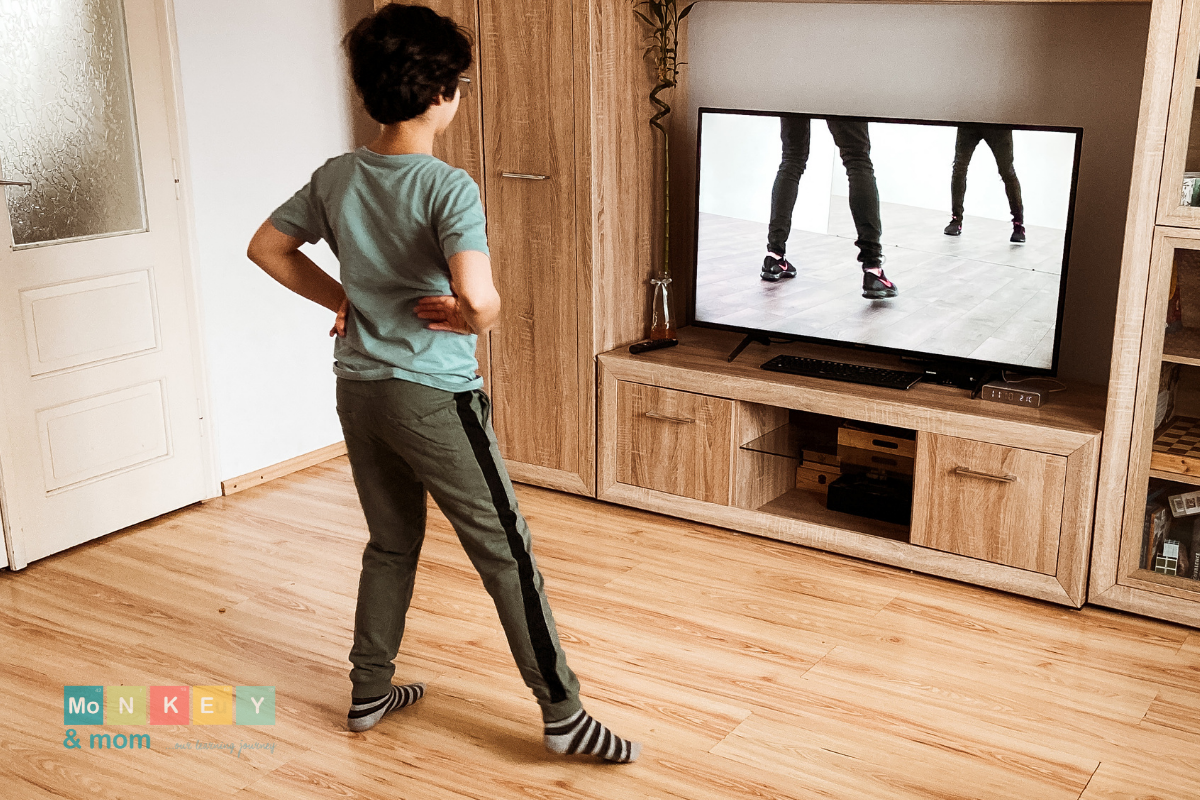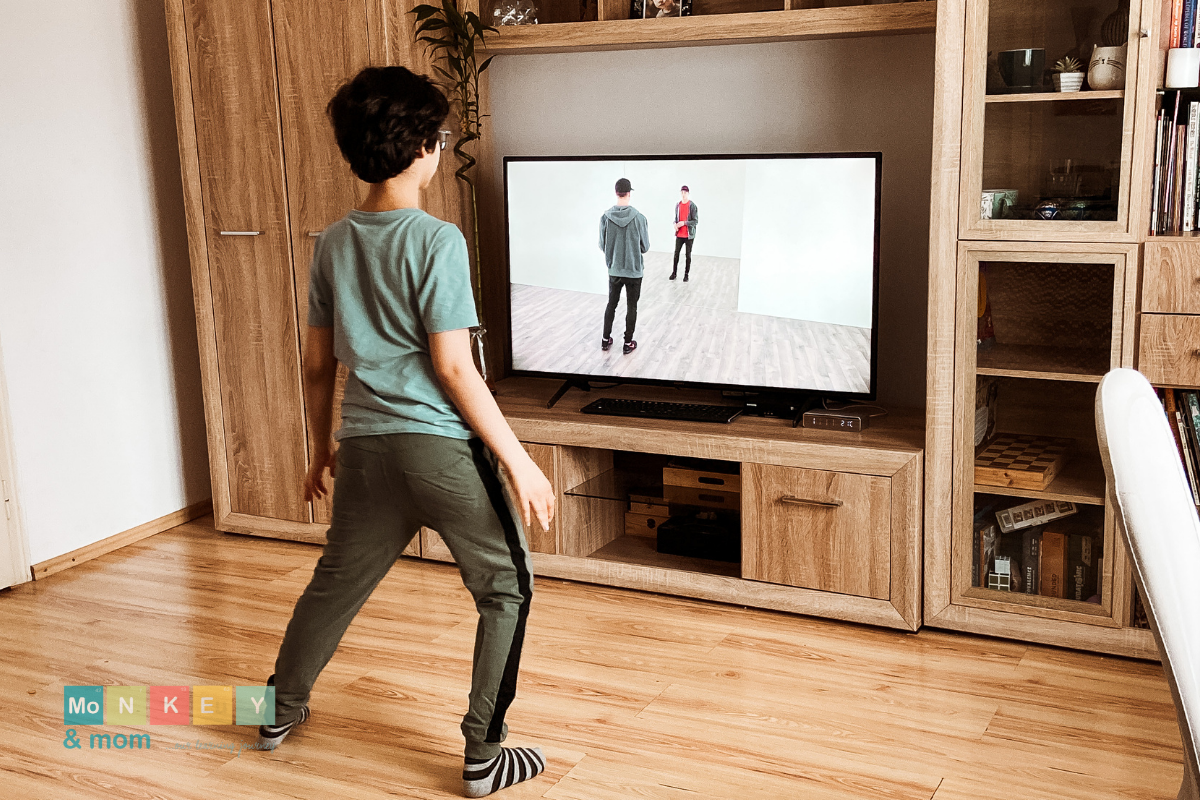 Video and Rating
I know lots of you are curious by now to see what YouDance.com classes look like in our family, so I'm offering you a premiere: my son and husband trying to follow the instructions haha. And I'm also showing you inside this awesome program, so watch it on YouTube:
Our rating is 4 out of 5 stars!
We love YouDance and will continue to use it to cover P.E. requirements, bond as a family, learn a new skill, and have a lot of fun!
Giveaway!
YouDance.com offered a giveaway for my readers, so make sure you try your luck by filling in the form below by April 29, 2022.
You can get one lifetime access to YouDance!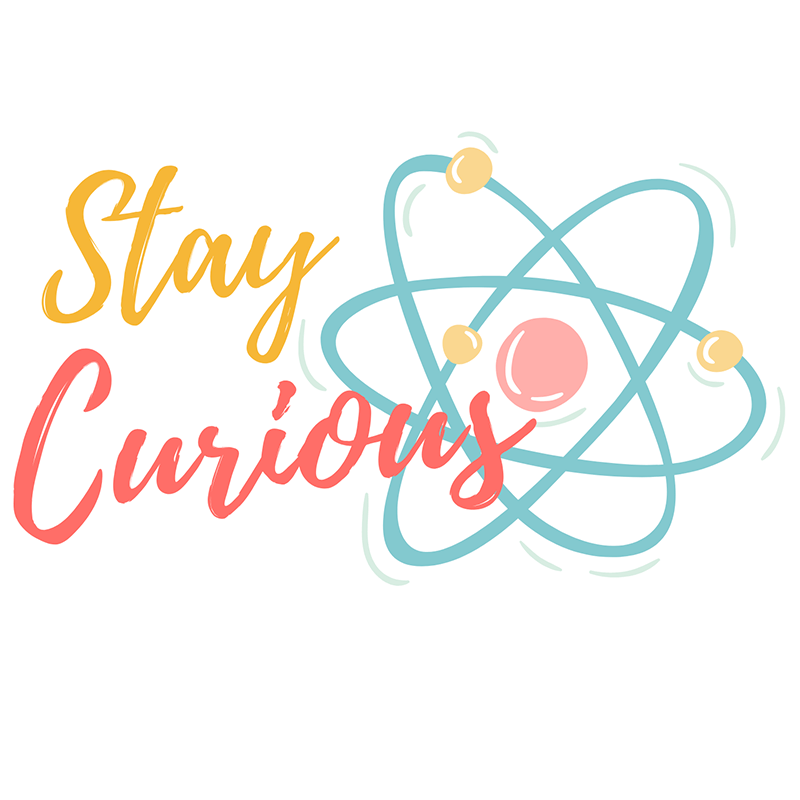 This post may contain affiliate links. By making a purchase through these links, I get a small percentage for the item you bought while the price stays the same for you. Thank you for supporting me.
As an Amazon Associate I earn from qualifying purchases.
Read my Disclosure to find out more about how I support my website and how you can help.