Discover the Advantages of a Small College Education at Thiel College | A Homeschool Friendly College
Years seem to fly by so quickly! When we started homeschooling college was the last thought on my mind. College years seemed so far back then, but they are approaching fast now. There are so many variables to consider when thinking about colleges and so many options available that I feel I should start informing myself about them to be ready when the time comes.
A worry of mine is related to how my homeschooler would adjust to living the campus life after so many years at home, receiving individualized instruction, and what I could do to ease this transition. One idea is to look for a smaller, homeschool friendly college that helps students adjust and offers them some opportunities that regular colleges don't. Did you consider this option?
Another idea worth exploring if you worry about the cost and duration of a bachelor's degree is gathering college credits from high school. This might help reduce the time your student spends in college and how much money you have to pay for tuition.
This is a sponsored post so I might have been compensated for my time but I was not required to write a positive review. I would never endorse or recommend programs we wouldn't use or consider using for ourselves. Read more about it in my Disclosure.
Pin this image to read the article later. 📌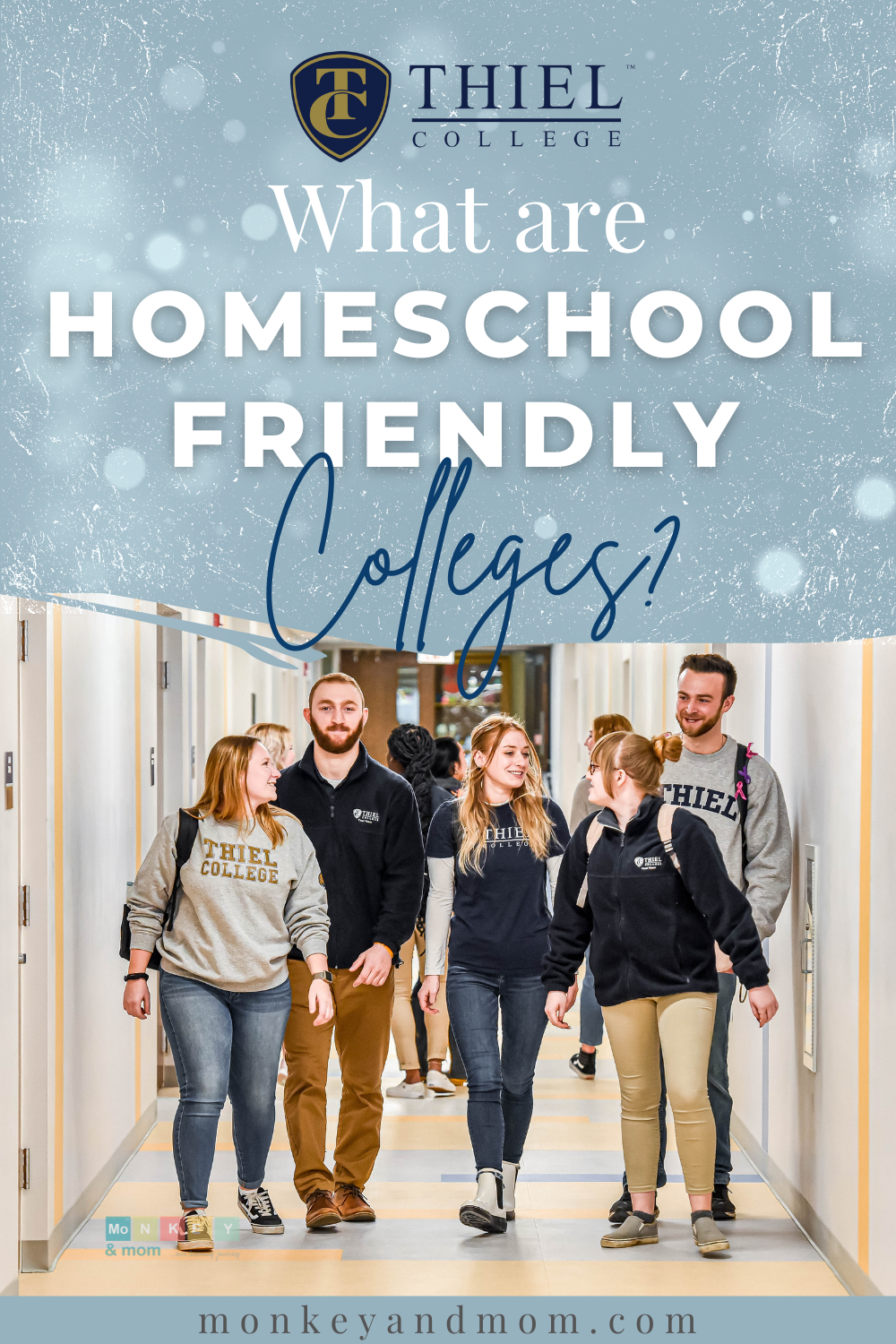 Can you go to college if you were homeschooled?
Yes! Colleges and universities are looking for students from a variety of backgrounds, and that includes homeschooled students.
Homeschooled students may need to provide additional documentation, such as standardized test scores or a portfolio, to demonstrate their academic qualifications to college admissions officers.
They may also need to meet additional requirements, such as completing specific coursework or passing a proficiency exam, in order to be admitted to certain programs or colleges. However, many colleges and universities now have policies in place to accommodate homeschooled students, and many homeschooled students have been successful in pursuing higher education.
What's a homeschool friendly college?
Many colleges and universities accept homeschooled students nowadays, but it takes more than acceptance to make a college homeschool friendly.
A homeschool-friendly college is a college or university that is willing to admit and accommodate students who have been homeschooled. These colleges may have more flexible admissions requirements and curriculum options for homeschooled students, and may offer support services specifically for homeschoolers.
Some colleges may also have a homeschool admissions counselor or a homeschool liaison to assist homeschooled students with the college application process. In addition, some colleges may have specific programs or resources tailored to the needs of homeschooled students, such as peer mentoring or study groups.
Homeschool-friendly colleges are designed to be more welcoming and supportive of homeschooled students, and to offer them an environment where they can succeed academically and socially.
A homeschool friendly college makes the transition from homeschooling to college life smooth, ensuring students thrive. Here's what you can look for in a college to determine if it's homeschool friendly:
Atmosphere
If you want your homeschooler to continue learning and growing on the same principles as at home, look for the right learning and campus atmosphere. Smaller colleges have close-knit communities, individualized help, and support systems so that homeschoolers can continue growing in their interests.
Help and Support
Many students find it hard to adjust to campus life, not only homeschoolers, so making sure students receive the help they need is another important point. Additionally, homeschool-friendly colleges may have more flexible admissions requirements for homeschooled students.
Expansion
Of course, sending kids to college to expand their horizons is what we all want, but it's equally important that the environment allows for healthy expansion and offers opportunities that are beyond academic for our homeschoolers. This means they will have opportunities for internships or other real-life extensions of the classes they take in college.
So how can we find these colleges?
One example of a homeschool friendly college is Thiel College. Thiel is committed to supporting students in attaining their true potential, since 1866!
What does Thiel College offer?
Thiel College is a small, private liberal arts college in Western Pennsylvania that offers undergraduate and postgraduate programs. Some of their options include Business & Accounting, Communication, Education, Health Sciences, Humanities, Social Sciences, Sciences, Maths, and Computer Science.
Thiel College is MSCHE accredited and it's been ranked as #20 in the 2022-2023 edition of Best Colleges under Regional Colleges North.
This college is dedicated to providing a personalized and supportive learning experience for all of its students. Thiel College is ideal for students who are looking for a small, close-knit community where they can receive individualized attention from their professors, and get involved in extracurricular activities.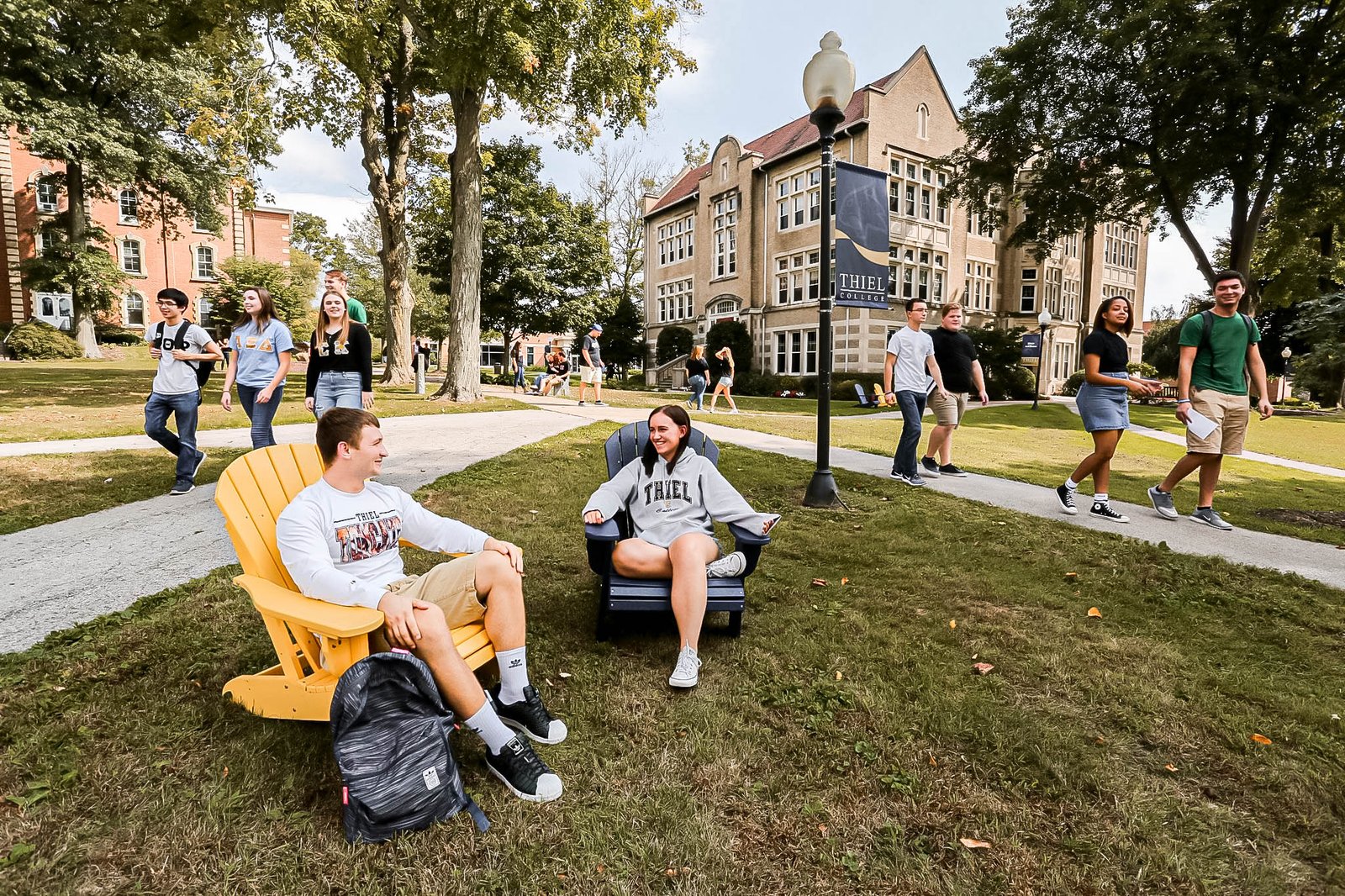 Thiel's goal is to help students achieve their potential by balancing compelling courses and hands-on experiences with a great campus experience. And the numbers are impressive because 100% of their students complete internships.
Thiel College is a small homeschool friendly college with a strong network of over 15.0000 alumni that supports students towards leadership development, aligning skills and passions, and finding the right career options for them.
The college also offers a variety of extracurricular activities, clubs, and organizations that students can get involved in. The active campus community is composed of under 1000 students and faculty members with over 100 clubs and 89% of the students live on campus. This provides them with the opportunity to meet new people, explore new interests, and build a sense of community on campus.
The extracurricular activities are diverse and are designed to cater to the interests of a wide range of students, including homeschooled students.
With a ratio of 11:1, professors can offer more personalized help and guidance where needed and they get the chance to know every one of their students. Their faculty are dedicated to providing a personalized and supportive learning experience for the students.
In addition, Thiel College offers attractive scholarships, with over 99% of the students receiving an aid, and opportunities to continue studying abroad or at reputable universities, through their various partnerships. These include semester programs, short-term programs, internships, and service-learning programs.
For student-athletes, Thiel College offers a well-rounded college experience that combines academics and athletics. The college's athletic programs are designed to develop student-athletes' physical and mental abilities, as well as their leadership and teamwork skills. Additionally, Thiel College's NCAA Division III membership allows student-athletes to participate in sports while maintaining a strong focus on academics.
The Thiel Tomcats compete in a variety of intercollegiate sports, including men's and women's basketball, cross country, soccer, tennis, and track and field; baseball, football, golf, soccer, and volleyball for men; and softball and volleyball for women.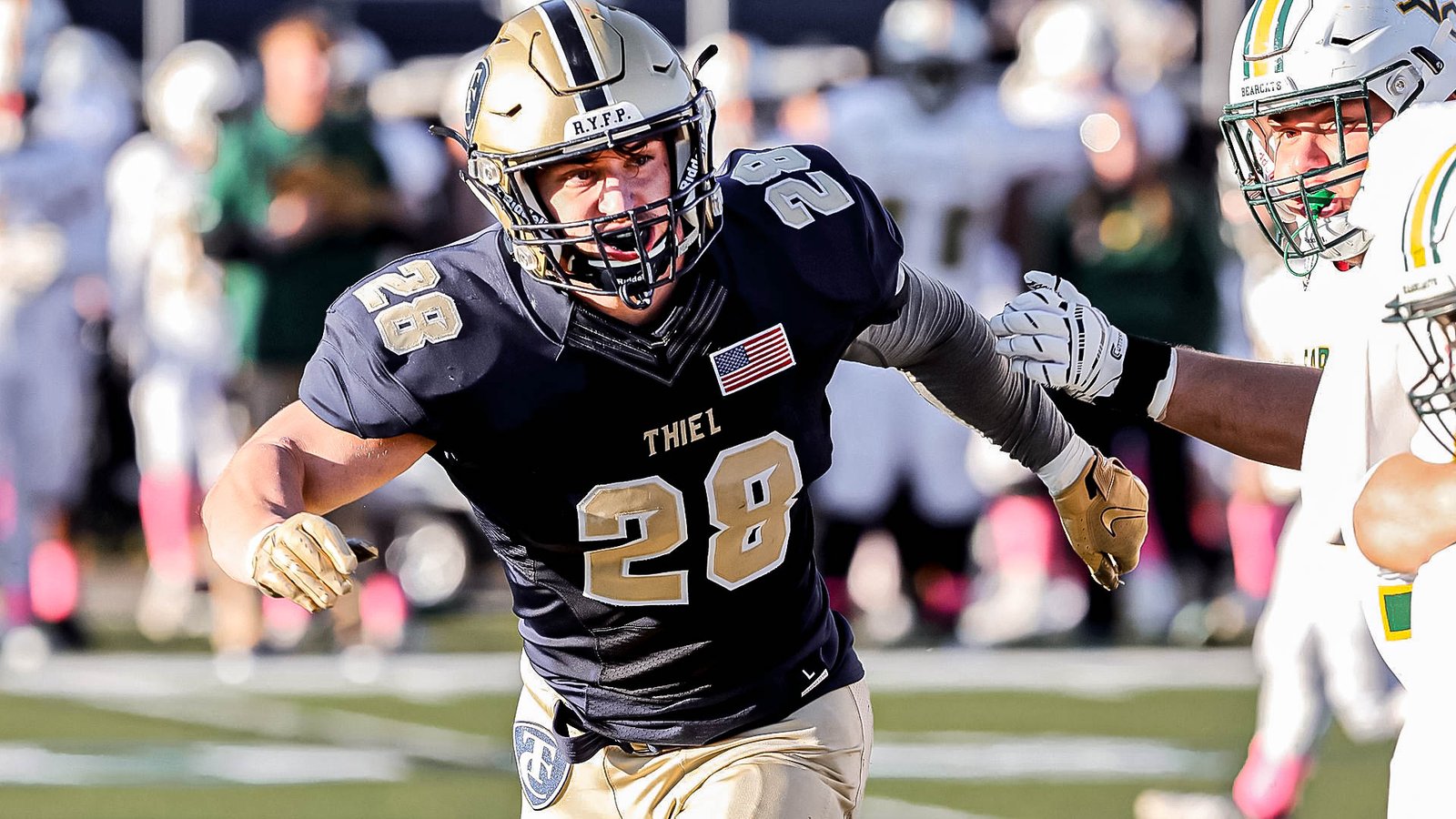 Thiel College offers a variety of options for high school students, including dual enrollment and early college programs like College in High School.
Dual enrollment allows high school students to take college-level courses for college credit while still in high school. This can be a great option for homeschooled students looking to get a head start on their college education and potentially save money on college tuition.
The College in High School at Thiel College allows high school students to take college courses on Thiel's campus and earn college credit. The program is designed to provide students with a college experience while still in high school, and is open to students from area high schools and homeschooled students.
Both options allow high school students to take advantage of Thiel College's resources, such as the library, computer labs, and other academic support services. Additionally, students in the dual enrollment or early college programs have the opportunity to engage with college students and experience college life.
Thiel College and Homeschool Students
One of the things that sets Thiel College apart from other colleges is its commitment to being homeschool friendly. The college understands that homeschooled students have unique needs and experiences, and it works to ensure that they feel welcomed and supported on campus. Thiel College has a dedicated admissions counselor who can help guide homeschooled students through the application process, and offers a variety of academic support services, such as tutoring and study groups, to help homeschooled students succeed in their classes.
The application process for homeschoolers at Thiel College is the same as for any other student, but this homeschool friendly college goes above and beyond for homeschoolers to make them feel comfortable by offering:
Thiel College Testimonials
I think that a great way to get a feel for the college you're thinking of adding to your list is to look for testimonials, and Thiel College has some great testimonials outlining the benefits of going for a smaller-sized college as opposed to a larger one.
Who is it for? – Small College Pros and Cons
I think a small homeschool friendly college like Thiel College is a great option for homeschoolers that look for a smooth transition between homeschool life and college life, but it might not be the perfect solution for everyone, that's why I compiled a small comparison list of pros and cons for attending a small college.
Small Colleges Offer
– quiet college experience
– more help and support during the transition
– personalized plan to graduate earlier
– more flexibility with curriculum and what you study
– one-on-one interaction with professors
– more feedback for your work
– less competition for scholarship
– building close connections with peers
– a more comfortable environment
– small classrooms
– a stronger sense of community
Small Colleges Do Not Offer
– a lot of classes to pick from
– more opportunities for extracurriculars
– the typical college experience
– more events
– big classrooms and facilities
– larger alumni networks
It is important to weigh the pros and cons and decide what factors are most important to you when choosing between a small college and a large university. It is also a good idea to visit the campus, talk to current students and faculty, and gather as much information as possible to make an informed decision.
I have to admit that until now I didn't consider this distinction among colleges but I think it's a great find that I will explore more. I feel that a smaller college is very appealing because faculty and students would develop meaningful relationships, students would live in tightly-knit communities, professors will have fewer students and more time to really get to know the kids better, and the individualized support system seems like a great option to have.
While there may be some downsides to attending a smaller college, it ultimately comes down to how you make the most of your college experience. I strongly believe that encouraging students to take advantage of opportunities that come their way, regardless of the size of the institution they attend, is a valuable lesson that can serve them well in the future.
What do you think? Would you consider a homeschool friendly, smaller college? Why or why not? I would love to talk about it, so let me know in the comments.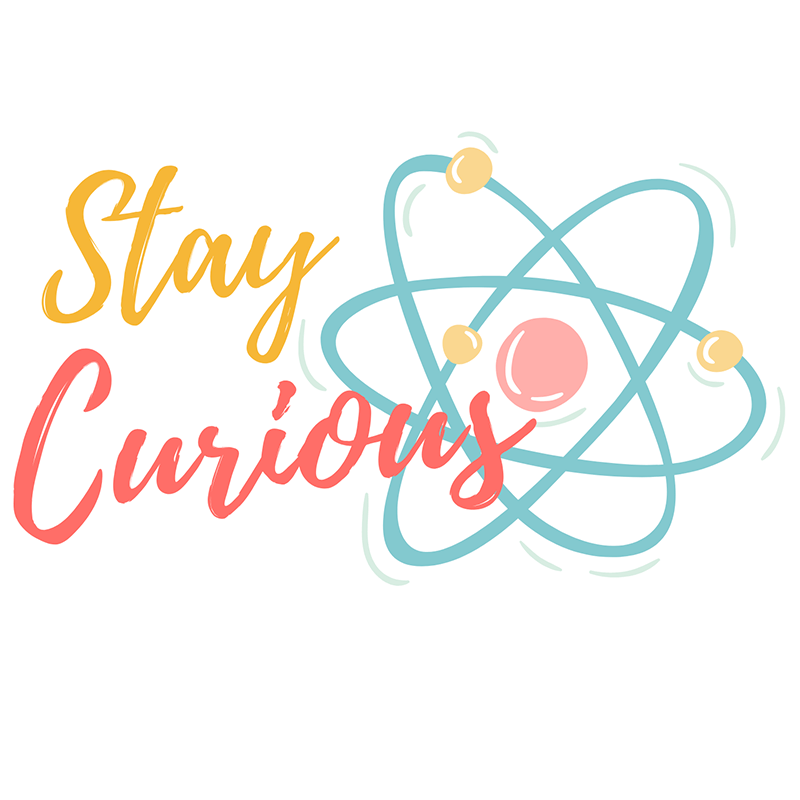 This post may contain affiliate links. By making a purchase through these links, I get a small percentage for the item you bought while the price stays the same for you. Thank you for supporting me.
As an Amazon Associate I earn from qualifying purchases.
Read my Disclosure to find out more about how I support my website and how you can help.