The 5 Key Features A Homeschool Planner Should Have To Make Your Life Easier | Focused Planners
As homeschool moms, we all know how important it is to stay on top of things, to be organized, and to balance the various aspects of our life. Homeschooling is an amazing journey but also a big responsibility that requires planning and organizing.
That's why homeschool planners, whether paper or digital, are a must-have in any homeschool family. But with the multitude of offers out there, what planner should you choose that doesn't end up in your growing pile of unused planners and notebooks?
In this article, we'll list the top 5 elements that I think are crucial to have in any homeschool planner and I hope you'll stay with me till the end to get my free printables and participate in our Valentine's Day Mega Giveaway! (This giveaway is now closed, but my Homeschool Planner giveaway is still open!)
At A Glance – The Key Features A Homeschool Planner Should Have To Make Your Life Easier
Summary:
There are a lot of homeschool planners out there. But what key elements should you look for so your planner doesn't turn into another pretty accessory to gather dust on your shelf? I've compiled a list of 5 essential elements that a homeschool planner should have.

I've previously touched on the subject of digital versus paper homeschool planners, but this article will focus mainly on paper planners, and the key features I think are important in a homeschool planner. We'll also briefly touch on other types of planners that could help working homeschool moms.

Keep reading for more details and for a chance to win some organizational goodies for your homeschool!
A good homeschool planner should have these 5 essential elements:
Aside from these 5 key features, a homeschool planner should also be easy to use, well-organized, and last but not least pretty enough so you feel like using it daily!
Pin this image to read the article later. 📌
Digital or Paper Planners?
I have to admit I like a blend between the two, but I cannot survive on a digital-only planner. I feel the need to jot things down and see everything at a glance, so I couldn't survive without my paper planners. I use multiple planners for both my homeschooling and as a working homeschool mom, to keep track of my business.
There are benefits and downsides to both paper planners and digital planners, so what you end up using depends on your personal preference. If you want to read more about digital versus paper planners in your homeschooling, I wrote about it in my Types of Planners- Planning Your Homeschool Year (part 1).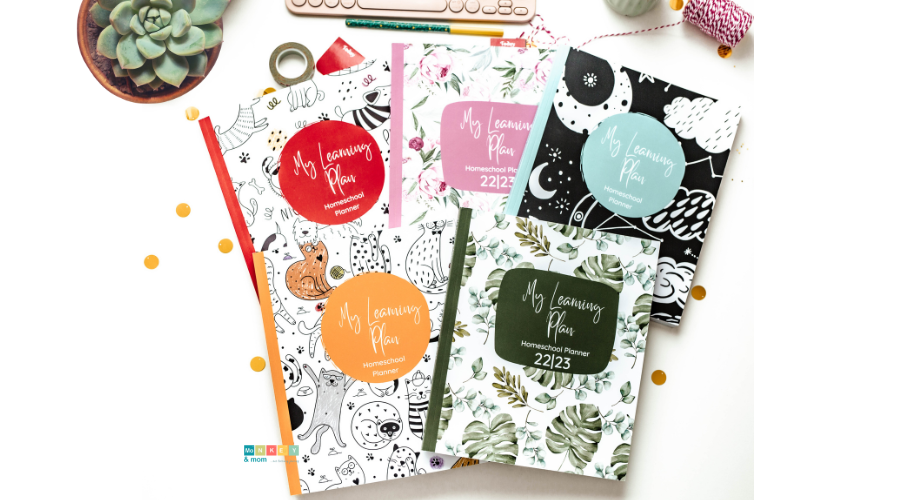 The 5 + Key Features Of a Homeschool Planner
I love planning and organizing my homeschool and business and I love myself a good planner, but many times I am overwhelmed with the multitude of options out there. To top that, I have a full box bull of unused planners of all kinds because even though they looked pretty and seemed useful when I bought them, they turned out to be useless for my needs or too difficult to figure out how to use.
I have multiple homeschool planners (some that I bought and some that I printed from the internet) that ended up in the recycling bin because of various reasons, but the most common of them: they have too many sections and too many pages I don't need.
Let's face it, homeschool planners tend to get bulky quickly! And who wants to keep pulling out another bulky book of the shelf? No, thank you. I'm already juggling enough textbooks in my homeschool.
So I prefer my homeschool planner to focus solely on homeschooling and keep my other planning needs separate.
To make my life easier (and hopefully yours, too) when choosing a planner, here are my top 5 elements of a good homeschool planner.
You can Pin this image to save for later.
1. Calendars are essential
Yearly and monthly calendar spreads are very important in any kind of planner, but in a homeschool planner they are used to track the dates of your homeschooling sessions and any upcoming events or appointments.
I cannot survive without this! I need both yearly calendars so I can mark out important dates (like the school start and end dates, holidays, etc.) and monthly calendars with big boxes so I have space to write all my son's appointments, classes, and events. I also love adding stickers to this so my son can spot things easily.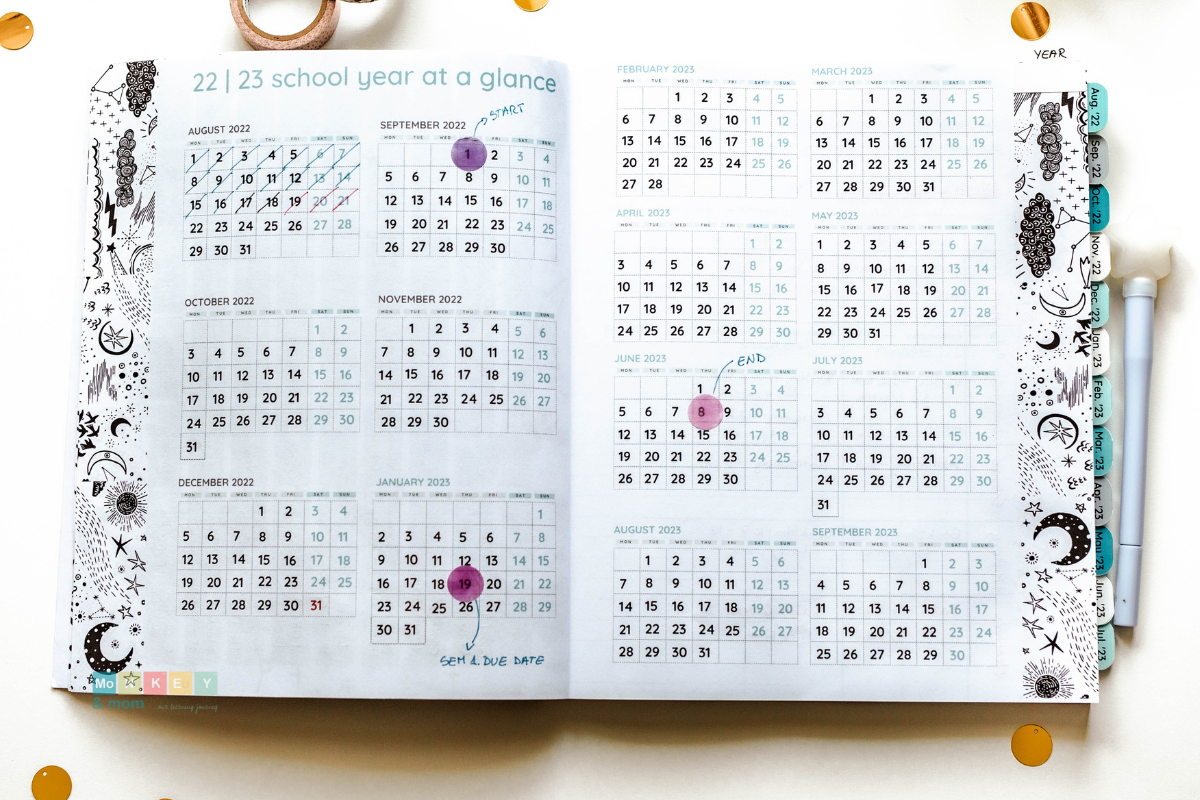 2. Enough space for lesson plans
I feel that many homeschool planner creators have forgotten that the main feature of a homeschool planner are lesson plans!
A homeschool planner should have ample space for you to write out the specific lesson plans for each day, including the subjects you'll be covering, the materials you'll need, and any activities or projects you have planned.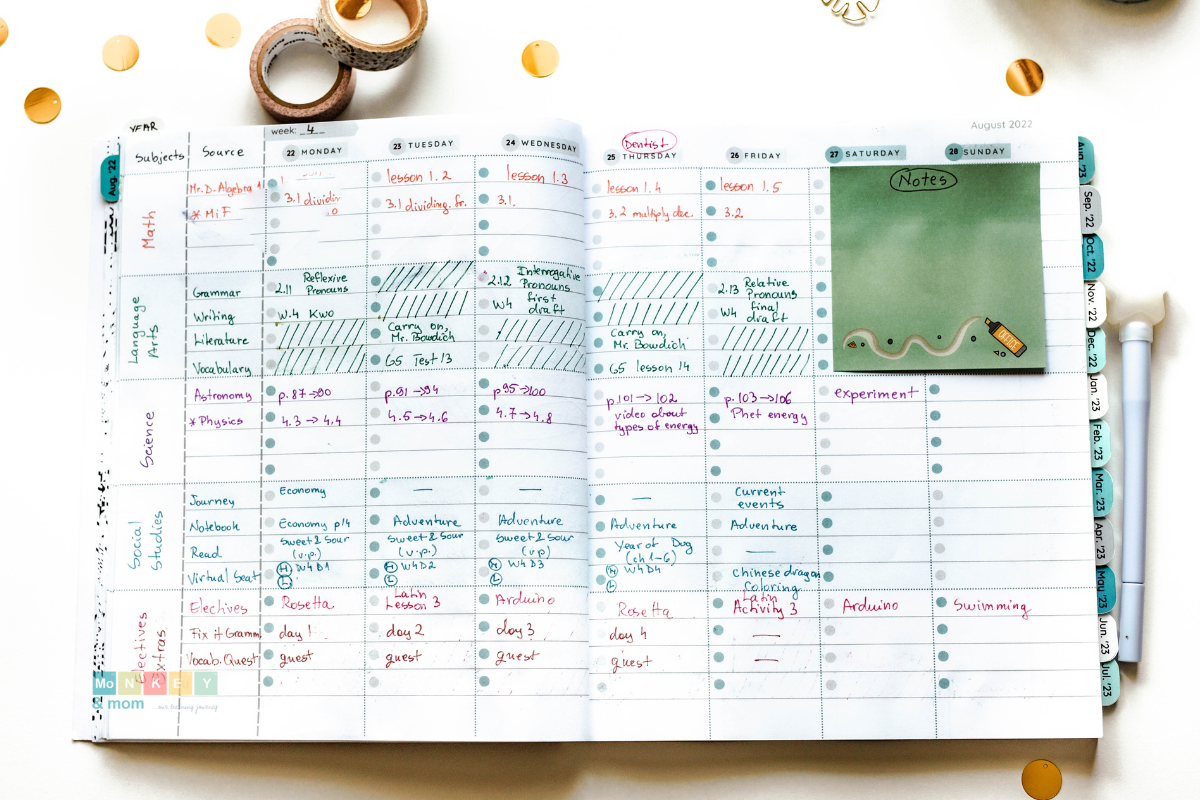 3. Resource list for all materials
This is another important feature. You need a single place to gather all your homeschooling resources, from books to websites so you can quickly access them.
A good homeschool planner will also have a section where you can plan these resources over the course of a year. For example, a space for you to write how many chapters your resource has and how many lessons you should cover per week to finish whatever you want to finish in a school year.
4. Homeschool year organization pages
This is something I didn't see often in homeschool planners. They all get lost in countless attendance and grading and logging sheets and forget to add a simple page so parents can divide their homeschool year.
For me, it's important to have a section where I can write down our start and end dates for the school year and how I want to divide my year.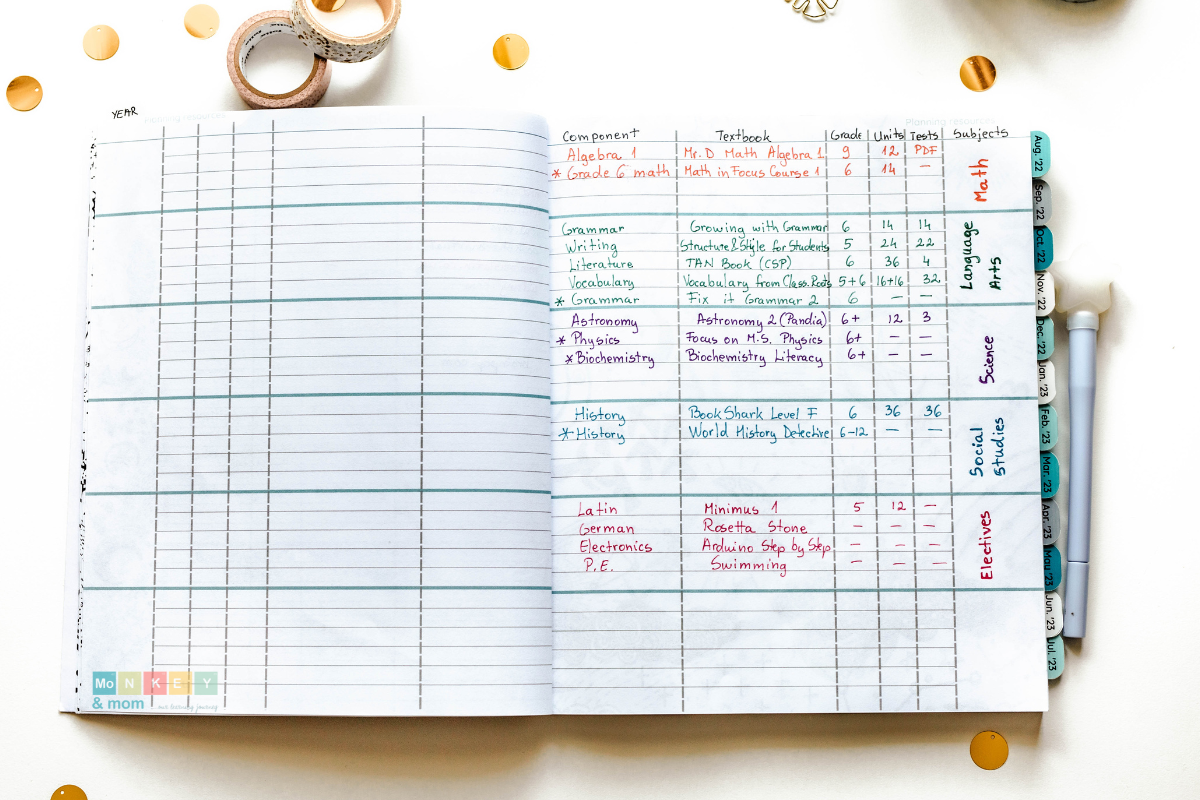 5. Logs and record keeping
Another important feature of a homeschool planner are sections to keep track of what you're doing. Whether your state laws mandate you keep track of this or not, it's a good habit to develop as you get closet to high school years.
I prefer to keep this separate, because our advisor is sending us specially formatted sheets for these, and we aren't required to keep any attendance record. I just track it on the yearly calendar instead.
If you need record-keeping sheets to print for your homeschool, I created a free record-keeping printable for homeschoolers that you can get in my Freebies section.
Bonus features of a good planner (for any purpose)
Besides the essential elements outlined above, I feel that a planner should also meet some of these points:
be pretty – I've seen some great planners out there that had terrible graphics or ugly covers. I am far from demanding when it comes to looks, but I am a visual person and I like things to look neat and pretty. In fact, I have to admit I fall into the trap of buying pretty-looking planners and notebooks that I never use.

And I will include extras in this section. If a planner has nice tabs, stickers, or printables that coordinate, I am all up for that!

be flexible – while I appreciate having sections for everything lined up for me, I also want to have enough room to personalize my planner with the sections I need.

focused – I never liked the all-in-one types of homeschool planners where you also have ample space for gratitude, weekly goals, meal planning, budgeting, house chores, your Pilates schedule, your fishing logs, your whole blog post and social media planning and whatever not.
Of course, I'm exaggerating a bit, but I hope you see my point. These sections might be useful and even relevant for some families but they take up a lot of extra pages!

As I've said, I prefer a focused planner, that's why I have separate planners for separate needs. Imagine if I had a combined planner for homeschooling, house, and my blog… it would probably touch 500 pages, to say the least.
So if you feel like me, that you prefer having clean, pretty, flexible, and focused planners, please keep reading to see if the planners I design might be a good fit for you.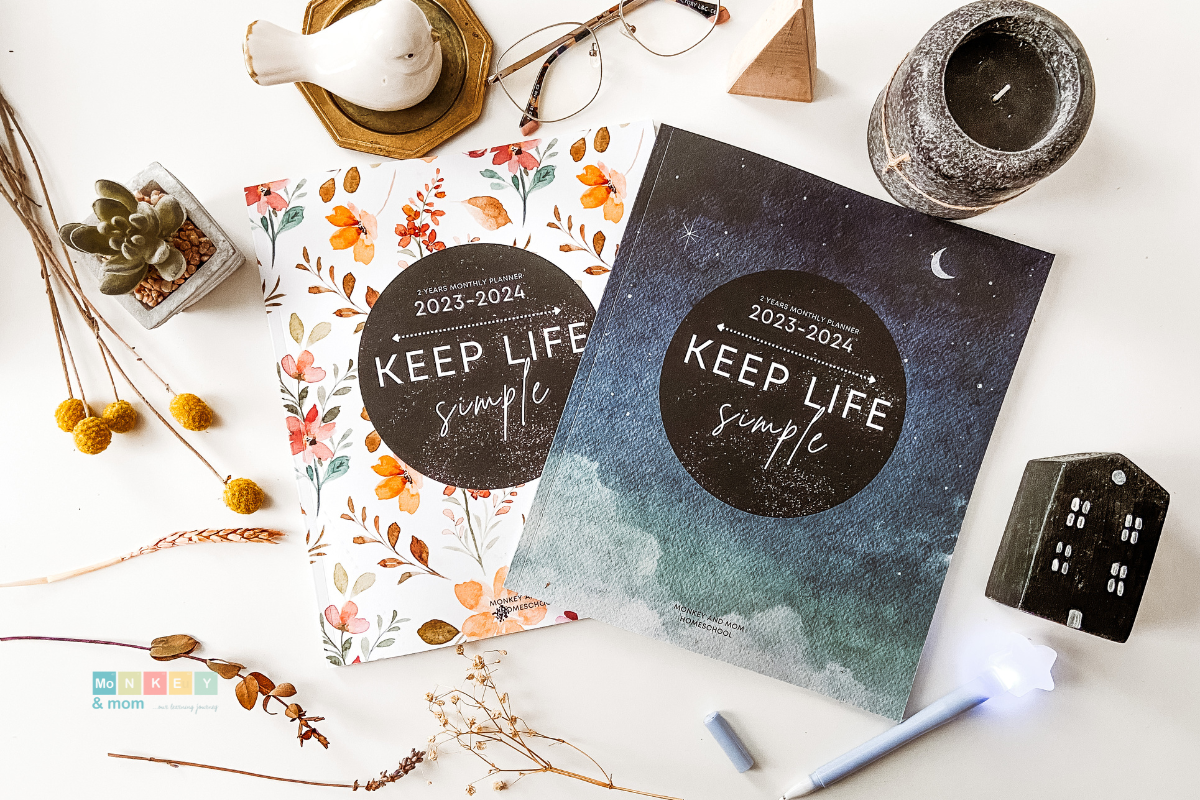 Monkey and Mom Homeschool Planners
I've been looking for the ideal planner for our homeschool for years, until I finally decided to create one myself and I discovered I love designing planners.
I've created my first homeschool student planner last year. It's aimed at children in higher elementary, middle and high school, but I also use it as my main homeschool planner where I jot down important things like our resource list, the outline of our homeschool year, and more.
We are still using it in our homeschooling now but I am planning to add some extra features to transform it into a full homeschool planner for both parents and kids. If you're curious to look inside it and see how we plan our homeschool year you can read more in my article on Our Planning Secrets | Homeschool Student Planner & How We Plan Our Homeschool Year (part 2).
Meanwhile, I created 2 more planners: a monthly planner for general purposes, and a blog planner for all my fellow homeschool bloggers out there.
Features of Monkey and Mom Homeschool Planners
I create every single one of my planners (and other products) with a few key elements in mind: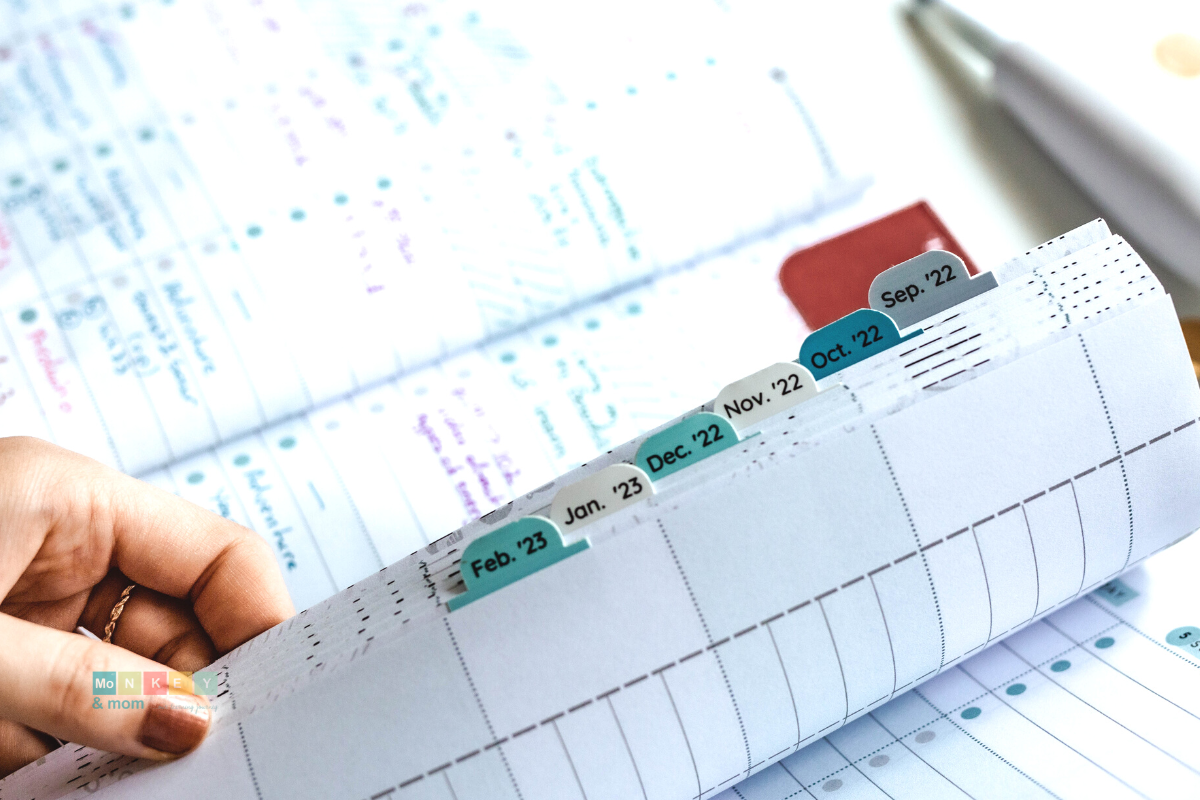 Monthly Planner 2023-2024 – covering 2 years
To help parents and children stay on track and organized, I've recently published two versions of a 2023-2024 monthly planner. This is a straightforward monthly planner with a few extras added in.
As with all my planners, aesthetics play an important role in my designs. This planner has a full-color interior, a beautiful watercolor cover, and straightforward features a variety of layouts to help you stay organized.
In addition to a traditional monthly calendar, this planner also includes a password and contact information section, a birthday log, and a list of US holidays. This planner starts the week on Sunday and provides ample space for to-do lists.
Which one is your favorite?
You can download a full 2023 version of the Flowers Monthly Planner from my Freebies once you subscribe to my newsletter.
Do you need a blog planner for 2023-2024?
If you're looking for a blog planner, you're in luck because I just created one for myself and published it on Amazon. I wanted it to be encouraging and to be something that gives me a push to be more involved in planning my blog work.
I chose a bold design with black and golden and the interior is full color as well and I decided to use the quote "If not now, when?" on the cover as an encouragement and reminder to stop procrastinating and postponing. If you won't start organizing your blog now, when? If you won't take the steps to grow your business now, when?
I hope this will be inspiring for you to take action as well. Every little step matters, so let's start NOW.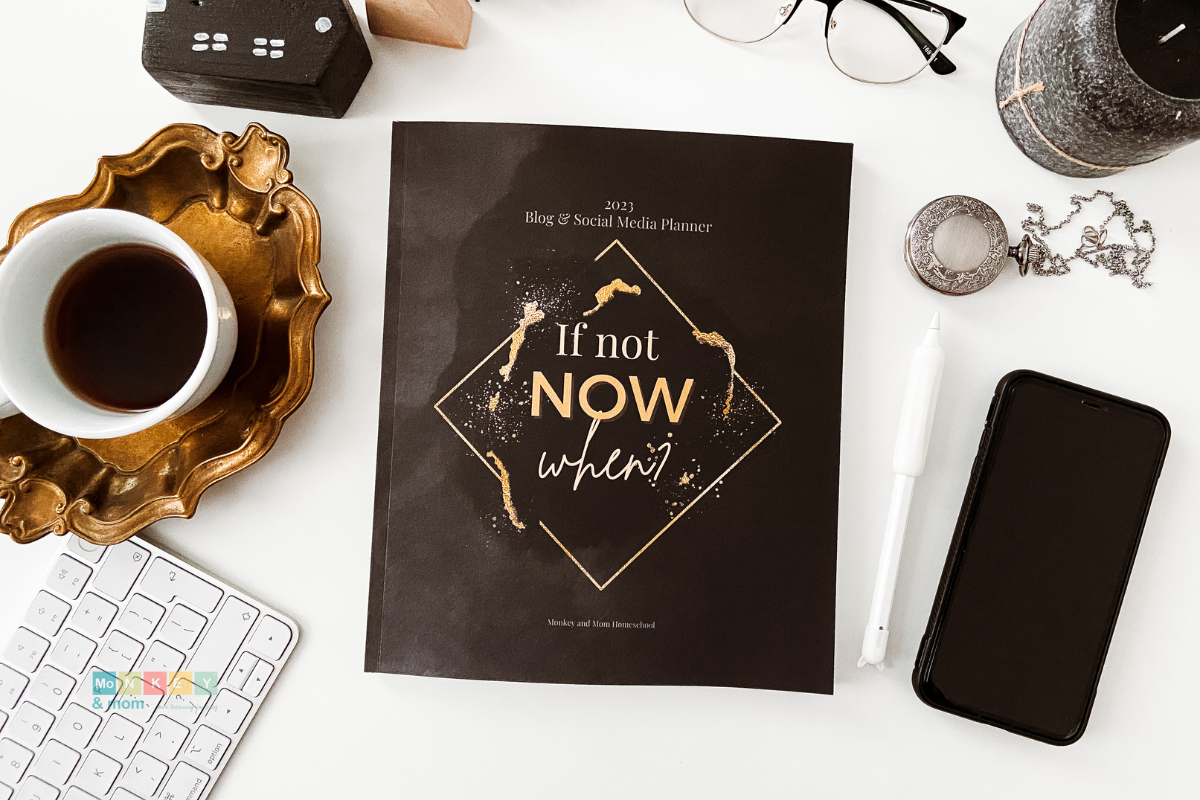 The weeks in this planner start on Monday.
I included the most important elements for me in a blog planner:
calendar for 2023-2024 on a single spread so I can quickly mark important deadlines
a comprehensive list of social media holidays + hashtags. I don't know about you but I am always behind in keeping track of these.
yearly growth tracker lists to keep a general overview of my growth: profit list for every month, blog overview for other important data, subscriber tracker across multiple platforms
monthly title pages that have coordinating printable tabs! (these are free to download from my Freebies section)
monthly calendar spreads on 2 pages, with big boxes for each day where I can quickly plan my content + To-do lists and Notes on the edge to mark any important upcoming tasks.
Seven one-page spreads of blog posts planners every month, where I included details about the post, a space for a quick outline, description (or meta description), a checklist so you don't forget anything essential, a list of social media icons to help you promote your post and keep track of where you've promoted, a kist for keywords and tags, and more.
monthly stats at the end of each month where you can track your analytics for blog and social media, see your top-performing posts and keywords, and more.
notes – each month has a one-page spread for new blog post ideas and a one-page spread of notes, giving you plenty of space to jot down any ideas and lists.
So far, I love the layout of this planner and it helps me keep track of my blog and social media work, which is something I desperately needed this year.
As I go through it, I might make adjustments for the next year's version. So if you end up using it and have ideas of more features that you'd love, let me know and I will note them for next year's edition.
Help me choose a new cover for my homeschool planner & win one 🎁!
I am so in love with my homeschool planner for students! This has allowed my son to become independent in more areas of our homeschooling and I can see how this homeschool planner is helping with his executive functioning skills.
As the new homeschool year is approaching, decided to create new homeschool planners for 2023-2024 that would probably go live somewhere in March or April.
I wanted to keep the same practical interiors but upgrade these to be used as full homeschool planners by parents as well, by including extra sections on record-keeping.
Moreover, I wanted to make these beautiful to look at and use for both children and parents, so I went with original watercolor designs and inspiring titles this year!
And because I want to create them for you, I need your help!
Here are the six cover options I've come up with so far. Which ones do you like best? You can vote below by choosing all the options that work for you. You can also use the suggestions form to send more ideas my way.
I will choose 3 of the more popular versions to publish and have a special giveaway where I pick one winner for each of these 3 models from the people that voted for those options.
I will announce the winner by e-mail, you don't need to do anything else, but make sure you save my e-mail address (hello (at) monkeyandmom (dot) com ) in your contacts to see the e-mails or subscribe to my newsletter because I will update about this giveaway as well.
I am shipping worldwide, wherever Amazon can reach! Do don't be shy to enter and share this with your friends.
This vote will remain open until my new planners become available on Amazon (I am aiminig at April 15th).
Homeschool Reading Valentine's Day ❤️ Giveaway
This giveaway has ended. Thank you for joining and keep tuned for more giveaways coming soon!
Homeschool Record-Keeping Freebie
I know my student homeschool planners are missing one essential section to make them complete, stand-alone homeschool planners: the record-keeping section. This is something I will remedy with my next edition of planners. Don't worry, they will still focus on student independence and ease of use, but this time you can use them as your one-stop homeschool planners as well.
Until then, you can use my free printables for record keeping to keep track of anything you need in your homeschool.
My subscribers get this and more printables for up to 100% off, plus exclusive printables directly in their mailboxes.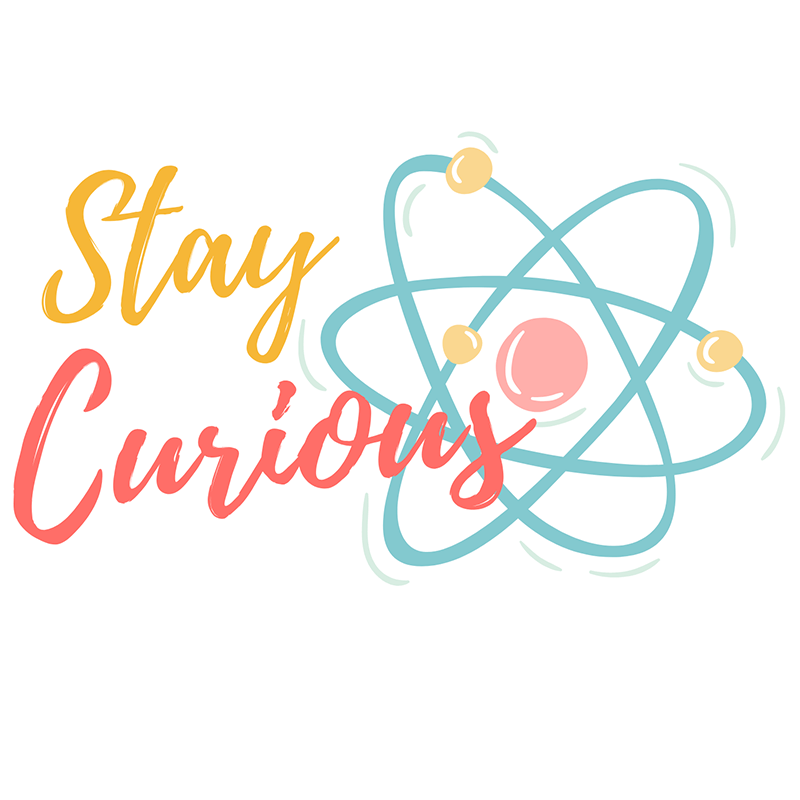 This post may contain affiliate links. By making a purchase through these links, I get a small percentage for the item you bought while the price stays the same for you. Thank you for supporting me.
As an Amazon Associate I earn from qualifying purchases.
Read my Disclosure to find out more about how I support my website and how you can help.