History Quest – a secular history curriculum review
Since Pandia Press just pre-released their second volume of History Quest, I decided to write about their history curriculum. I like it a lot and M is waiting eagerly for me to print the second volume and start reading.
So far, there is only one complete volume (Early Times) which also comes with a Study Guide and Audiobook.
Of course, I bought them all. I also placed a pre-order on their second volume, Middle Times and the corresponding Study Guide, now eagerly awaiting them to get into my inbox and watching out for the upcoming audiobook too.
What is Histroy Quest?
History Quest is a secular history curriculum that treats world history from a story-like perspective. It's split into big time chunks and presents the most important world-wide events that shaped the human history.
The author tried to be as neutral as possible and present all the events in the book solely based on historical facts. She also included underrepresented groups who are often ignored in other history curricula and tried to incorporate each topic in a bigger picture so that children can make connections between the chapters.
Why History Quest?
I have to admit that history is not one of my strong subjects. When I started our homeschooling journey I knew that sooner or later I would have to deal with my weak spots too. At the time I thought I'll have to re-learn all the history before being able to teach it to M.
Little did I know that there are wonderful people that take care of the digging and planning for you; so you can just learn alongside your kids while homeschooling.
There are so many history curricula available though, that I didn't know which one to pick. I knew I wanted several things from our history lessons and that's how I started my research. It helps to know what you are looking for (or NOT looking for) in order to be able to make the best decision.
Here is our list of requirements:
Easy to teach– I had to have plans and detailed teacher instructions; I cannot rely on my own "memories" of whatever history I was taught many years back in school.
NOT dry – my "hate" for the subject came from the dryness of the materials and the way they were presented to me during my school years. We started history when M was 8 so I wanted to avoid scaring him away from the subject from the first page.
Secular – I know, I know… there is a lot of religion going on in history and we are fine with that, but I was looking for the most "neutral" point of view I could find.
History Quest is all that and more. Read below to find more details about it, what we like, how it's structured and some previews.
Structure and approach
Each volume has 3 parts (to be purchased separately):
Textbook – where you will find all the stories. This is offered both in print and ebook format.
Study Guide – for hands-on ideas, activities and suggestions for the teacher/parent. Offered both in print and PDF format.
Audiobook – the recording of the textbook stories (m4b and mp3).
So far, we worked only from the Early Times and we enjoyed it tremendously. I will print the new volume when I receive the complete curriculum and we will start working from it for the 2nd semester of this year, reviewing everything we are doing from SOTW.
You can go here to try out samples for each before purchasing but I included a few print screens from the books so you get an idea of how they look like inside.
Textbook
The books are organized into chapters that have 2 parts: the history and background for the chapter and a History Hop! story.
History hops are stories told from the point of view of the reader that "travels back in time" and meets with various characters from that era (some important figures and some just servants or workers). In these hops, the children find out more details about the history they just read about in the chapter and get to experience being first-hand observers of how life would have been back in those times. The history hops add the extra charm to the whole curriculum and they manage to convey information in a very pleasant and easy to remember manner.
Basically, it's all written like a big storybook where kids can't wait to find out more. There's interesting facts, adventures and even myths and legends intertwined.
It's perfect for elementary and even middle school students (who can read it themselves) because it won't "scare them away" from history by overwhelming them with dry facts and dates. It doesn't go in-depth with lots of fixed dates when certain events happened, but each hop has a visual timeline that you can use to see how many centuries ago the story takes place.
The books are recommended for grades 1-6 but I am sure older students can benefit from them as well even if only as a supplement.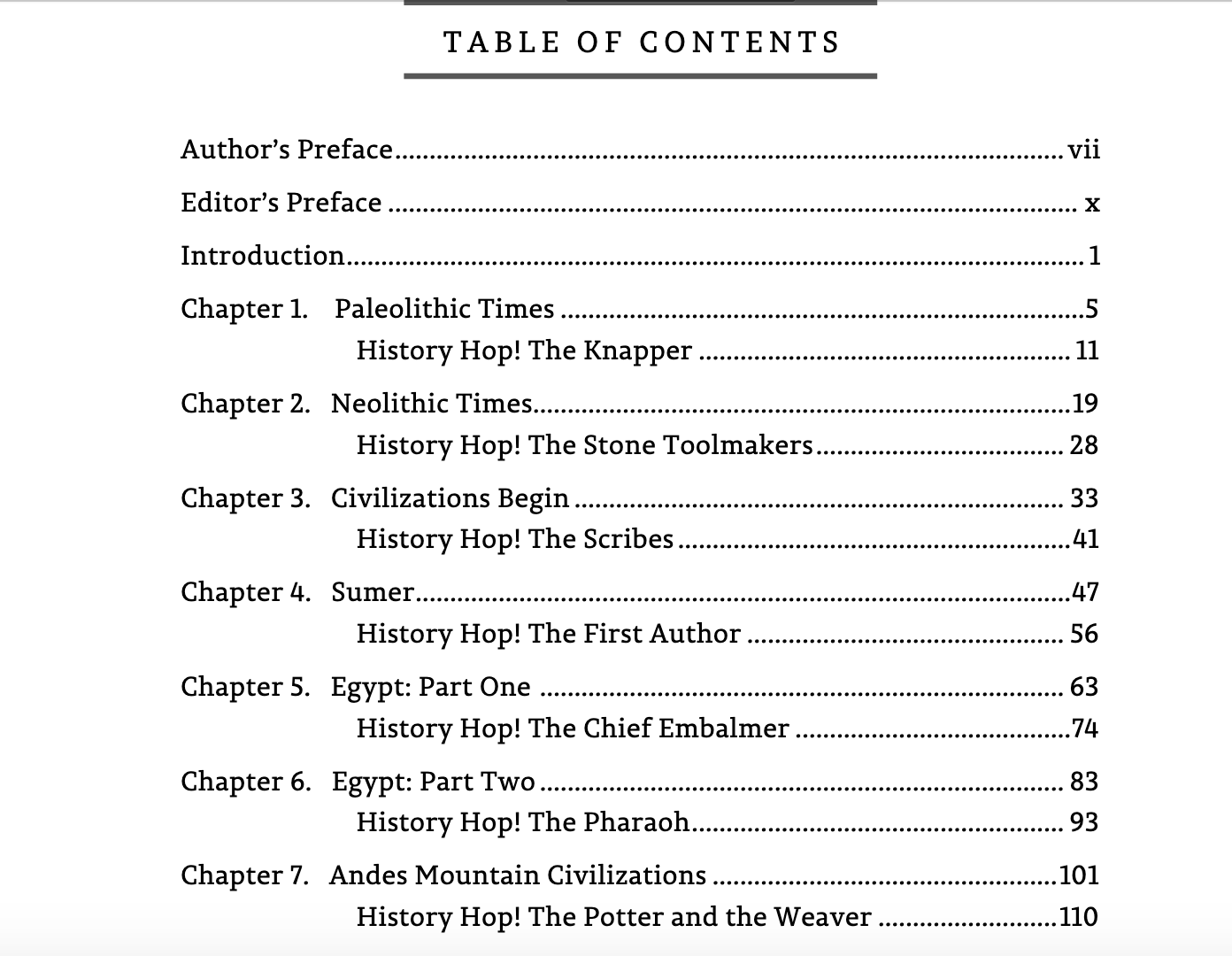 Each chapter is accompanied by black and white spot-illustrations of maps and characters from those times.
Study Guide
The Study Guide is a teacher's book where parents can find ideas, lesson planning, resources and many more in aiding them to teach History Quest.
Each lesson is split up into parts:
The Week's Quest = the objectives of the lesson
Resources and Enrichment – book recommendations to read for each lesson
Supplies – whatever you need to complete the suggested crafts
Schedule – they split each unit in 5 days and offer a schedule at a glance
Terms and Concepts – more details about what you will learn and even definitions for some terms
The lessons (5 parts)– they are split for a week and include: suggestions for activities, craft ideas, copywork, short answer questions/narration/dictation, and enrichment
Audiobook
The audiobook files come in 2 formats:
M4B- a format used specifically for audiobooks that allows you to bookmark and resume your play (works with iTunes, Windows Media Player and other software)
MP3
They also come with a bonus of illustration-cards, so you could watch them with the kids while the audiobook is playing.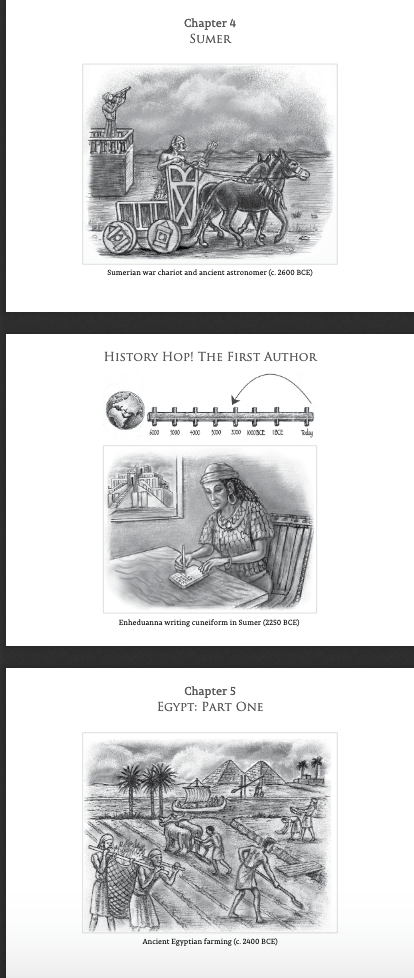 What we love about History Quest and how do we use it alongside SOTW?
I chose to start history with a world-view before moving on to more specific areas and eventually to our country because I feel that is the most logical way to go. Young children especially, enjoy knowing about Egyptians, reading about nomads, exploring myths and finding out details and stories from civilizations all around the world.
We started history with Story of the World (SOTW) and we are still using it as a main spine because we are one year ahead of Pandia's History Quest – not all the volumes are published yet, so we buy them as they become available. Otherwise, I would have already switched to History Quest completely.
We do enjoy SOTW as well, but I feel that History Quest is organized more to my liking. We enjoy the history hops a lot and SOTW doesn't have those. I also feel that HQ gives us a broader picture by including less known groups or minorities that you don't normally find in primary history books.
Pandia Press were very thoughtful to the needs of homeschoolers when creating this curriculum. They managed to create a program (with cool bonuses) that every homeschooler would appreciate, from the bookmark option audiobooks to the well-laid teacher guide, approach or the broad perspective it offers.
One thing that would make this awesome history curriculum even more awesome would be a test booklet, like SOTW has. Otherwise I have nothing to object to it. We love it and will continue using it for the years to come.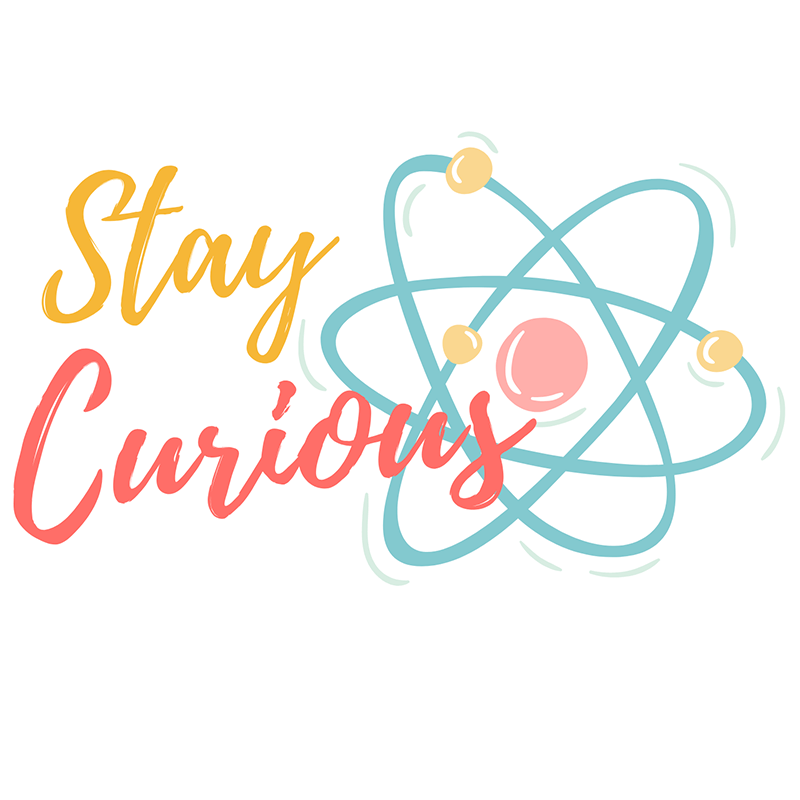 This post may contain affiliate links. By making a purchase through these links, I get a small percentage for the item you bought while the price stays the same for you. Thank you for supporting me.
As an Amazon Associate I earn from qualifying purchases.
Read my Disclosure to find out more about how I support my website and how you can help.
This post may contain affiliate links. By making a purchase through these links, I get a small percentage for the item you bought while the price stays the same for you. Thank you for supporting me.
As an Amazon Associate I earn from qualifying purchases.
Read my Disclosure to find out more about how I support my website and how you can help.