The Best Homeschool History Curriculum | BookShark Level F – Full Review (We ❤️ it!)
After 6 years of homeschooling, I can finally say I am head over heels in love with our curriculum choices, especially our homeschool history curriculum: Bookshark History Level F- Eastern Hemisphere.
(Keep an eye out for the full reveal of our other 6th-grade choices, soon).
Ok, this is the LONGEST article I've written to date because I want to offer you the FULL PICTURE of this amazing homeschool history curriculum.
So be patient, make yourself cozy and join me as we explore the gems hidden in this cardboard box. Or if you find watching a video more convenient, I have one for you at the end of this post.
This is a sponsored post. I was given the product to review and I might have been compensated for my time. I would never endorse or recommend programs we wouldn't use ourselves. Read more about it in my Disclosure.
What's BookShark?
BookShark is an eclectic, fully-planned, literature-based, neutral/secular curriculum covering all grades from PreK to 12.
Their aim is to encourage a love of learning through an engaging curriculum based on context and understanding and not on rote memorization.
What attracted me to them was the fact that they believe in the curriculum molding to the child and not the other way around, which is something I've been doing successfully in our homeschooling for years.
I also really love the idea of a literature-based curriculum where kids learn in context. So choosing BookShark was a no-brainer for us.
---
"BookShark uses levels based on age ranges instead of a rigid grade system. We use flexible levels because kids mature at different rates. When you choose a homeschool curriculum to match your children (instead of forcing them into a particular grade level), they can blossom at their own natural pace!"

— BookShark
The subjects they offer are math, science, history and geography, and language arts.
We chose just the history from them (initially) and then I decided to add a virtual seat for the language arts. Because, since we will be reading a lot of books, I felt this will be enriching for our literature appreciation and growth as well.
Click on the image to check all the subjects they offer:
---
Our 6th-grade homeschool history curriculum wishlist
I have to admit our previous attempts at learning history have been failures. We might have started history too early (in 3rd grade) or the approach I used didn't suit M. I am still not 100% sure where things went wrong.
So 6th-grade history was the hardest subject for me to pick this year and I have to confess I feared it the most. I changed my mind several times and I searched high and low for a curriculum to fit most of our checkboxes.
I don't know if I wanted too much, but choosing a homeschool history curriculum this year was what kept me up at night! Literally. I browsed websites, groups, and forums. I didn't even know what I was looking for, to be honest. Just that I didn't like most of it.
We all know that most history curricula are either US or Europe-centered. Even if some treat brief passages of history outside these borders, it's usually just in passing.
I haven't found any other homeschool history curriculum, aside BookShark to treat the East exclusively, over the course of a year, so that was one of the main aspects that drove me to it.
The Eastern Hemisphere history
BookShark Reading with History Level F covers ALL of my history checklist points for this year!
Aside from the fact that I wanted a literature-based homeschool history curriculum this year, I really do wish for M to have a broad perspective on the world.
We keep hearing about all these eastern countries on the news but know little about their history and heritage, and even less about their culture. BookShark's Level F – Eastern Hemisphere gives us a background and context to their history in order to better understand the news and conflicts of today.
Moreover, half of M's family hails from Asia and I've been trying to piece together some sort of reading list for that side of history for him for a while (with no luck!).
Not only does BookShark Reading with History Level F treat an area of history we've been struggling to cover, but it will also keep things very interesting for us this year, as it's something new!
And best of all, our school, Bridgeway Academy accepts BookShark. To make things even easier, our Virtual Seat (see more details below) gives us access to online tests and grading! YAY!
BookShark Level F History- Eastern Hemisphere
Level F history from BookShark is one of the most loved homeschool history curriculum levels because it treats a less-taught side of history: the history of the East.
---
"Take an ambling trek that starts in China and moves through the rest of Asia, over to the Middle East, down to Africa, sweeps through the South Pacific, including Australia and New Zealand, and finishes in Antarctica. Get to know the people and cultures of places you hear about in the news, but may have never studied in-depth (such as Japan, India, the Philippines and Afghanistan)."

— BookShark Reading with History Level F
---
This level takes us through an intercontinental journey through the East and I absolutely love ❤️ it!
Level F covers ages 10 to 13 and I love that BookShark chose to split their levels into age groups, not grades. Aside from the fact that this is useful for families with multiple children close in age, it also makes it super flexible for anyone to pick what they want to study.
M is on the younger half of this curriculum (he is 11 now) but we picked Level F now because it was a great fit for us this year.
So rest assured, you can choose this level anywhere from 5th grade to 8th!
Here's what's covered in this amazing homeschool history curriculum:
What I love about it is that it doesn't cover only the history but it weaves history with culture, geography and rich literature, making this the most holistic homeschool history curriculum I've had the chance of trying to date.
What's in the box?
I have to admit this is the box I've been awaiting most eagerly among all my other curricula. That's why BookShark Reading with History Level F gets to be the first of our 6th-grade choices that I am reviewing.
BookShark sent me a box with everything we need to successfully complete a year of homeschool history curriculum and it has a lot of items!
For a full list of the books included, please check BookShark Reading with History Level F page.
I did a comprehensive unboxing video which you can see below (warning: this video is long, too):
The strength of any BookShark level lies in its instructor's guides. These are the must-haves of BookShark.
BookShark's Instructor's Guide is what holds all the curriculum together. It's the glue to your books and resources. It makes things work together seamlessly. And best of all, it's ready-made and so flexible.
I know using the word flexible and instructor guide in the same sentence is a bit of an oxymoron for homeschoolers, but keep reading to see how we flipped it all to suit our needs and still make the most of it.
THIS GUIDE HAS IT ALL! It makes a parent's job sooooo easy and that's something I really needed in my life right now.
No more trying to match books with history spine, no more sleepless nights trying to make a plan that's not too overwhelming and not too easy. No more trying to decide what to do and feeling overwhelmed with all the options. Just open and go! It's that simple with BookShark's Instructor Guides.
Customize it!
The IG offers parents a ready-made schedule that's still customizable and flexible. I love how easy it is to move things around and adapt them to your family's needs.
BookShark offers 4-day guides so that on the fifth school day you can do whatever you want. We homeschool for 5 days so if we are behind in history, this is when we'll catch up. This is also a day to watch documentaries or do their current events report.
But you don't have to believe me when I say the Instructor's Guides are a goldmine for parents, see this for yourself, as BookShark is offering 3 free weeks of ANY instructor's guide for you to try.
Main parts of your IG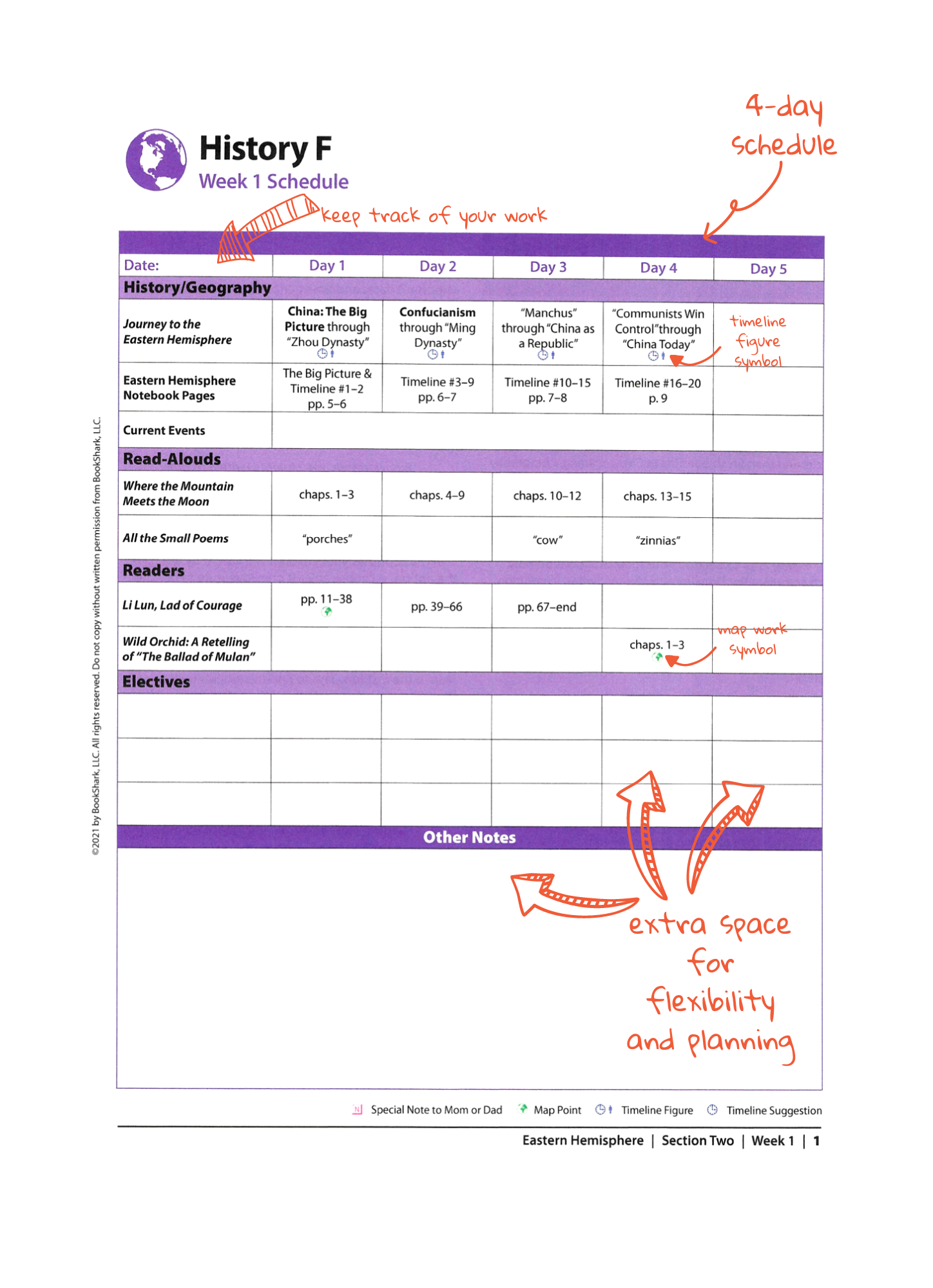 These questions and answers, background information, definitions, and parent help are what make BookShark such an amazing curriculum. Reading books is great, but putting them together and actually learning how to summarize, analyze and think critically is another thing altogether.
BookShark's IGs help parents lay strong foundations for their kids' critical thinking and analytical skills.
Some of these questions go pretty deep, too. It's something M isn't used to. I also noticed that a lot of them are similar to big exam questions. So it's amazing that I can actually combine history with so many other aspects and also prepare M for exam-taking at the same time. BookShark really thought of everything a parent might need from their Instructor's Guide.
So check out Bookshark's History Level F IG. You can download a sample as well as check the scope and sequence of this guide.
I chose to group these 3 items together because they add a different dimension to your whole curriculum.
Besides, you only need to buy the Timeline Book and Map once for all your BookShark History years!
Kids learn better when they have various mediums of expression and the Timeline stickers and Markable Map offer them the kinaesthetic component to complete the full range of learning styles.
The timeline figures are gorgeous black and white figures drawn by Amy from Home School in The Woods. Their quality is exceptional and we have been enjoying them in our homeschool for a few months.
The Timeline Book is a spiral-bound book of years where all the timeline stickers go. Imagine having this Timeline Book through the years and building it together to have a complete image of history!
As for the Markable Map, I think it's an ingenious solution to geography. It just makes maps interactive and more appealing for kids as they can write and take notes directly on it!
OK, this is my least favorite part of the curriculum. I call it The Binder because it's huge. It's a heavy 3-ring binder with 36 tabs, perfect for organizing your BookShark subjects all in one place.
I have to admit it's an awesome command center and we probably would have used it if I had more subjects from BookShark and more space in our homeschool.
But as it is, I share half a desk with M and our homeschool room in a corner of our living room (that is small anyway).
So my only solution was to ditch all binders and bulk and spiral-bind everything! Yes, you can do that with BookShark's instructor guides because they are cool and flexible like that.
Since I have a single child, this spiral binding method works great for us and I am saving so much desk space!
This would be considered the history spine of level F. But it's nothing like a traditional textbook or workbook.
I was anxious to see how this would match with the literature books and I have to admit I was wondering how M would feel about this set. He is a reluctant writer and I knew the Notebook has some writing involved.
I shouldn't have worried! Even if we've just covered China, the reading and writing activities went smoothly and blended seamlessly into the literature. And M didn't complain at all.
The Journey to the Eastern Hemisphere is a full-color book with gorgeous images and foldable maps for each country. It looks more like a pocket guide/encyclopedia than a textbook and it's a pleasure to leaf through and read.
This book has 431 pages and it covers 5 regions: Asia, the Middle East, Africa, the Pacific Islands, and Antarctica.
Journey to the Eastern Hemisphere is an awesome resource with brief information about each country's history (from ancient times to the present), geographical features, culture, economy, personalities, and more.
This book is a true treasure to have. It's full of colorful pictures, maps, and very useful information that helps you take a glimpse into another culture.
I usually read aloud the information from this book because I stop often, making remarks or comments, helping M make connections with what he's seen on TV or heard us talk about.
I think Journey to the Eastern Hemisphere is a great resource for parents to use as a launchpad for further conversations, including making connections with current events or even discussing cultural aspects of a certain region or country.
NOTE: BookShark Reading with History Level F doesn't treat history in a traditional fashion. Instead, it focuses on a country or region and treats that particular setting in a holistic approach, touching on all history (past to present). This won't give you a lot of depth but it will provide plenty of opportunities to stop and dig deeper exactly into the details you find appealing.
This is the workbook side of the Journey to the Eastern Hemisphere. It's a full-color guide that serves as a note-taking journal.
There isn't a lot to write, so even my reluctant writer didn't complain about it!
There are colorful pictures from each country, the flag, the country's place on the map, map work, timelines, and fun activities to choose from and enrich your experience.
What I like about this notebook is that it helps cement the information from Journey to the Eastern Hemisphere.
Kids are asked to go back to the book's pages in order to find and take out some very simple key facts. This is an aspect I greatly appreciate because I feel middle school is the perfect time to introduce note-taking and research.
Books
Of course, the bulk of BookShark Reading with History level F- The Eastern Hemisphere is the quality literature they curated.
I love that they intentionally picked the books to match their Journey to the Eastern Hemisphere spine and I could not have come up with a more cohesive list of literature for the East.
Most of the books are award winners and they are all age-appropriate reads. The quality of literature is something that makes me go back to BookShark's lists year after year in search of inspiration for more books to order.
We've already read some of these and I completely trust** BookShark with their choices because everything we've read so far was well-written literature, eye-opening living books that went beyond the role of entertainment to educate my son.
Exposing him to good writing was one of my goals from the beginning and BooKShark helps me pick the best for him. **
**Please note, that no matter what great reading lists you find, a parent's duty is still to pass these through their personal filter before handing the books to their children. A feature I appreciate about BookShark is that their IG has a heads up for parents when sensitive or difficult topics show up in a book, letting parents decide on how to treat these further. This is why I am confidently going through these lists with M because the IG will hold my hand through it all.
Let's see what book categories are included:
1. Readers
They are the books your children will read independently. They can range from illustrated to chapter books (and no illustrations). Some are shorter and some are longer, making this a great variation for kids to easily keep up with their reading.
M is happily devouring these and there's nothing I can do to stop him. 😍
If your kids love reading, there's no greater joy you can give them than unlimited books. Opening BookShark's box felt like a huge surprise for M and he couldn't wait to start reading these.
Seeing him pick up a book and read it when he is bored means more to me than any 2-page essay. He doesn't like writing, but he loves reading! And BookShark just gave him the opportunity of doing school the way he wants to. This is priceless for us and I will forever be grateful to BookShark for this opportunity.
2. Read-Alouds
These are the books you will read aloud to your children. The reading level in these is more advanced, but reading level alone shouldn't deprive kids of good literature. Hearing great literature read aloud is great for developing their own expression, reading skills, comprehension, vocabulary, and language structure.
That's why I don't mind reading aloud to M even though his reading speed and lexile are at a high school/college level according to his reading tests.
The read-alouds included in BookShark Reading with History Level F are rich choices and I am deeply impressed with these books' quality.
I knew that BookShark's choices were great but seeing these books all in one place and fitting together like pieces of a puzzle makes me appreciate the effort that went into creating BookShark Reading with History Level F even more.
Since this post is turning out huge and I would like to show you exactly what we like about the books we read, subscribe to my newsletter for a future post about a full BookShark Reading with History Level F lesson with us which will go into more depth on the contents of this level and how we use it.
BookShark Reading with History Level F has 2 hands-on kits. They are both awesome choices that M loves despite not being a craft-loving kid.
This is a neat little kit that contains several activities pertaining to China. The most notable is the calligraphy set. Here's what you get in the box:
Even though these activities are usually done towards the end of a country, we already tested some out because M couldn't wait to try his hand at Chinese calligraphy.
And he liked it so much that I had to order him more rice paper and another ink stick. I love seeing him interested in learning more!
I feel that BookShark's kits really help kids cement the information they receive from all the wonderful books with their well-thought activity kits and suggestions. It's also a great way to identify with the people we read about.
This is another activity M loves! We received a Fun with Easy Origami book and some origami papers to try our hands at origami for Japan.
And we can't wait to use them! Origami is another craft that M enjoys.
---
BookShark's Virtual Seats for Level F
Did you know BookShark also offers you the option to add a Virtual Seat to your package?
A Virtual Seat is a digitalized version of your IG and so much more!
---
"BookShark Virtual is an online platform that enables students to access their reading schedules, view Story Maps, take assessments, and receive instant auto-grading results. Parents and teachers can track and review student work, customize assessments, and message students directly from a computer or mobile device."

— BookShark
---
We have Virtual Seat access for Level F History and Level F Language Arts. This is amazing for us since our school demands some tests or graded assessments and BookShark's Virtual Seat is a tremendous help in that regard.
The Virtual Seat not only offers us the option of getting and submitting grades to our school, but it's also a super-handy, digitized IG on the go!
I've told you I found The Binder to be huge and bulky, well, this turns the IG into an ultra-portable book because I can even access it from my phone now!
On the student side, M gets access to all his work and can easily mark everything done and see how much work he has left.
This is an amazing way of developing kids' executive functioning skills. In a classic paper format kit from BookShark kids don't have their own checklists, but online he can easily see the plan ahead and how much he still has to do each day.
This is something I am trying to implement for every subject this year, that's why I created a student planner for M. (More on our curriculum choices and planning for 6th grade coming soon!)
Why would you get a Virtual Seat anyway?
You have the books right?
A BookShark Virtual Seat will never replace the books and it's not meant as a replacement. A Virtual Seat is an extra help in your homeschool, making everything easily accessible and offering you the assessment option if you need it. It will also give children control over their work since they have access to the full plan online.
Let me tell you why the Virtual Seat makes sense for us and why we love it:
assessments – the paper version has no assessments. While that's ok for most homeschool families, we homeschool through an accredited, distance school that demands testing to be submitted. BookShark's Virtual Seat helps us cover this requirement with no extra stress from me to create tests! That would have been a huge undertaking for a curriculum this size.
⇢
grading – I've been grading papers for years and it's not something I particularly enjoy doing. BookShark's Virtual Seat has automatic grading tools! That means most of the questions get graded on the spot by the software. Only written work needs to be assessed by the teacher. And that's the fun part, anyway.
⇢
reluctant writers – not all reluctant writers on paper are reluctant when it comes to typing. This is a great way to shake things up and make writing more appealing.
⇢
all resources in one place – aside from the fact that the whole IG, tests, and assignments are in one place, parents can create extra assignments for the kids! I love using BookShark's Virtual Seat to assign videos from YouTube for certain topics. I love that it's all in one place!
⇢
teacher/student relationship – since we homeschool, the lines between parent and teacher often blur. BookShark's Virtual Seat platform offered me the possibility to have official communication channels with my son. The teacher and students can send themselves messages and reports. I think this has been a new and beneficial experience for both of us and he is learning how to answer official messages from teachers this way.
We love BookShark and their Virtual Seat feature is a real bonus for us because they simplify the whole testing and grading dilemma for us.
How we do it – it's so easy to adapt
Before I tell you how we treat a BookShark Reading with History Level F lesson, please note that the Instructor's Guide is just that, a guide.
Do not let it overwhelm or discourage you. You are free to do it all, drop the parts that don't suit you, or add extras. I treat the guide as a friend: it lets me know what worked for them, but I am free to choose my own way.
Our Schedule in 5 steps
I already managed to tweak the schedule to fit us and our style and to be done with BookShark History work in 15-30 minutes per day!
Adjusting it to our needs
Reading aloud when you're on a busy schedule is stressful! It's also stressful knowing you have to read aloud daily, on a schedule, while other subjects are still pending.
My biggest secret to making BookShark fit into less than an hour a day (sometimes even 15 minutes) is to READ IN ADVANCE.
I give M the readers in advance -in order- to read at his leisure. This works great for us! Whenever he is bored, he picks up his book.
And I read aloud at night. Instead of our nighttime story, I read from a required read-aloud in advance. I know this might not work for you, but somehow he can still pay attention during the night and I shoot two birds with one stone.
Enrich it
I really want to make history alive and interesting again for him, so another thing we do is supplement it.
We are both visual learners and we love watching a good documentary. Since the history and culture we are reading about are so rich, I decided to create a 4d experience around each country (more than what's suggested in the guide):
Now don't believe that there isn't plenty to do in the BookShark Reading with History Level F package, but since we have so much time left from reading in advance, plus the 5th extra day, enriching it seems right.
Love it or not
I could rave about BookShark Reading with History Level F some more, but I am sure you're here, in this section, to hear about the bad stuff.
The ONLY thing I don't like about BookShark Reading with History Level F is their binder. It's too big for us and I have an aversion to binders in general. I just can't make them work for us. So I spiral bind the IGs instead.
I know this is a pretty lame negative aspect but I genuinely didn't find any fault in this program, from our perspective, so I am leaving this list for you instead:
If you love reading, are tired of piecing together stuff that falls apart in the end, are tired of burnout, and feel overwhelmed with the choices available, the chances are you will love this homeschool history curriculum.
Also, if you want your kids to learn about MORE than just US and Europe-centered histories, this is your perfect chance to introduce them to the world beyond your borders.
Why we love ❤️ BookShark's homeschool history curriculum
I love this homeschool history curriculum because it goes beyond history, combining culture, history, and literature, giving us a bird's-eye-view of the history of each region.
What I appreciate most about BookShark Reading with History Level F is that their package creates experiences. The rich literature and flexible IGs, coupled with the enriching activities manage to take us beyond a simple page of text, dry dates, and facts. It manages to make us feel curious about history and culture in ways we weren't before.
1. Covers the Eastern history
As I've said, I have found no other homeschool history curriculum that covers the Eastern Hemisphere history over the course of a year.
BookShark did an amazing job at piecing together a strong, enriching curriculum that will take you and your children on a memorable journey through the enigmatic East. So prepare for a year of mysterious history, geography and culture to be unveiled page by page.
We love the fact that our history this year will be one we've never discussed before and that we will go beyond the history of our backyard, into the wide world.
It offers us the chance to set aside ignorance when we hear about current events in Asia or the Middle East because now we have some context and a starting point to dig deeper.
2. Empathy and immersion
Because BookShark Reading with History level F is a literature-based curriculum, this history draws on children's empathy and ability to relate to the characters in the books they read. It's a great way of getting kids interested and immersed in the world of the characters they read about.
Through this newfound curiosity about a different time or culture, kids can then explore the factual part of history and geography without the problems of a traditional curriculum. Because now, they have the context and desire to learn more in order to paint a full picture of that time period or specific area.
Seeing Young Fu (in the book we were reading) struggling to learn to read and write Chinese characters – and actually experiencing the same struggles ourselves- brought the whole history much closer to us. It made us appreciate and respect the effort that goes into learning such a complicated skill. And it's an experience that will stay with us forever.
3. A holistic approach to history
BookShark Reading with History Level F offers kids and parents a holistic approach to history, geography, literature, and culture which in turn offers them a broader perspective on the world around them.
This history is not your traditional textbook that treats chunks of time. BookShark Reading with History Level F treats regions and countries in a bird's-eye-view over the ages, touching on the most important events so that we can get a full picture of the evolution of that country in time.
Kids get to learn through an enriching experience because they will be so invested in finding out more. The rich literature, interesting facts, and engaging activities will all serve to create a positive learning experience when it comes to history.
Beyond reading and filling the pages of a notebook, actively working on a Map and timeline, or trying a cultural activity had M realize that history isn't isolated from the other aspects of life and culture.
History happens within a certain area and in a certain culture that might differ vastly from ours. In fact, he realized for the first time that cultural differences can lead to wars. No other history curriculum managed to put things into perspective quite like that.
4. Conversation starter
BookShark's IG's are a treasure for parents! They are the ideal guides, offering you just enough material to make sure you cover a topic, but also allowing you the space for flexibility and further enrichment.
I love it when we read together and stop to delve deeper into related topics. It's so easy to get dragged into a rabbit hole and start discussions I wouldn't have started with him otherwise.
In the short weeks we've been using this history curriculum we've covered everything from how to eat at the table in China, to more complex topics of opium usage (in the past) and what it means to have an addiction; or even the unbelievable customs of feet-binding which led us to discuss how society's views of beauty and pressure over women changed over time.
These and many more are serious, life-altering conversations that we've never had the opportunity to freely discuss before.
The IGs are truly amazing, flexible guides that -if approached correctly and with an open mind- can take your learning experiences to a whole new level. This can even translate into rich conversations and debates as a family.
I honestly feel that our learning with BookShark stays with us the full day, it doesn't stop when we close the books.
5. Rich literature
Literature-based curricula go way beyond the experience of a textbook and BookShark is no exception.
Their rich literature choices are award-winners, acclaimed books that were specially curated to offer parents and kids a different approach to history.
No more dry textbooks, full of dates and dead people no one cares about. This is history alive, through the eyes of people who lived it.
Joining these characters in their struggles, their growth, and their journeys, we develop a different sense of history. And suddenly history isn't about the dead persons and forgotten things, but it's about kids like your own kids or people like yourselves, that lived and struggled through life.
Reading everything from fairytales to biographies and even poems through history, made us see history in another light and appreciate it more. Not to mention, the constant reading of good quality books is enriching M's vocabulary, expression, critical thinking, and summarizing skills.
The literature paired with the IG manages to create the perfect environment for analyzing and thinking which I absolutely adore at this stage (when he is just beginning to think for himself).
Conclusion and video
I know this has been a long read but I hope that I managed to convey my full feelings and experience with BookShark Reading with History level F.
This curriculum is amazing for every homeschooler that wants to shake things up a bit when it comes to history and to go out of their comfort zone, learning about unexplored areas of history.
As for us, I already feel the seeds of curiosity taking root, where before they fell on barren ground and I can't wait to come back here in a year with our end-of-year review of BookShark's Reading with History Level F. I can't wait to travel through it all this year and make the most of it.
I couldn't be happier with our choice of a history curriculum for this year and I highly recommend it to every family that's on the lookout for a literature-rich, culturally-diverse homeschool history curriculum.
For those of you that find watching a (long) video better, I made one for you, outlining everything in this blog post.
So, what's your take on BookShark Reading with History level F? Would you like to try it yourself? Why or why not? Let me know in the comments. I am happy to discuss.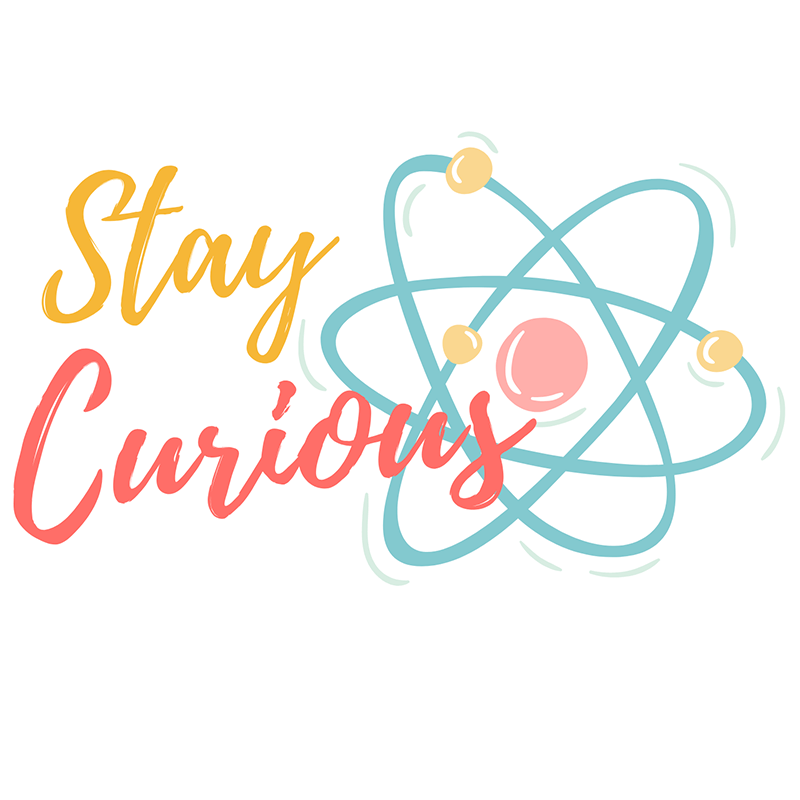 This post may contain affiliate links. By making a purchase through these links, I get a small percentage for the item you bought while the price stays the same for you. Thank you for supporting me.
As an Amazon Associate I earn from qualifying purchases.
Read my Disclosure to find out more about how I support my website and how you can help.