How to choose the best 6th grade homeschool curriculum | Eclectic curriculum
When it comes to choosing a 6th grade homeschool curriculum, it's important to find one that works well for both you and your child. Keep in mind that there is no perfect curriculum, but you can come pretty close to perfection by selecting a combination that makes sense for both the teaching parent and children. By taking the time to find a curriculum that suits your unique needs for every subject, you can ensure a smooth and productive homeschool year.
This article has 2 main parts. In the first part, I explain how I go about choosing an eclectic homeschool curriculum, and in the second half, I present our curriculum choices for 6th grade as an example and inspiration for you.
I will follow this article up with separate reviews of every single material we chose and are working on this year, so subscribe to my monthly newsletter to be notified when I post new content.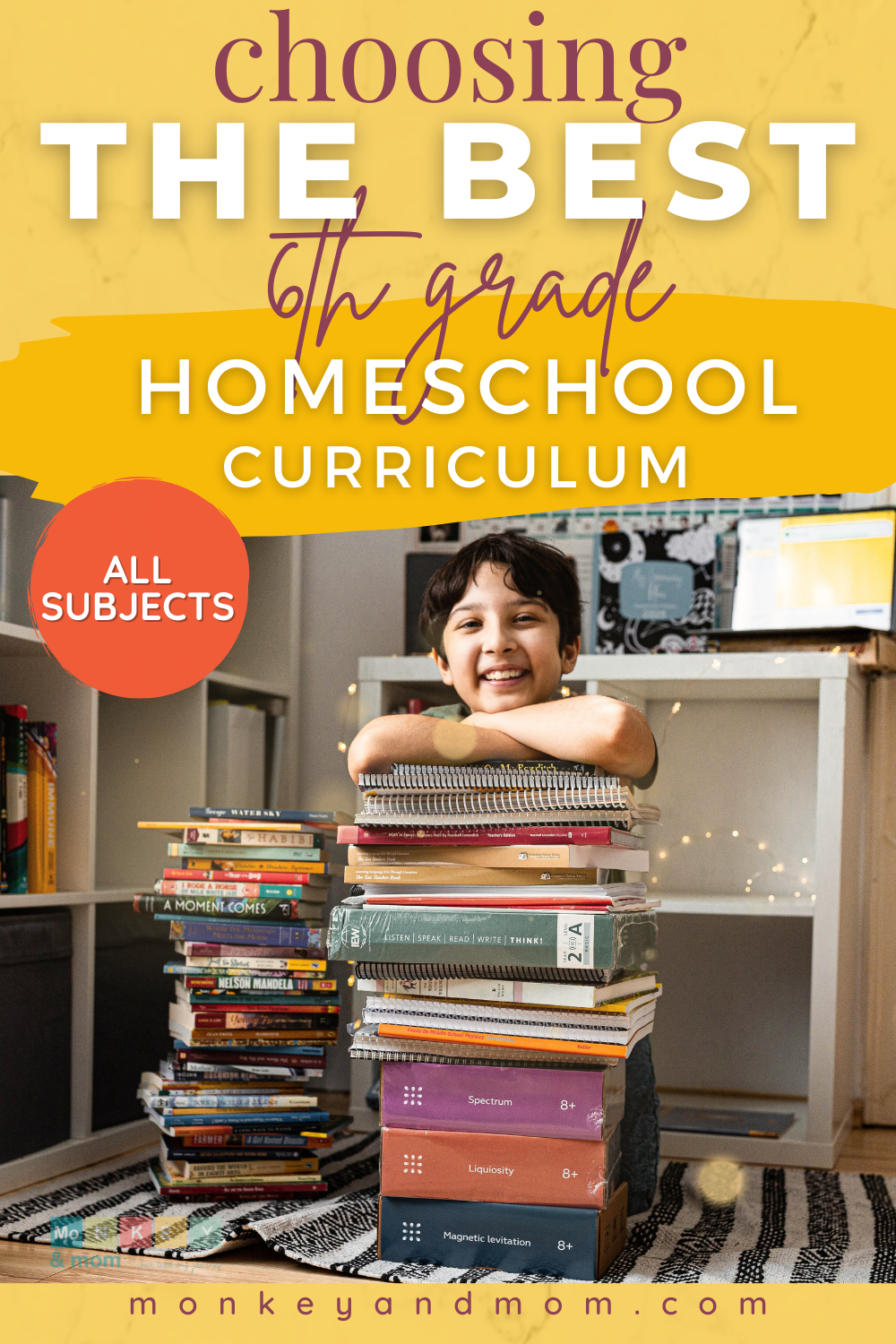 📌Save for later! 📌
5 steps to choosing an eclectic 6th grade homeschool curriculum
If you prefer videos to reading, this is the video version of this section:
---
Choosing curriculum for our homeschool is something that I take very seriously. I want to make sure that it is high quality and engaging for Marc. I also want to make sure that it is affordable and will fit into our budget. I take the time to look at all the options available and make sure that I am choosing the best possible curriculum for our family.
I carefully consider curriculum choices based on our unique needs and goals. I always worry that if we rigidly adhere to a set curriculum, we might miss out on those teachable moments that occur outside of the scope of a textbook. However, I also know that in order to ensure that my son is receiving a well-rounded education, I need to select a curriculum that will challenge him academically.
I strike a balance by prioritizing and planning, but also by leaving room for plenty of spontaneous learning opportunities.
Here's a peek into what goes in my mind while choosing curriculum for our homeschooling.
This post assumes that you already know your state requirements and will take these into consideration when choosing a curriculum.
What should be taught in 6th grade?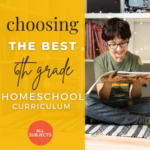 A typical 6th grade curriculum isn't so different from the elementary school years, and it will cover both core subjects and electives.
The core subjects are mandatory in schools and they comprise Math, Language Arts, Science, Social Studies. The electives are any other subjects outside the core subjects P.E., Art, Music, Foreign Language, Programming, etc.
Being homeschoolers, we're free to customize how and what our children learn, but I wouldn't stray far from the core subjects since these prepare middle schoolers for the requirements for high school and beyond.
1. Prioritize
Start by deciding what two or three core subjects are most important to you and your child. These primary core subjects should be where you focus the majority of your investment in terms of time and money spent.
Consider these questions when choosing your priorities:
long-term goals: Do you want your child to get a high school diploma? Do you plan for AP/SAT or other exams? What are the subjects that would take the most amount of time to cover for these exams? What are your state requirements?
strengths and weaknesses: What are your child's weaknesses? What are their strengths? What is their passion/general direction? What is their favorite subject?
secular, religious, or non religious: Do you have any preference? Does it differ from subject to subject?
For us, math, language arts, and science take the top 3 spots. I find math and language arts to be the most important subjects because they consist of multiple skills which take years to perfect. Moreover, my son would need these skills for any major exams and to get his high school diploma.
We chose science as the 3rd most important subject for us because Marc is STEM-oriented. So science is his strength and passion. He is most likely college-bound and we prepare for this route because it's hard to change course once you're in high school.
His weakness is writing, so I am always careful when choosing a writing curriculum to make sure it fits him and helps him evolve.
And we prefer non religious homeschool curriculum, so I look for programs that are secular (as much as possible).
2. Learning style and parent involvement
It's important to know your child's learning style and how you teach best to help you choose the right curriculum and teaching methods that will work best for you. There are many learning style tests available, but we took the learning style test from Bridgeway Academy (our online umbrella school).
Each individual has their own unique learning style, and I also noticed one style might not apply to all subjects. It's ok if your children prefer audiobooks for history, hands-on learning for math and so on. You can also figure the subject learning style out by trying out different samples of programs and seeing which one works best for your child.
How involved do you want to be in your child's lessons?
It's equally important to consider your needs and what you can do to ensure the curriculum gets delivered to your childin an enjoyable manner. Sometimes you might not be comfortable with a subject, and sometimes you might not know how to make the subject interesting or engaging for your kids. That's why you should consider whether you need an online curriculum (self-paced or live) or it's something you can tackle yourself with the help of textbooks and workbooks.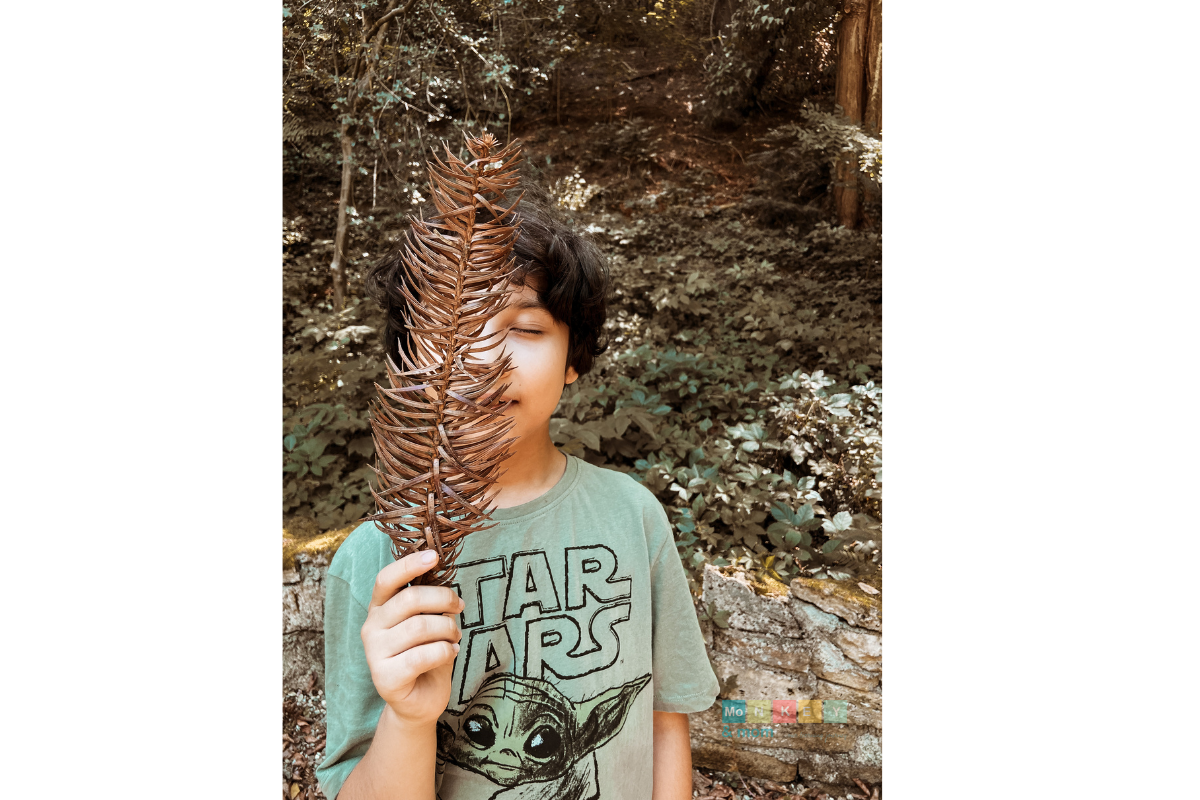 I prefer curricula that are straight to the point, with no busy work because that's how Marc learns best. And we're slowly transitioning to hands-off for the parent for certain important subjects because I feel the concepts are getting harder for me to teach. So we're slowly moving to self-paced, online classes and tutors.
I feel that balancing online and offline is the way to go for us so hybrids between online and offline work best for us. For example, we refer video lessons, but printed workbooks.
3. Budget, research, and try
Budgeting is an important part of choosing a curriculum. By prioritizing your subjects beforehand, you can make sure that the bulk of your budget goes to the 2-3 homeschool curricula that are most important to you. There are also a lot of free or affordable curricula out there that can be used for the rest of your subjects. And don't forget to look for discounts and compare your favorite curricula to get the best homeschool curriculum deal.
In the research and trial phase, I have several steps I'm taking (I do this for each subject separately so it doesn't get overwhelming):
I browse the internet or Facebook homeschool groups for suggestions.
I make a list of curricula that seem like a good fit for us and read more about each on forums, watch YouTube reviews and read review articles online.
I print out any samples, subscribe for trials, and just take the whole curriculum for a test drive with my son.
I am in a situation where I need to prioritize where the money goes for the curriculum. We outsourced math and I will outsource science next year. These 2 subjects are essential for us. Close behind them is writing. So most of our curriculum money will go to cover our priorities.
4. Time to choose electives
Now that you have the experience of choosing the core subjects, it's time to start thinking about electives. Just like before, keep thinking about what's important for you and your child and feel free to prioritize again. There are plenty of free or cheap ways to incorporate electives in your homeschool if you're on a tight budget. Some examples of free websites you could use for electives (or even main curricula) are:
5. Plan and revise
I've already explained how we plan our homeschool year, step by step, ut as you go through your homeschool curriculum, keep an eye out for how well it works for you and your child.
If there's one thing I've learned from homeschooling for 7 years using everything from boxed curriculum to online classes, it's this:
Choose a curriculum that fits your child, don't make your child fit the curriculum!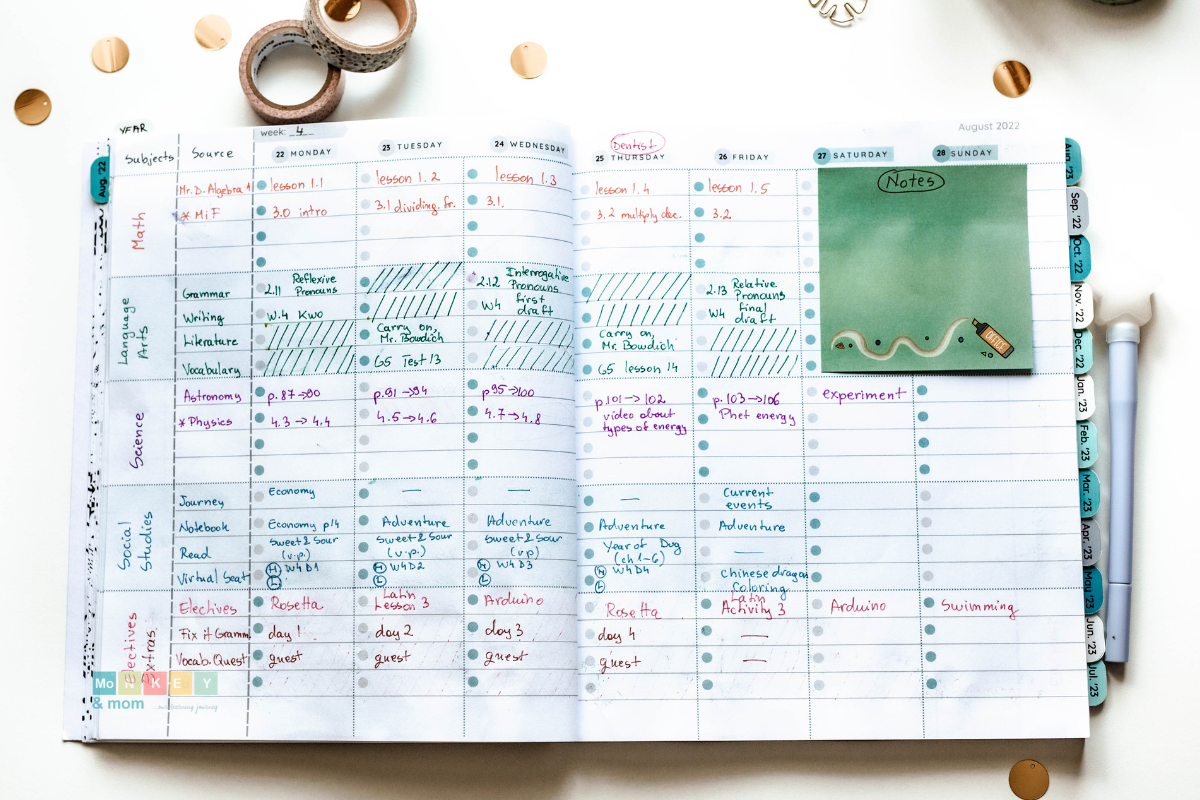 Even if you take the steps above, you may still find yourself in a situation where you need to accept that you may not have made the best choices. Sometimes the chosen curriculum doesn't work as expected, or our priorities have changed. I've had my fair share of curricula we didn't use or switched over the years.
Homeschooling isn't something rigid – it's a way of life that constantly changes as our children grow and their needs and preferences shift, and we need to embrace this and adapt as we go.
When should I switch my homeschool curriculum?
If your homeschool curriculum isn't working for you or your children, don't feel bad about changing it. Sometimes, a different curriculum is exactly what you need to help your children succeed. Here are three situations where changing your homeschool curriculum may be the best course of action: 
1. You made a genuine effort to make it work, but your children hate the curriculum and it has become a daily source of frustration and tears in your homeschool.
2. You feel you have made a bad choice because the curriculum is too hard or too easy for your children.
3. There's no visible growth in terms of your learning objectives over the course of 3-6 months.
4. You can't keep up with the curriculum either from lack of time from the parent or because it has too many moving pieces
Our 6th grade homeshcool curriculum choices
If you prefer watching a video to reading, this is the YouTube video for this section of the blog post:
---
I am so happy with the combination of subjects and materials we picked for this year because we're already at the end of our first semester and everything is going so smoothly.
I spent a little more time planning this year, and I got Marc a student planner (designed by me) which helps us both stay on track. This has been a game-changer for us and I am proud to say this is the first year we're on track with everything since we started 7 years ago.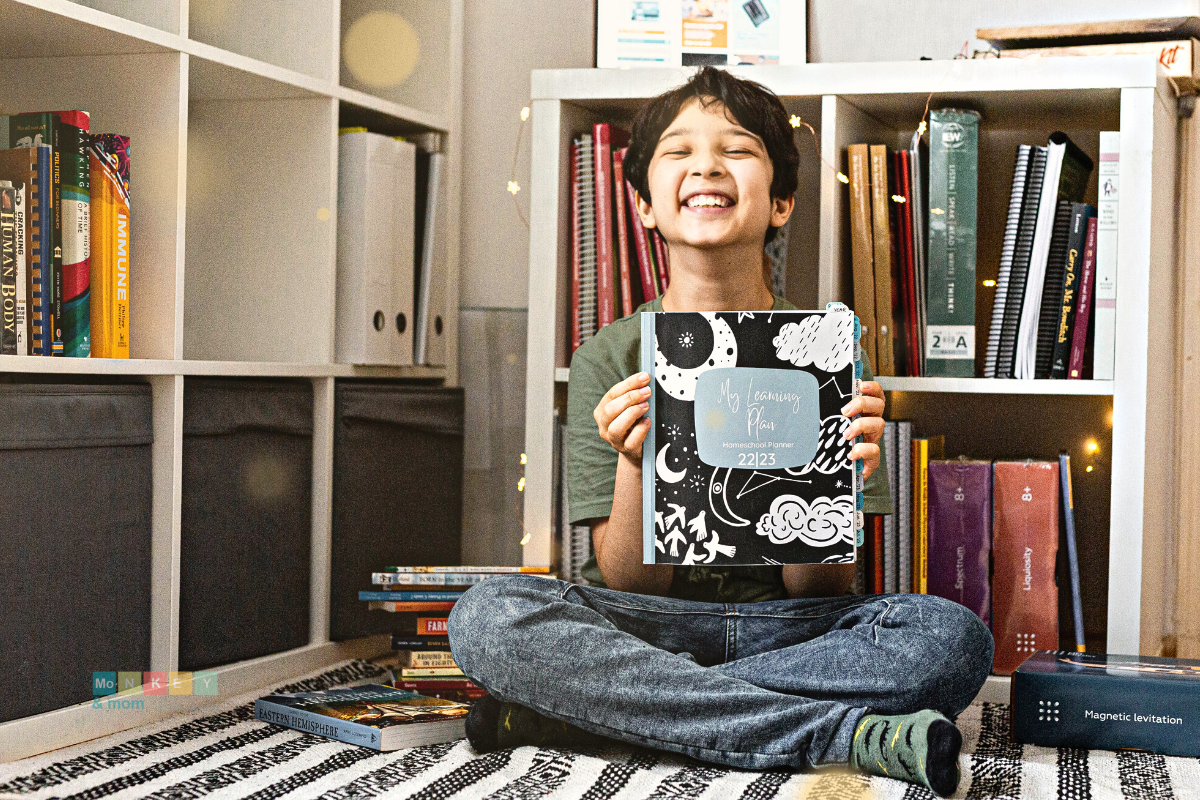 I choose my homeschool curriculum materials carefully, ensuring they are academically rigorous while also being flexible. It's not always an easy feat, but I'm confident in the publishers I've chosen as they are some of the best in their business.
I prefer an eclectic curriculum, aimed at homeschoolers, that I can piece together, as it allows me to customize my son's education to better fit his needs.
We try to get things done efficiently and rigorously while keeping the love for learning alive and an eclectic homeschool curriculum offers us the flexibility we need to advance academically while having enough free time to explore passions.
Marc doesn't need a lot of repetition, so I chose programs that are to the point, have no busywork, and adapt to his needs as much as possible. I also looked for programs that are easy to do independently, prepare him for a rigorous high school path, and are flexible and easily adaptable to our needs and schedule.
(A detailed review of each is coming soon, so make sure you're checking back often or subscribe to my monthly newsletter to get notified when I post new content)
6th grade math homeschool curriculum
Math was becoming tedious between the two of us but switching to an external math source made our days easier because there's no more pressure on me to be great at explaining it to Marc in a way that's enjoyable to him.
We liked Mr. D Math's Pre-Algebra course so much that we continued with Mr. D Math's Algebra 1 course this year for several reasons:
it's self-paced, meaning Marc can move through it as he pleases and he has the flexibility to spend more time on concepts that are more complex.
online help – it has online help sessions weekly and their teachers are always an e-mail away from helping kids out. (This means less pressure on me).
fun– math has NEVER been so much fun in our home before. Mr. D has a way of getting through to children and Marc just loves this teacher and his way of explaining stuff.
6th grade language arts curriculum
I think language arts (LA) is the most challenging subject to balance because it has multiple parts that are difficult to separate. I feel that choosing an all-in-one curriculum will not go deep enough to cement the information because they tend to zoom through concepts.
A more effective approach is to focus on one concept at a time to ensure that your child grasps the material before moving on.
What are the components of a language arts curriculum?
When we say language arts, we're in fact referring to multiple sub-units of language studies. Here are the main components of language arts:
– Reading (or Literature for older kids)
– Spelling (or Composition Writing for older kids)
– Grammar
– Vocabulary
So what are the 6th grade language arts components for us then? Marc already has a good spelling command, so we're left with writing (his weakest subject), literature, grammar, and vocabulary.
✏️Writing curriculum for 6th grade
We are really enjoying IEW for writing and we picked up where we left off with the Structure and Style for Students program from last year. I feel that this program is tailored perfectly for Marc's needs. He is more literal and needs logical approaches for every subject and IEW is doing just that with its Structure and Style for Students program.
This is our second year using IEW for writing, and we're so in love that we're doing a comprehensive review soon. There's nothing we would change about this program! The self-paced video lessons are great, and Mr. Andrew Pudewa is so fun to listen to… and calm (unlike me ). I love that he teaches kids to think, plan, and style their writing in a logical, step-by-step manner.
I can already see the difference it's making in my students' writing because, finally, Marc is able to write a full composition that makes sense by using the SSS techniques.
📚Literature homeschool curriculum for 6th grade
I found it difficult to choose a literature curriculum this year. I was originally leaning towards a public school curriculum, but I wasn't sure if it would be the right fit and I'm glad I didn't because I discovered Common Sense Press and their Learning Language Arts Through Literature program. I knew Common Sense Press from the review I did on their Wordsmith Apprentice and I was immediately drawn to this literature package.
I love the format of The TAN Book (6th grade level) because we work on both fragments of text and full books. We read and analyze four full books per year, which combine literature, writing, grammar, and spelling with a focus on literature and literary analysis. The TAN Book is designed for homeschoolers, which means it is open and go, flexible, and very easy to implement at home.
Please note that while The TAN Book has no religious references, some of the reading books are written in a religious context.
📕 Vocabulary homeschool curriculum for 6th grade
I feel that vocabulaty is an important aspect of any language arts program and we place a great importance over vocabulary in our homeschool.
The reason I chose Vocabulary from Classical Roots is that it covers advanced words, and is based on Latin and Greek roots. This helps Marc to deduct the meaning of new vocabulary words by knowing the meaning of these roots. I love that this series is to the point, not taking more than 20 minutes to finish, which makes is very easy to pair up with writing or literature, while having a solid vocabulary program.
📗 Grammar homeschool curriculum for 6th grade
Another important aspect of language arts for us is grammar. While I don't ask Marc to remember how to define grammar terms, I do want him to understand that correct writing comes with knowing your grammar well. And while I love detailed grammar curricula, Marc seems to grasp concepts really fast. So I decided to go with Growing with Grammar from Jackris Publishing.
The great thing about this curriculum is that it is condensed, easy to work from independently, and it helps kids stay consistent with grammar because they can quickly get familiar to the format. Marc only has to fill out 2 pages per day, so there is no busywork for him to do.
This curriculum also covers advanced grammar concepts and more (for example, how to set up a friendly or business letter)! I love the fact that the textbook can be used as a reference booklet as well because all the grammar theory is written in one place, keeping the workbook separate.
6th grade homeschool science curriculum
I was unsure of what science curriculum to choose for this year because Marc is ready to go beyond middle school science, but he needs to catch up in math first. Last year I chose a 5th grade public school science curriculum, but it bored him to tears.
So this year I went with Astronomy 2 from Pandia Press. It's an advanced science curriculum and we've already covered more than half of it. I feel that we'll need to supplement it with another curriculum for the second semester though.
I picked Astronomy 2 because:
it's easy to follow at home, being made for homeschoolers. This makes it a great choice for families who want to learn together, through projects and fun experiments.
Marc is interested in astronomy and he's been learning a lot of astronomy from watching his favorite YouTube channels .
Pandia Press is an awesome publisher when it comes to secular science and hands-on science curricula. Their products are high quality and offer a great way for families to learn together. So I never worry about their products not being good enough.
6th grade homeschool social studies curriculum
Social studies is our greatest change this year. We've moved from a traditional history curriculum to a literature-based secular history curriculum and it's the best switch we could have done.
Marc loves reading and my goal is to expose him to good literature. We've been browsing the BookShark lists for years, but I didn't have the courage to take the leap because it all looked overwhelming.
This year was finally the year we took that leap of faith and it's been mind-blowing! Not only do we find it easy to navigate, we actually enjoy it… a lot! The literature-based approach has opened up so many interesting discussions and added a whole new level of depth to our homeschooling.
And to top it all, we manage to cover BookShark in 15-30 minutes per day!
I chose BookShark for our 6th grade social studies because it's literature-based and teaches history in context. It also includes geography and cultural studies, which exposes Marc to a broad range of cultures and rich literature. Another reason I chose this curriculum is because it covers the less studied eastern hemisphere.
This curriculum is way more than history: it's good literature, culture, geography, and history combined in an impressive journey throughout the east. BookShark is so much more than I expected and we both love this change.
Electives for 6th grade homeschoolers
This year, we chose 3 electives, plus physical education. For P.E., Marc is taking weekly swimming lessons, and he's really learned to enjoy the water.
The electives come last, so we're not prioritizing them. Marc is free to explore and work on them as much as he wants.
🏛️ Latin curriculum for homeschool beginners
I wanted to choose Latin this year after seeing how well Latin roots worked for vocabulary. I am in no way pushing Latin on Marc or expecting him to get to a certain level, but I thought that Latin would be a great addition since science is heavily relying on Latin words. If he knows the meaning of the main roots, he will be able to memorize and decode specialty terms easier. That's why I chose Latin with Minimus, a Latin program that's easy and engaging for him.
Minimus is a little mouse who lives in an old Roman town in the United Kingdom. This town was real, and the book has historical proof in th form of maps or photos peppered throughout the book. It's a light and fun way to get kids familiar with Latin and to make them see it as an actual language that was commonly used long ago in history.
🇩🇪 Learning German with Rosetta Stone
German was Marc's foreign language of choice but when it comes to learning it, he has had trouble finding the motivation to stick with it.
In the past, I've tried hiring tutors, but that didn't work out too well since he quickly lost interest. So this year, I decided to just go ahead and buy a lifetime membership to Rosetta Stone. This way, he can do the lessons at his own pace without any pressure.
At first, I wasn't expecting much, but a few months later he surprised me by reading small texts in German.
So I am happy I saved a lot of money on German tutors because Rosetta Stone is perfect for kids that are just starting out in a language.
My plan is to have him finish all the German levels in Rosetta Stone before looking for another German tutor that will then take him to the next level.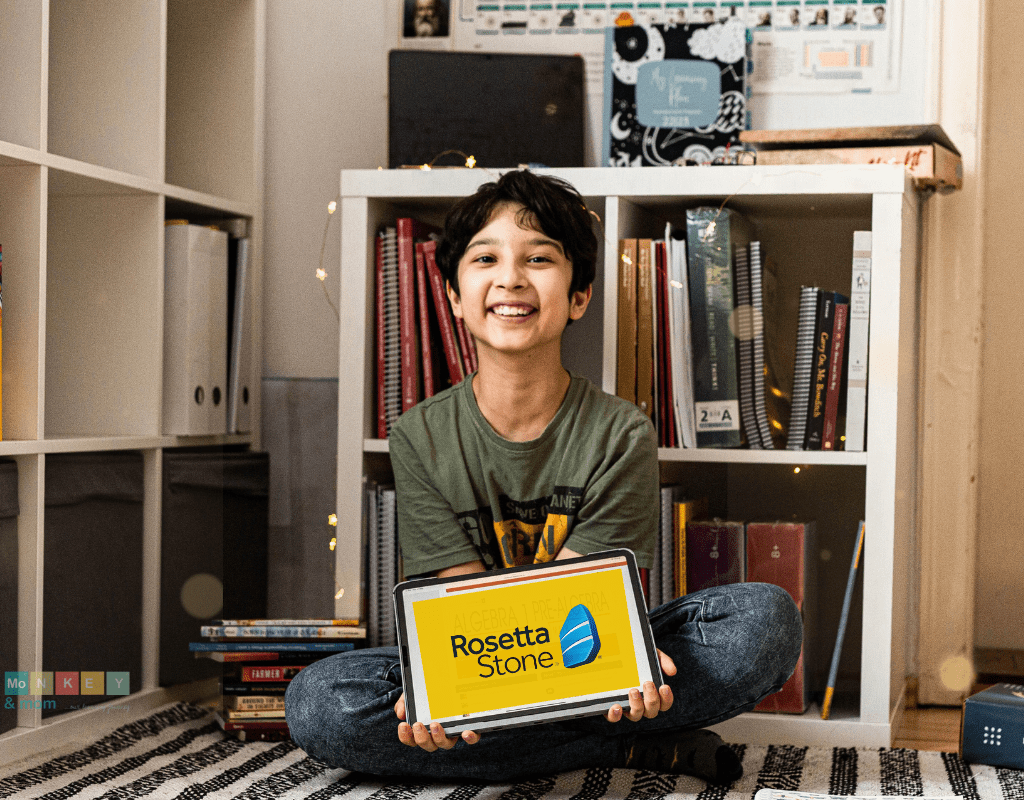 🤖 Affordable programming classes for homeschoolers
One of the electives I find useful long-term is IT and programming, and it's something I wanted to incorporate in our subjects this year. I didn't want to invest a lot of money into it yet, because we are just beginning to dive into the subject. That's why I went with Udemy classes.
Udemy is a great, affordable platform for learning new skills and taking classes on almost any subject. I found a promising Arduino Step By Step class for Marc, which is perfect for beginners. I just went ahead and bought the required pieces so he can follow along with the instructor, and he is going through the class at his own pace. So far, he is really enjoying it!
---
Choosing a 6th grade homeschool curriculum isn't difficult when you do it methodically, following your priorities. Our homeschool curriculum for sixth grade is the best combination I've found so far and it works great for us, but keep in mind all children are different. To make sure you choose the best curriculum for your children, you should read reviews, research and try the curriculum out before buying. And don't forget, changing curriculum that doesn't work is normal.
If you need help with choosing a curriculum, I am happy to schedule a free Zoom meeting with you and help you out.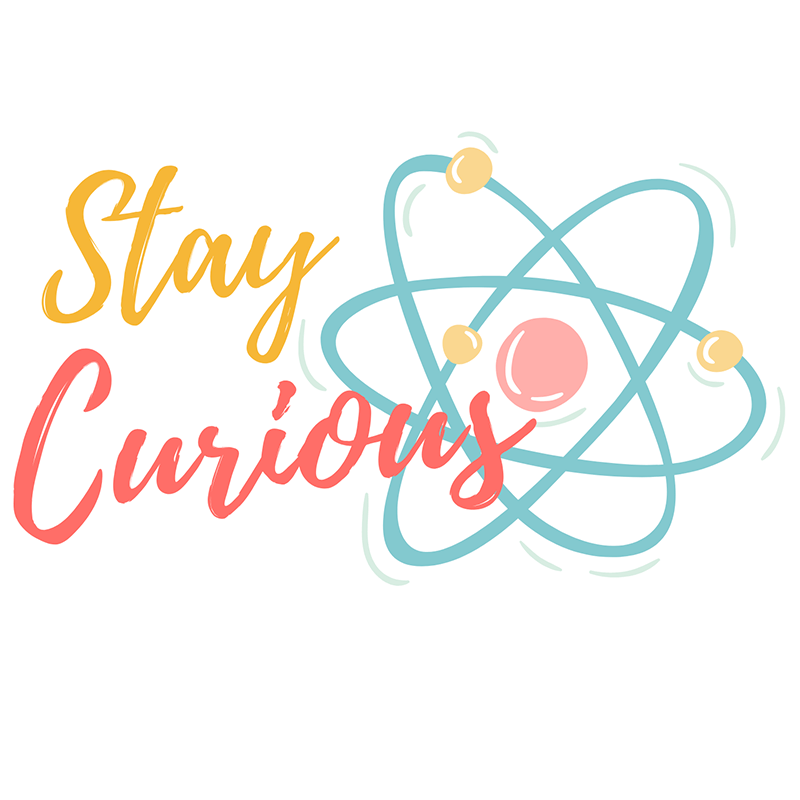 This post may contain affiliate links. By making a purchase through these links, I get a small percentage for the item you bought while the price stays the same for you. Thank you for supporting me.
As an Amazon Associate I earn from qualifying purchases.
Read my Disclosure to find out more about how I support my website and how you can help.