MEL Chemistry- subscription review
When M started getting more and more interested in chemistry I knew the time had come to look into MEL Science's Chemistry kits.
I was watching them for a while and I was fascinated by the idea! So for Christmas last year, M got a MEL Chemistry subscription!
He was soooo excited when he received the first box in the mail, so after several months and 8 boxes received, we are ready to show you what an awesome subscription this is for any children that LOVE chemistry and experiments.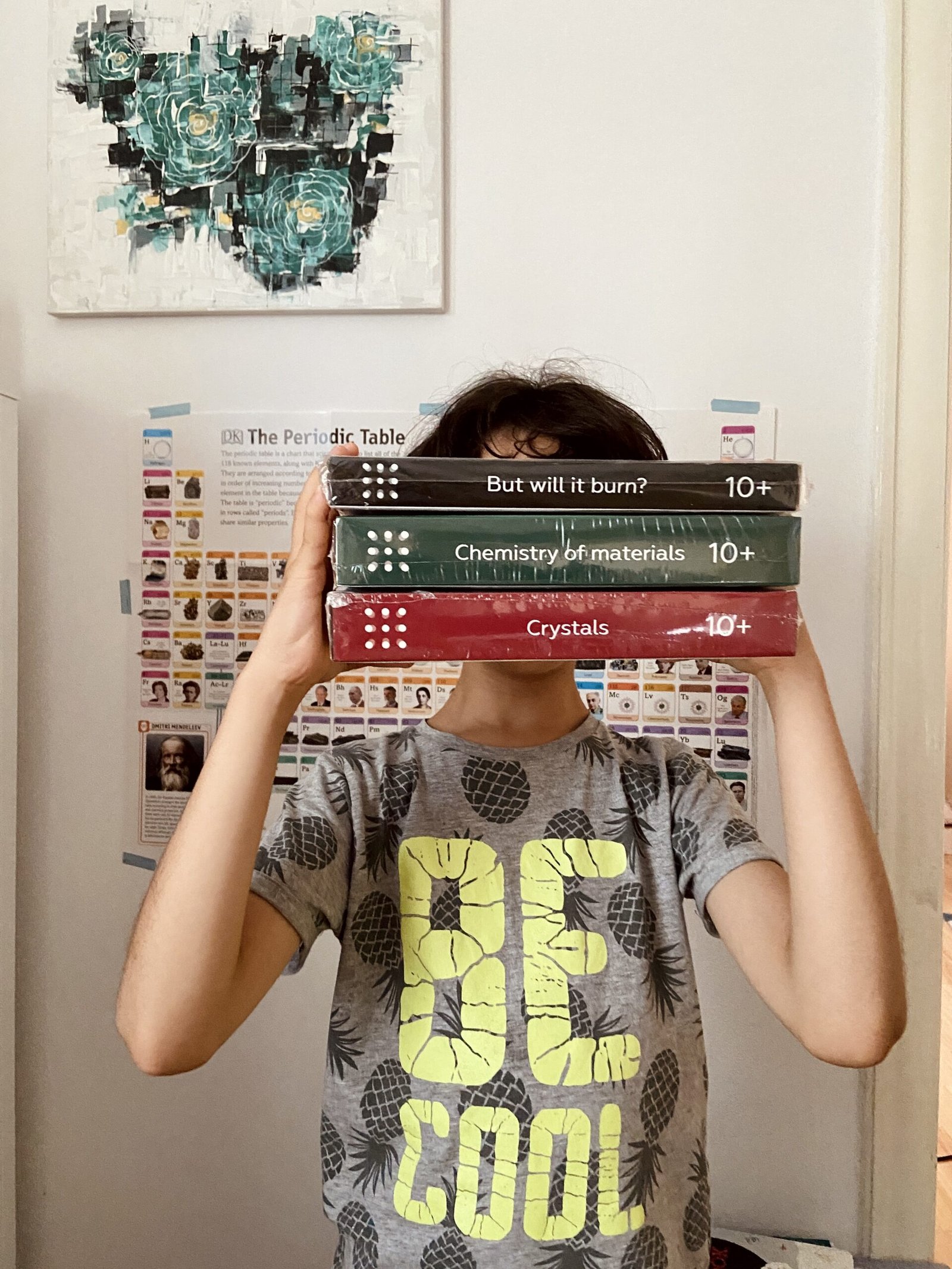 Who is MEL Chemistry for?
MEL Chemistry is for kids (recommended age is 10+) that like chemistry and are interested in chemicals and how they work. For kids that want to know the WHY behind each experiment.
It's not for parents or kids who expect to be wow-ed with every box. Sometimes you get "slow" experiments that some might find boring. But the chemistry behind them is what makes them WOW.
It's for families that want ready-made kits with everything you need in them, detailed explanations both on paper and online PLUS a lot of cool bonuses like MEL Chemistry App, MEL VR lessons or MEL Academy.
M is 9 but he enjoys the experiments a lot so I would say this can work for 8+ if the kids show interest towards chemistry.
Where does it ship?
MEL Chemistry ships in over 60 countries around the world! Just go check if yours is on the list.
It definitely ships to Romania and all packages have arrived "unharmed" so far.
Every box comes in a sturdy outer box made of cardstock.
If you have patience, here's a video of M opening his Chemistry of Materials box… he's very slow though because he stops to read and look at every little thing 🙂 .
What do you get with a MEL Chemistry subscription?
In your first box, you will get the starter kit AND your VR googles. They are FREE. Plus a box with your first experiments!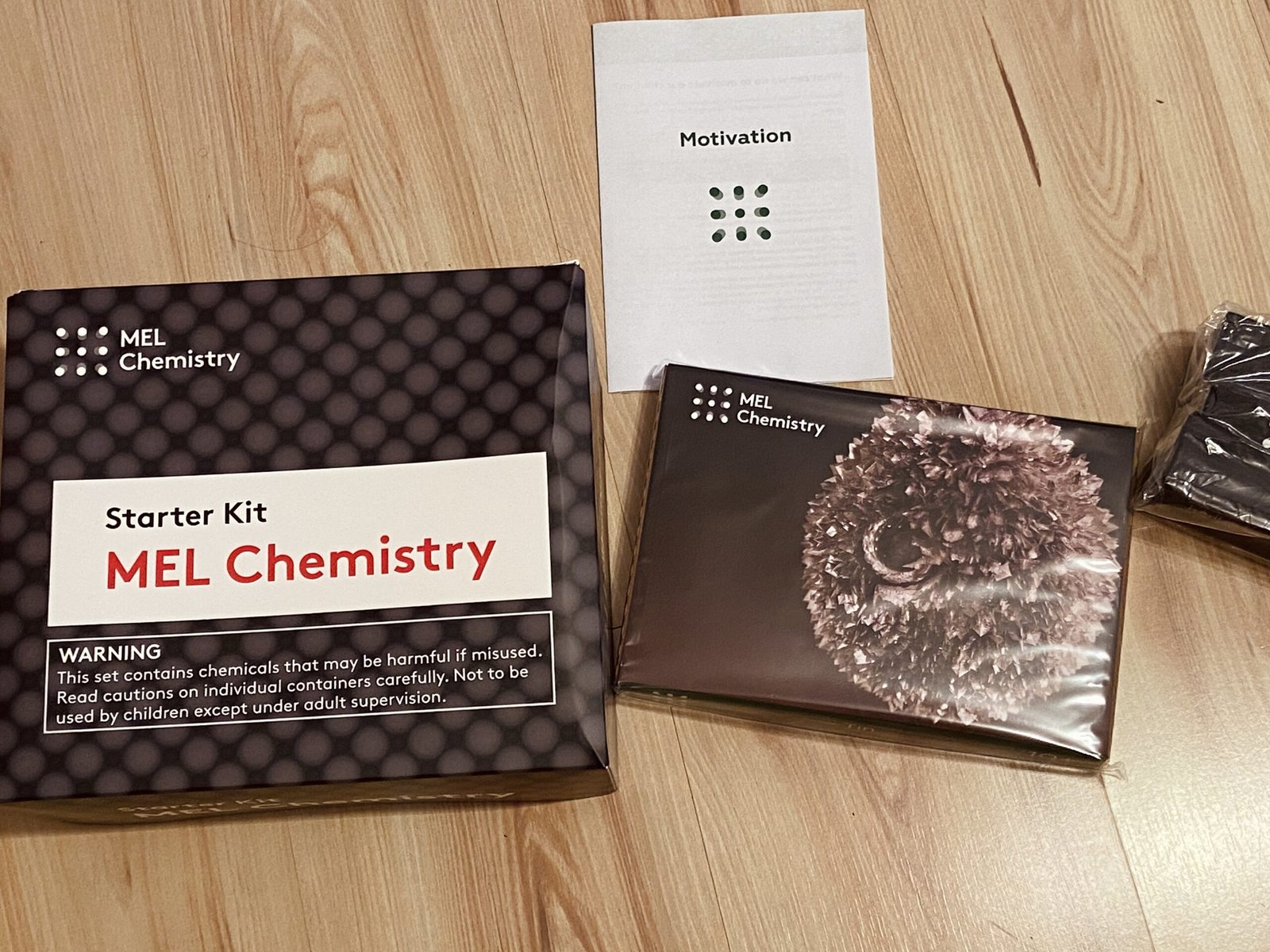 Every month thereafter, you will get a new kit with 2-3 experiments.
VR and App free with your subscription
The VR app and MEL Chemistry App are free to download, but require your subscription email to have access to everything cool inside.
Here's a glimpse into the APP and VR – the 2 experiments you will see below (WILL IT BURN? kit).
In VR you can find a lot of 3d lessons for the kids. It's easy to use, just pop the phone inside the VR goggles and enjoy. To "click" on something, you just "look" towards the item and press the small silver "button" on the upper right side of your googles.
M finished all the lessons and he learned quite a good deal of new information from the app. He also has a better understanding of the concepts because he got to "play" with everything in 3D.
The googles are made of cardboard but if you're careful with them they will last a long time.

ATTENTION! Your phone might slip off if the goggles aren't handled properly. I make sure M is holding the phone from both ends while holding the goggles because it slips off easily.
The MEL Chemistry App is packed with experiments and their instructions, scientific explanations, a REAGENTS section where you can see each subtance's formula and structure and read more about each and every one.
The app has a "code" reader. You can scan the code from the booklet of the experiment you want to perform and the app will take you straight to that experiment.
You can also scan a substance (from the code on every bottle) and you'll see the information about it or even access it in VR. How cool is that!
Experiment samples- step by step!
Tin Dendride and Hedgehog
This was our first experiment box ever and M was fascinated by the results even if the experiments are slow. It was cool to record them and watch them at a high speed.
Starch penguin
We didn't manage to explore the whole kit yet, but M chose to do the starch penguins by himself. It was the first time he used his little stove so he was super excited about it.
Will it burn? – 2 experiments
This must me one of the most exciting experiments so far. We used a chemical reaction to get hydrogen soap bubbles which we lit up, making them explode with a loud pop.
M already knew hydrogen was highly flammable but seeing it in action was so cool!
The second experiment is pretty simple but still very cool! Kids can set iron wool on fire! Such a pretty display.
MEL Academy – online experiments for subscribers
MEL Chemistry offers their Academy lessons FREE with MEL Chemistry Subscribers.
We joined from the very first lessons they launched and M enjoyed their live experiments.
The cool thing is that you can watch PAST recordings on ANY experiment done so far. I just LOVE IT!
You can also see the experiments for the kits you own. That's cool if you want extra help doing your experiments of just listening to a real scientist perform and explain them.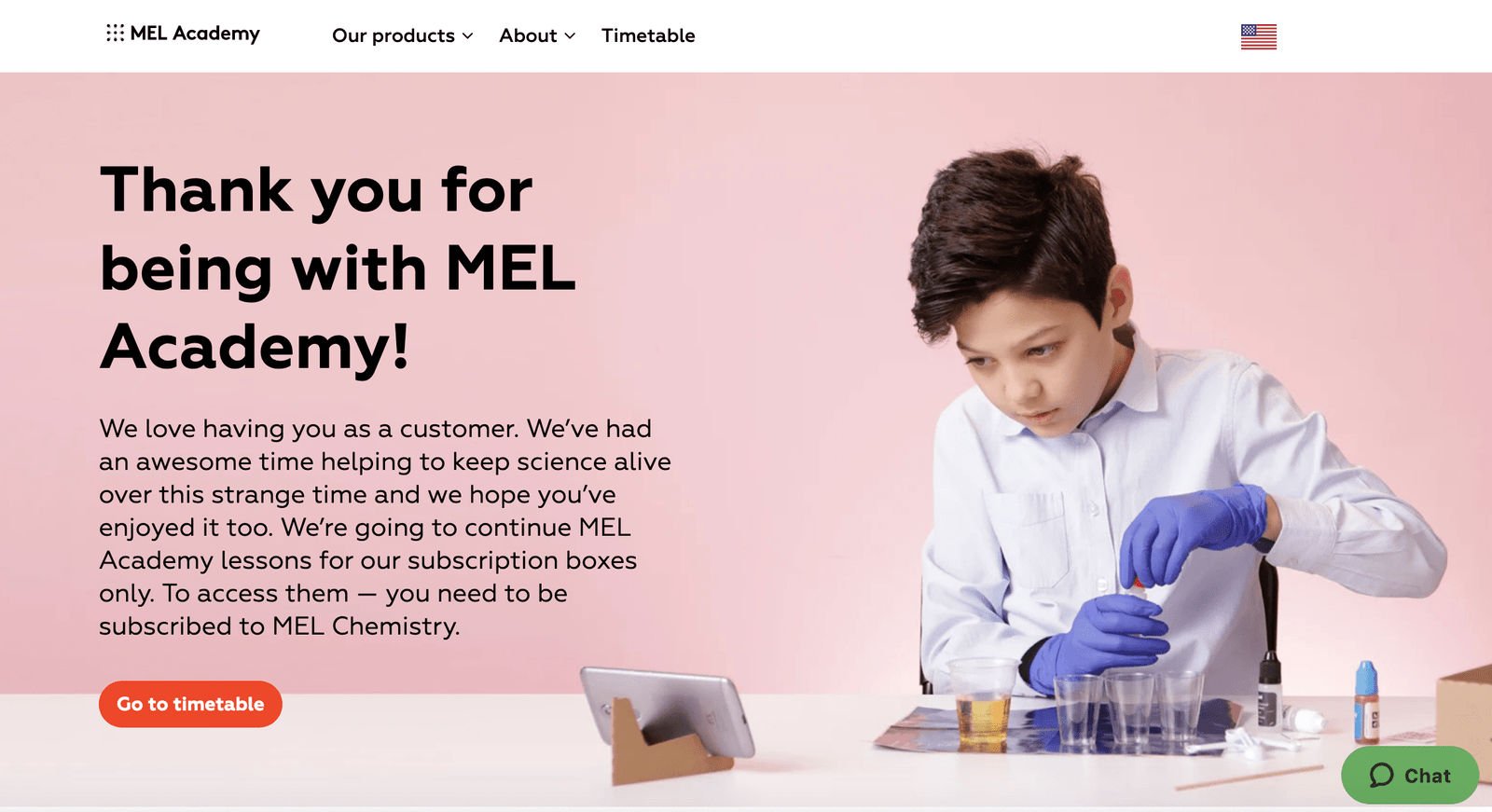 Here are a few of the experiments M has done online with the live teachers.
More learning out of your MEL Chemistry kits
Some parents were wondering if you could make MEL Chemistry into full science lessons.
You definitely can if you like gathering up further ideas and explanations for each experiment. I will show you what we've done to delve deeper into the concept.
We took out our Molecules Kit and our elements cards (they aren't available anymore, but check these ones instead) and we started recreating some of the reagents we've got from MEL Chemistry.

You can also go further, researching extra bits of information for any reagent, molecule or experiment.
Researching more would be a great way to "notebook" for chemistry like we've done with our stickers (soon available to download from our Resource Library).
You can also fill up lab sheets (I will try to make some available on our Resource Library ) and change some variables to see the different results.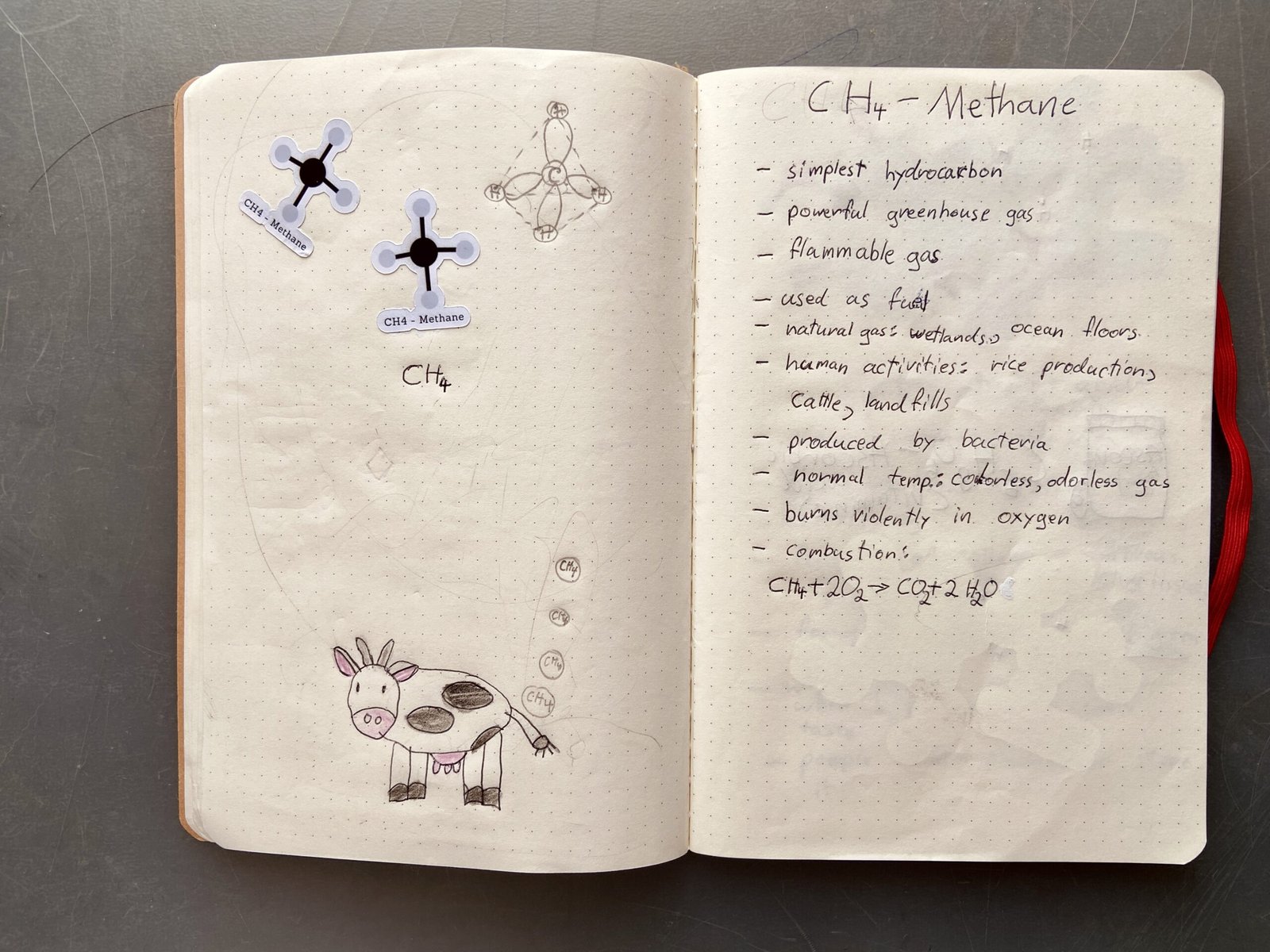 MEL Chemistry- Conclusion
We enjoy this subscription a lot and I think it's perfect for families that want to get all they need in a single box and kids that are curious about how things REALLY work behind each experiment. It offers plenty of learning opportunities both hands-on and on screen and I think the added bonuses make it really cool.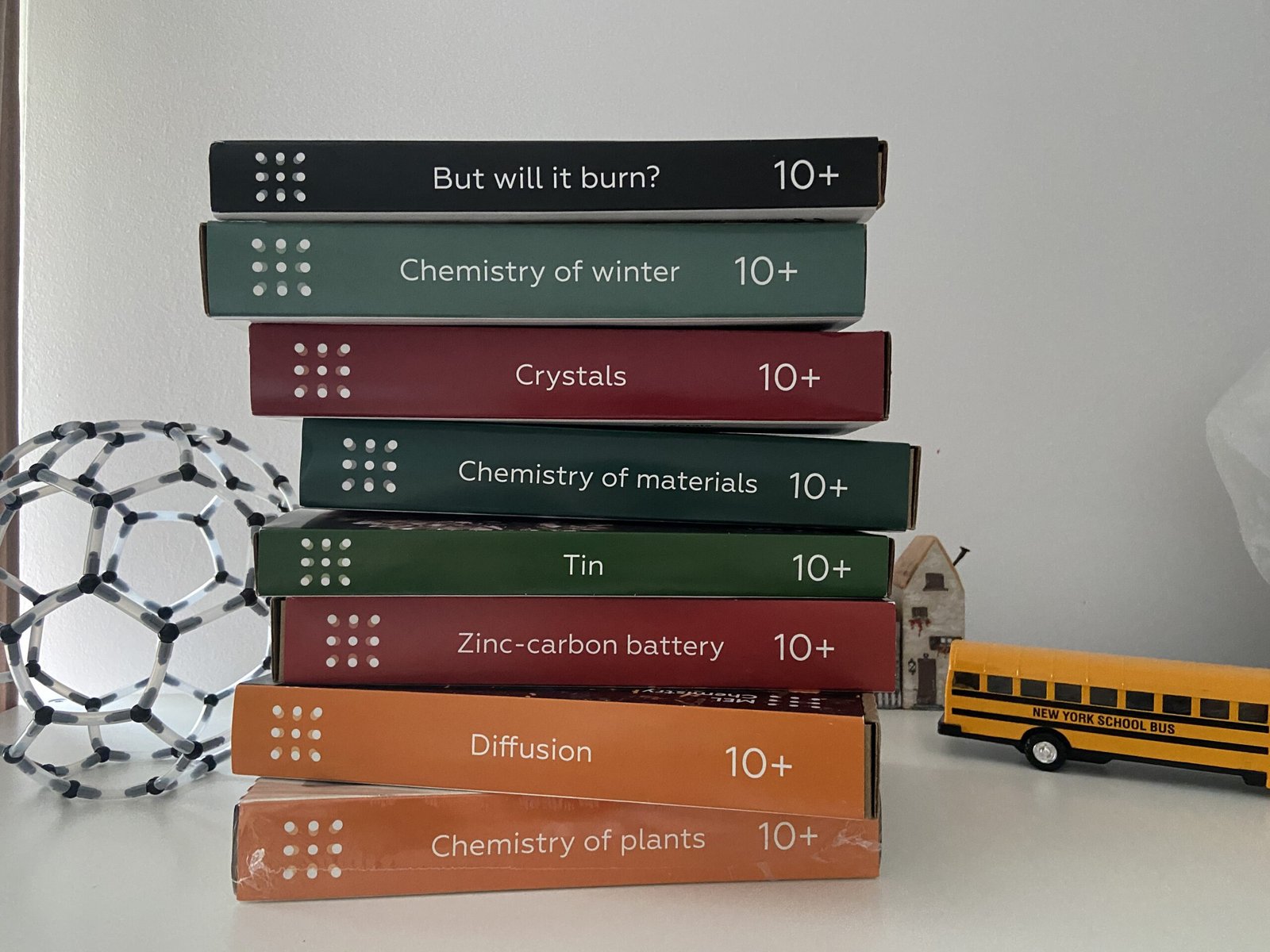 The teachers over at Mel Academy are very knowledgeable and it's so nice to be able to have online classes with them!
The VR option is cool and kids will greatly enjoy it!


MEL Chemistry just offers so many learning opportunities that it's a subscription we'll stick to in the following years.
Make sure to check their site often for offers and join us with a subscription of your own!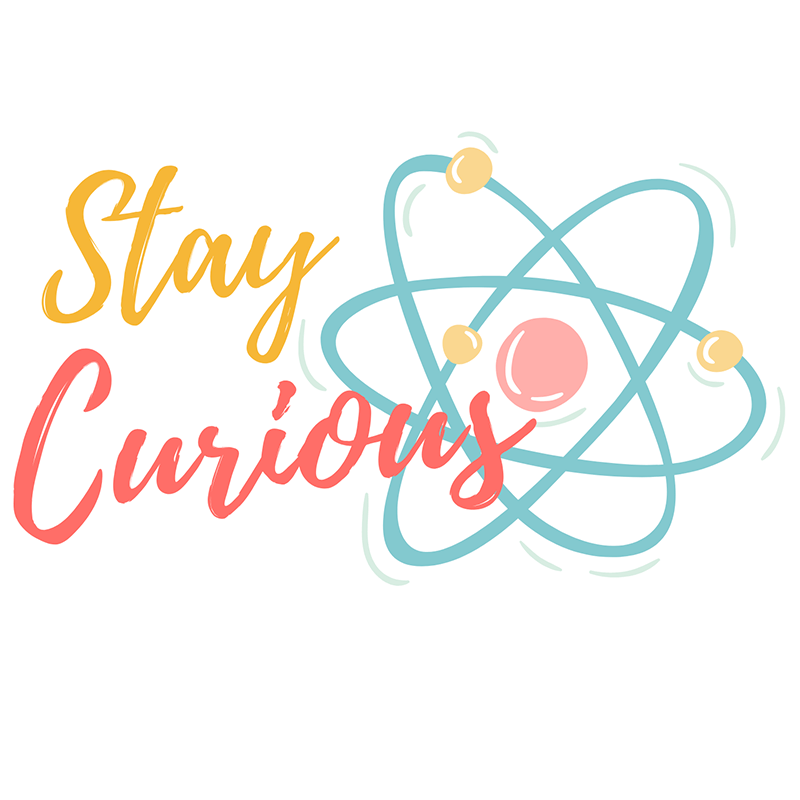 This post may contain affiliate links. By making a purchase through these links, I get a small percentage for the item you bought while the price stays the same for you. Thank you for supporting me.
As an Amazon Associate I earn from qualifying purchases.
Read my Disclosure to find out more about how I support my website and how you can help.
This post may contain affiliate links. By making a purchase through these links, I get a small percentage for the item you bought while the price stays the same for you. Thank you for supporting me.
As an Amazon Associate I earn from qualifying purchases.
Read my Disclosure to find out more about how I support my website and how you can help.