Picking the right microscope for your homeschooling
M. has been passionate about the microscopical world for several years now. 🔬 🦠 🧫
So picking a microscope for our homeschooling was essential but what was the right microscope for us?
For his 7th birthday, he chose his own theme: viruses, bacteria, and blood cells. You can imagine it was a "fun" birthday where people are cake with "yellow fever" drawn by M. and stuck in their slices.
That year, for his birthday presents, he wished for models of bacteria, virus, and red and white blood cells and we bought them for him. I will review those in a separate post. He was the happiest kid ever when he received them!
So I knew that the future holds a microscope (or more) for us.
Pocket microscopes- are they enough?
Pocket microscopes are great for homeschoolers because they are portable, cheap and relatively easy to use. You don't need slides and you can study any type of surface with them. They do have some downsides though.
Carson pocket microscope
The first microscope I got for M. was a pocket microscope from Carson. He was ecstatic and he started looking at every single surface and every little creature with it.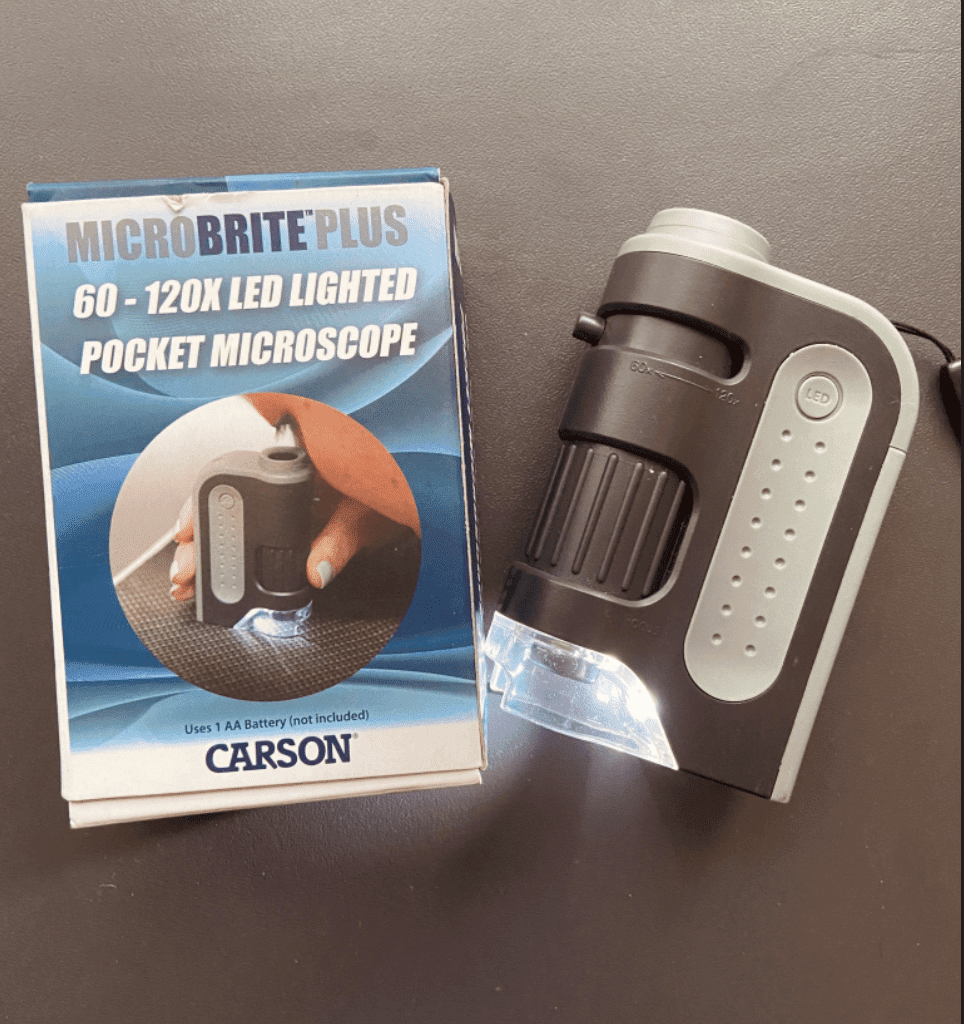 PROS:
portable
decent zoom
works on any surface even if it's the bark of a tree, a rock or a live little insect.
cheap!
perfect for kids
CONS:
hard to look into with one eye – for the kids.
you can't connect it to your smartphone and take photos/videos.
While he loved it, it was hard for him to close one eye and look into it. So I fixed my phone camera exactly on the ocular and we took photos (it wasn't easy to do because the camera was slipping often, but we managed). You can see some samples here.
Pretty good, huh? Because we love the pocket microscope I decided to look for one that would have some connection to the smartphone. I will update this post if I manage to buy anything good.
Picking the right desk microscope for your homeschooling
There is no magic formula when picking a desk microscope for your homeschooling. It greatly depends on what you will use it for, whether you want to look directly into it or get it connected to a computer and your budget.
When I picked our desk microscope I knew I wanted something with at least 1000x zoom that connected to the computer. Since most of the options were not available in my region, I started researching the ones that were.
What to look for when picking the right microscope for your homeschooling
Magnification power: good microscopes have at least 4x, 10x, and 40x objective lenses. That allows you to magnify up to 400x. You want that magnification if you're looking at microorganisms (you'll be able to see 450 microns @ 400x).
Light source: look for LED.
Compound monocular: these microscopes have high resolutions and good magnification power. Compound microscopes are the right choice if you use it to view things that require mostly lighting your sample from below (for example for pond water, slides etc.)
HD camera: if you plan to see your images on a computer, take videos and photos and just make it easier to use by children, make sure your microscope comes with a good HD camera (or that you can buy it separately for your model).
Knobs: make sure your model of choice has fine adjusting knobs.
Dust Cover: don't skip this option, buy a separate one if yours doesn't come with it or make one for your microscope. You don't want dust to get inside of your microscope!
After narrowing down a few options, go online, and start researching reviews for your choices. I usually go on Youtube to check reviews too and see how they really work in real life.
Bresser Biolux NV 20x-1280x with HD camera
So what did we choose?
After much research, I decided to go with Bresser Biolux NV 20x-1280x with HD camera (click on the link for full specs!). You can buy it from:

RO: Bresser Biolux NV 20x-1280x HD
International: Bresser Biolux NV 20x-1280x-HD
I chose it as a Christmas present a couple of years ago and we LOVE it!
It wasn't the cheapest available option, nor the most expensive and I love that it came packed with everything we need:
HD camera (1280×720)
good magnification up to 1280x by using the Barlow lens
fine tuning knobs and a mechanical cross table
5 prepared slides to get us started
LED light (from 2 sources: underneath and above- transmitted and incident)
case and dustcover
miscroscope tools: tweezers, slicer, and pipette
extras: brine shrimp eggs and hatcher, yeast, slide glue and seasalt
Below you can find our list of Pros and Cons after using it for about 2 years:
CONS:
It's not easy to handle independently by a young child so parent supervision and handling are required.
When the slides keep "jumping" off the stand you can adjust it with a screwdriver. It took me a while to realize what was wrong.
Very rarely, we encountered some camera glitch, easily fixed with a restart of the software.
The software only works on Windows.
PROS:
Magnification power is perfect to see little critters and even bacteria moving around (even though these aren't very clear, they are visible!)
You can take nice videos and photos of your findings.
Pretty easy to set up.
It comes with a nice case and a dust cover.
It comes with a lot of accessories like ready-made slides, shrimp eggs, glue.
Our samples
Could you imagine what followed?
For a while M. wouldn't go out without a ziplock with empty test tubes. He was gathering water samples from every puddle for us so see under the microscope.
I have to admit everything we saw was pretty cool! We even looked at a droplet of blood ( we didn't have the courage to poke our fingers with a needle and just waited for an unavoidable little cut to squeeze a droplet out). It's amazing to see how the red blood cells seem to move like a flowing river and it was a perfect opportunity to discuss about plasma and other types of cells in our blood.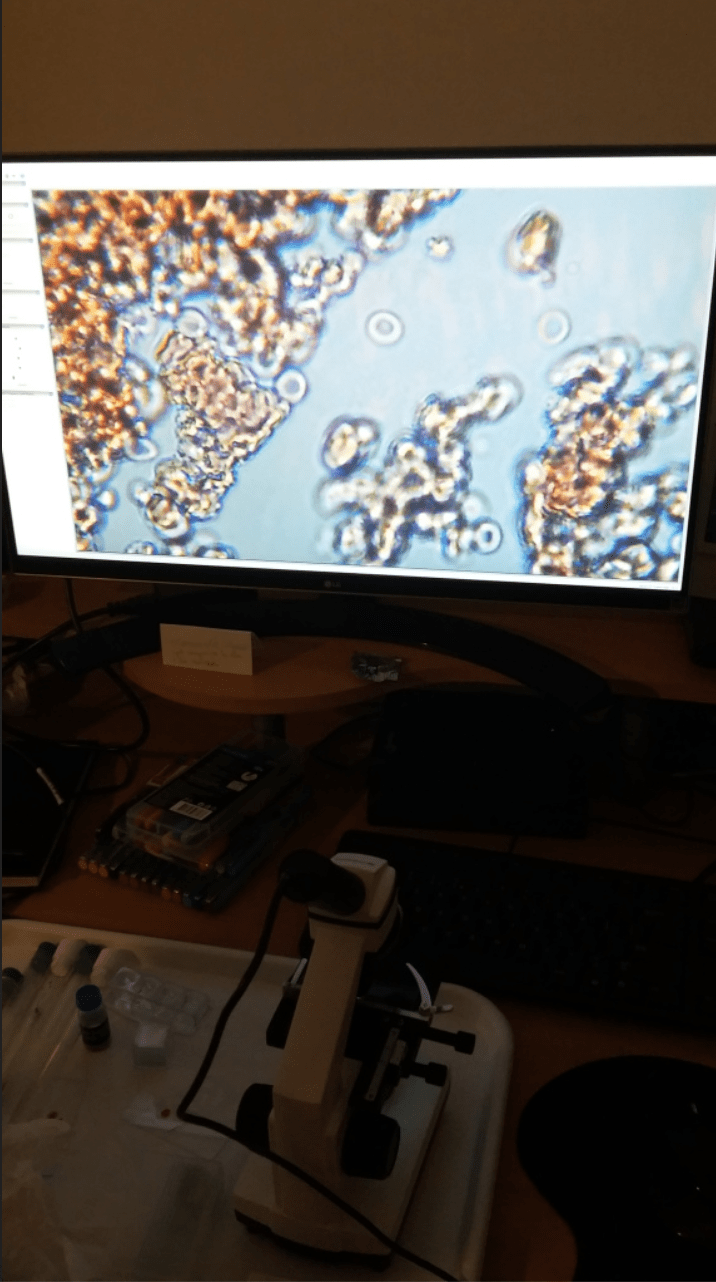 An orange cell looks very similar to the blood "moving". The orange juice seems to "flow" like a river. So cool to watch.
One of the most impressive things though, are microorganisms from a drop of water. We discovered that our bamboo plant's roots are housing amazing critters! Check them out.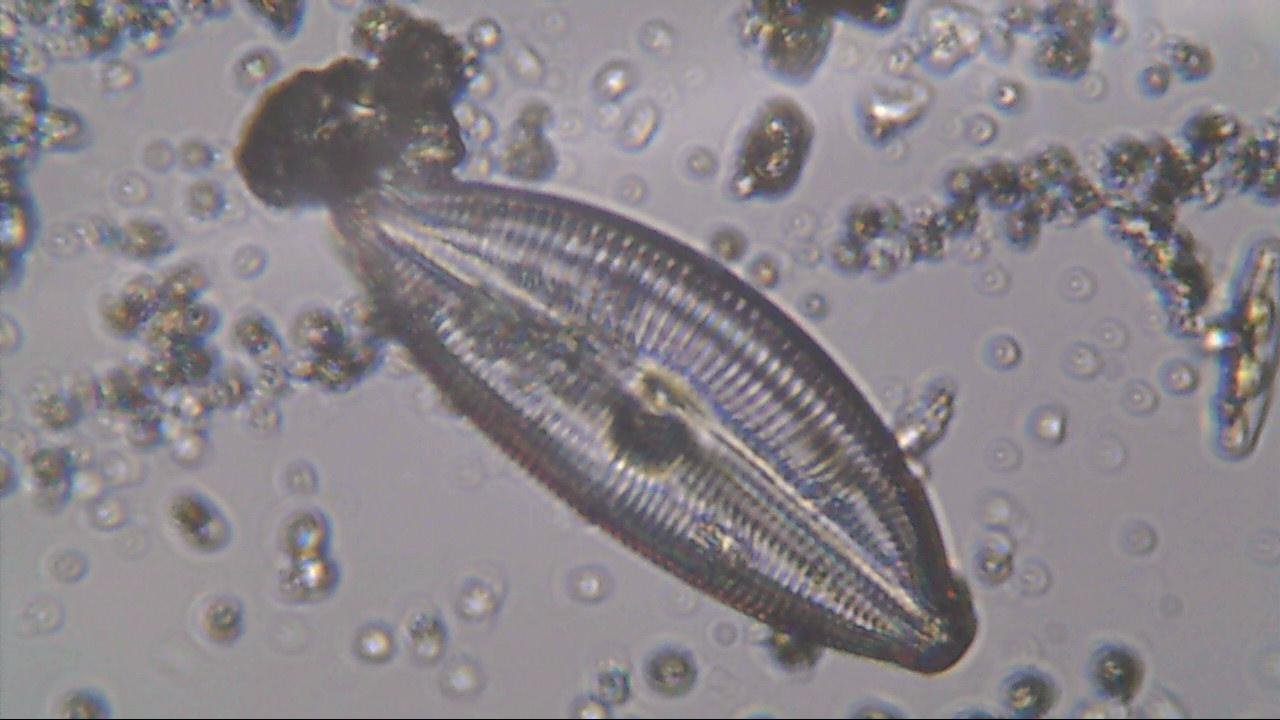 What followed were even more droplets and even more critters that we HAD to find the names of. So there I was researching the various types of microscopic algae and organisms living in the ponds. I even made a folder at some point where I saved photos and names of all the critters .
Look at the videos we took of them. They are so fascinating!
Eventually I started searching for books for him to read on pond microorganisms.
I will make a separate post about the books we like to use alongside our microscope. We use them to identify our critters and to find more information about them. M. is absolutely enthralled.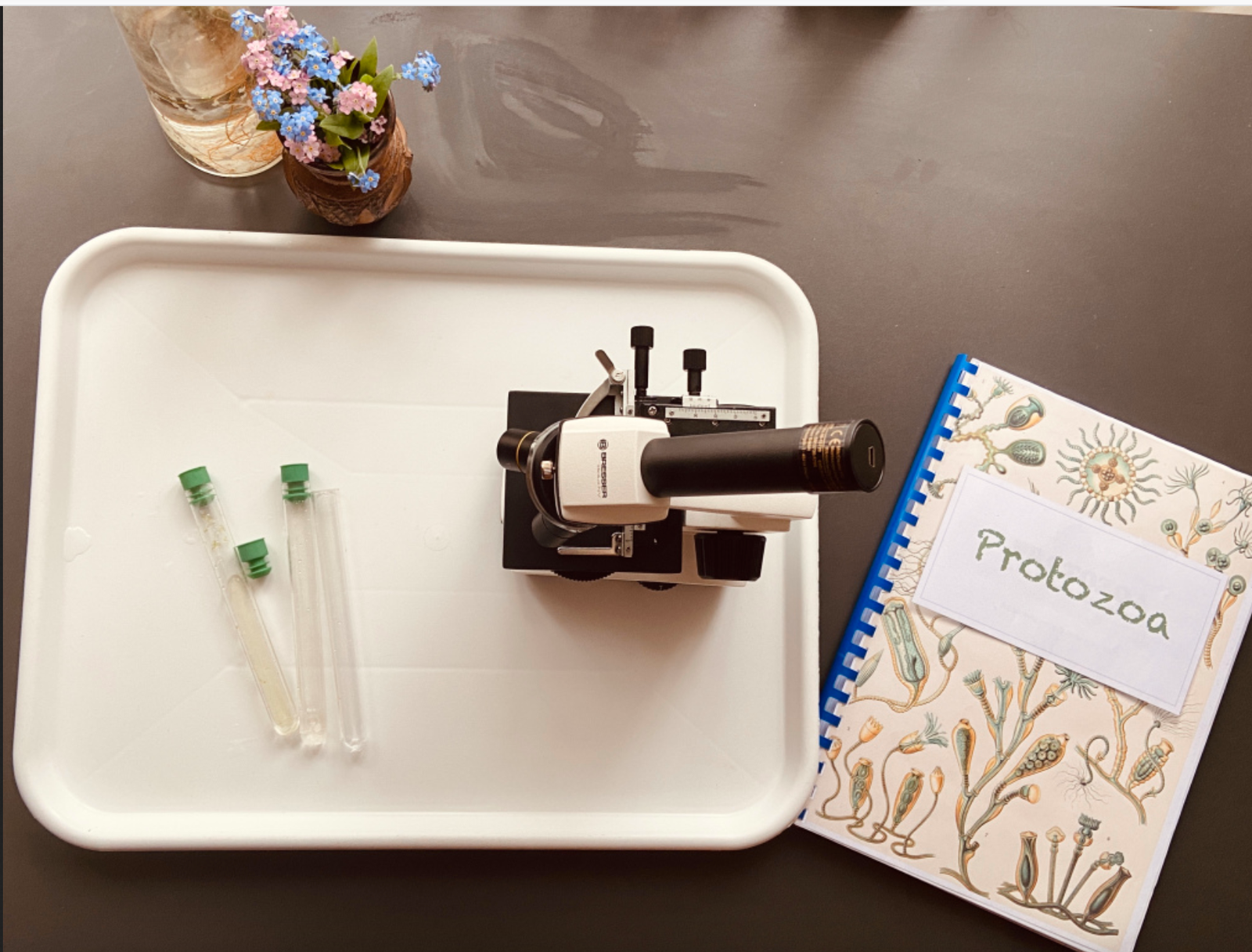 Useful tools to get started
After picking the right microscope for your homeschooling needs, here are some useful tools to help you get started.
Read the instructions of your microscope and set it up correctly. It goes without saying that you should get to know your microscope well before using it. I use both the instructions that came in the box and the online tutorials (when available).
First samples: buy some ready-made slides if your microscope doesn't come with any. It would be boring to have a new microscope and not be able to use it right away.
Blank slides: make sure you have some handy to create your own slides!
For pond water critters, get water samples from more places. Make sure you get some "dirt" too as we noticed they like to hide in there. If no pond is available nearby, look for stale water from plants (like orchids or bamboo).
Have fun and experiment!
---
I hope this post has helped you get an idea about which microscope suits you and your homeschooling needs best. 🦠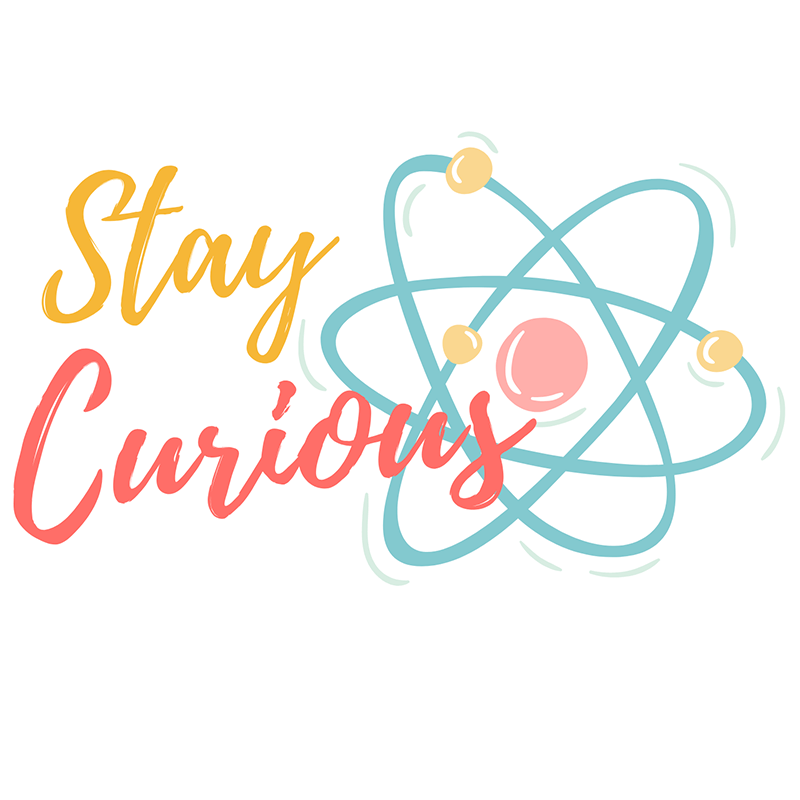 This post may contain affiliate links. By making a purchase through these links, I get a small percentage for the item you bought while the price stays the same for you. Thank you for supporting me.
As an Amazon Associate I earn from qualifying purchases.
Read my Disclosure to find out more about how I support my website and how you can help.