iugo.world Review | The Best Homeschool Community Hub
Homeschooling is a remarkable journey filled with opportunities, flexibility, and the ability to tailor learning to your children's unique needs and interests. However, let's be honest; it's not all rainbows and sunshine.
Whether you're a seasoned homeschooling veteran or just starting out, there's a common struggle that often goes unaddressed – homeschool loneliness. It's that feeling of isolation, the yearning for a safe space where you can ask questions, share experiences, and seek advice without judgment.
Imagine having a dedicated hub, a virtual homeschool community hub where you can freely discuss your homeschooling choices, explore curriculum options, exchange tips on socialization, and discover local events tailored to homeschoolers. Wouldn't that be great?
How about a space where new homeschoolers can get professional support and guidance while being welcomed into a thriving community?
Sounds good?
Homeschooling doesn't have to be a solo endeavor, and that's where iugo.world comes into play. Allow me to introduce you to this exciting new concept – iugo.world, the ultimate homeschool community hub on the internet. It's your one-stop destination for all your homeschooling needs. So let's dive in and explore the world of iugo because we have a lot of ground to cover!
This is a sponsored post. I was given the product to review and I might have been compensated for my time. I would never endorse or recommend programs we wouldn't use ourselves. Read more about it in my Disclosure.
At A Glance – iugo.world
Summary:
Homeschooling can be isolating, but iugo.world aims to create a thriving online homeschool community. This platform offers resources, a supportive community, live or self-paced classes, consultant support, and an umbrella school program.

Key Features:
Curated Resources: Free, comprehensive resources for various subjects and grades. iugoPRO members also get free access to Epic and Britannica for reading and research.
Community Building: Specialized interest groups, moderated discussions, and real-life events foster a sense of belonging among homeschoolers.
Diverse Learning: Offers both live and self-paced courses in subjects like STEM, financial literacy, and more.
Consultant Support: iugoPRO includes free homeschool consulting services for personalized guidance.
Iugo World Academy (IWA): An umbrella school program with academic advisors and legal coverage for homeschooling.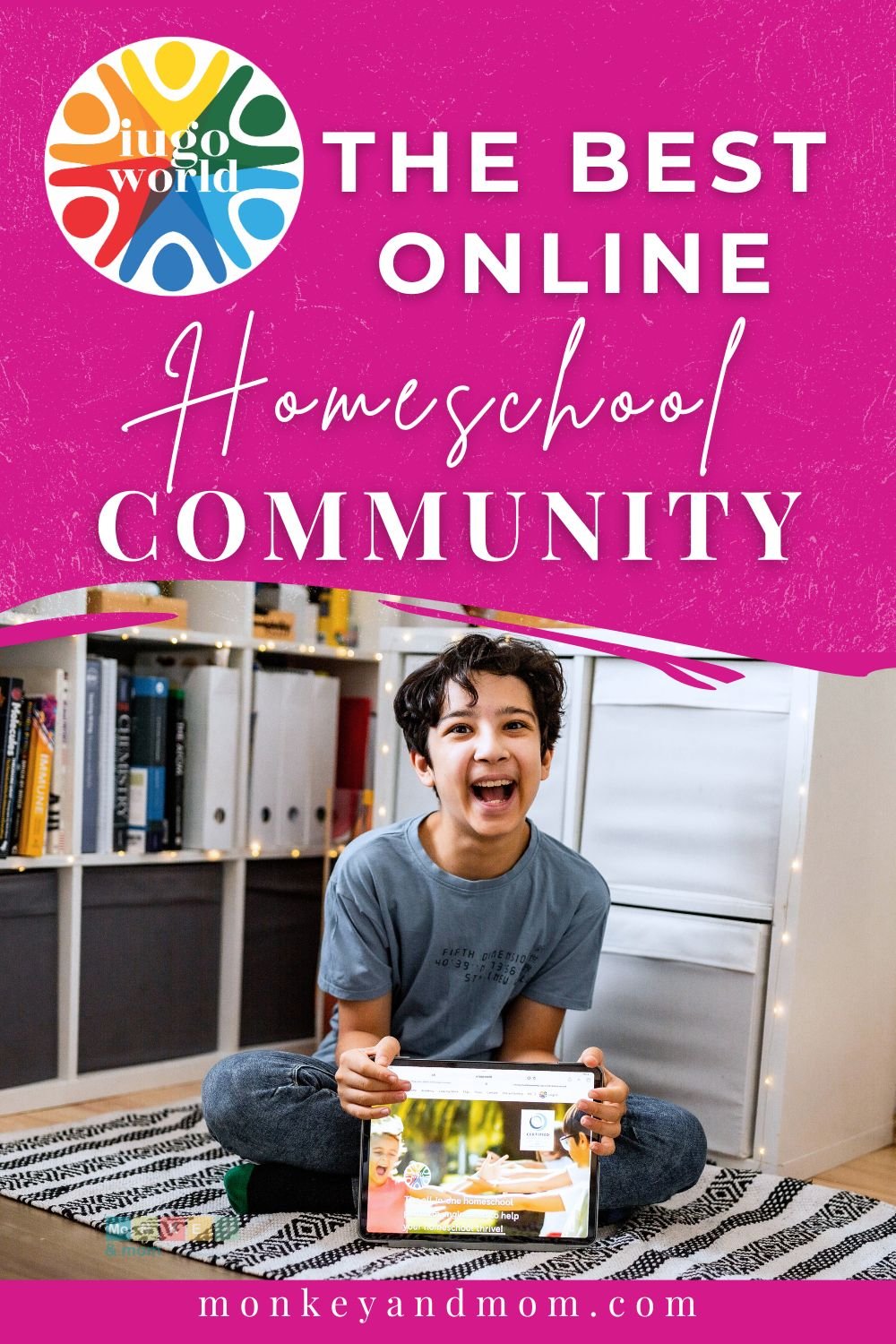 Pin this image to read the article later. 📌
Our rating:
Grades: k-12
Type: homeschool community
Price: $ 5-12/month
iugo.world is a fresh addition to the homeschooling landscape, and as of my review, it's still in its early stages. I am giving you an exclusive sneak peek into this promising homeschool community platform.
What is iugo.world homeschool community?
At its heart, iugo.world is all about education and community, striving to be the go-to hub for all things homeschooling. It's like a virtual homeschool co op.
It's built on the foundations of connection, community, and support. Whether you're just starting and need to understand your state's homeschool laws, seeking guidance on curricula, or looking for local events, free educational resources, or even an affordable umbrella school, iugo.world has you covered.
---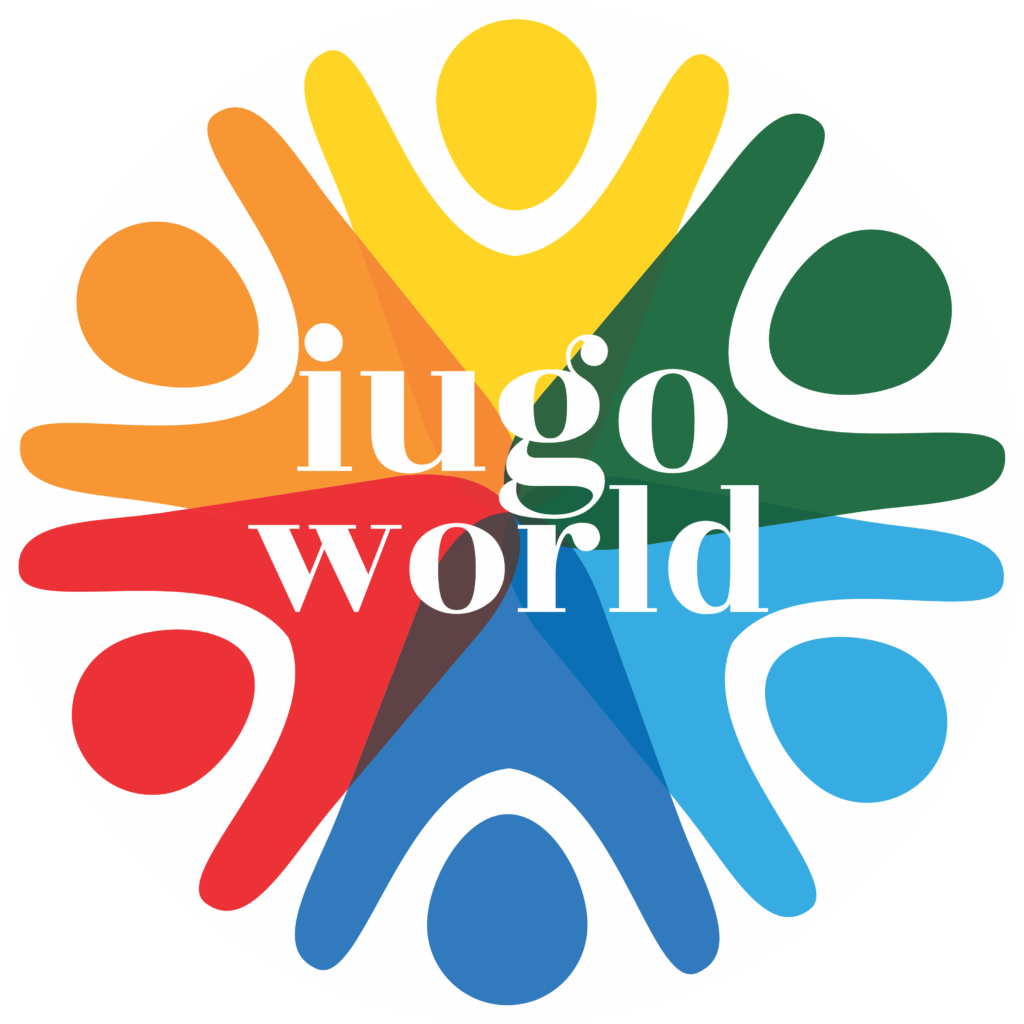 "Consider us your personal team of educators and specialists, creating and curating the material and resources your learner(s) needs without you having to sift through hundreds of worksheets, curriculum, and well-intentioned opinions so that you can focus on the teaching and learning."

— Windy , co-founder of iugo.world
---
Exploring iugo.world's top 5 features
iugo.world is like a homeschooler's dream come true – an online platform that offers a wide range of resources, exciting events, and even expert homeschool consultant support. So let's dive into the top 5 features that make iugo.world stand out:
Curated homeschool resources for all subjects and grades
iugo.world offers a diverse collection of meticulously curated educational resources. These resources cater to various grade levels, subjects, and learning preferences. The best part? They're entirely free for members, with many available even in the free membership tier.
iugoPRO subscribers enjoy complimentary access to Epic and Britannica, renowned platforms for reading and research.
But that's not all! iugo.world also equips parents with invaluable resources. From homeschooling guidance to a state-by-state homeschooling laws guide, insightful articles, and expert advice.
Connecting through interest groups and communities
At its core, iugo.world is all about building a strong sense of community among homeschoolers. The platform aims to bring together like-minded homeschooling families from across the globe, promoting collaboration and enrichment.
iugo.world offers specialized interest groups that cover a wide range, from gifted education to project-based learning, college-bound, and faith-based homeschooling.
I love how these diverse groups are closely monitored and moderated, so the discussion always stays on topic. This provides homeschool parents with a safe space to share ideas, swap stories, and find inspiration.
The sense of homeschool community goes even further through the events organized by iugo.world, currently centered in California but with exciting plans for international expansion. As a parent, you gain access to a curated calendar of events and field trips, offering opportunities to connect with other families in real life, explore new places, and create lasting memories.
Engaging courses and workshops – live or self paced
iugo.world understands that homeschooling families have diverse preferences, whether it's live online classes or self-paced learning. That's why they offer both options.
Currently, they provide live Spanish classes twice a week for kids aged 8 to 15, with plans to expand to subjects like STEM, financial literacy, and visual arts. The best part? All these courses are free for iugoPRO members.
The self-paced classes, facilitated through iHLP, offer an inquiry-based and integrated learning experience. It's a fantastic opportunity for students to explore subjects at their own pace and enjoy a comprehensive education.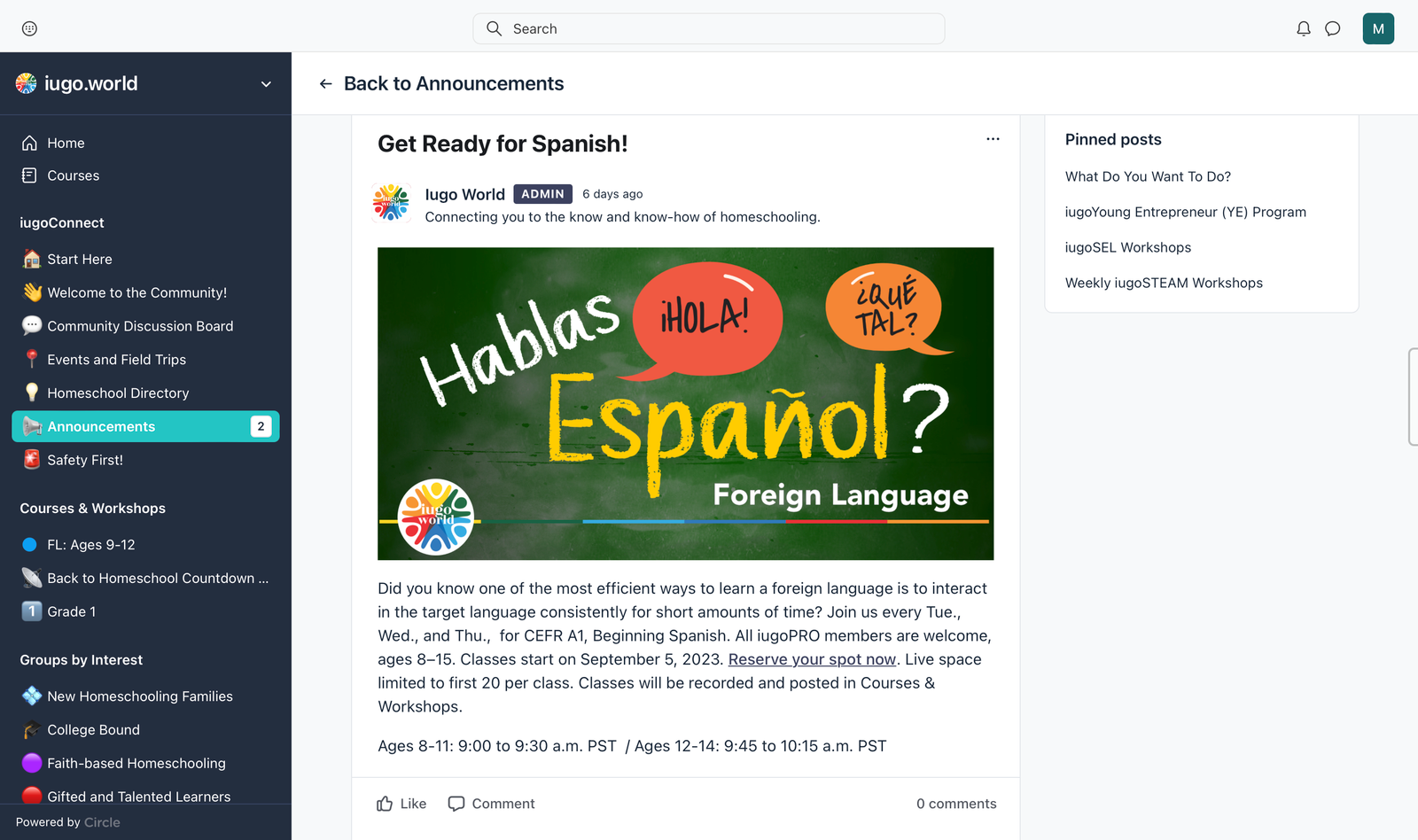 Professional homeschool consultant support
One of the standout features of iugo.world is its inclusion of free homeschool consulting services with the iugoPRO plan.
iugoPRO users have access to a dedicated homeschool consultant twice a week. They provide personalized guidance and support, tailored to your unique family and homeschooling needs. Whether you have questions about curriculum choices, teaching strategies, or any other aspect of homeschooling, the consultant is there to ensure you receive the assistance you require.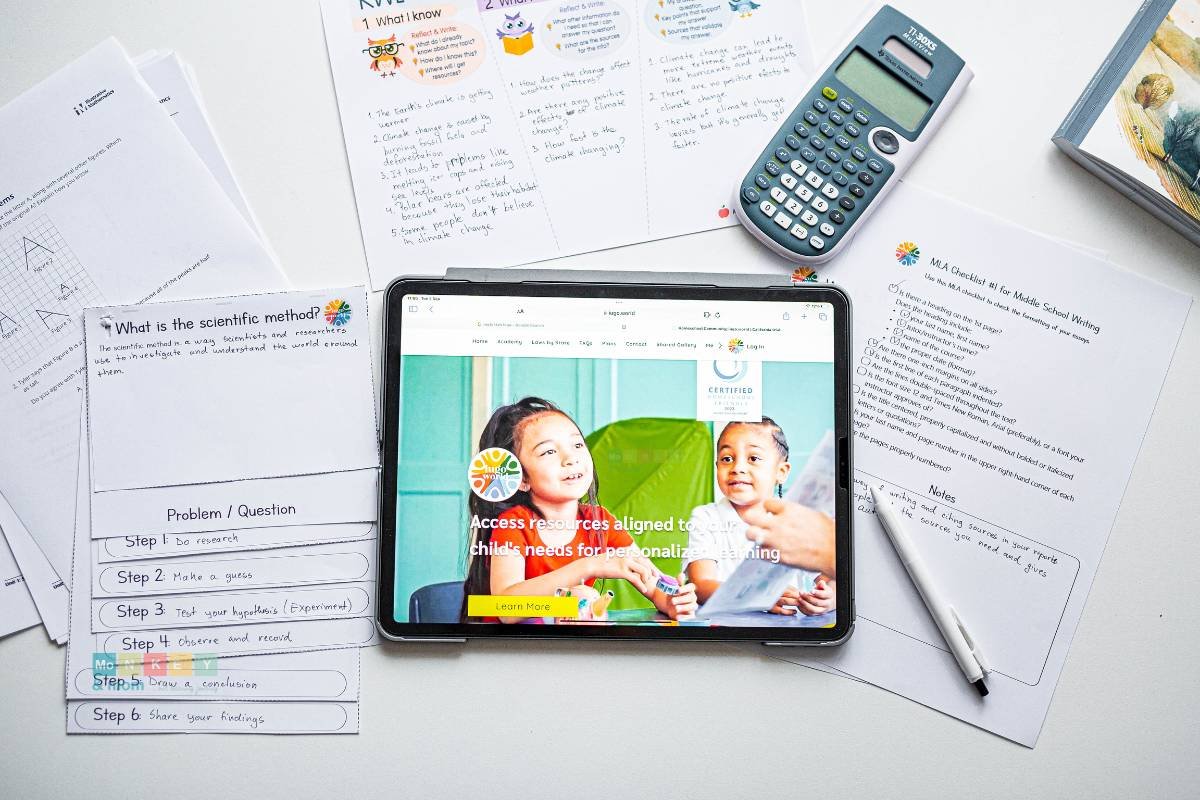 Iugo World Academy is a one-of-a-kind umbrella school that offers homeschoolers essential services and total flexibility. They even provide an academic advisor and any help you might need on the way.
Because only iugoPRO members have access to IWA, this means you also get access to all the free resources, and live, and self-paced courses. I love how this strengthens the sense of belonging to a strong homeschool community.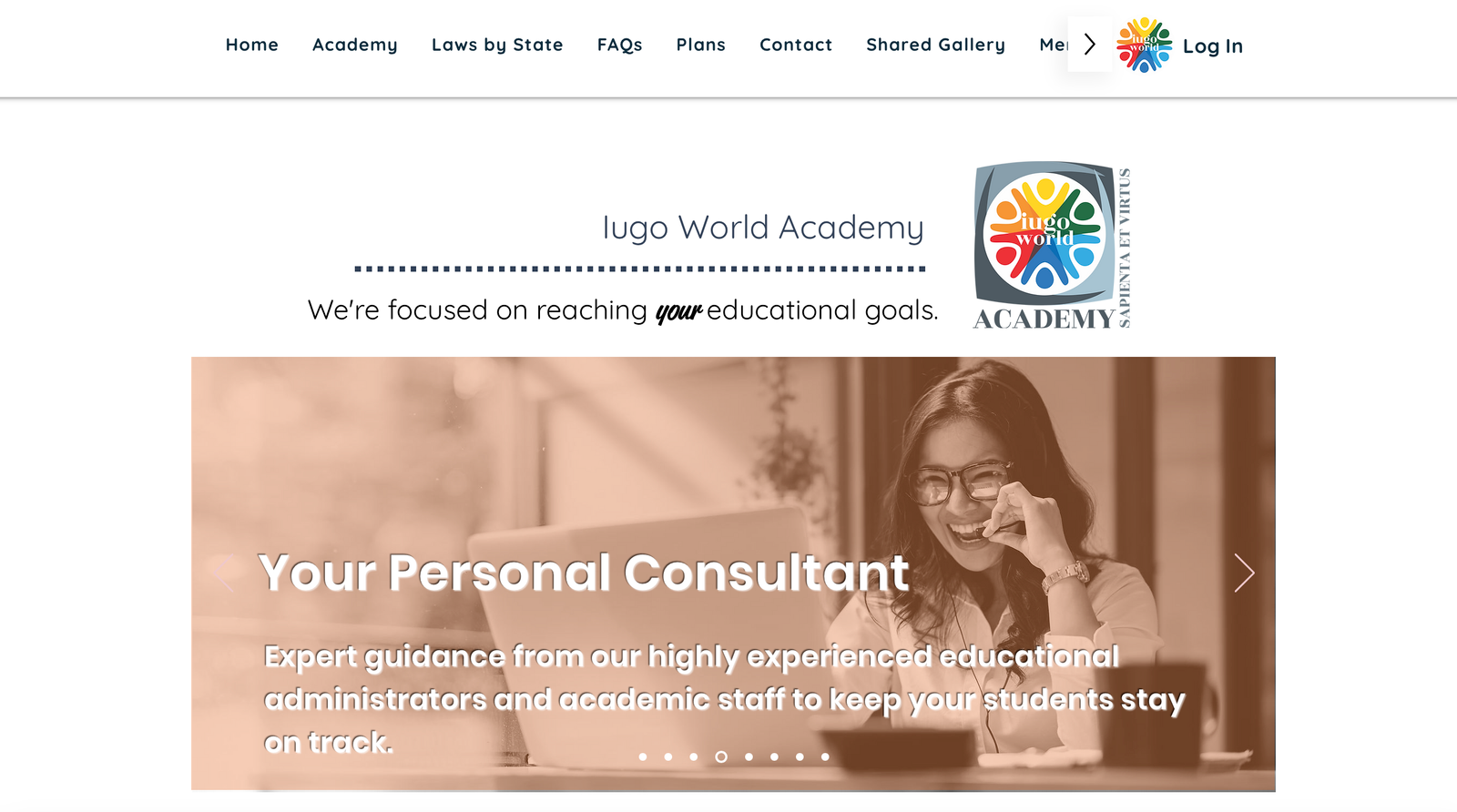 A grade 7 tour with iugo Homeschool Learning Platform (iHLP)
Before we dive into the details, it's essential to note that the course we started only began on September 4th, 2023. As of this review on September 6th, we've had limited time to explore all the classes thoroughly. Keep this in mind as you read this next section.
A second note: this will not be our official 7th grade curriculum. We already have that one picked out.
iugo.world offers a dynamic learning system that combines immersive, inquiry-based, and integrated approaches. But what does this mean for your kid's education? It means a holistic learning experience that goes beyond traditional academics.
Here's a closer look at these three approaches:
If you need more details about these 3 learning approaches, expand the section below by clicking on each tab:
Meaning: Immersive lessons are designed to fully engage students. They often involve creating an environment where students can actively participate and explore.
Objective: The primary goal is to make learning more engaging and memorable by allowing students to experience the subject matter firsthand.
Methods: Role-playing, simulations, virtual reality, field trips, and hands-on activities are commonly used to create immersive lessons.
Meaning: Inquiry-based lessons are centered on questioning, exploration, and investigation. Students are encouraged to ask questions, seek answers, and think critically about a topic. These lessons promote curiosity and problem-solving skills.
Objective: The primary goal is to foster independent thinking, curiosity, and a deeper understanding of concepts.
Methods: Teachers often present open-ended questions or problems to students and guide them in conducting research, experiments, or discussions to find answers.
Meaning: Integrated lessons combine content from multiple subject areas into a single, cohesive lesson or project.
Objective: The primary goal is to show students the interconnectedness of different subjects and how they relate to real-world issues and challenges.
Methods: Teachers design lessons that intentionally blend content from different subjects. Students learn how concepts from one subject can be applied to solve problems in another.
The iugo.world curriculum follows International Baccalaureate (IB) standards and aligns with US standards, ensuring your child covers essential concepts while fostering a relatable and holistic learning journey.
The 6 units of exploration
For 7th graders (the level we have access to), iugo.world offers six units of exploration throughout the year. Each unit spans six weeks of immersive learning, with content released weekly into the course dashboard. Although we can only showcase week 1 at this time, let's take a sneak peek at all six units: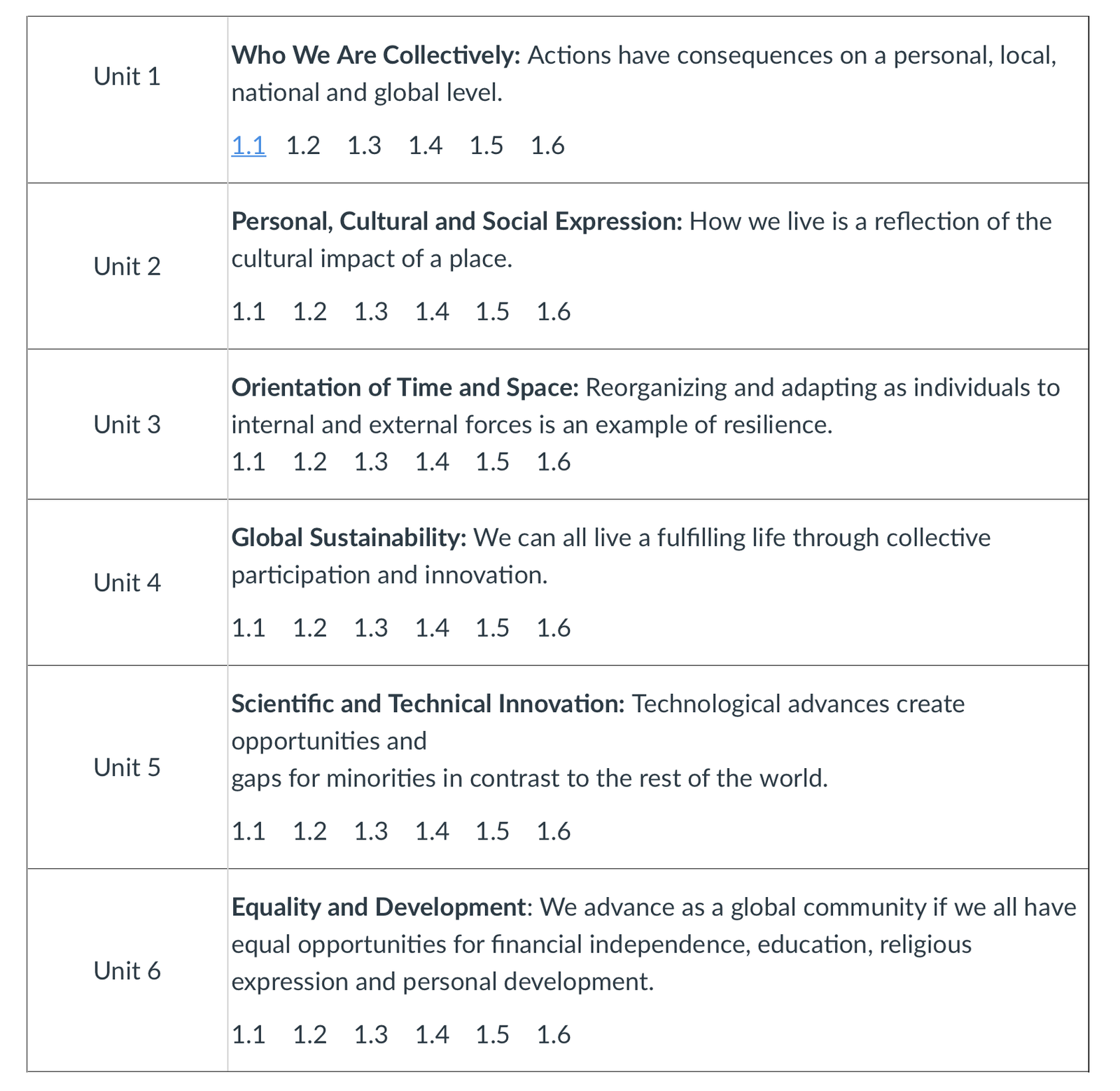 Despite their simple titles, these units encompass a wide array of teaching methods and educational aspects. They include interdisciplinary learning, critical thinking, global awareness, resilience, civic engagement, ethical considerations, inquiry-based and project-based learning, and real-world relevance. Together, these units offer a comprehensive education that fosters academic growth, personal development, global awareness, and critical thinking skills, preparing students for the future.
iugo.world's self paced lessons
Since we have access to week 1, I will show you what you can find across subjects, highlighting the concepts I find interesting.
Each lesson follows a familiar pattern. It starts by introducing the broad topic and what your child will be learning. The subsequent sections encourage further exploration by breaking down complex questions into manageable steps. Your child will find video lessons, useful websites for additional research, printables, and engaging hands on activity ideas.
In addition, iugo.world offers optional assessments, both formative and summative, allowing parents the flexibility to choose whether their children will take them.
But first, let's list why iugo.world's lessons are unique:
A math lesson
In the first math lesson, kids begin by tackling a clear question: 'How can I create a miniature representation of a landmark that represents my country or culture?' Despite its initial complexity, the inquiry-based curriculum breaks it down into manageable steps. They delve into concepts like scale copies, scale factors, and their role in preserving culture.
The lesson concludes with a hands-on project: crafting a miniature cookie box with step-by-step instructions.
What I feel truly shines through this approach is how seamlessly solid math concepts are integrated into art and hands-on activities. Math becomes relatable, no longer abstract. It's a brilliant way to solidify mathematical understanding for the long term.
A language arts lesson
In this first week, kids will learn what makes a good reader, why writing is considered an art, and the MLA type of writing.
As usual, the lessons are questions and exploration tools so kids will have a mix of websites and printables to support their learning.
I must say, I'm genuinely impressed with how iugo.world approaches English Language Arts (ELA. The fact that they focus on formatting a text to begin with only shows how committed they are to teach kids useful skills. These aren't just lessons; they're essential life skills packaged in an engaging format. It's unlike any other curriculum I've explored, breaking free from the traditional mold. I'm absolutely thrilled to see what surprises await us in the coming weeks.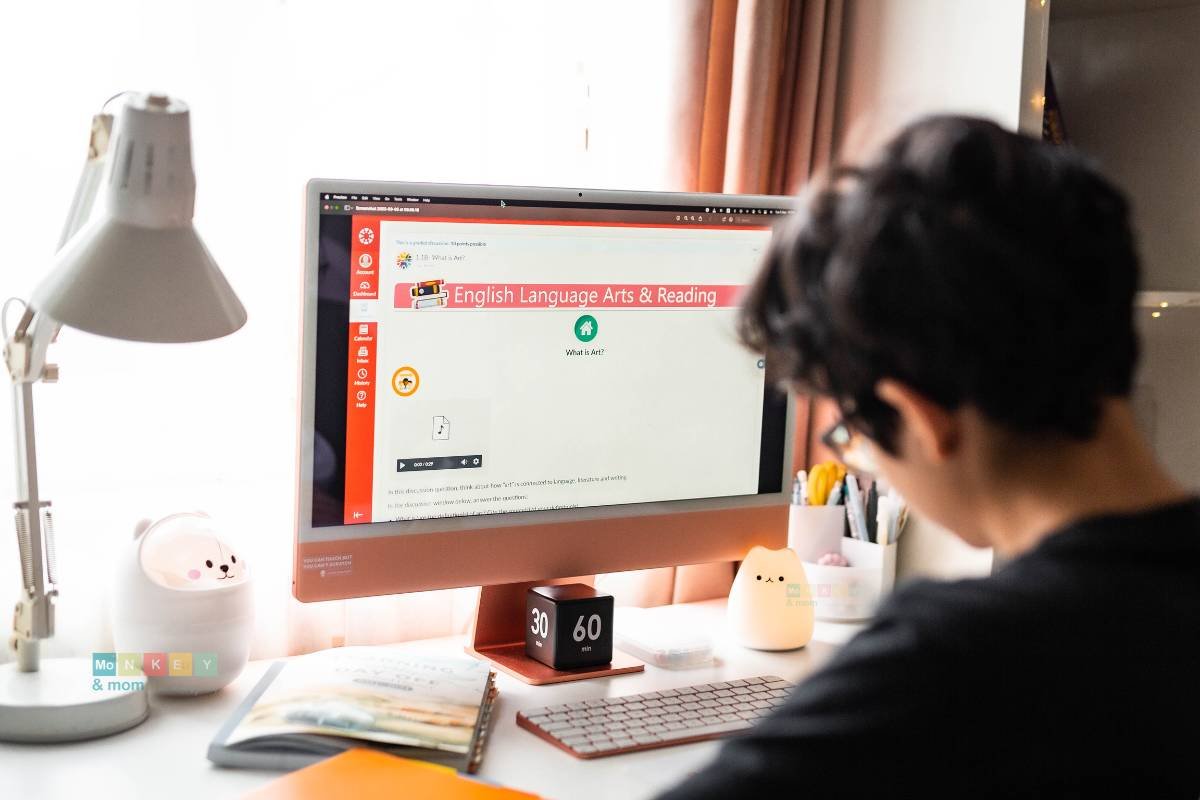 A science lesson
This first science section focuses on the scientific method and what science is. This is a bit of a more traditional approach so I am really curious to see how it develops in the coming weeks. Just as with the other subjects, kids get access to a lot of resources to answer the various questions they meet along the way.
I appreciate that they have experiment sheets and ideas included!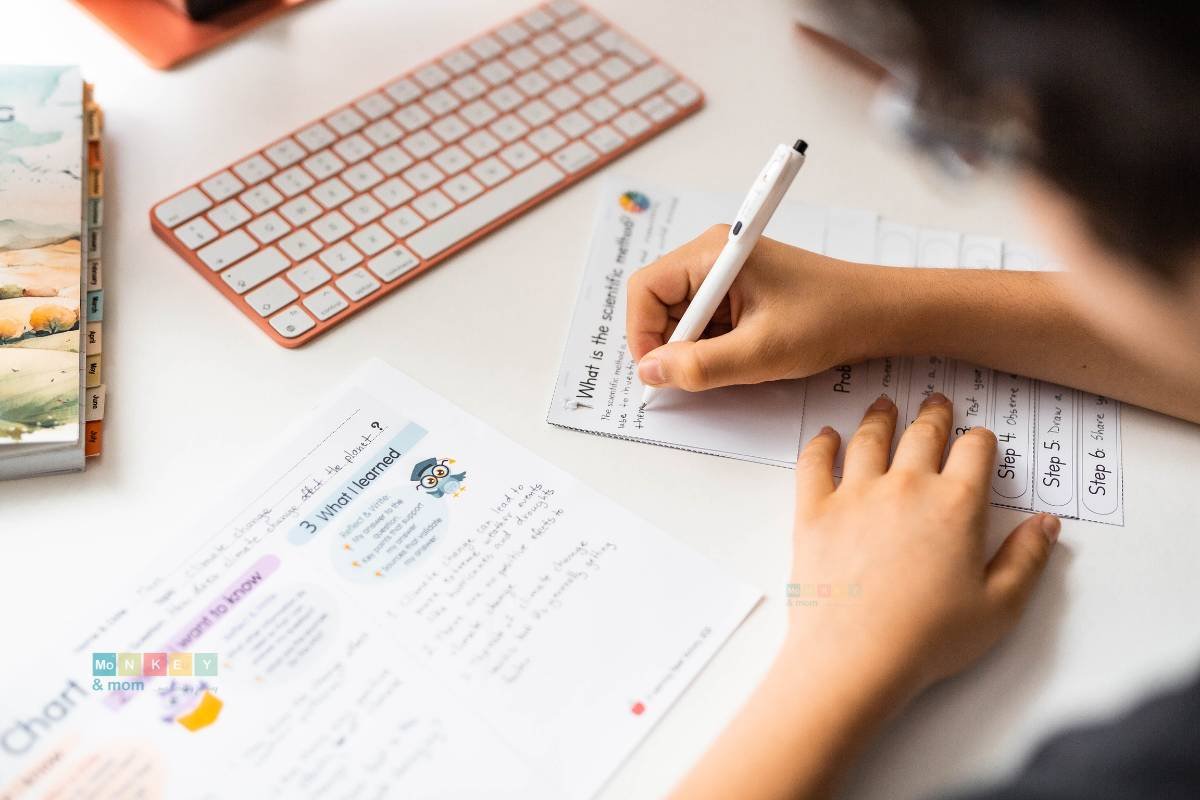 A social studies lesson
The social studies lesson for the first week is geography-centered and kids are taught how to question the maps we have and encouraged to find out why they aren't correct.
I loved the curated videos and how they introduce concepts to kids, making the topic more relatable and easier to understand.
I absolutely love this social studies approach, centered on questioning facts. I also liked the suggested project for this week: kids should try to peel an orange they previously drew on and make it into a 2d shape. This is what hands-on geography should look like! I love how this section makes kids question something we use daily (maps) and realize not all things are true/accurate despite their popularity and being accepted as the norm.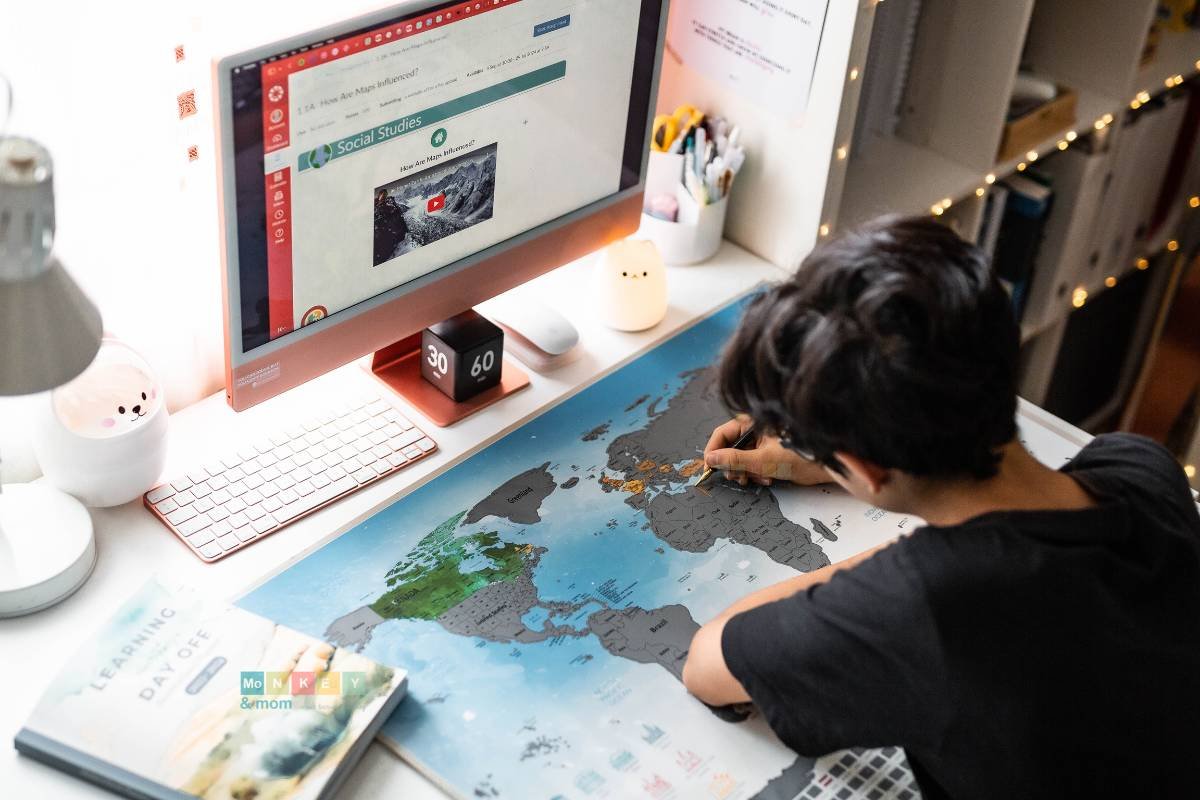 Membership plans and umbrella school options
iugo.world currently has two subscription options. Through the iugoCONNECT and iugoPRO plans families gain access to a network of like-minded homeschoolers, expert guidance, and a wealth of resources.
*Please keep in mind that prices are accurate at the time of this review and may be subject to change.
An umbrella school option – Iugo World Academy (IWA)
iugo.world goes the extra mile to ensure homeschooling families have all the support they need, including legal coverage. Through the Iugo World Academy (IWA), they offer an exceptional umbrella school program designed to alleviate any legal concerns you might have about homeschooling.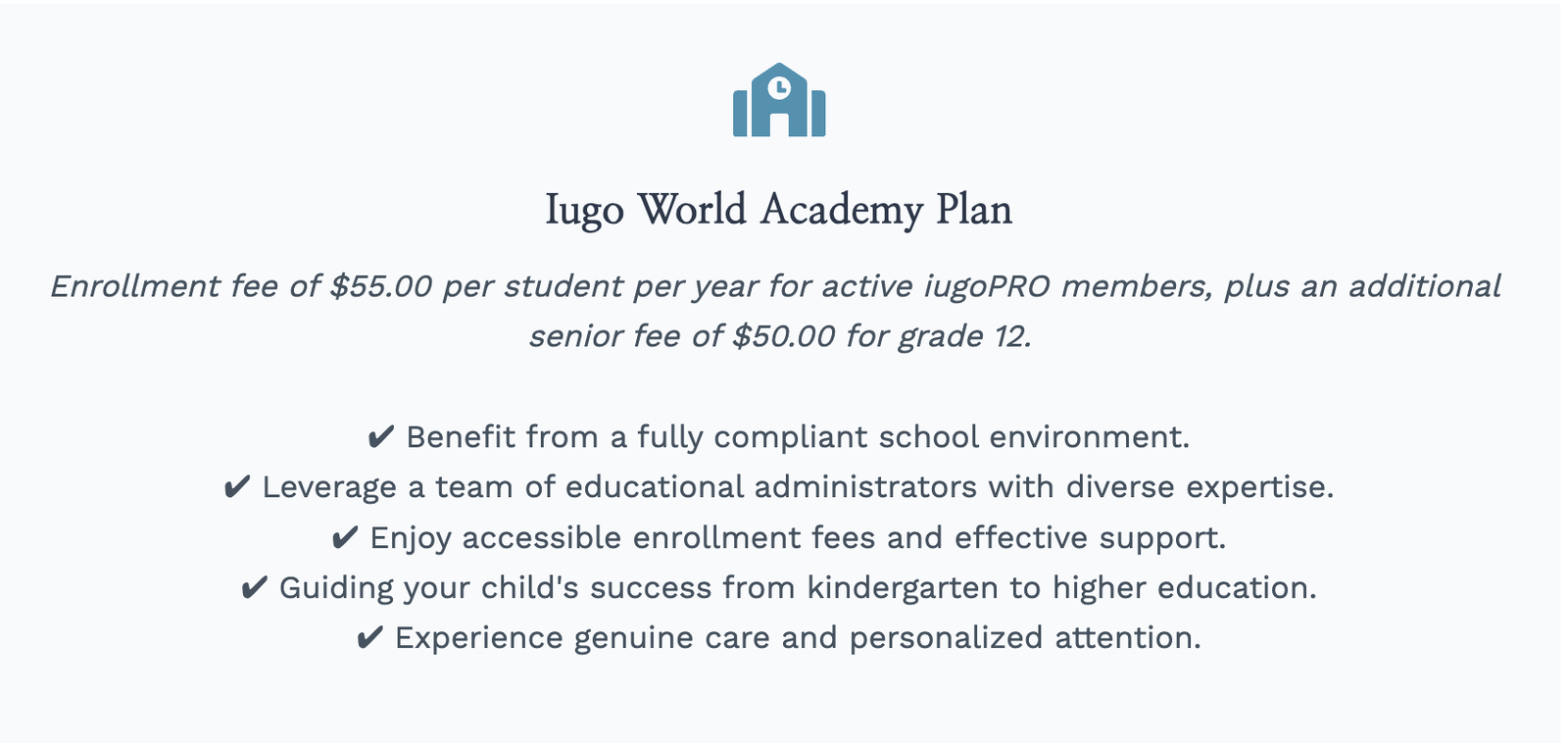 Unveiling the pros and cons of iugo.world
iugo.world, although still in its early stages as a homeschool community platform, holds great promise for international homeschooling families. Let's explore its pros and cons:
PROS:
Cons:
Final thoughts
From what I've seen so far, iugo.world has the potential to become a cornerstone for global homeschool families.
Its user-friendly interface, thoughtfully moderated discussions, and the inclusion of live and self-paced classes resonate with most parents' desire for a holistic and enriching educational experience. The platform's commitment to fostering a safe and focused environment is a breath of fresh air, in contrast to the often overwhelming world of social media groups.
The journey of homeschooling is not meant to be traveled alone. And that's what iugo.world offers to families: a homeschool community!
What do you think? Would you try a community like this?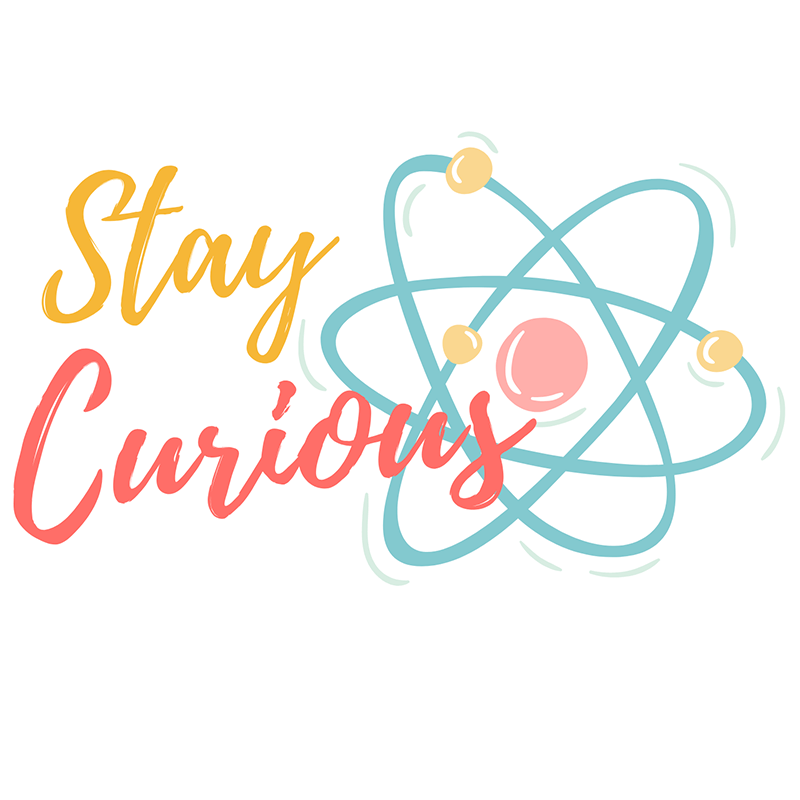 This post may contain affiliate links. By making a purchase through these links, I get a small percentage for the item you bought while the price stays the same for you. Thank you for supporting me.
As an Amazon Associate I earn from qualifying purchases.
Read my Disclosure to find out more about how I support my website and how you can help.