Our yearly planning, daily schedule and schoolroom organizing
Homeschool yearly planning, daily schedule and arranging your schoolroom can be very intimidating. Here's how I do it.
Because some of you asked me to tell you how we plan our days and how we manage to go through all the activities and homeschool books, here's a glimpse of our system. 📒 🖊 🗓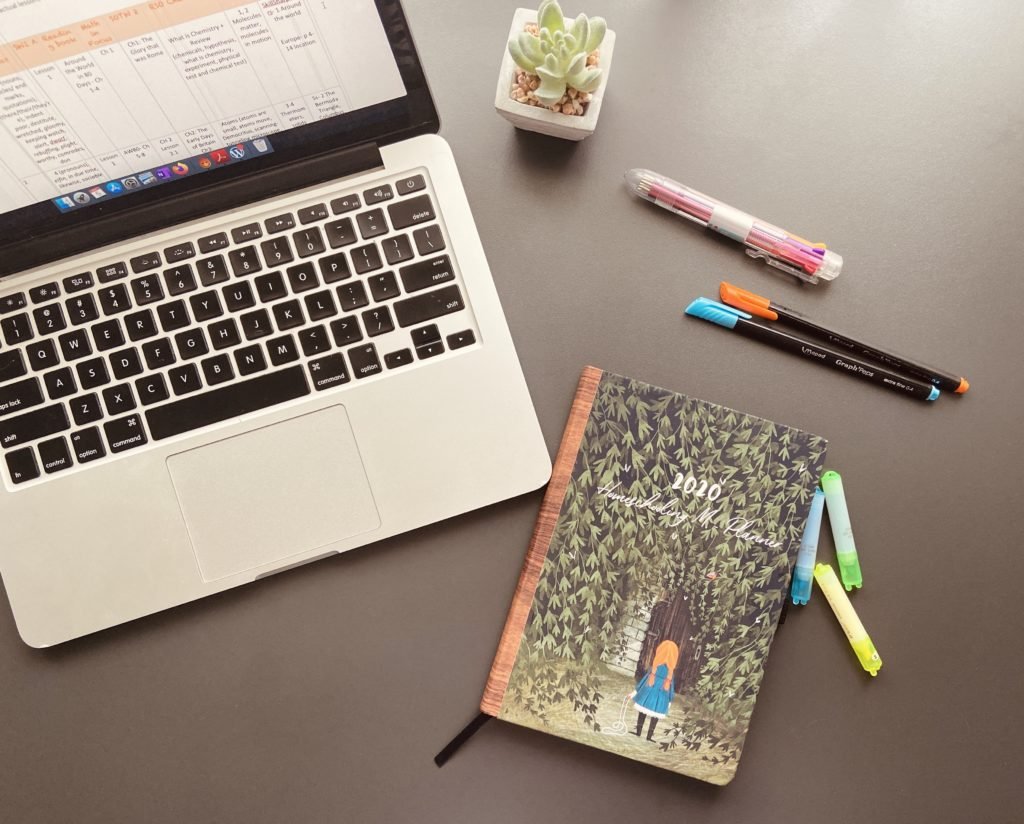 1. Daily Schedule – One subject per day
The most important aspect of homeschooling success is picking a daily schedule that works for you and your children. So before digging into lesson planning, make sure you have a clear idea of how your schedule will look like.
Choosing a daily schedule depends on the ages of your children and the type of homeschoolers you are. There are a multitude of schedules that you can pick from and if you can't find any that works perfectly for you, you can just pick bits and pieces and make your own.

We are eclectic homeschoolers and homeschool year-round (about 10 months per year). We pick our breaks as we go and have a flexible schedule.
Our daily schedule is "one subject per day" and M. was the one who decided on it last year. We are still following the same schedule this year, but it might change in the future.
Why did we choose it?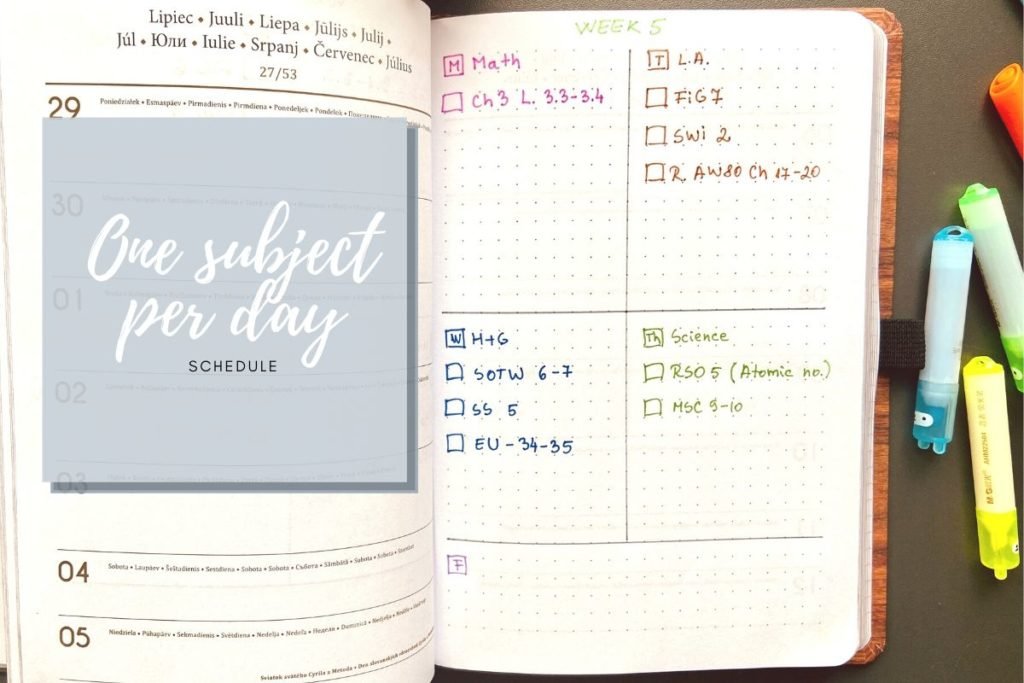 For the first 2 years, we homeschooled with a distance school that had their own boxed curriculum. So it was all planned like a school at home.
Every subject had its allotted time (about 40 minutes) after which you would pass on to the next subject. That's how it was on paper anyway…
Because of M.'s reluctance with reading and writing, our lessons ended up dragging forever. I constantly felt the pressure to pull out the next subject because we were on a tight schedule. If he had more questions, I would rush him, or tell him to ask me later when we were done with the schoolwork.
It felt a lot like a traditional school setting and even though it felt wrong for us, I was too afraid to make a major change. We did not enjoy this type of schooling and it felt very rushed.
Then, for the 3rd year, we couldn't continue with the same school so I started researching schools once more. I knew exactly what we did not enjoy and what we needed to change. And so, I chose the most flexible, accredited school, Bridgeway Academy (click on the link to read our review of Bridgeway Academy). This change, however, meant no more ready-made lesson plans and no more pre-made schedule for us.
Which brings me to the types of schedule that I researched and compared to see which one would suit us best: traditional (school) schedule, block schedule, loop schedule, one subject per day schedule, etc.
I knew when I saw it, that "one subject per day schedule" was the thing for us! In this type of schedule, you just tackle a single subject (or 2) per day.
So here is how we do it.
Monday is math day
Tuesday is language art day
Wednesday is history and geography day
Thursday is science day
Friday is testing day and extracurricular day (plus whatever pending lesson we have)
Pretty simple, huh?This type of scheduling has its benefits and disadvantages too.
Pros and Cons
Pros
We focus on a single subject that allows us to go deeper. We have more time to answer questions, research more, or watch documentaries. It's a full day dedicated to one subject and we can take as little or as much time as we need with it.
I don't need to pull out endless books. Our pile of daily books used to be scary! And they were a pain to gather and put back in so I was just letting them lie around. Not anymore!
Kids can get more time to do what they love because some days are short.
No one day is like the other.
It's flexible. The schedule can be left off and picked up no matter what the day or week it is or what comes up to interrupt it (we mixed a little bit of loop schedule in there ).
Cons
There are subjects that need daily practice like reading, writing, and maths. I solved this problem by adding a daily math game time.
You need to cover more lessons – 4-5 lessons in a day instead of a week.
Some days can be longer than others.
It may not work for higher grades because of the lesson length.

This type of schedule has taken a lot of pressure off my shoulders and it enabled M. to look forward to some days even though he still eye-rolls at others. It also gave him a lot of extra time which he uses to play outside, read, or work on his projects.
What if we still get behind?
Our school offers us 40 weeks of school and I just plan 30. So we get 10 extra weeks in which we can: be sick, do nothing, or do something else, have unexpected days off, get time to recover any skipped or partially filled lessons, and so on.
As I mentioned above, we are year-round homeschoolers and that means that we just take time off when we need to or when we feel like. The rest of the days are for structured homeschooling and child-led learning. Sometimes we pull out books during the weekend and go out during weekdays. It doesn't matter, because our schedule is very flexible and we love that our days are never the same 🥰 That's how we schedule our school year and we manage to cover absolutely everything we set out to cover in a year.
2. Yearly planning
Another one of the most important aspects of organizing your homeschooling is planning, which along with a properly organized schoolroom and a schedule that's made specifically for your needs, can spell your homeschooling success.
***One very important aspect that I need to clarify before we begin is that I ALWAYS look for and buy the ready-made lesson plans for the books we will use. I do not plan each and every lesson (they are already laid out for me), but I plan how long each lesson will take, how many lessons we do per day/semester or how many pages we need to doper day to complete the curriculum of our choice in a school year. ***
About 2 months before we start the new school year, I gather the new materials and start the planning.
I usually research all year long so I already have an idea of what I would like to try next.
Because we are in Romania, some of the books I order take a while to arrive (and have high shipping rates) so I try my best to buy PDF versions.
After choosing the books, I divide them into chapters, units, or pages depending on how they are organized. I always plan for 30 weeks of school, so our books are all divided like that.
In OneNote, I make a simple table and roughly "sketch" each week's lessons. When I am happy with it, I go back and add details for each lesson. I also make sure to have the books next to me and check if some of the lessons can be grouped together.
Here's how it looks: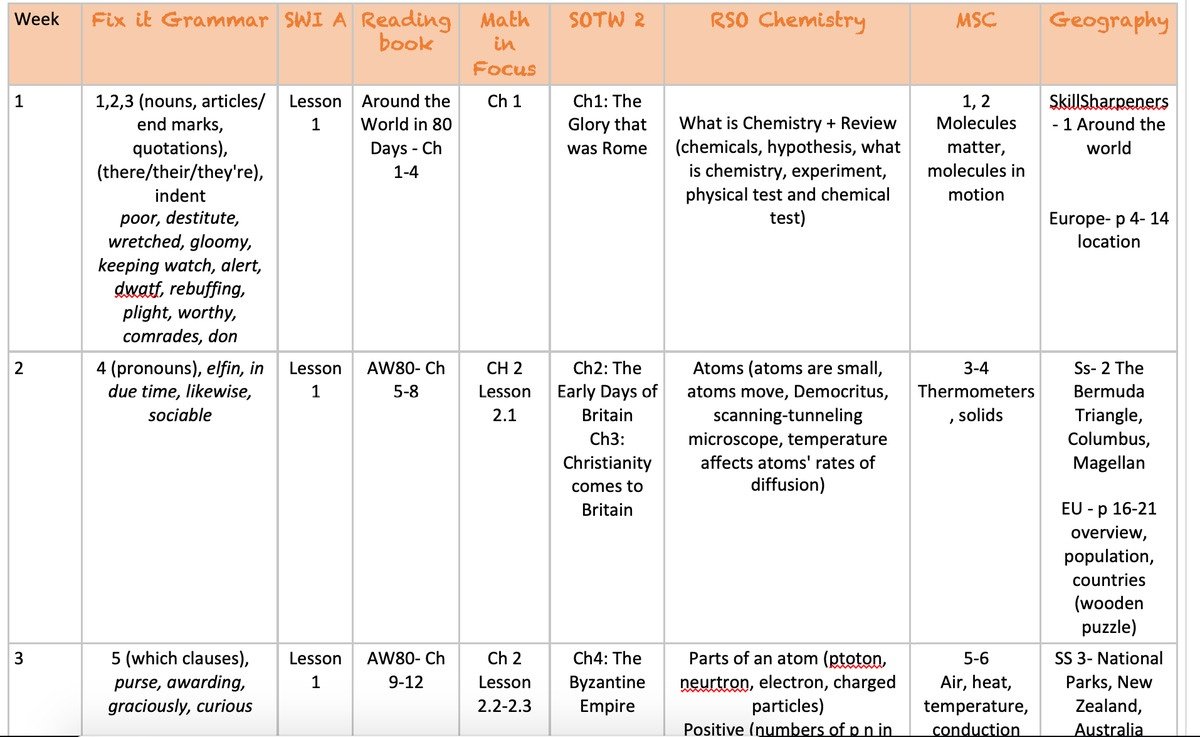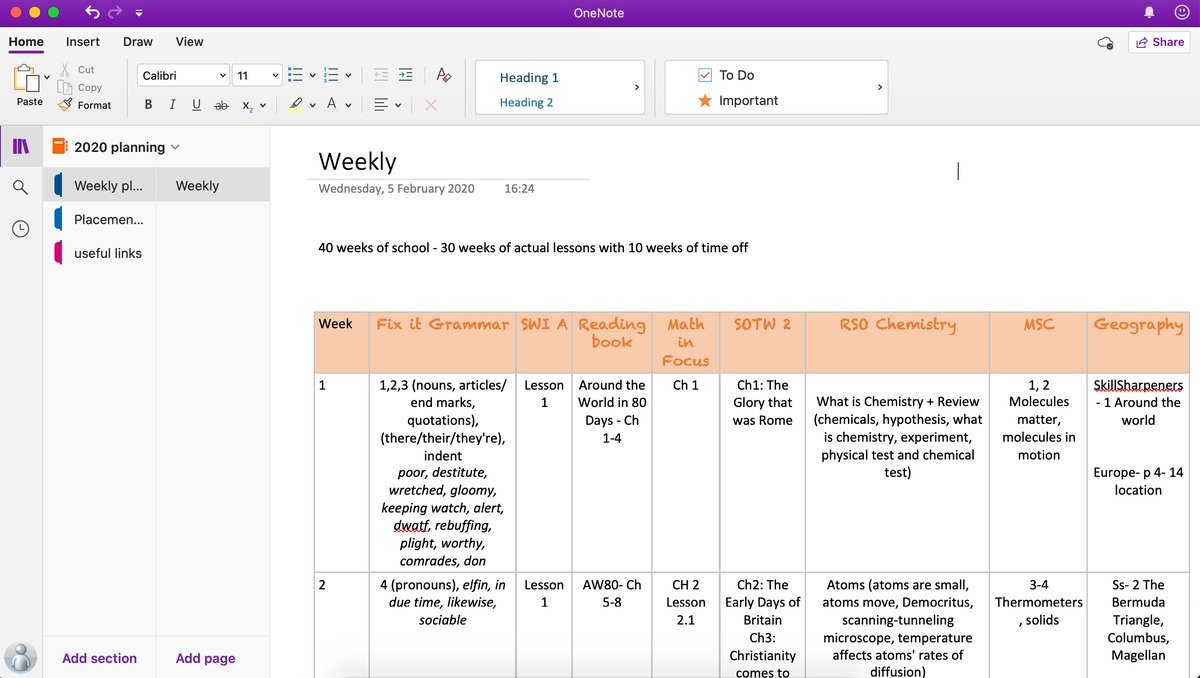 Paper Planner
Then it's time to put it on paper. I could just use OneNote but I love my pen and paper planner to check things off, so here's what I use.
This year I found a nice and cheap planner in Pepco. M. saw them first and they looked great so he wanted one for himself too even though he won't be using it 😅.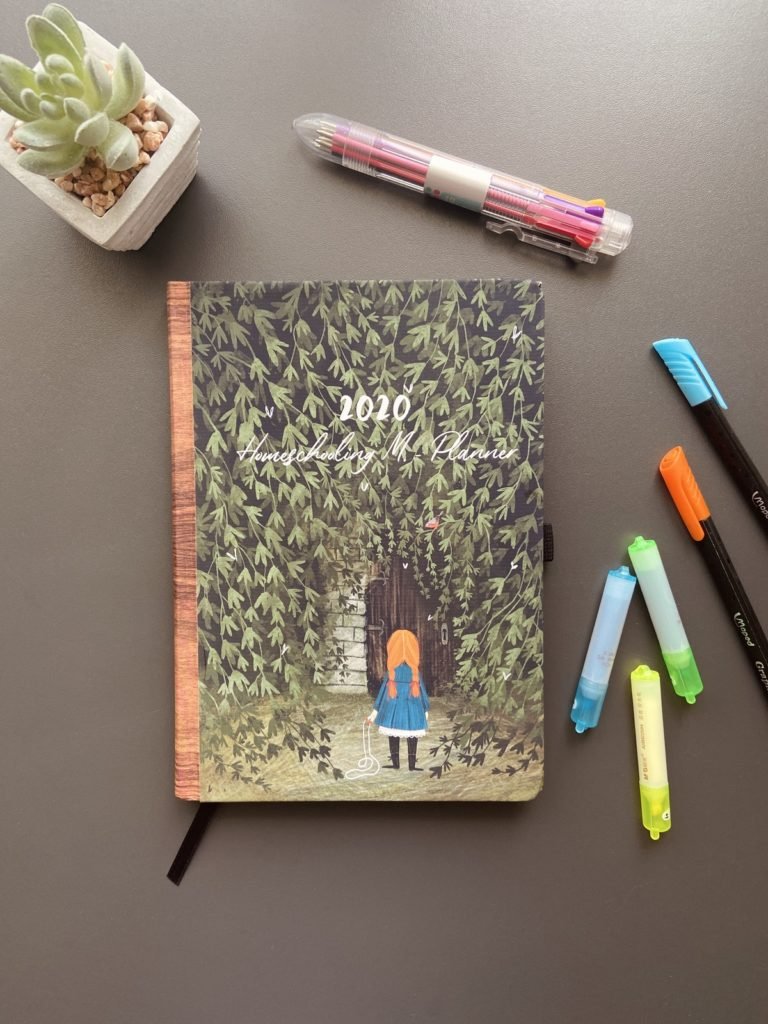 I couldn't help myself, so I personalized it with an image by Liloobox. The theme is "secret garden"… because no one knows what more secrets 2020 will hold 😂 – I hope it has no more surprises for us.
It has the weekly calendar on one side and a dotted paper on the other. So I saw it as a perfect planner. I would write the important events on the weekly dated spread and our homeschool week plans on the dotted side.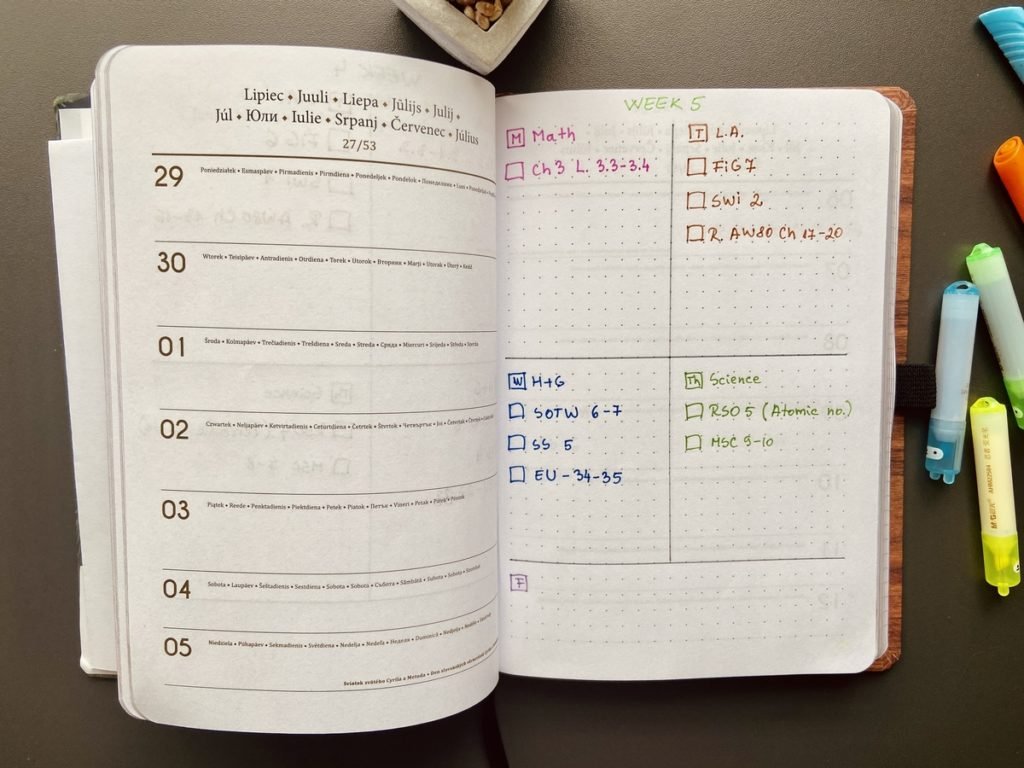 If you like the look of our planner this year, I created some similar pages which you can download in my subscriber library here to make your very own homeschool planner. It's free!
3. Organizing the Schoolroom
Because I've got questions on how we organize our homeschooling materials as well, I will include how we organize our schoolroom in this article, too. Schoolroom organizing isn't as important as planning and choosing a schedule, but it can be helpful to know how other people do it. So here we go.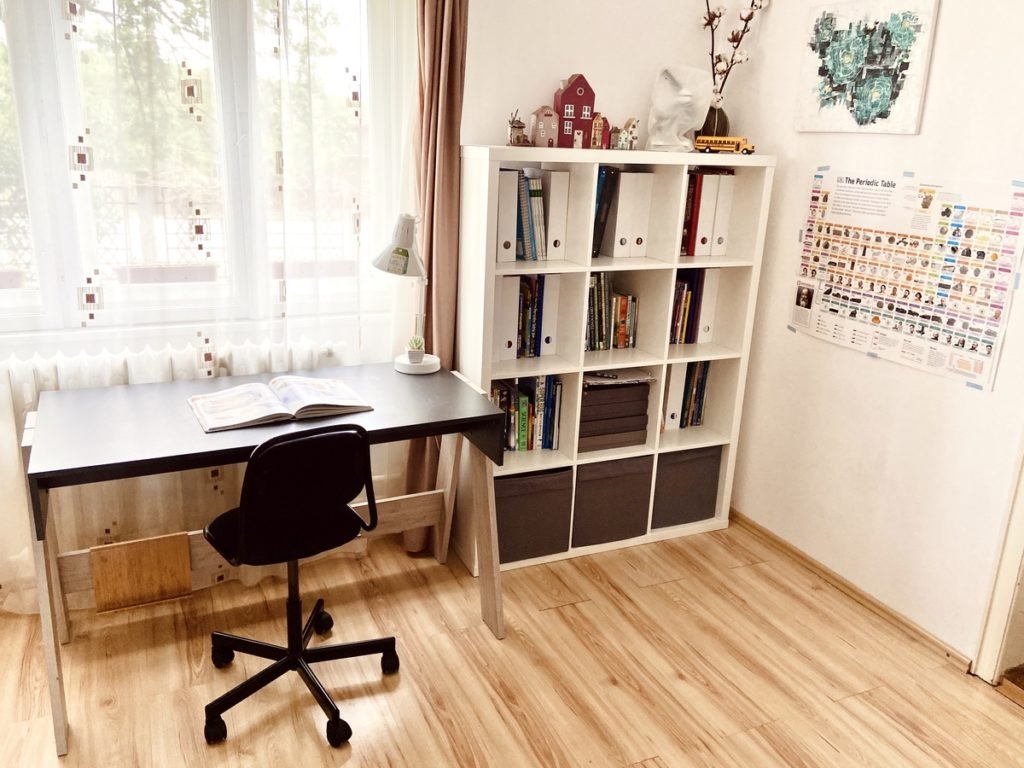 I bought an Ikea shelf from their Kallax family (3/4 squares).
In each space, I added everything we need from one subject. So basically it's one shelf space per day. 😅
I've also got the Ikea magazine files (Fluns white) for the thinner books or notebooks that go on the same shelf with the textbooks.
In the DRÖNA storage boxes for the bottom shelves, I keep various things we use.
It's not a very original set-up since I just took one of their photos and bought what was pictured in it, but I love it and it works perfectly for our homeschooling room.
How does it work?
The first layer holds: math, language arts, and history & geography.
The second layer holds: science, reading books, dictionaries, and our test folders.
The third layer has science-related reading books and various other books, game boxes, and other trinkets.
At the bottom of the shelf, in the boxes, I have kept manipulatives, activity books, science kits and more.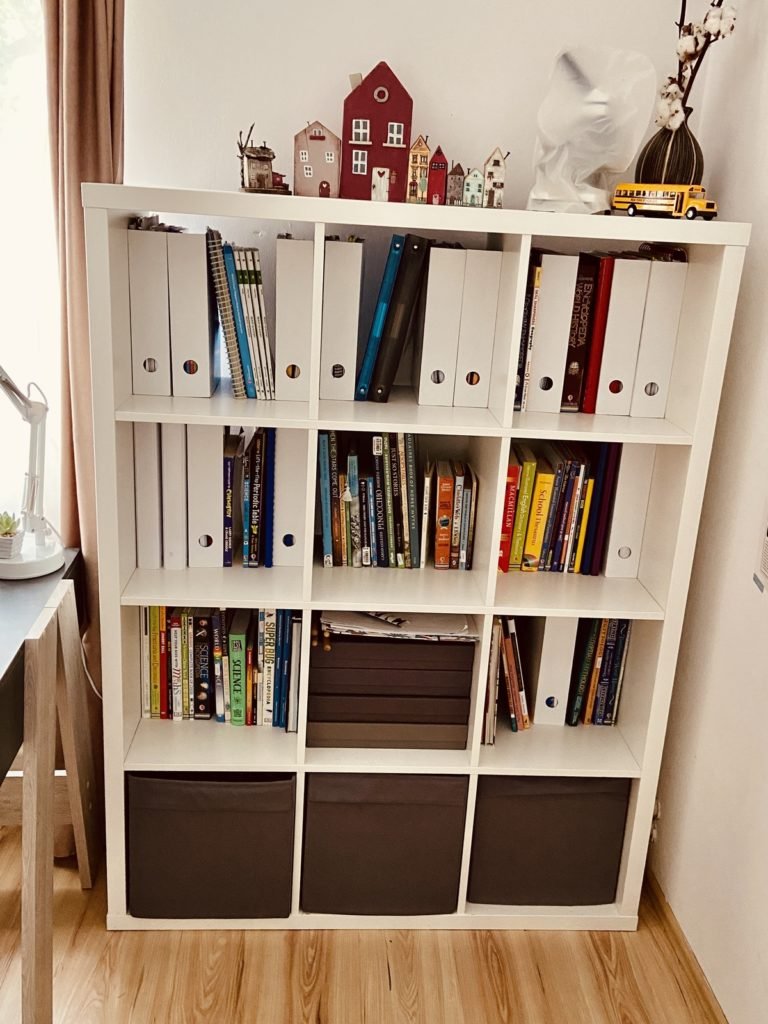 We use the top of the shelf to keep our microscope and some beautiful houses by Liloobox (you can spot M.'s painted house among them, too 🥰)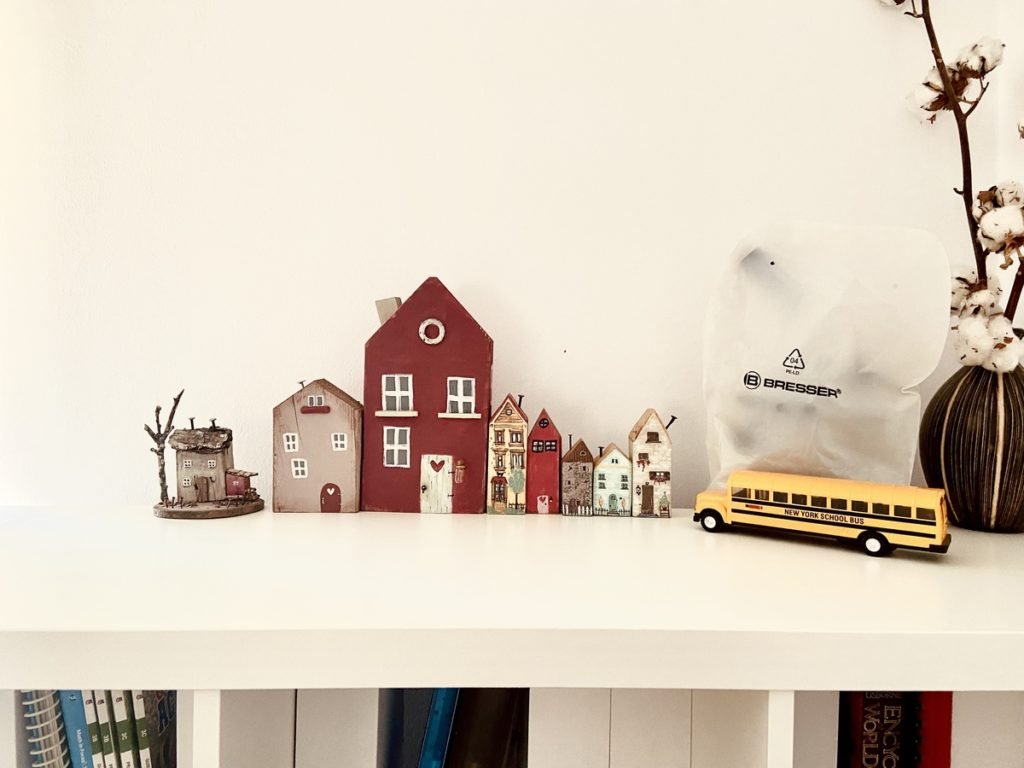 I hope you got some useful information from this post about how we tackle yearly planning, daily schedule and schoolroom organization. Let me know what works for you and your homeschool.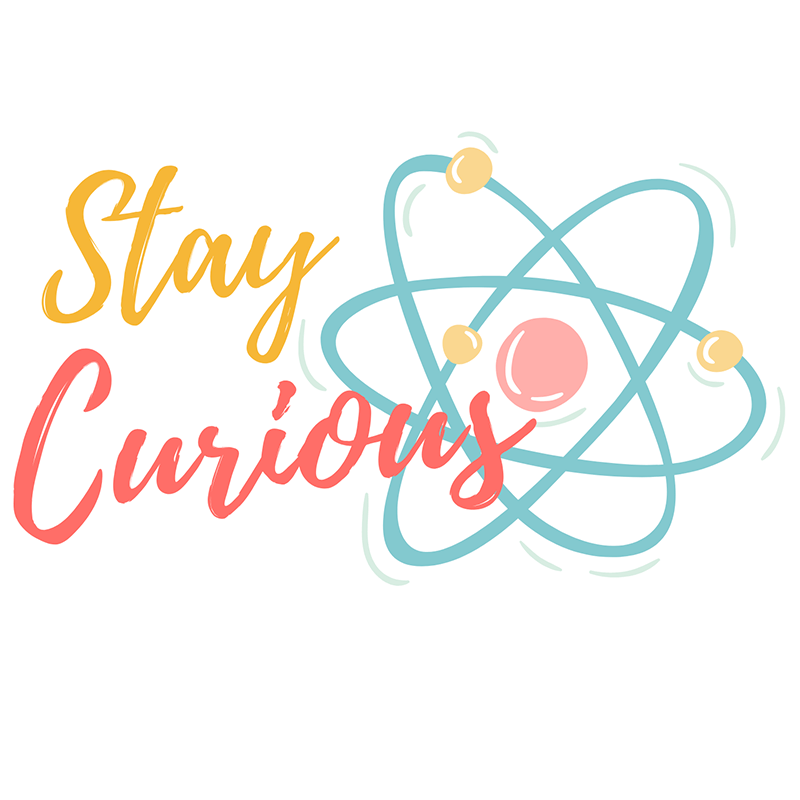 This post may contain affiliate links. By making a purchase through these links, I get a small percentage for the item you bought while the price stays the same for you. Thank you for supporting me.
As an Amazon Associate I earn from qualifying purchases.
Read my Disclosure to find out more about how I support my website and how you can help.