Homeschool Geography with Daily Geography Practice 6 from Evan Moor
I have to admit that our homeschool geography is mostly done on the fly. It's not a perfect setting, but I didn't feel the need for more so far.
Read about how we did geography in 4th grade to see what materials we pieced together.
This is a post in the series The Dailies from Evan Moor. To read more reviews from this series:
Daily Geography (you are here)
About homeschooling with Evan Moor
We're big fans of Evan Moor for geography. In 4th grade, we successfully used Skill Sharpeners Geography and Europe as our geography curriculum and during first grade, we used Beginning Geography.
Evan Moor is a renowned worldwide publisher covering multiple subjects and series that are perfect for home or classroom use. Their materials are of high quality, easy to use, and accessible.
There's just something that appeals to me every time we turn to Evan Moor. I guess I love how easy it is to just open and go for the lessons and how we can stay consistent with these books because they don't feel overwhelming.
We've been using their materials on and off during our 6 homeschool years and I honestly have not found a fault in them. They are just so flexible! Here's how we've used them:
as a main curriculum for subjects that we consider secondary, like science (during first grades), geography, vocabulary.
for concept-reviewing for writing when M needed extra hand-holding.
as quick daily exercises with their Daily Fundamentals.
as supplements to enrich our curriculum in science, comprehension, writing, history.
There are no limits to how you can use their materials. That's why we turn back to them again and again. And even if M is soon to outgrow most of their materials, we will continue using them, especially in his weak areas.
Daily Geography 6 -overview
The Dailies are a series of books covering a lot of topics and subjects. Their most notable feature is that the lessons are short, 10-15 minutes per day, but they open up to enrichment possibilities.
Daily Geography 6 is no exception, so let's see how this book is laid out.
There are 36 weeks, covering a full year of instruction.
The lessons are meant to be taught by a parent or teacher.
There are just 2 questions for the students to answer each day.
The questions increase in difficulty throughout the week.
There's a challenge question at the end of the week, perfect to fuel further research.
The topics cover a wide array of geography ideas from physical features to how people influence their environment:
The World in Spatial Terms– covers using maps, mental maps, and spatial organization.
Places and Regions – covers the physical and human characteristics, culture, and human influence.
Physical Systems– covers physical processes and ecosystems.
Human Systems – covers cultural diversity, economy, and conflicts.
Environment and Society– covers the ways in which humans influence and modify the environment and resources.
Uses of Geography – covers the geography of the past, present, and future.
Daily lesson structure:
On the first page of every week, you will get the teacher's background information, answers, and vocabulary, all in one place and easy to access.
The opposite page will have the map or illustration for that week. You can get all these maps separately, as a PDF printable to print for your children. Just use your book's code (you can find it on the second page) on this link.
The next spread has all the days' questions, Monday to Friday. Each day has 2 questions that are increasing in difficulty and a challenge at the end of the week.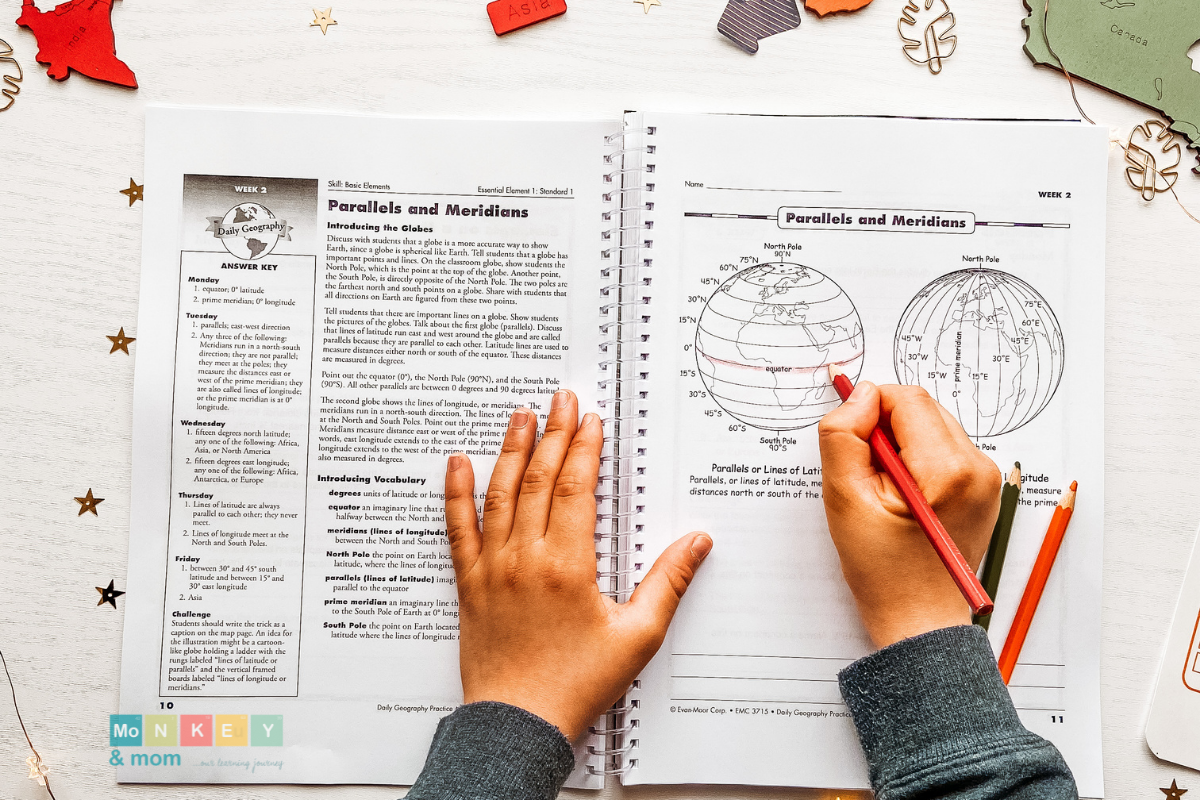 How we homeschool geography
I usually run away from having to piece together something for most of the subjects because M is a fast learner and does best in a slightly traditional (and flexible) environment, but homeschool geography is different because using map puzzles, sticker books, and atlases never gets old.
That's where Evan Moor's materials for geography come in handy: we just follow the course of Daily Geography 6, enriching it with extra reads, discussions, and even a geography notebook!
We try to vary the activities we do, depending on the time we have each day.
Here's how we do a full week from Daily Geography 6:
Day 1- introduction:
I explain the vocabulary and introduce the lesson by first asking questions to see what M already knows. If we get stuck on any terms, we will research and read more about these. I continue reviewing them for the rest of the week if I feel he didn't get it.
We try to use our geography maps and manipulatives, like the inflatable globe, to discuss the terms.
This kind of approach is sometimes leading us down a rabbit hole. He will always have more questions.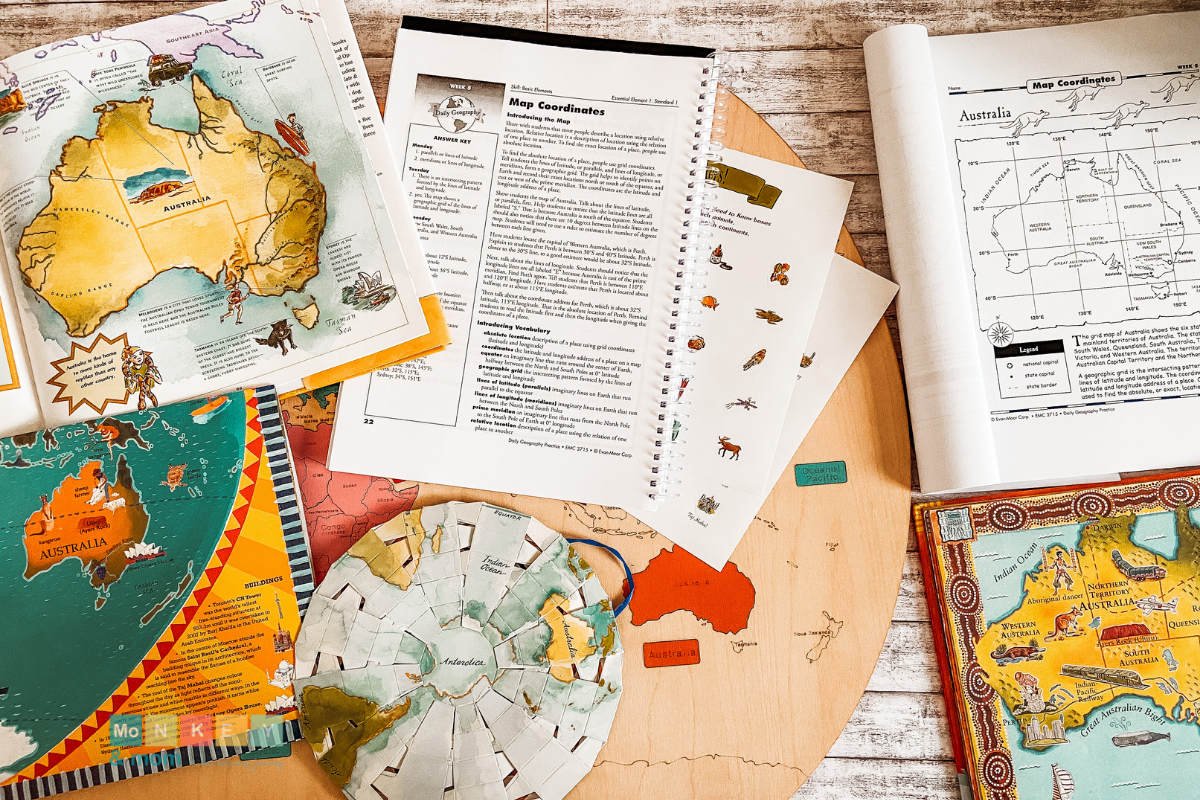 Day 2 – reinforcing:
We continue studying the concepts introduced in Day 1 by using our Usborne Geography Encyclopedia. This way he gets exposed to another set of information on the subject, solidifying what we've learned.
We use the internet-linked resources and discuss about everything we read.
Day 3- online:
We move online, using various YouTube resources like Crashcourse Geography to further deepen the information.
M is also using his Barefoot Atlas app – which is a beautiful one worth buying. See inside it in my video, here.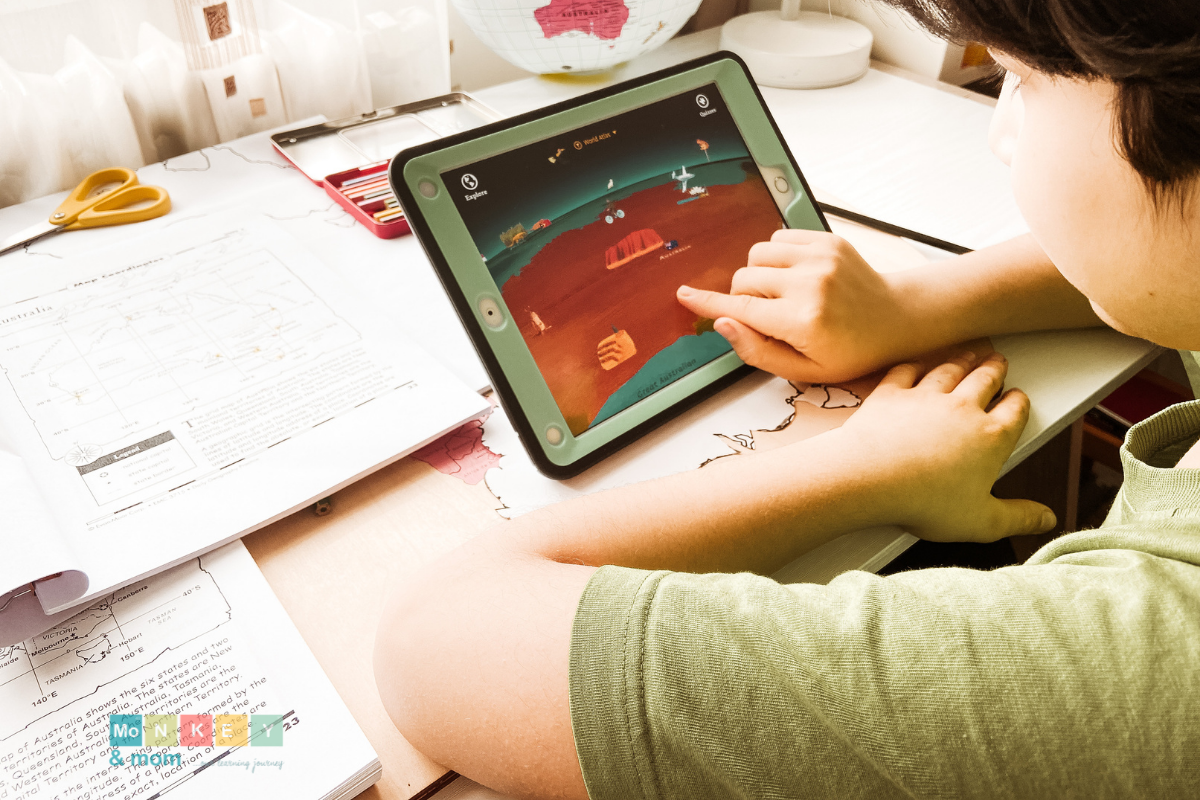 Day 4 – fun:
We pull out our other books and atlases to read more about the topic if we can find out more. We also use the sticker books and our coloring map to see if we can do any extra activities there. M isn't a fan of coloring though, so we don't insist on it. I like the sticker books best because they are such a quick way to revisit and learn new concepts.
Day 5- review and challenge:
We follow Evan Moor's idea for the day. This day is a bit more challenging than the rest and I use this as an opportunity to revise the concepts and discuss with him in case he has any more questions or curiosities.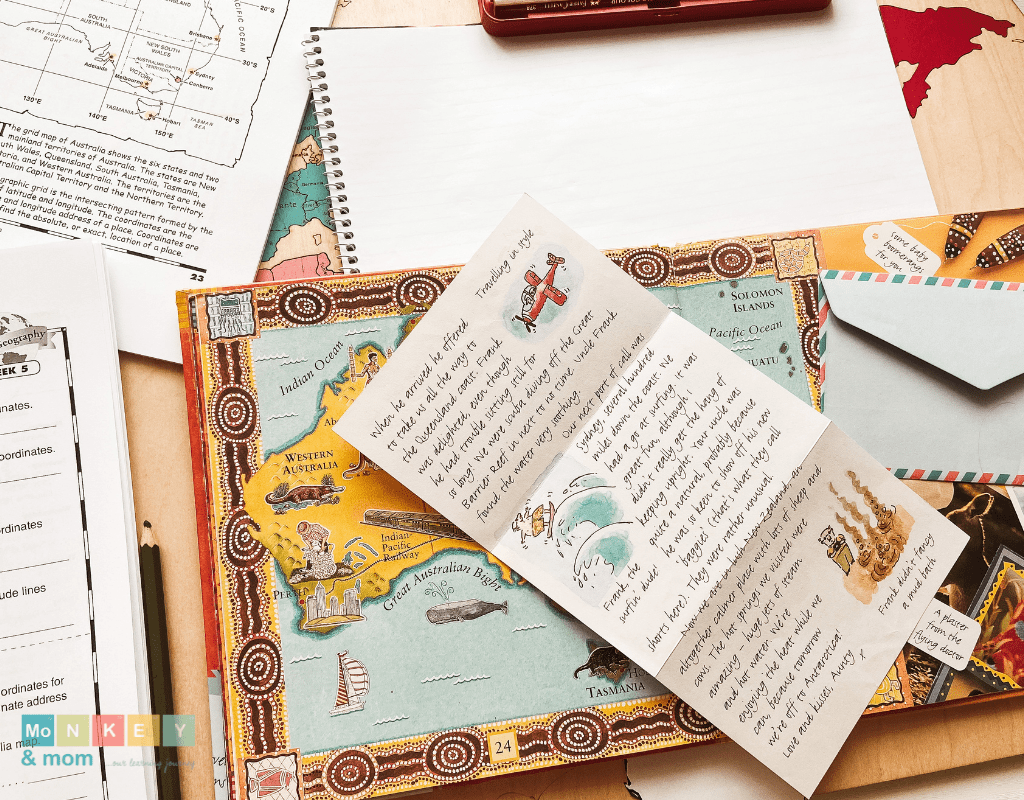 We also pull out our scratch map and scratch out the country we discussed about.
I started encouraging M to take notes. He isn't in the habit of note taking, so I am modeling it for him for science and geography this year. We discuss a topic and I will write things on the whiteboard for him which he copies in his special geography notebook.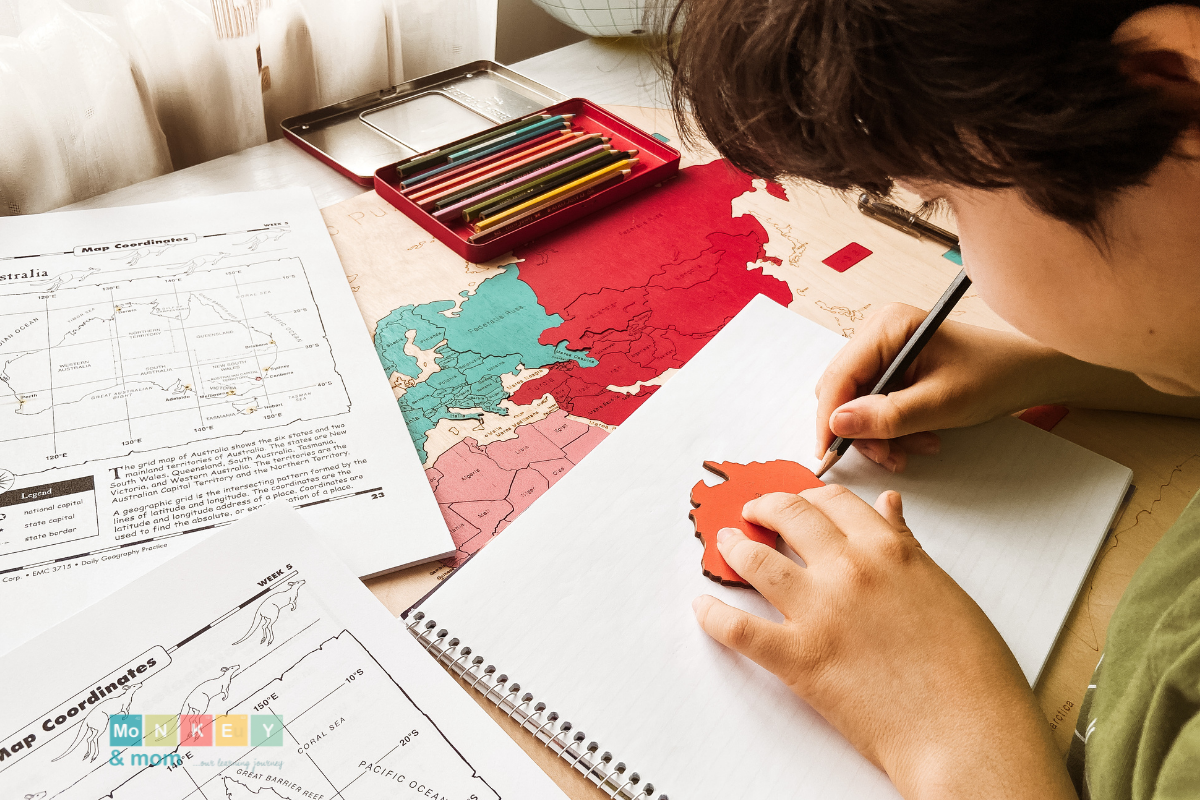 Here are some of the materials we love using:
Why We Love Daily Geography for a Homeschool Geography Resource
For geography, we did little in terms of curriculum. In the first grades, we just did map work and some puzzles and then we continued learning geography in a hands-on fashion.
We always talk about countries or cities we've visited and we pull out maps. M is a fan of Google Earth and occasionally, he would just take a virtual trip to Iceland or Kazakstan 😅.
Because we live on 2 continents, he grasped early on the concept of travel, distances, and cultural differences. He was exposed to all manners of climates and landscapes. So I didn't feel the need to add anything more than simple internet searches and free talks to this.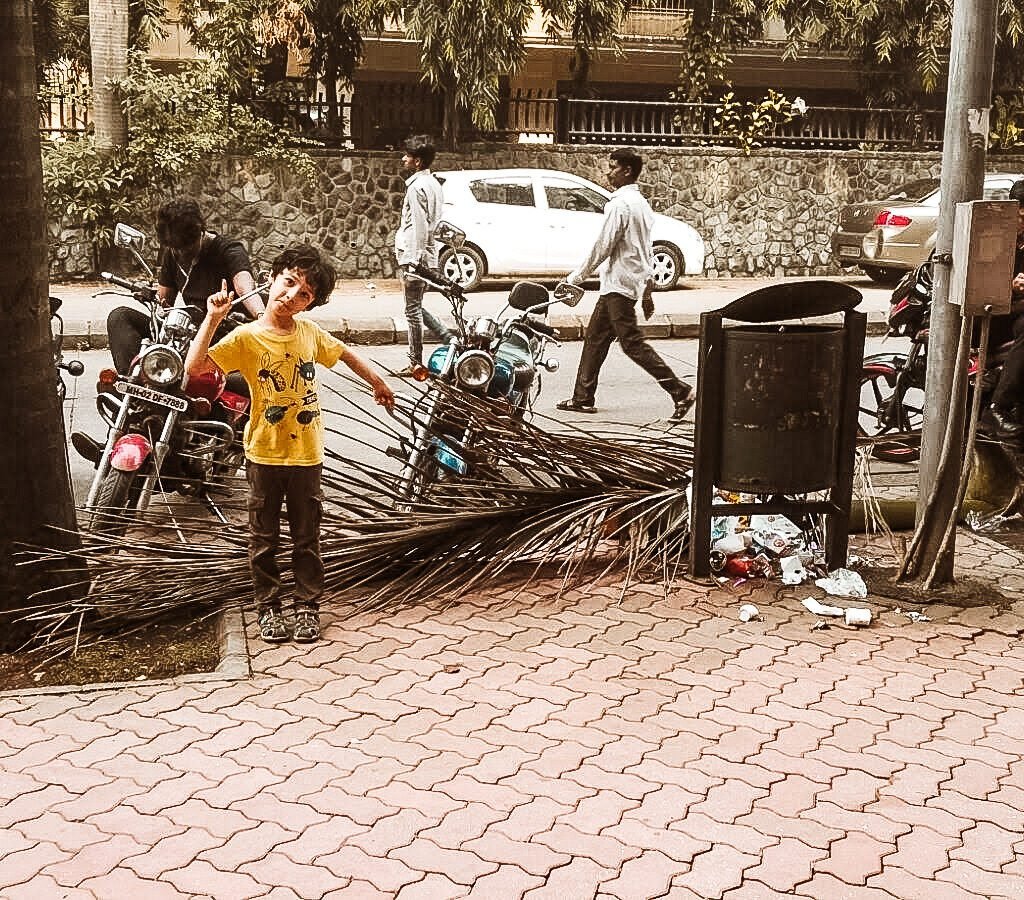 We also love watching documentaries on Curiosity Stream or following the Crash Course Geography channel. Our most recent favorite documentary on Curiosity Stream was about the river Volga. It's a lovely one, peppered with beautiful shots. We were all impressed by the quality.
I felt the need to just introduce some geographic terms and do geography more consistently for middle school, so Evan Moor's Daily Geography Practice was the perfect tool to do so.
We love Daily Geography because:
it's extremely versatile – on busy days, we will just follow the lesson. It's over in 15 minutes. On the days we have more time, we can take it as far as we want by enriching it!
teaches geography terms and vocabulary – the glossary at the end is a bonus for students and we use it to revise and test which terms he remembers.
it covers the geography in its whole, not only countries/continents but latitude, longitude, maps, political maps, borders, human influence, etc. This offers the perfect opportunity for further discussion on how geography is alive, ever-changing, and influenced by our actions.
the image quality is specific to Evan Moor and we love coloring along!
teaches children to read and analyze maps and graphs – in order to answer the questions each day, children need to analyze the maps and graphs provided. I love that the kids need to find the answers to these questions themselves, instead of being fed the information directly.
covers the entire world– 6th graders will not only learn about maps but rivers, deserts, mountains, continents, oceans, cities, and so on. It isn't an easy feat to condense so much information in such an easy-to-approach format!
encourages critical thinking and further research! Researching is important and I feel that this is the perfect opportunity to just let M free to dig and gather as much information as he wants to.
If you want to see a full flip-through of the book, see my video below:
Over to You
How do you implement geography in your homeschooling?
I'd love to hear about it in the comments.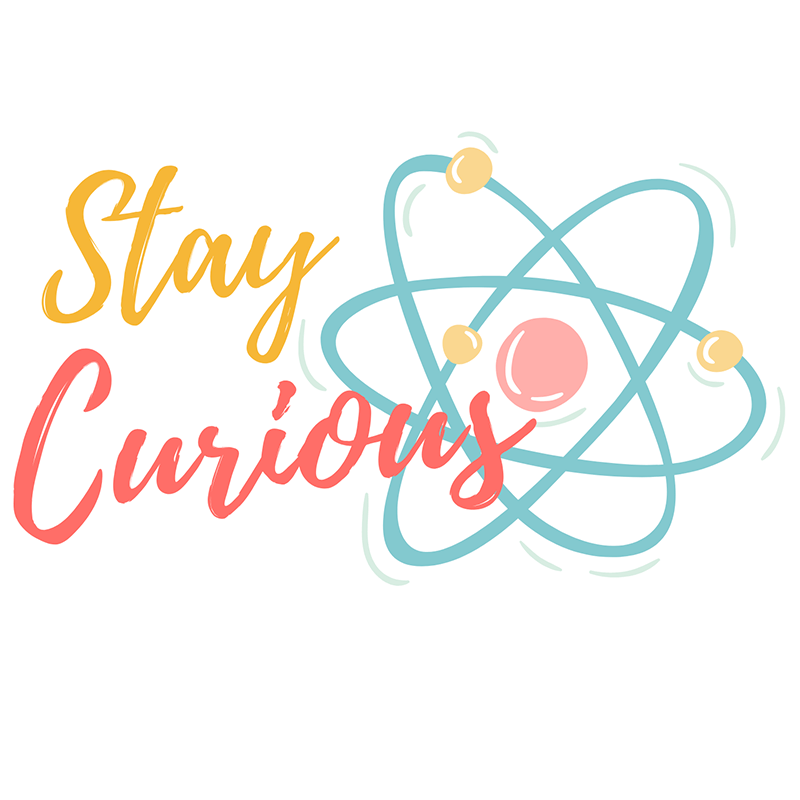 This post may contain affiliate links. By making a purchase through these links, I get a small percentage for the item you bought while the price stays the same for you. Thank you for supporting me.
As an Amazon Associate I earn from qualifying purchases.
Read my Disclosure to find out more about how I support my website and how you can help.