Homeschool Anatomy Curriculum- Dr Robin's School Review
Are you on the lookout for a new, comprehensive homeschool anatomy curriculum? Then this post is for you! Oh, you will love this find!
What I love about homeschooling is that there is no limit to what you can learn! No age limit, no curriculum limit, no time limit.
Unlike traditional school, homeschooled children can totally learn chemistry at 7 and medicine at 10! There is nothing stopping them.
I also love that there are other homeschool parents, like me, seeing the need for these complex subjects brought down to children-level without being oversimplified.
So what if they don't know algebra yet? So what if they didn't follow the traditional steps of learning things in order to get here?
Do they want to know more about their immune systems? Do they want to learn more about the elements that make up a red blood cell? There's a curriculum for it somewhere. Or someone is thinking about one or creating one right now.
Can you tell that I am excited? 🙂 I am thrilled to present this program!
This is a sponsored post. That does not influence my opinion and I would never endorse or recommend a program that we wouldn't use ourselves. Read more about how I support my blog in my Disclosure.
📣Make sure you read the post until the end for the giveaway!
A chance for 2 winners to get Dr. Robin's School of Premed curriculum!📣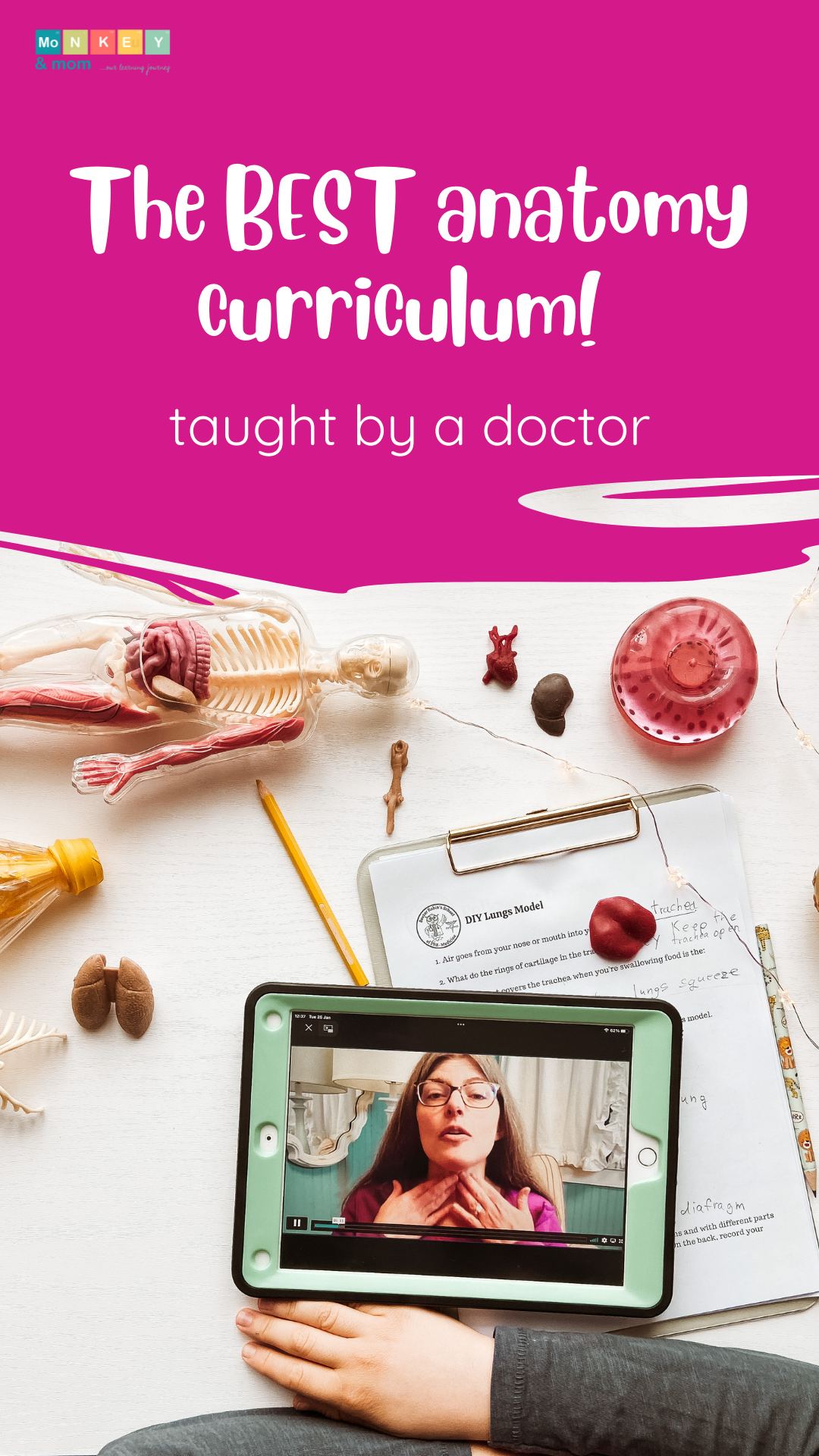 Who is Dr Robin?
Dr. Robin Dickinson is a certified physician, faculty at a medical school, and homeschool mom that had a brilliant idea of creating a human biology curriculum for those kids that want to learn more about it. Pure passion and an obvious love for kids and teaching brought this curriculum to life, and it shows!
---
"When Dr. Robin began teaching science classes via Zoom, she discovered that many parents had bought a science curriculum or anatomy coloring book recommended by their preferred homeschooling method but then never used it because the parent had to learn the curriculum or anatomy themselves in order to teach it! This course is completely different. It allows kids to learn completely on their own. Everything they need is in the lesson, with no work required from the parent!"

— FAQ, Dr. Robin's School of Premed
---
Dr. Robin is so sweet! We haven't met her in person but me and my son feel like we've known her for a long time. She has such an enjoyable way of talking and explaining things that make us feel at ease with her right away!
As we all know, teachers matter and when kids feel great about the person teaching, they learn! That's what's been happening with Dr. Robin.
Dr. Robin's School of Premed
Dr. Robin's School of Premed is a recently launched (2021) premedical school (supplemental) curriculum aimed at primary and middle schoolers (3rd to 8th grades). But take my word for it, even adults can learn along!
✅ Video lessons
The lessons are brief, 30-minute on average.
Dr. Robin explains every concept on screen and she is also showing kids illustrations, demonstrations, and animations for easier understanding.
For example, in her Microbes video she is illustrating the size of viruses, bacteria and cells by using various objects: LEGO, a water bottle, a ball. This ensures that kids understand the size difference by visualizing it.
✅ Printables
The video lessons have (optional) printables for an added learning bonus. These printables include coloring pages or worksheet pages. The worksheets are simple and easy to do while watching the videos! Dr. Robin also encourages kids to take notes alongside her.
There's a recent addition of a workbook about the basics of the human body, which we are planning to use as a review booklet once we are done with a certain unit.
✅ Topics
There are a lot of lessons available already with more coming soon. Some topics available so far include microbiology, pulmonology, endocrinology, genetics, dissections, dermatology, etc.
There are new lessons added almost weekly and with a subscription, you get access to all the previous and future lessons. You can also test drive the program with 2 free videos or subscribe to her newsletter for a full unit. Keep reading to find out more.
✅ Set up
There are 2 ways to access the lessons: Classroom and All Lessons.
In Classroom, you can choose the videos by broad topics or activities: Microbiology, Endocrinology, Medical Instruments, Drawing, Coloring, Modeling and so on.
In All Lessons you can access the videos by more specialized topics like Follow the Oxygen, Mitochondria, Introduction to the Heart and so on.
You can easily see the level of each video: beginner, intermediate and advanced.
✅
Payment Options
There are several payment options from one month to a year or you can even buy separate unit studies, for at little as $25 – a great way to test-drive the program!
The Best Homeschool Anatomy Curriculum
Without a doubt, I can declare that this is the best anatomy curriculum for homeschooling we've tried.
If you want to avoid dry textbooks and boring explanations, get Dr. Robin's School of Premed along with your chosen curriculum and you will not be disappointed.
⭐️Works on any device
I sometimes love playing these lessons on our TV in the evenings. M gets his box of pencils, the printable worksheet, and we both sit on the couch and watch Dr. Robin.
You should see me throwing glances at M when he pauses the videos to let me know what he knows about these facts before Dr. Robin explains them 🤣 It's hilarious. And I love listening to them both. I love seeing him so excited that he knows facts and we both discuss them afterward.
The beauty of pre-recorded lessons is that you can play them anytime and anywhere! M is watching Dr. Robin's School of Premed on TV, tablet and laptop whenever he feels like.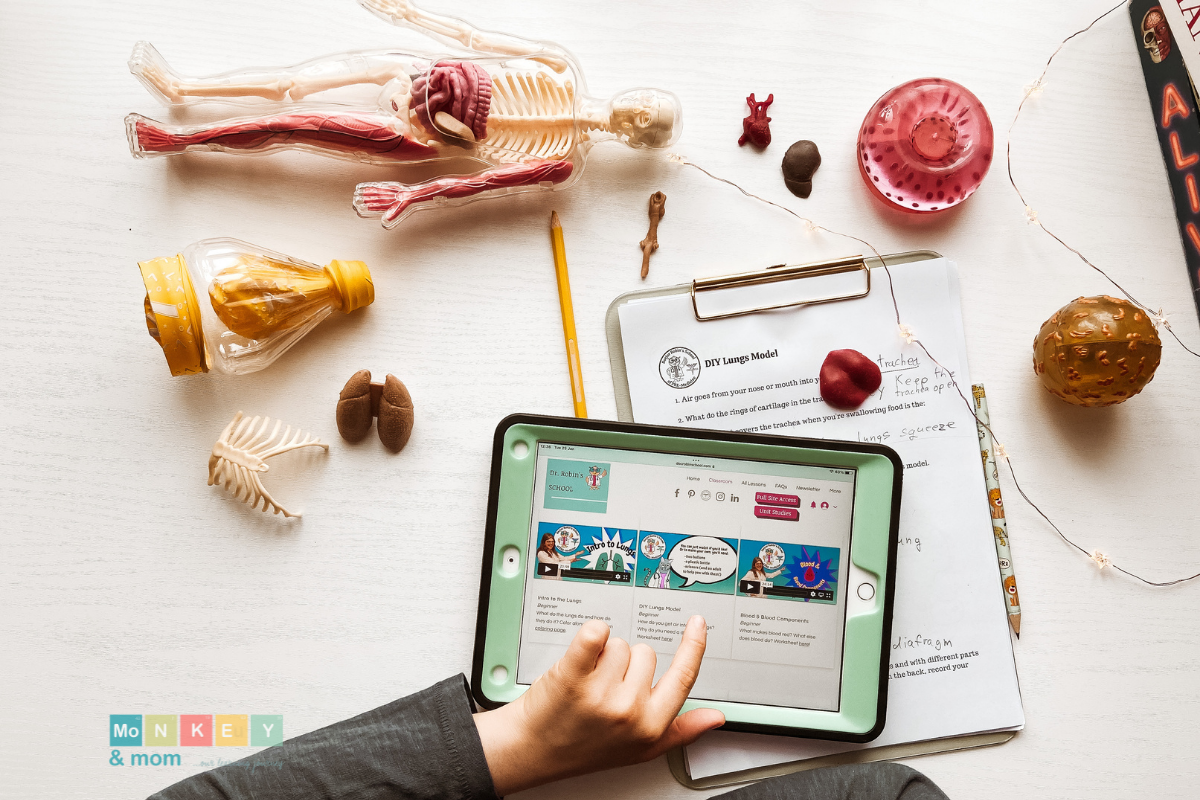 ⭐️ Fun videos and printables
This lovely homeschool anatomy curriculum is set up as a series of videos with optional worksheets and activities like dissections or home-made models.
I love how Dr. Robin explains, in every video, the subtle differences you might not have thought about. For example, in the heart video, she distinguished between a functional and a structural model. Then she went on to present how you can use a functional model of the heart at home to see how your heart valves work.
For the lungs, we made a model of a lung and diaphragm while learning about the differences in belly-breathing and chest-breathing.
M had a blast making the models! You can see that in the video posted at the end of this article.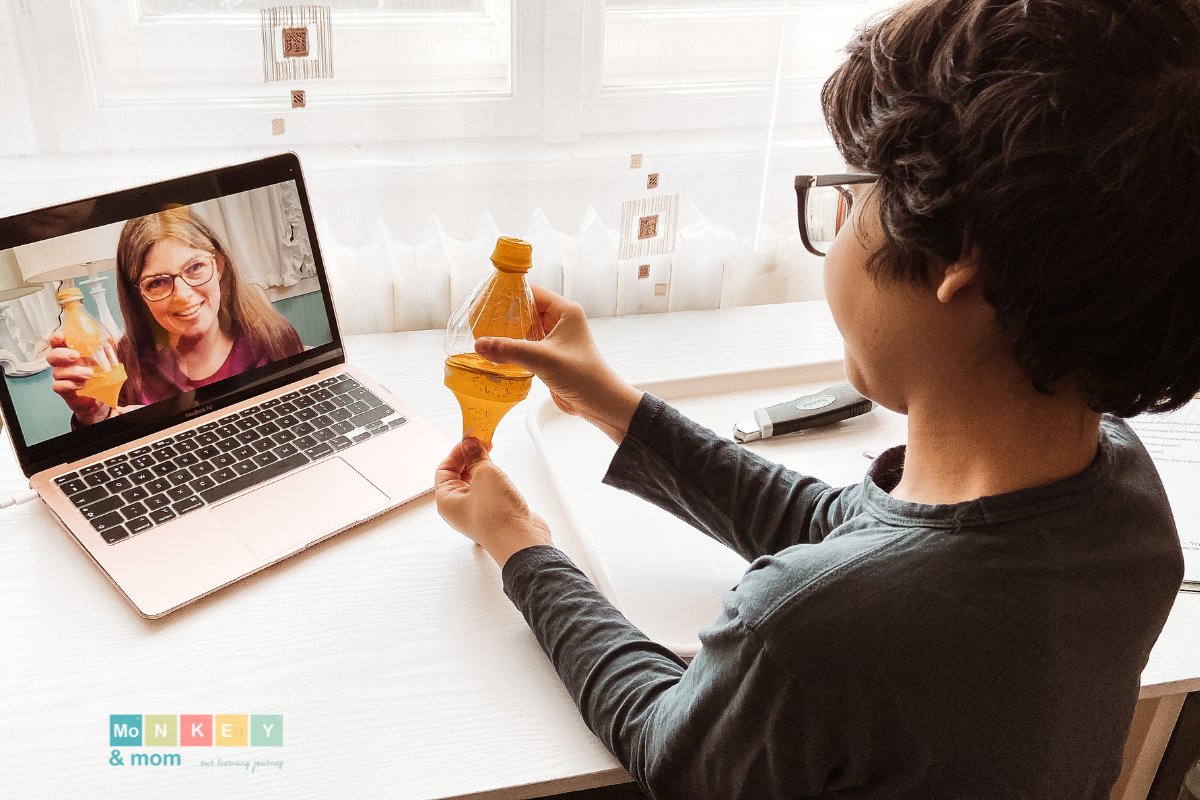 ⭐️ Great homeschool anatomy curriculum for any level
Maybe you already know that M is science-obsessed. He just absorbs science like a sponge and is ready for high school classes (he is 10). Even though he knows a lot about other sciences, we haven't done an official homeschool anatomy curriculum until now.
He loves watching Dr. Robin's videos, and he said that they bring value to him because he is learning new things and reinforcing what he already knows.
So this would be an exceptional homeschool anatomy curriculum for any child that's passionate about the subject, even if they are younger than the intended age.
If you can, just watch the videos with your kids and you will learn a lot of things from these, as well.
I love that these types of lessons can be easily enriched with any manipulatives, books, or atlases. They are made from a multisensory point because they have hands-on activities, auditory and visual elements.
Here are some of the things you see in the picture below- the ones we love will have a star:
⭐️ Helpful analogies
I love that Dr. Robin is tying learning about your body with real examples of what might go wrong as well.
For example, in the blood cells lesson, she explained how old red blood cells are broken down and recycled.
Then she went ahead, saying what happens when bilirubin isn't processed with the bile: you can become jaundiced. She explained why some babies become yellow and how they are treated with blue light. Then she explained what other symptoms people with liver issues might have.
She does this in a very gentle way, nothing too much for little kids to take in and nothing dumbed-down. She uses medical terms that she patiently explains everything so that everyone can understand.
⭐️ Extras
Aside the cool videos and worksheets, Dr. Robin's School of Premed also offers the following:
For parents that need to transform this into a curriculum, there are lesson plans on Homeschool Planet which you can use with the program.
The weekly podcast "I want to be a doctor" is a perfect place to have your questions answered whether they come from a 3rd grader or a pre-med or med student. This podcast is great for those wanting to know what to expect from a medical field or what's going on in a doctor's life.
To get a glimpse into the lessons, you can access a full unit on the Eight Senses by just subscribing to Dr. Robin's Newsletter, here.
To get started, you can get free paper dolls by clicking here. You can introduce these to younger children or have fun playing with them while talking about the human body.
If you'd like to just sample something before subscribing to her newsletter or committing to a full-year payment, she offers these videos for free: Heart Pump DIY and Draw a Human Cell.
If you're wondering what manipulatives and models Dr. Robin is using in her videos, she made a full list of them on her website, which you can access here.
⭐️ Accessible
The lessons are very easy to follow and can even be done independently by children. I love how we can use this homeschool anatomy curriculum on any device, anytime, not only for designated school time.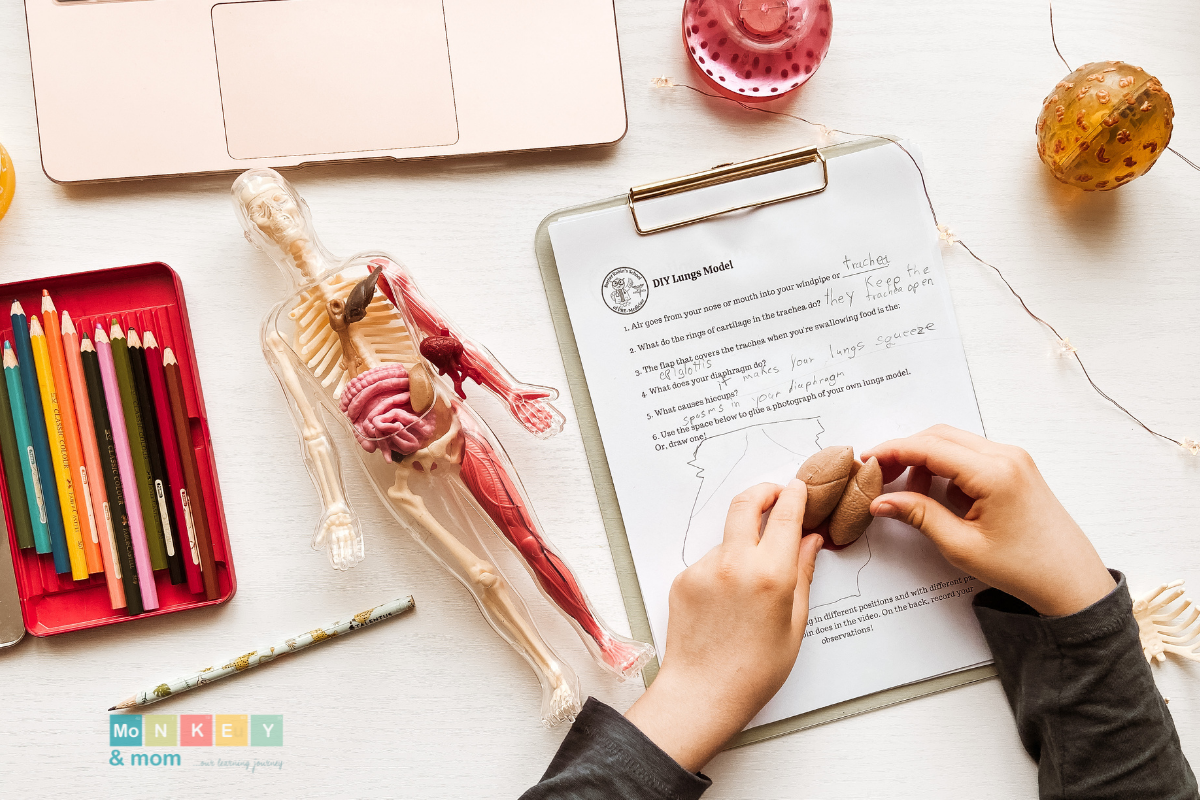 Dr. Robin is available to every one of her students and anyone can request free videos and ask questions.
I love that besides the videos and hands-on activities, kids also learn to take notes and learn science vocabulary with Dr. Robin. She uses proper medical terms while explaining them in simple words for kids to understand. There is no pressure on kids to remember these terms, but they are encouraged to note them down if they wish to.
⭐️ Emphasis on healthy habits
If you listen to Dr. Robin, you realize she is a holistic doctor, treating the body as a whole functioning unit, not taking systems out of context.
I love how she explains about an organ, then introduces kids to medical terms and she gives examples of how the organ should function, then what could happen if the organ doesn't function as it should.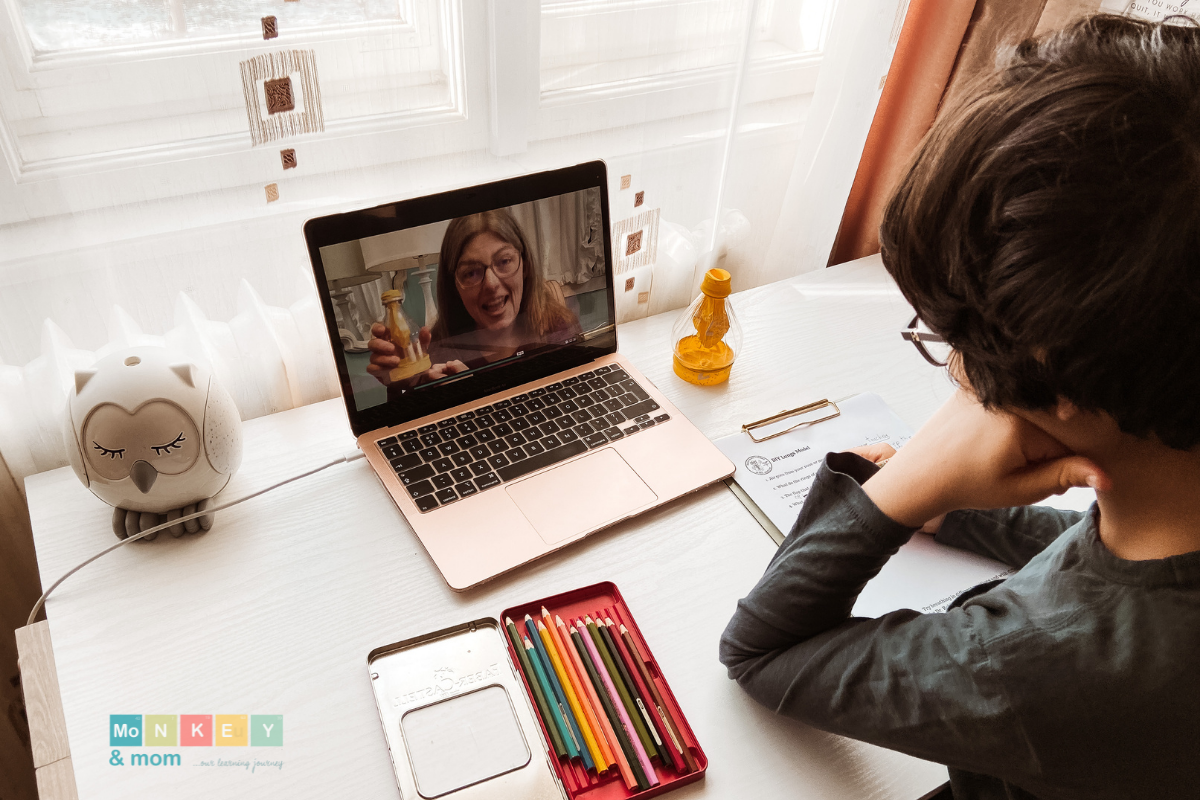 For example, for the red blood cells lesson, after talking about jaundiced babies and the liver, she also explained the symptoms that a person with liver issues might have: white feces, yellow skin and eyes, and brown urine. She also explained why these things happen if the liver cannot break down the bilirubin in our bodies.
I love how, in the lung model video, she explains that kids need a soda bottle for the model, and then she just says she asked someone for a bottle because she isn't drinking soda. I think that this was a healthy role-model example.
What better ways to stay healthy than by understanding how your body works and taking the live example of a doctor?
Dr. Robin's School – Homeschool Anatomy Curriculum Walkthrough Video
For those of you that find it easier to watch a video or if you want to have a glimpse into Dr. Robin's School of Premed, I made a video covering the most important points and showing you around.
Conclusion
We love the homeschooling anatomy curriculum that Dr. Robin has created and our unanimous vote is 5 out of 5 stars.
Some quick points to take from this article:
kids can do it independently
it's a great human anatomy curriculum for grades 3-8
it's a great supplement for high schoolers (grades 9 to 12) and beyond
even adults can learn new things and understand concepts better by watching her videos
the videos are not very long, about 20-30 minutes each, making it easy to keep consistent with doing the lessons
new lessons are added regularly and with a one-year subscription you get access to everything!
the lessons are organized on topics and difficulty level so you know where to start according to your level
very flexible- passionate kids could watch all the videos in a few days or weeks! But you can also make it last for a year or more.
you can request lessons on certain topics
there are so many topics already available!
the lessons are presented from a doctor's perspective! So you get so much more than just a curriculum.
I only hope that Dr. Robin will transform this into a full curriculum by adding tests so that we can officially use it for our distance school.
Giveaway
Dr. Robin is kindly offering a one year subscription to 2 winners. You have time to enter until the 3rd of March 2022! Good luck, everyone.
2 winners will get 1-year subscription. And every entrant will get free access to lessons from Dr. Robin's most popular unit, The Eight Senses.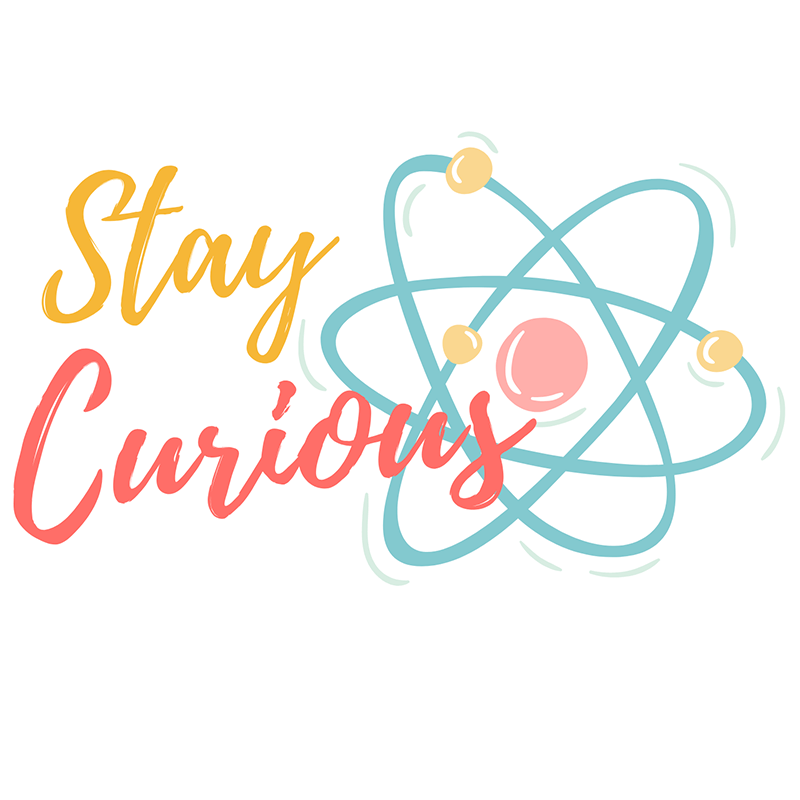 This post may contain affiliate links. By making a purchase through these links, I get a small percentage for the item you bought while the price stays the same for you. Thank you for supporting me.
As an Amazon Associate I earn from qualifying purchases.
Read my Disclosure to find out more about how I support my website and how you can help.