Easy Grammar Learning – Fix it! Grammar – 4th edition
I find writing about language arts hard because language arts has so many parts to it. Grammar learning, vocabulary, literature, spelling, and composition all sound like learning different subjects. And in a sense, it is.
I've noticed early on, that LA was made up of sub-subjects and we had to take them apart in order to cover them better.
You might want to consider that if your children are like mine. M was doing great with reading, spelling and grammar, but he wasn't doing so good with writing composition. I realized if we were to pick a cover-it-all curriculum, all these sub-parts of language arts would be taught at the same level. And he simply wasn't at the same level with all of them.
He was at different levels for each. So it made sense to look for programs that treated language arts separately.
Acesta e un articol sponsorizat. S-ar putea să fi primit prdusul pentru review sau să fi fost plătită pentru timpul meu și efortul depus. Nu voi recomanda și scrie niciodată despre produse pe care nu le-am folosi personal. Citește mai multe în Disclosure.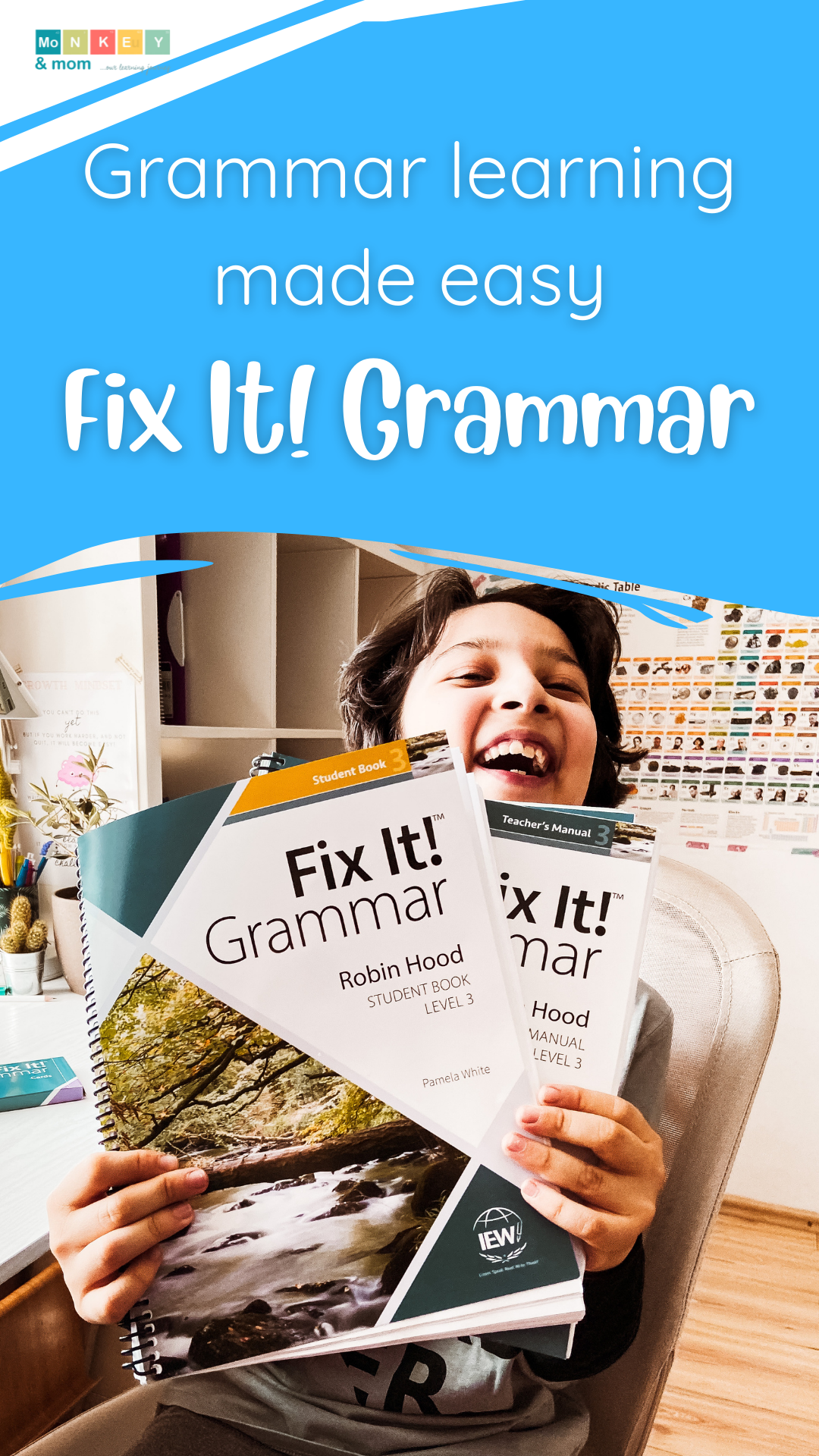 Teaching Grammar
Perhaps one of the most important language arts aspects is grammar. We all know it: without grammar our speaking and writing would be a jumbled mess.
We all use it every day, but as many parents feel, using it and teaching it are two separate things. When it comes to teaching it, many homeschoolers have no idea where to start, what to pick and how far to go. Because we never stop to study the structure of a language while using it, it sort of just comes naturally when speaking.
I could go on telling you about the importance of grammar and that teaching it the right way is important, but I think Mr. Andrew Pudewa did a significantly better job at it, so please read his article on grammar.
What is IEW?
Now this is a homeschool program that deserves all attention and appreciation and I hope that it will be known to more and more homeschool families around the globe because it is simply AMAZING! ❤️
IEW stands for Institute for Excellence in Writing and, for us, it's been the best language arts discovery to date for us. Their materials are characterized by ease of use, logical explanations, critical thinking, and great quality and we've been using them successfully for 3 years!
They cover reading, grammar, spelling, literature, poetry, writing, public speaking (coming soon), and more. I can't recommend this program more! Just head over to their website and try out their samples. You won't regret it.
IEW has a history of dedicated teachers since 1930s! Each of these amazing educators contributed with ideas and innovative methods to making IEW what it is today.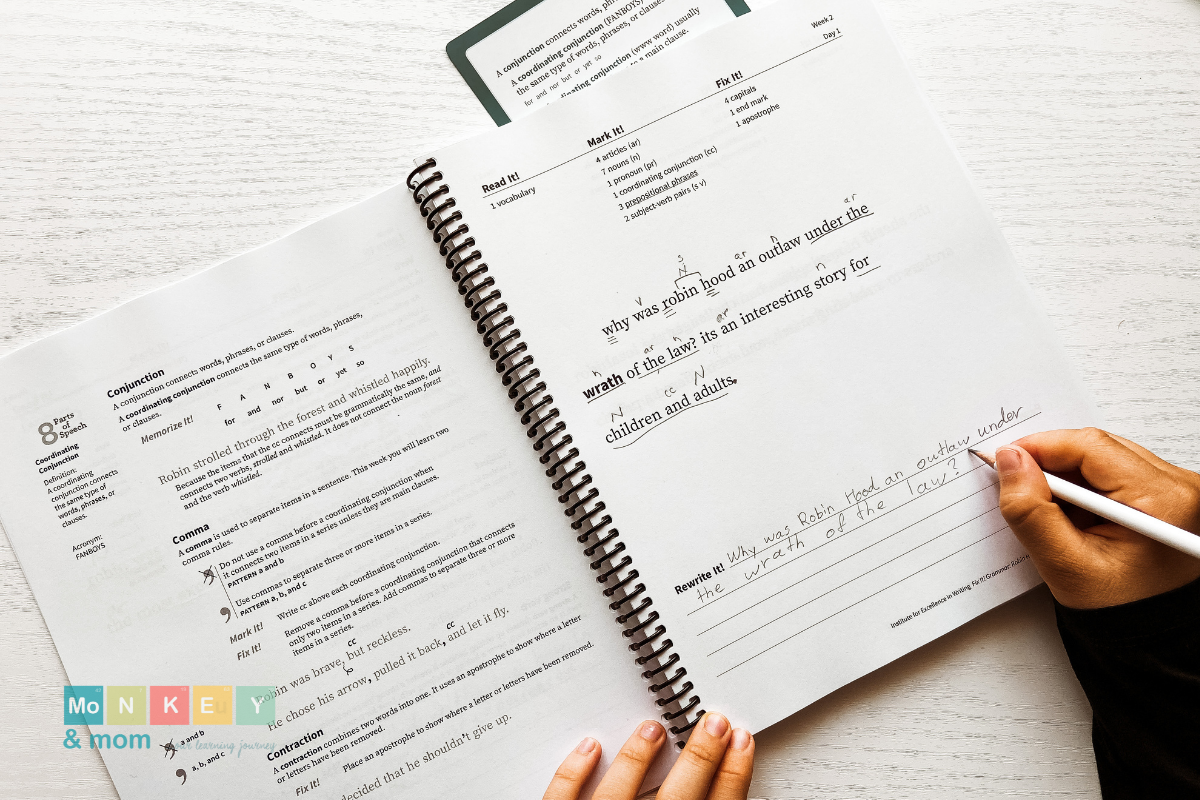 We've discovered IEW years back and it's been the greatest find for us for language arts ever, after LOE for reading.
Andrew Pudewa – the best example of teacher
Nowadays, Andrew Pudewa is the representative and director of IEW and he still continues to teach by using the IEW method and helping children all over the world reach their best potential in writing and thinking.
His seminars, talks, and conferences have been inspiring teachers and parents since the '90s, and I often find encouragement and confirmation in his words. If you haven't listened to him yet, access his free resources (audio and written), you will be blown away!
Mr. Pudewa is incontestably the best teacher I've encountered so far, the type of teacher I strive to be for my son, every day!
---
The Institute for Excellence in Writing successfully equips students of all ages and levels of ability, including those with special needs and English language learners. Its methods not only build written and oral communication skills but also improve critical thinking. By using Excellence in Writing methods across the curriculum to reinforce content areas, students truly learn to write as they write to learn and are transformed from immature or even reluctant writers to competent, confident communicators.

— IEW
---
Fix It! Grammar
Over the years, we've tried numerous grammar programs. Some seemed to be all over the place, others were too dry and boring. All of them had one thing in common: there was no real-world application to them! There's the theory, then a boring example (which many times sounds forced), and lots of worksheets.
Grammar taught and learned this way can become tedious very fast and you'll end up like us, ditching the program or just skimming through, to be done with the torture!
What if I told you that you could make grammar learning as easy as reading through a fairytale? That's Fix It! Grammar and we are in love with this program!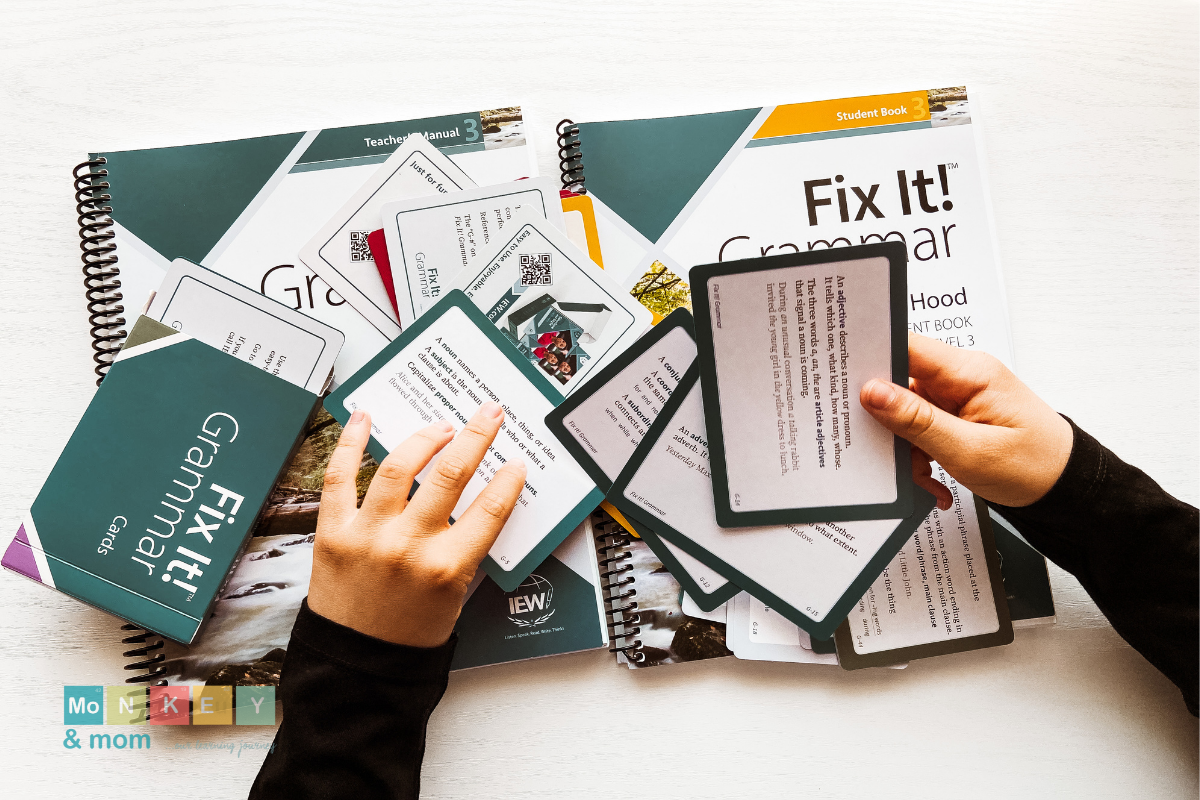 Components
Fix It! Grammar is a textbook-based program that has 2 main parts: a teacher manual and a student book. There is an optional new addition as well, the grammar cards.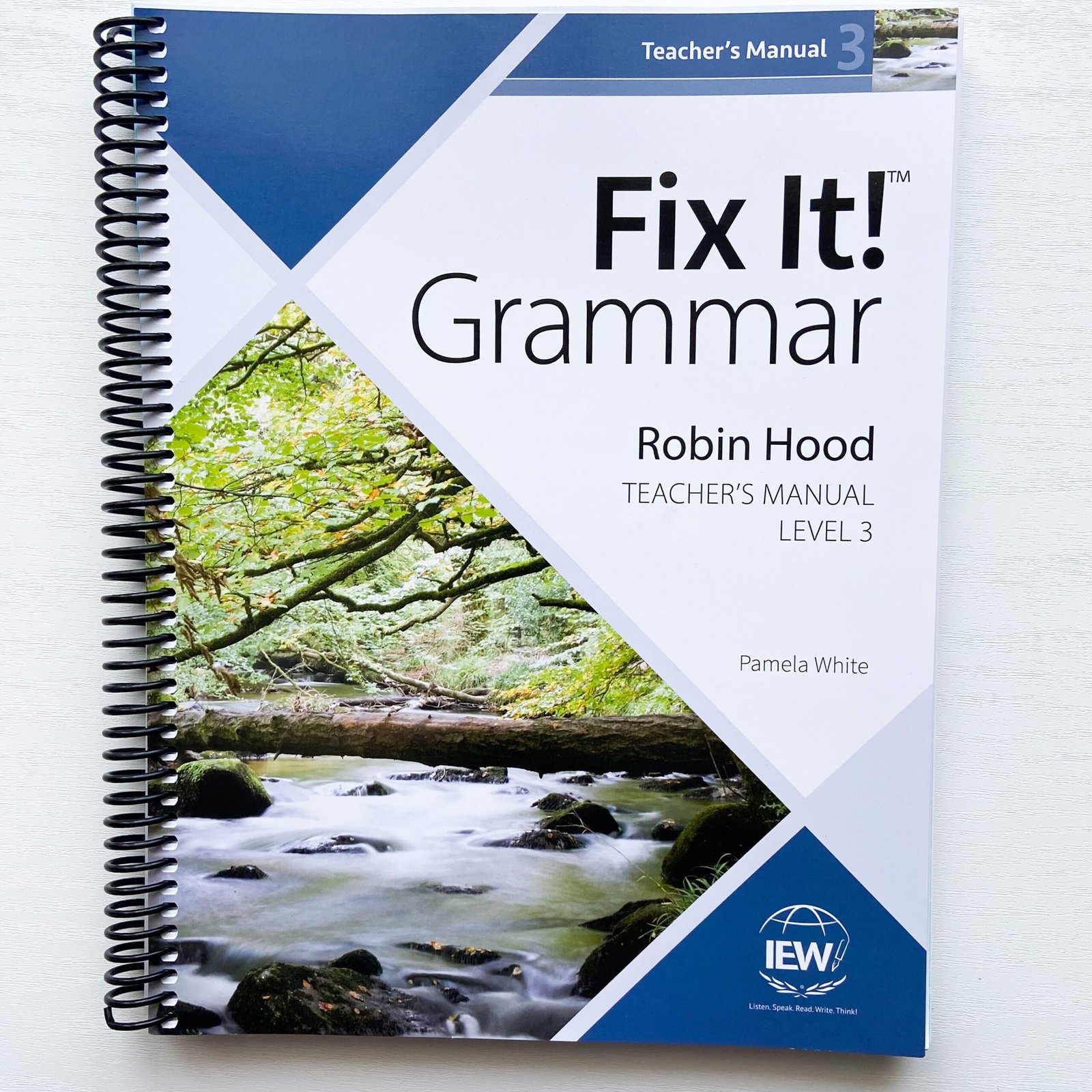 The teacher manual has all the answers, extra explanations, and a grammar glossary. It's indispensable for instruction and correcting the work from the student book.
A student's book will have the weekly learning page (with the grammar explanations) and work pages. You will need one student book for each of your students.
Fix It! Grammar cards are 30 full-color cards that present grammar concepts in a condensed way for quick reference. They can even be used to play games (ideas on IEW website) or refresh concepts.
The new Fix It! Grammar cards are such a fun addition! M loves playing games with them and grammar review is so fun and easy now! There are several game ideas on the website, but you can even invent your own rules!
For a writing program to pair perfectly with Fix It! Grammar, check out Structure and Style for Students from IEW. We use it and absolutely adore it! (I will do my best to write about it soon.)
Both these programs can be bought as a package and you would have both writing and grammar covered!
How it works and structure
Fix It! Grammar covers 30 weeks of instruction, making this a perfect 1-year grammar program.
The concept behind this program is easy: every day, kids have to fix and analyze one sentence. That's it! 15 minutes per day, 4 days per week, and your homeschoolers get a solid grammar instruction.
Keep working through these books and you'll soon see how rigorous this grammar is. Even if they seem easy at first, the complex grammar concepts will keep adding up.
Levels are becoming progressively more complex. You can see the difference in the image below.
Pull the slider to compare Level 3 with Level 4. I photographed both the teacher and student books for your convenience.
At a glance, here are the steps used in Fix It! Grammar :
Learn It! – Read and explain the grammar terms to kids, making sure they understood them.
Read It! – Explore the new vocabulary words, every day. The vocabulary words are bolded.
Mark It!– Let kids demonstrate their mastery of the concepts by applying them in short, daily fixes for the next 4 days.
Fix It! – Edit the mistakes by using correct punctuation and editing markers.
Rewrite It! – Copy or dictate the corrected sentences every day.
If you want to see inside the program yourself, each level on the website has free samples for both the teacher and the student books, so you could test drive a few weeks' lessons with your kids!
Levels
Fix It! Grammar is made up of 6 levels. Each level is, in fact, a story. For a whole year, kids will read, fix, and rewrite each sentence of the story. At the end of the year, they can read the complete story.
While Fix It! Grammar is recommended for grades 4-12, you can start with the first level even with older kids. In fact, it's recommended that you start at the beginning, especially if their grammar level is not great or they had no previous grammar instruction.
I love the new Fix It! Grammar because it introduces grammar concepts to children in a gentle, progressive way.
Level 1 – Nose Tree: basic parts of speech, end-mark punctuation, phrases, clauses, homophones, etc.
Level 2 – Town Mouse and Country Mouse: parts of speech, basic comma and capitalization rules, complex sentence patterns, etc.
Level 3 – Robin Hood: phrasal/clausal constructions, quotation punctuation, indefinite /demonstrative /reflexive pronouns, etc.
Level 4 – Mowgli and Shere Khan: additional punctuation rules, essential/nonessential clauses, complex sentence patterns, transitional prepositional openers, etc.
Level 5 – Frog Prince: verb types, noun functions, pronoun case, grammatical jobs of clauses and phrases.
Level 6 – Little Mermaid (not out yet)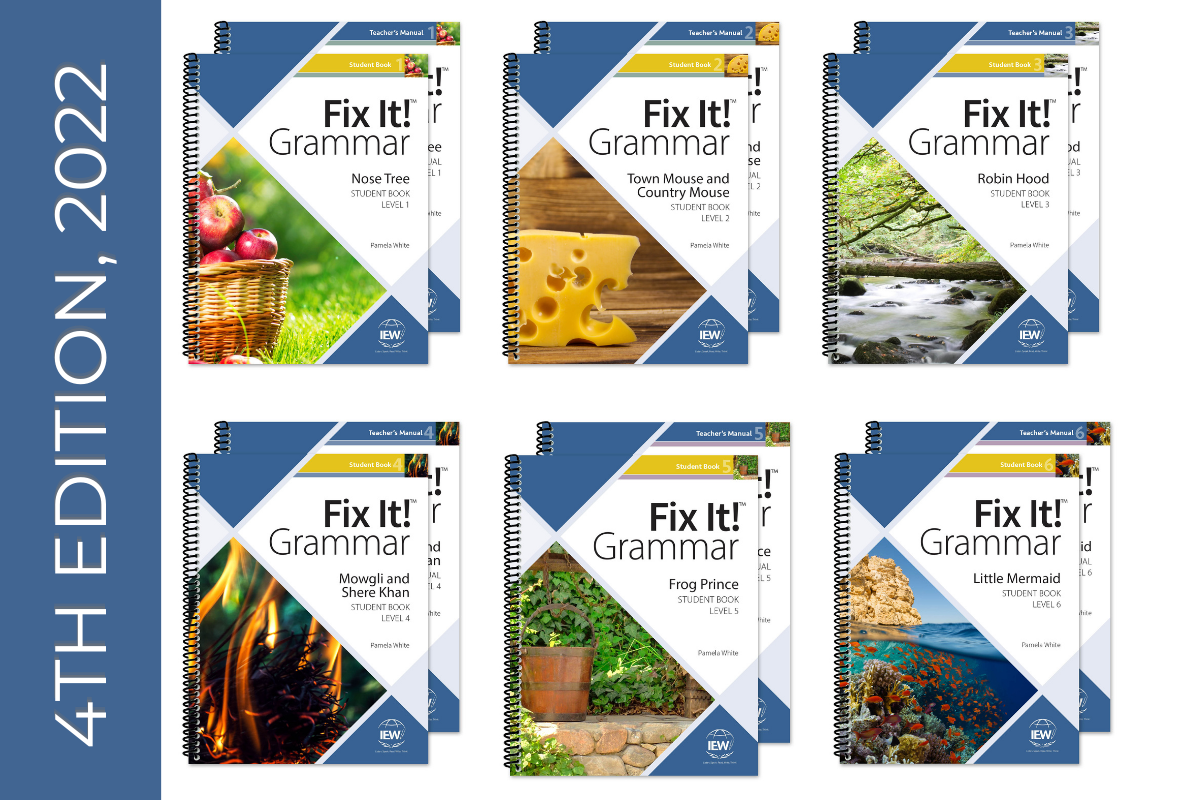 New edition vs. old edition
The new edition, the fourth edition, came out in 2022 and level 6 is expected to come out by the end of the year.
We already own the whole set of the previous edition, and we just completed the first level. So when I first heard about the new update, I was skeptical about changing the whole set for this, but after seeing how smoothly the new edition runs with M, I am considering switching to the new edition books.
In a nutshell, the format is airier; the texts have been rewritten: the concepts are introduced more gently and progressively.
Here's a comparison of the 2 editions, ♥ marks the changes we love best.
OLD EDITION (3rd)
teacher book + student book
PDF student book
4 sentences per page
pages in student and teacher books didn't line up
notebook to copy the story
list of fixes
mixed scope and sequence
grammar cards at the back of book
mixed vocabulary list
6 levels
some concepts taught too abruptly
complete story in notebook
33 weeks
NEW EDITION (4th)
teacher book + student book
physical student book
1 sentence per page ♥
pages in student and teacher book line up ♥
copy directly on the student book page
number of each fix to find ♥
improved scope and sequence
new grammar cards -separetly ♥
separate vocabulary list
6 levels
concepts are taught progressively♥
complete story at the end of the book
30 weeks ♥
The program is still the same, amazing Fix It! Grammar, but with some upgrades that would make learning and teaching grammar easier.
I feel that the new edition allows for more independence și I love the feel of it. The information is better presented and arranged in an easier-to-navigate format.
Grammar Learning
When I first started homeschooling, I had this idea in my head that we will follow the traditional method. I am a product of the public school, and having a homeschool program that is traditional and very rigorous was the path I felt would suit us.
I went even further, and for the first couple of years, I subjected M to the torture of a boxed curriculum. It was difficult for both of us, but it was close to what I had dreamed of: lots of busy work -the mother of all learning (or that's what I thought at the time).
Then, slowly, my eyes opened up to the surrounding homeschoolers. I would see some programs being mentioned again and again and decided I should try them out myself! I discovered that homeschooling means flexibility to work at different levels, even if it means mixing and matching several curricula in order to make it work smoothly.
That's how I first tried IEW and I loved it so much that we ended up buying multiple levels from everything we loved from them!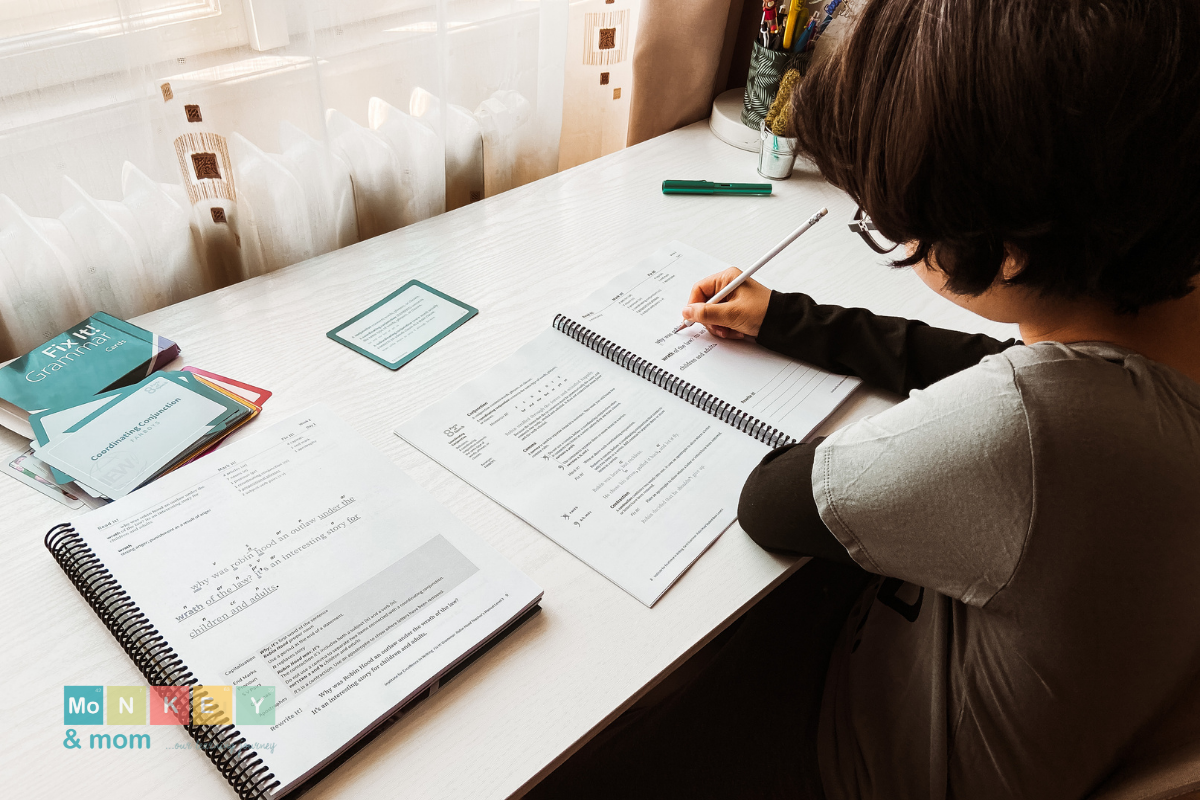 When it came to learning grammar, we tried Grammar for the Well Trained Mind, Beowulf's Grammar (this one is very fun and I recommend doing it before Fix It! Grammar, for 1st to 3rd or 4th grades), Growing with Grammar and other programs (I will spare you the list).
But no matter what we tried, nothing compared to Fix It! Grammar. Seeing M so invested in his grammar has been an absolute surprise and I am so grateful to have discovered a grammar program that we can use for years to come!
Why We Love Fix It! Grammar
Fix It! Grammar is a constant we will NOT change in our homeschooling, so here's what I love about it:
✏️Mastery based
Fix It! Grammar is a mastery-based program. The concepts are introduced progressively and they build up in complexity. Every week, you focus on a certain grammar topic and then kids reinforce it by applying it to the daily fixes.
I noticed that M learns best if things are presented in a logical, progressive way. And mastery-based programs worked great for us in most subjects.
✏️ Grammar in context
Because of its amazing format, in Fix It! Grammar, grammar is taught on a real text that makes sense. No more boring, dry examples of sentences.
The stories selected are rewritten so they make grammar learning fun and accessible.
✏️ Beyond learning grammar
All homeschoolers appreciate a program that teaches more than they expected. This is the case with Fix It! Grammar. It doesn't only focus on grammar but teaches vocabulary, editing, and writing at the same time.
And if your kids already master writing, you could take it a step up with dictation and penmanship.
✏️ Grammar is alive
Editing mistakes from texts daily will help children become more mindful of their own mistakes when writing or even speaking.
I love observing M apply his editing marks in other subjects if he forgot to capitalize a letter for example, or if he needs to add an extra word to his composition.
He sees that grammar is alive, that we are actually using it in writing and speaking, not just some boring rules we learn by heart.
✏️ Independent
Ok, I never thought I would find an independent curriculum for grammar, but this is it! Younger kids will need more help, but with older kids, parents just need to teach new grammar concepts. Kids can then work independently each day. And parents will then check their work and discuss possible misunderstandings.
This makes Fix It! Grammar the perfect grammar curriculum for busy families!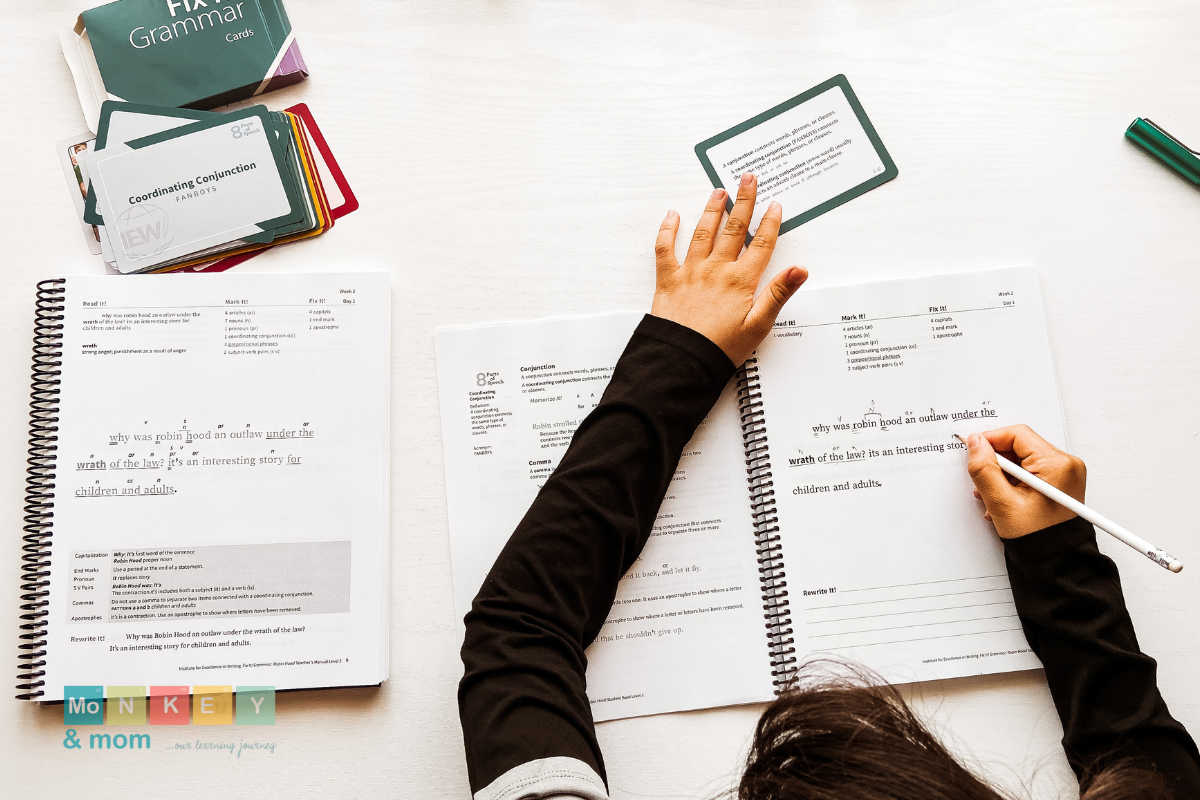 ✏️ Thorough
Even though it doesn't seem like, at a first glance, Fix It! Grammar is a very thorough curriculum. It goes from teaching kids about nouns, verbs and end marks to cases and complex comma rules.
And all this grammar learning is done in a gentle, fun way.
✏️ Unintentional learning
I have to admit I didn't know how to phrase this one… but it's pretty close to unintentional learning. Fix It! Grammar really is a perfectly camouflaged way to learn that grammar and get it done!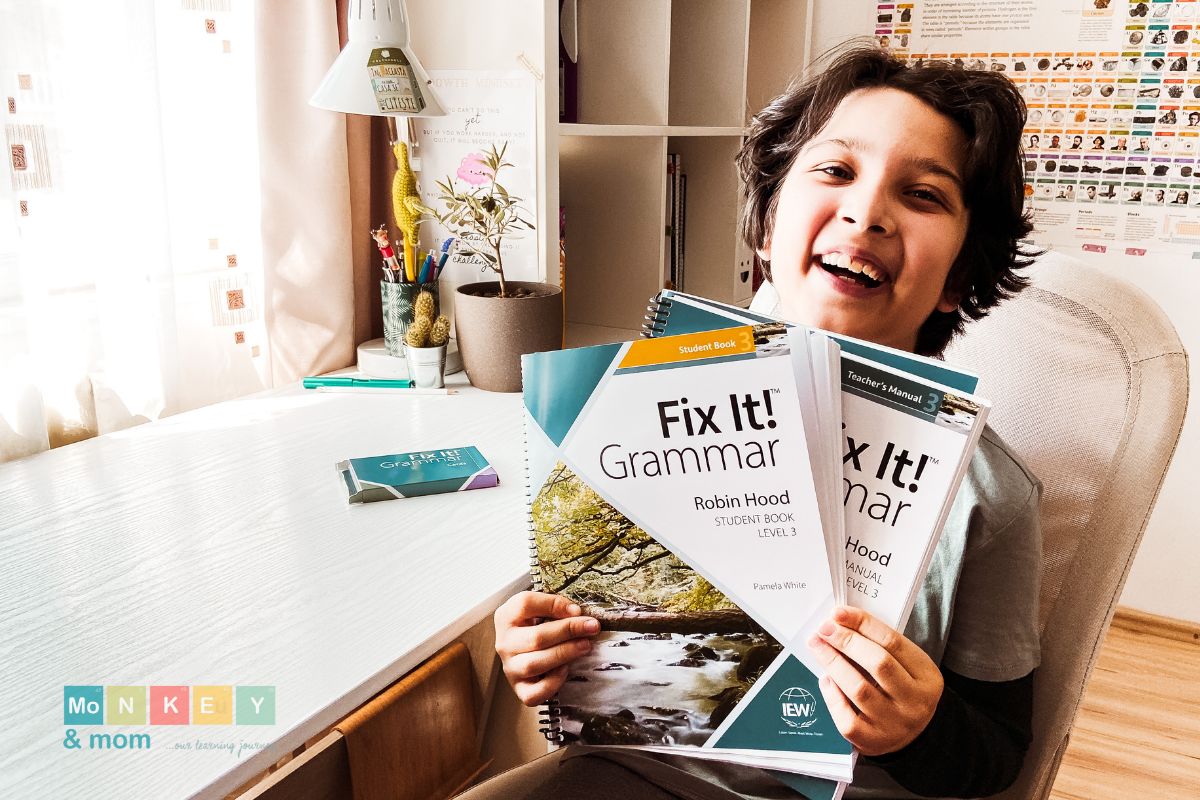 Because lessons are so short, kids won't even feel that they're sitting for a class or working a lot. That's the hidden beauty of Fix It! Grammar. One sentence per day and your grammar is done!
În Clasa 4, we did 4 sentences per day because M loved it so much and it was so simple.
One vocabulary word per day, one sentence to fix every day, and a lot of solid grammar concepts in a year that are constantly reinforced.
✏️ Fun and engaging
We all know the fun and games start dwindling from 3rd grade and up. The materials we need to cover become more complex and less fun. There is less and less time for games.
But Fix It! Grammar offers us plenty of opportunities and time to play. I love that the lessons are arranged in such a fashion that we still have time to play games with our grammar cards and that the daily lessons are so short we have time to discuss the vocabulary, punctuation or grammar with no hurry and stress.
💔No tests
The only downside to Fix It! Grammar is that they have no tests or review sections. This is a problem for us personally (and other homeschoolers in our situation) because our school is asking for tests and grades to be submitted. So we cannot use Fix It! Grammar as our official grammar curriculum.
I wish that IEW would make a sort of test booklet for Fix It! Grammar. This would solve our problem and allow us to choose Fix It! Grammar as our main curriculum.
⭐️Our Rating
Our rating is 5 out of 5 stars. Even though I hope they will get tests in the future, we will continue using Fix It! Grammar as our preferred grammar curriculum.
Over to You and Video
What's your favorite grammar curriculum? Are you happy with it? Let me know in the comments below, I'd love to talk!
If you prefer a video over reading, or if you'd like to see a comparison of the two editions and a presentation of the new cards and books, I made a video for you: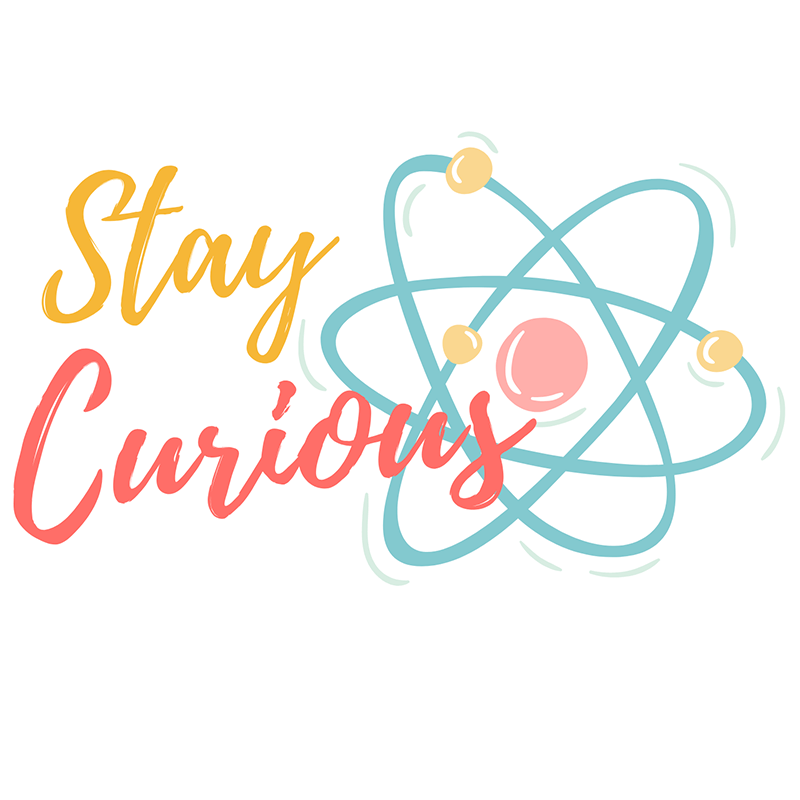 Acest articol conține linkuri de afiliat. Cumpărând prin aceste linkuri, eu câștig un procent mic din vânzare în timp ce prețul rămâne neschimbat pentru voi. Vă mulțumesc pentru sprijinul vostru..
Ca Asociat Amazon, pot câștiga din anumite comenzi.
Citiți Disclosure pentru a afla cum imi susțin website-ul și cum mă puteți ajuta.